DON AIREY NEWS
Rainbow
Ritchie Blackmore
Ronnie James Dio
Graham Bonnet
Joe Lynn Turner
Doogie White
Tony Carey
Bob Daisley
Roger Glover
Don Airey
Greg Smith
Over The Rainbow
Blackmore's Night
Deep Purple
Various News
Short News


Don Airey new solo album feat. Graham Bonnet set to be released in February




'Keyed Up', the new studio album from renowned keyboard maestro Don Airey will be released through Music Theories Recordings, a division of Mascot Label Group on 17 February 2014 [Cat. No. MTR 7408 2]. This is Don's fourth studio set, and his third to be released through the label. The album features many of Don's friends and peers and, sadly, represents one of the very last times that Gary Moore recorded a guitar part. He – a long time associate of Don – features on 'Adagio' and also on 'Mini Suite', which is dedicated to his memory.

Don said, "I loved having the responsibility of pulling together the sessions at Chapel Studios. The album was basically laid down live, no overdubs, no redoing – we don't do filesharing. There are wonderful musicians on this record, I call them 'the band that never was', as it's a true pleasure to work together but opportunities are so limited. Being in a band like Deep Purple, especially with the success we've had this year, should be enough; but I need another outlet. Some of the music is straight ahead rock, a tribute to where I've come from, but there's variety – 'Blue Rondo A La Turk' was the piece I played on my first radio performance aged 14. There are plenty of weird sounds too, most from the Hammond; a lot of it wasn't planned, I just got carried away with the moment!" The band on this record was Don Airey on Keyboards, Darrin Mooney [Primal Scream] on drums, Laurence Cottle on Bass, Rob Harris [Jamiroquai] on guitar and Carl Sentance [Vocals]. Guest performers include the aforementioned Gary Moore, Graham Bonnet, Simon MacBride, Alex Meadows and Tim Goodyer. The engineer was the amazing Ewan Davies.

The tracklisting of the album draws from throughout Don's career and also takes in some of his influences, with twists upon familiar themes. Don has performed with a host of the most important bands in the rock canon, from Cozy Powell to Colosseum II to to Sabbath to Rainbow to Ozzy Osbourne and of course, ultimately to Deep Purple, via sessions for innumerable peers and this experience and panache illuminates 'Keyed Up'. This is an album that wears its virtuosity easily and never loses sight of its sense of fun, 'Claire D'Loon' anyone? 'Difficult To Cure 2013' is a version of The Rainbow favourite re-arranged to include Beethoven's double fugue, whilst the 'Godbox' referenced in the seventh track was Fats Wallers' nickname for the Hammond organ.


Track listing:

3 In The Morning
Beat The Retreat
Blue Rondo A La Turk
Solomon's Song
Claire D'Loon
Flight Of Inspiration
Inside
The Godbox
Difficult To Cure 2013
Mini Suite
a) Lament/Jig
b) Restless Spirit
c) What Went Wrong
Adagio
Grace

[Source: Chris Hewlett / The Highway Star]







Schubert In Rock feat. Joe Lynn Turner, Doogie White & Don Airey




No Bros guitarist Klaus Schubert from Austria came up some years ago with the idea of getting together an All-Star Project with names out of the international Hard Rock & Heavy Metal scene. With those musicians with whom he had previously toured together he wanted to re-record songs of No Bros. Early 2013, it was actually so far the time was ripe for Schubert In Rock.

Klaus Schubert contacted his favourites musicians including Marc Storace (Krokus), Biff Byford (Saxon), Tony Martin (Black Sabbath), Doogie White (Rainbow) Joe Lynn Turner (Rainbow, Deep Purple), Bernie Marsden (Whitesnake), Neil Murray (Whitesnake, Black Sabbath) and Don Airey (Rainbow, Ozzy Osbourne, Deep Purple). All were enthusiastic about the project and were happy to participate.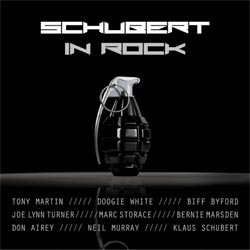 The album will be released on November 29th, 2013 by LLRR. The tracklist is:

1. Second King Of Darkness (Vox: Tony Martin)
2. Heavy Metal Party (Vox: Biff Byford)
3. Cavalry Of Evil (Vox: Joe Lynn Turner)
4. Ready For The Action (Vox: Marc Storace)
5. Good Morning Sir (Vox: Doogie White)
6. Lady Of the Tower (Vox: Doogie White & Joe Lynn Turner)
7. Black Jack Billy (Vox: Joe Lynn Turner)
8. Young Free And Deadly (Vox: Tony Martin)
9. Don On Fire (Vox: Don Airey)
10. Stairway To Hell (Vox: Doogie White)
11. Three Horned Dragon (Vox: Biff Byford)
12. Perfect Body (Vox: Marc Storace)
13. Davi (Vox: Doogie White)
14. Holy Ground (Vox: Bernie Marsden)

There will be a album live release show featuring the complete album line-up in Innsbruck Austria on December 6th, 2013.







Bernie Marsden reveals line-up upcoming solo album including Don Airey




Gibson.com has an interview with Bernie Marsden, in which he reveals that he's finishing a solo album: David Coverdale has graciously sung a song for me, which is, of course, fantastic. We've re-recorded "Trouble" from our Whitesnake days.

The album is nearly finished. Joe Bonamassa and Steve Lukather have still got to complete their guitar parts for my album. But Ian Paice [Deep Purple, Whitesnake drummer] and Don Airey [Rainbow, Whitesnake keyboardist] are also playing on it. And the harmonica player Mark Feltham [Nine Below Zero, Oasis, Gary Moore, many others]. So I've pulled in a few favors. But it's sounding great. It harks back to Whitesnake, but with a contemporary feel.

[Thanks to: Gibson.com & The Highway Star]







Joe Lynn Turner, Doogie White & Don Airey to Take Part in Schubert In Rock Project




Schubert in Rock, a fusion of great rock musicians recording an album with Klaus Schubert from Austria, will feature Doogie White, Joe Lynn Turner, Tony Martin (ex-Black Sabbath), Biff Byford (Saxon) and Marc Storace (Krokus) on vocals. Don Airey (keyboards) and Neil Murray (bass) are also involved. The CD Release is planned for September/October 2013.

The album will be played live on stage at Innsbruck Congress in Austria on December 6th, 2013 with both Joe Lynn Turner & Doogie White.

[Source: Schubert in Rock Facebook]







Don Airey To Release 3rd Solo Album "All Out"



The new solo album by keyboard magician Don Airey (Rainbow, Deep Purple, Ozzy Osbourne, Black Sabbath and many more) featuring a guest performance by Joe Bonamassa will be released on August 22nd. This third solo album by Don Airey is titled "All Out".

Pre order the album now on the Mascot website and you'll receive a free poster!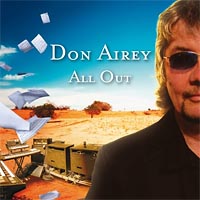 The track listing for the CD is:

1. The Way I Feel Inside
2. Estancia
3. People In Your Head
4. B'cos
5. Running From The Shadows
6. Right Arm Overture
7. Fire
8 Lon Road
9. Wrath Of Thor
10. Tobruk

[source: Mascot Records]





Don Airey To Guest on new Saxon CD "Call To Arms"



SAXON new album, "Call To Arms", will be released on May 23 via Militia Guard Music, UDR and EMI. The follow-up to 2009's "Into The Labyrinth" (SPV/Steamhammer) features a guest appearance by legendary keyboardist Don Airey (DEEP PURPLE, RAINBOW).

The track listing for the CD is as follows: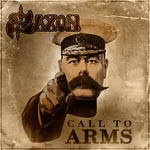 01. Hammer Of The Gods
02. Back In '79
03. Surviving Against The Odds
04. Mists Of Avalon
05. Call To Arms
06. Chasing The Bullet
07. Afterburner
08. When Doomsday Comes (Hybrid Theory)
09. No Rest For The Wicked
10. Ballad Of The Working Man
11. Call To Arms (orchestral version)

[source: Blabbermouth]





New solo album and tour for Don Airey next year



Carl Sentance, singer on Don Airey latest solo album "A Light In The Sky", reported on his facebook page:

"Don Aireys new solo album ready to be mastered! Musicians so far are Rob Harris (Jamiroquai), Joe Bonamassa, Laurence Cottle (Eric Clapton/Cher/Sting), Darrin Mooney (Primal Scream), Keith Airey (Colin Blunstone/Zombies) Bernie Marsden (WhiteSnake). Can't wait for the tour next year!"

[source: Carl Santence]





Don Airey: "I might have the tapes of Bonnet's 'Difficult To Cure' sessions"



Joe Geesin did an interview with Don Airey for Get Ready To ROCK! on September 1st. Joe asked Don questions about his full career that includes Cozy Powell's Hammer, Colosseum II, Black Sabbath, Gary Moore, Ozzy Osbourne, Michael Schenker, Uli Jon Roth, Whitesnake, Deep Purple and ofcourse Rainbow. Don had some very interesting answers.

Was any Difficult To Cure material recorded with Graham Bonnet?

Don: I think he did a version of "I Surrender", yeah, and he definitely did "No Release", I think it was, he did this duff version with alternate lyrics, he was fed up with everyone. He was a genius, Graham, he just came up with this duff load of tripe which was very funny, but it was like "I'm Leaving" kind of thing.

Do you know what happened to those recordings?

Don: I might have the tapes somewhere. I've got a big box of tapes and it's always "I'll go through them next Winter".

Read the full interview on Get Ready To ROCK!

[source: Joe Geesin]





Don Airey to play keyboards on new Taz Taylor album



Taz Taylor Band dropped into the studio in San Diego recently and began work on the follow-up album to Welcome To America.

Deep Purple keyboard player Don Airey makes an appearance on the album, which the band says is 11 tracks of Hard Rock, combining elements of the past, but with a contemporary vibe also.

The band are now working on the vocals with an as yet unannounced vocalist. The vocals on the last album of the Taz Taylor Band were provided by Graham Bonnet.

[source: TazTaylor.com]





Ex-Rainbow and now Deep Purple Keyboardist To Embark On European Tour



Ex-Rainbow and now Deep Purple keyboardist Don Airey will embark on a European tour this fall in support of his recently released solo album, "A Light In The Sky". According to Don's website it will be a 10 day live tour that will start late September. More details will be announced soon.

For "A Light In The Sky", Airey gathered together a different set of collaborators (though Laurence Cottle of Sting/ Eric Clapton/ Brian Eno/ Bill Bruford fame once again contributes precision bass-playing), though naturally Don provides the record's central creative thrust — an entertaining mixture of instrumental and vocal songs, from the "Bladerunner"-style "Ripples In The Fabric Of Time" to the hook-laden hard rock of "Shooting Star".

[Sources: Blabbermouth / DonAirey.com]







Michael Schenker New CD "In The Midst Of Beauty" featuring Don Airey



Like a phoenix from the ashes, Michael Schenker is back. And it's high time because hard rock fans have been missing this talented guitarist for a long time. This was the man who was the hallmark of great music in the 70s and 80s, when he was part of the Scorpions and UFO.

He now returns to his very own musical roots because the "legendary" Gary Barden joins Michael as the first MSG singer on "In The Midst Of Beauty" album, which was co-written by Michael and Gary. Other well-known international musicians accompany Michael on his long-awaited comeback album. Don Airey from Deep Purple is on the keyboards, Neil Murray from Whitesnake strums the bass strings and Simon Phillips works the drums - an international, star-studded line up of world class performers. Michael's impressive guitar playing provides an extraordinary atmosphere throughout the entire album, which was produced and recorded in the studio of his friend, Siggi Schwarz, in Neu-Ulm.

Michael Schenker recovers his former strength with "In The Midst Of Beauty", resulting in a fine mixture throughout, reminiscent of Deep Purple or Rainbow in tracks such as "Nights To Remember" or "End Of The Line". And with "This Time", MSG even have a track which is chartworthy. A healthy dose of hard rock and plenty of lyrical melodies distinguish his new CD, which his loyal and devoted fans will love and which will also impress a wider audience.

"In The Midst Of Beauty" has been released on May 13th.

[Thanks to: Björn Lundberg]






Don Airey on Sunshine Radio Rock Show 6PM-9PM on March 30



This week's special guest on the Rock Show is ex-Rainbow and now Deep Purple Keyboard player Don Airey. Don's career reads like a Who's Who of rock. He's played with Rainbow, Whitesnake, Ozzy Osbourne, Thin Lizzy, UFO, Jethro Tull, Judas Priest and Queen's Brian May among others. He's been a member of Deep Purple for the past 6 years. His new solo album "A Light in the Sky" is the Rock Show's album of the week.

Tune in from 6pm to hear Don talk to presenter Jeff Collins about the making of his new album, playing at the Kremlin with Deep Purple in front of new Russian President Dmitry Medvedev and his predecessor Vladimir Putin (both big fans of the band!), and the highs and lows of his extraordinary career, including the effects of witnessing the tragic death of Ozzy Osbourne's guitarist Randy Rhoads in an aircrash.

The Rock Show on Sunshine Radio: 106.2 fm across Herefordshire and 107FM and 107.8FM across Monmouthshire or listen online at http://www.sunshine-radio.net

[Thanks to: Mike Garrett]






Don Airey Releases 2nd Solo CD "A Light In The Sky"



Former Rainbow and current Deep Purple keyboard player Don Airey releases his second solo album "A Light In The Sky" via Mascot Records on February 25. Contributors include Danny Bowes, Chris Childs and Harry James of Thunder, Jamiroquai guitarist Ron Harris and classical violinist Lidia Baich. Don Airey hopes to play a short tour in April.

Musically speaking, the album is fittingly rich and diverse. "What I had in mind was making something that sounded like a cross between Rainbow, the Mahavishnu Orchestra and Jean-Michel Jarre," says Airey. "There was no point in making some generic hard rock album. Probably my favourite of its tracks is 'Light In The Sky', which dates back to my days with Colosseum II [during the late 1970s]".

Click here to listen to one of the tracks called "Shooting Star".






Don Airey Plays on New Gwyn Ashton CD "Prohibition"



Don Airey plays on two tracks of the new CD by Australian blues player Gwyn Ashton. The CD is called "Prohibition" and is out now on Riverside Records. Don plays piano on "Castaway" and organ on "Are You Lonely".

[source: DeepPurple.net]