Rainbow Rising

Plato, Helmond, The Netherlands May 19, 2007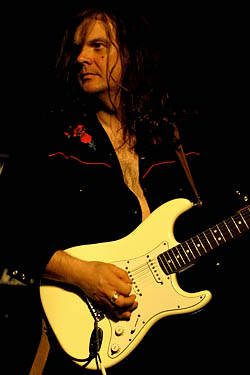 These days you see more and more tribute bands. It looks like it's a real growing business. They even attract a larger audience sometimes than relatively new bands. In the Netherlands there's even a Tribute to Monsters of Rock event that is organised a few times a year in different cities with tribute bands of the likes of AC/DC, Judas Priest, Iron Maiden, Motorhead, Rammstein and others. There's every time a different line-up.

Last Saturday Eternal Rock Promotions organised another one of these tribute shows. On the bill were Fan Halen, Ozzy Ozz, Rainbow Rising and Action in DC. The names of the band give it all away which band they play songs of. The place was not packed, but there were more people than 3 weeks ago when Cornerstone played the same venue.

Before the show we met up with the Rainbow Rising and had an interview in a small dressingroom. It was good fun having a couple of beers and to talk to them. The band has been formed in 1996 and drummer Mick Rice is the only member left who was with the band right from the start. Before they used to play Deep Purple covers but as there were several other Deep Purple tribute bands in the U.K, they then put there focus on Rainbow and started only doing songs of Ritchie Blackmore's Rainbow. The present line-up has beside Mick, keyboardplayer Tor Underseth, singer Mark 'Raggie' Slack, guitarplayer Barry Sharples and bassplayer Steve Taylor.

Barry joined the band about 2 years ago, he's a huge Ritchie Blackmore fan and replaced Roy Chudobskyi who returned at that time to the reformed early 80's NWOBHM band Cloven Hoof (he now plays in Mercury Rain). The newest member of the band is Steve Taylor on bass. He used to play in a AC/DC tribute band named Touch 2 Much. He replaced Tony Speakman who retired completely from the music scene.

This was their first gig outside the United Kingdom and so their debut on the continent. They recently have done not so many gigs, mainly due to other commitments like their normal jobs. They also don't do too many rehearsals because they not all come from the same area. They got quite an impressive setlist which could be changing from gig to gig. Tonight they were second on the bill. Headliners were Action in DC, a Dutch AC/DC tribute. I had to miss that last band so I could catch the last train back home. Rainbow Rising were only allowed to play 75 minutes. Normally their show last at least 2 hours. It gave them a struggle through the setlist of which songs to play and which ones to left out.





Their set is based around the Rainbow "On Stage" and "Live in Germany 1976" albums, but there's also room for the 80's hits like "Since You Been Gone", "All Night Long", "Stonecold" and "I Surrender". And they now also start doing songs from the "Stranger In Us All" days. First song on their repertoire from that era is "Wolf To The Moon". Last year they did shows were they played the full Rainbow Rising album because it was the 30th anniversary of Rainbow best considered album ever.

As they were third on the bill we firstly got tonight two other tribute bands: Fan Halen and Ozzy Ozz. It was good fun to see these two Dutch bands. Fan Halen is a great act, lead by singer Fred Pieters (ex-Hot Legs) who changes several times his stage clothes during their act and is as daft as Diamond Dave in his best days. Very good guitarplayer Ruud Groenendijk (ex-Anouk) who delivers all the Eddie Van Halen stuff very well plus a tight rhythm section. Great entertainment!





Second act tonight is Ozzy Ozz. They had the van with most of their equipment burned down while returning from a gig in Germany a few weeks ago. Still they managed with borrowed gear to do the gig. They played last year the Graspop Festival in Belgium. A big 3 day festival with many big names like Whitesnake and Michael Schenker sharing the same bill. This band was also good entertainment. The singer looks and moves like the big Ozzy, he's only much younger. Wild bass and guitarplayer. Just like Fan Halen they have a set of the best known hits of their heroes. Great fun to see this band as well!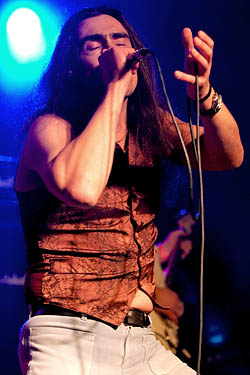 Just after half past nine we got the extended "Over the Rainbow" intro and Rainbow Rising entered the stage. There was Raggie in his Ronnie Dio 1976 style trousers with the moon and stars and Barry in his Ritchie Blackmore 1976 style outfit. They kicked off the show with a blistering version of "Kill the King". It was followed by a fine version of "16th Century Greensleeves". The band played the songs excellent.

After "I Surrender" it was time for Tor to show his skills. He played the crowd a great intro to "Gates Of Babylon". During the show he proves to be an excellent keyboardplayer and his keyboards are great in the mix anyway. Not hidden to the back of the sound like Ritchie used to have. The setlist has a good mix of Dio era and later stuff. The sensitive ballad "Stone Cold" is followed by a superb version of "Mistreated". Barry shows off in this one. Great Blackmoresque guitarwork.

More Dio era work with "Do You Close Your Eyes" and "Man On The Silver Mountain". Played the other way round than on the setlist. They told me already before they sometimes change the setlist during the concerts. Just depends how they feel and how the audience react. Barry gives Mick cues like Ritchie does to his drummers and all that. These guys know the ropes. Mick is a huge Cozy fan and plays like a wild rock'n'roll animal. Steve is a great bassplayer, smiles all the time and told us this is more fun than all those 3 chord AC/DC songs.

Another Rainbow hit follows "Since You Been Gone". Raggie ask the fans to sing along and the place goes wild. There's obviously no time for "All Night Long" which do stand on the setlist so they crash into the last song of the set, the mighty "Stargazer". Great and solid played, the band gives it all one more time with Raggie screaming the legendary words "I see a rainbow rising".

The band returns for an encore and it's "Long Live Rock'n'Roll", what else? They give it all one more time, the audience loves it and then it's over. What a fine show. I can only say if you got the chance to see this band, just don't miss it. This band is great entertainment and you get a night of the very best Rainbow songs performed really well. Ofcourse no one plays them like Rainbow and especially Ritchie himself and it's no use comparing them to the original. But this band comes really close and if you keep in mind that you're lookin' at a tribute band of very enthousiastic fans and musicians at the same time, then you've got to have a lot of respect what these blokes deliver on stage.





This was the first Rainbow Rising show outside the U.K. After the show they returned home. But they're back next week. First they will play Antwerp on May 25, followed by a full length show in Eijsden (in the very south of Holland) on May 26. In June they'll do two shows in Spain. And they play quite often in the U.K. More info on their website. I only can recommend this band very highly and definitely any Rainbow fan should check this band out. You won't be disappointed!



A big thanks to Rainbow Rising and Ludy Wetzl (Eternal Rock Promotion).