Bible Black
The Complete Recordings 1981-1983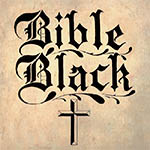 Tracks:

1. Gone
2. Metal Man
3. Back To Back
4. Down On the World
5. Ain't No Crime
6. Fighting The Wind
7. Back Door
8. Paint It Black
9. Fires Of Old
10. You Got Me Where You Want Me
11. Deceiver
12. Midnight Dancer
13. Gone
14. Metal Man

Line up:

Lou Marullo (a.k.a. Eric Adams) - Vocals
Joey Belladonna - Vocals
Jeff Fenholt - Vocals (track 13-14)
Andrew "Duck" McDonald - Guitar
Craig Gruber - Bass
Joe Sopp - Bass
Gary Driscoll - Drums
Mickey Lee Soule - Keyboards

Record Label:

Louder Than Loud Records

Year of Release:

2022

Notes:

Bible Black are one of the best kept secrets of the US Metal scene from the early 80's, their album "The Complete Recordings 1981-1983" will be released on April 14th 2022 via Louder Than Loud Records.

Bible Black was an East Coast American band formed by former Elf/Rainbow musicians Gary Driscoll and Craig Gruber, along with Andrew 'Duck' McDonald. The bands longest tenured singer was Jeff Fenholt, well known for his very brief stint with Tony Iommi/Black Sabbath and his work with the band Joshua. The band also featured Lou Marullo who later became known as the one and only Eric Adams... and Joey Belladonna who of course went on to join Anthrax. All three vocalists recorded demos with Bible Black between the periods of 1981-1983.

This CD for the first time compiles all recorded works of the band in one place. Sadly Gary Driscoll, Craig Gruber and Jeff Fenholt have all since passed away, making this release a fitting epitaph to their time together as Bible Black. Restored and remastered by Patrick Engel and licensed directly from the last surviving member Andrew 'Duck' McDonald" we can now hear one of the great "lost bands" and a piece of Heavy Metal history.

Note: The Rainbow Fanclan Legacy did in 2006 an interview with Andrew 'Duck' McDonald. He told Mickey Lee Soule also played on one of the tracks.