ANDREW "DUCK" MACDONALD

Rainbow Fanclan Legacy Exclusive Interview




In the early 80's an obscure band saw the light of day. They were named Bible Black. Most striking was that two members of the original Ritchie Blackmore's Rainbow line-up were involved. Even a third member was involved as we learn from this interview. Guitarist of Bible Black was Andrew "Duck" MacDonald, who has since been successfull with his own project Playground and US legends Blue Cheer, famous for their classic hitversion of "Summertime Blues", a cover of Eddie Cochran's hit. We interviewed Duck about Bible Black.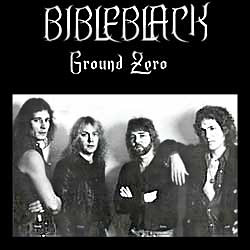 You were with Shakin' Street support for Black Sabbath in 1980. The year before this rumour said that Ronnie was lookin' for a guitarplayer in his (and your) area. Bob Daisley told us at the time Ronnie was tryin' to set up a band with him, Mark Nauseef & Mickey Lee Soule. Another source say it were his old Elf buddies (Mickey Lee Soule, Gary Driscoll & Craig Gruber).

As far as I know this plan of Ronnie's was before he joined Sabbath and he and Micky Lee were working on material for a new record as far as Gary and Craig being involved I never heard of this.

Ofcourse it's wellknown Ronnie joined Black Sabbath. He even got Craig Gruber in the band briefly. Then started touring and you got the support on several shows with Shakin' Street. Do you know the story behind Craig's stint with Sabbath? How many shows did you do approximately as support for Sabbath? If my info is correct you weren't the support act all the time. Some shows you were and other you weren't? How come?

Craig recorded the Heaven and Hell Album then Geezer decided he wanted back in and re-recorded the bass tracks (with some of Craigs ideas in tact), Craig sued the management (Sandy Pearlman) for session pay and got the money.

While this was going on Joe Dimaio was on the road with Sabbath enlisting the guitar player from Shakin Street (Ross the Boss} for his own project at this time he gave my name to manager Sandy Pearlman to replace Ross so Shakin Street was not opening at this time because we were rehearsing in San Francisco then we went back out so I only did 10 to 15 shows opening on that tour.

After Shakin' Street broke up you started with Bible Black I believe. The first line-up was you, Gary, Craig and Jeff Fenholt. Right? Why was the band called Bible Black? What about the demo of 5 songs recorded in Jeff Glixman's studio in Buckhead Georgia? Is that all Bible Black recorded? Or were there more recordings?

When Shakin Street broke up Gary and Craig approached me for a new project and I brought in singer Eric Adams (He and I and Joe grew up together and played in several bands) and we did a demo Mickey Lee also played on one track produced by ourselves. Craig didn't like Erics voice so he contacted Jeff Fenholt and Geoff Glixman to redo the vocal tracks. Then we went in and did a four song demo that you mention, at this time it became Bible Black (this was Fenholts idea and well liked by us all) we also did a 3 song demo with Felix Pappalardi producing, also 2 songs with Joey Belladonna and a new bass player (Joe Sopp) produced by us.

What was the role of Bruce Payne? Story goes that Jeff got in the band through Bruce Payne.

Bruce was never involved with Bible Black.

Did Bible Black do many live shows? Which areas?

We did a few shows in the N.Y. state area as well as the Ritz in NYC and a outdoor festival in Salt Lake City called Saltair concert. Joey was only in the band a short time it didn't have the chemistry without Craig.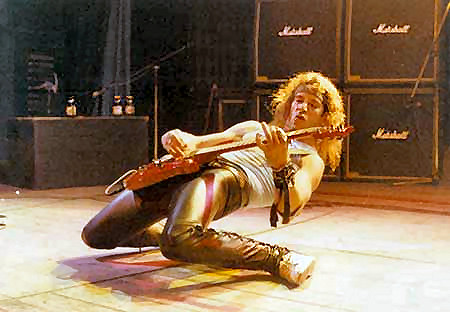 Jeff Fenholt told he was asked to join Rainbow after Dio was fired while he was in Black Bible (the story goes he was not enthousiastic enough when Bruce Payne phoned him and Ritchie was listening too and was put off by this). This sounds not very logical because Bible Black was grounded after Shakin' Street broke up, so I guess in 1981 or 1982. And Dio was fired in 1978. Can you explain this?

I think this was after Jeff left the band.

Jeff also told he left Bible Black because of the heavy times including alcohol, drugs and violence & got together with Bobby & Teddy Rondinelli and Felix Pappalardi for a new band. As Bobby Rondinelli left Rainbow this must have been late 1982 / early 1983. Was it really as bad as Jeff told?

It got pretty crazy at times.

After Bible Black ended you did the Thrasher project. Craig joined Gary Moore's band for an European Tour. And Gary Driscoll also played on the Thrasher project. Can you tell some more about this project?

Thrasher was just a fun album to do.

Can you tell more about Gary Driscoll's death? It was in June 1987, right? Jeff Fenholt has a very weird incoherent story about it on his site. Was it all that horrible?

Gary was my best friend and I think of him all the time. And his murder was brutal and was devastating to me.

Story goes that Gary had to take a job outside music to support himself, although he still played at least some sessions, too. This supposedly happened during and after his Bible Black days. Was it that bad he couldn't earn enough with music anymore?

He always had a struggle to make a living.

Did you still kept in touch with Craig Gruber after Bible Black came to an end? Do you know what Craig Gruber is doing these days? I believe he left the music business completely. His sister Pam told me he travels for a living.

I have spoken with Craig a few times and with Jeff. Craig is in some kind of sales and is very successful.

Do you think Black Bible could have been more sucessfull when you could have had Shmoulik in the band then? [Shmoulik is a Dio type singer who lived in the Netherlands in the early 80's and went to live in the New York area during the mid 80's. He was the singer in The Rods in 1985 when Craig Gruber was the bass player, Ed.]

I like Shmouliks voice very much and think he would have been great in the band.

How do you look back on the Bible Black period?

As for Bible Black it was Heaven and Hell.


Thanks Duck! And thanks to Jonathan Kozlowski who made this interview possible.


© Rainbow Fanclan Legacy - February 2006

All photos published with permission of Duck MacDonald.