Deep Purple

Wait For The Ricochet

ISBN : 978-0-9561439-6-9 Publication date : January 2014

168 pages / colour / softback / 210mm by 210mm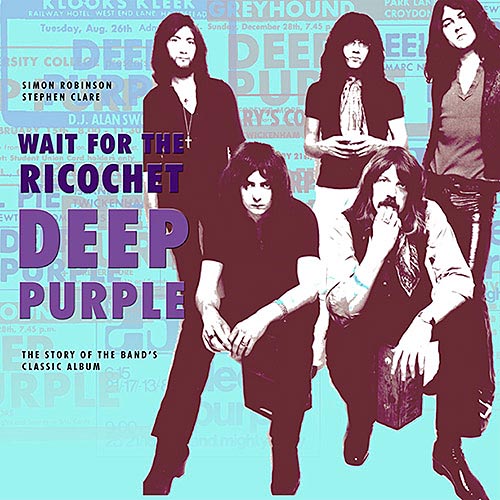 Deep Purple - Wait For The Ricochet
The Story Of Deep Purple In Rock

Text : Simon Robinson / Stephen Clare

Deep Purple In Rock is not only the band's most important album but proved to be a milestone in the history of rock music, influencing countless groups and musicians in the four decades since it first appeared. It not only defined the band's new direction, but firmly established Deep Purple as one of the biggest rock bands of the seventies (and beyond). It also laid the groundwork for the successful and artistically creative period which followed.

Upheaval within the group in mid-1969, coupled with indifference to their earlier work had left them almost unknown in Europe. It was only with a change in personnel and a determined period of intense rehearsing, writing and gigging that they managed to reverse their fortunes.

Deep Purple became an extraordinarily impressive live act, with a strong improvisational spirit flowing through their concerts, setting them apart from many of their contemporaries. The band's approach to recording took its cue from these shows, drawing on their live experiences to develop the album. Ian Paice: "Purple should never have worked. Basically we had five egomaniacs. There was just a magical chemistry. I can't think of any other band that's been allowed that much freedom for all the members to do exactly what they wanted."

Deep Purple In Rock took almost a full year from inception to release. As such it remains both a remarkable snapshot of the band at that time, as well as a reflection of a very prolific and progressive period in the British underground scene as the psychedelic sixties gave way to the more aggressive and focussed rock music of the seventies.

This book opens with the firing of two of the original members and the search for replacements in 1969, then covers their early rehearsals, concerts and recording sessions in detail. The story carries on through 1970 as the band experience the early highs of widespread chart success with the album and hit single Black Night, as well as the lows of riots, illness and sheer exhaustion. Bringing the strands of the story together for the first time along with unseen material, rare photographs, chart details, concert listings and new research, we provide a detailed narrative of this crucial phase of Deep Purple's career. Jon Lord was interviewed specifically for the book by Stephen Clare. Roger Glover has also provided new insights on the writing of the album and Ian Gillan offers a fresh look at Child In Time. Studio personnel, former managers and others have also contributed.

Today, it is generally acknowledged that the story of hard rock (or heavy metal) owes it's origins to the triumvirate of Led Zeppelin, Black Sabbath and Deep Purple. The first two have been more than adequately catered for in print. This book restores the balance. More details and previews from the publishers website page.

This book can be ordered on this link.