Ritchie Blackmore

Only For Ritchie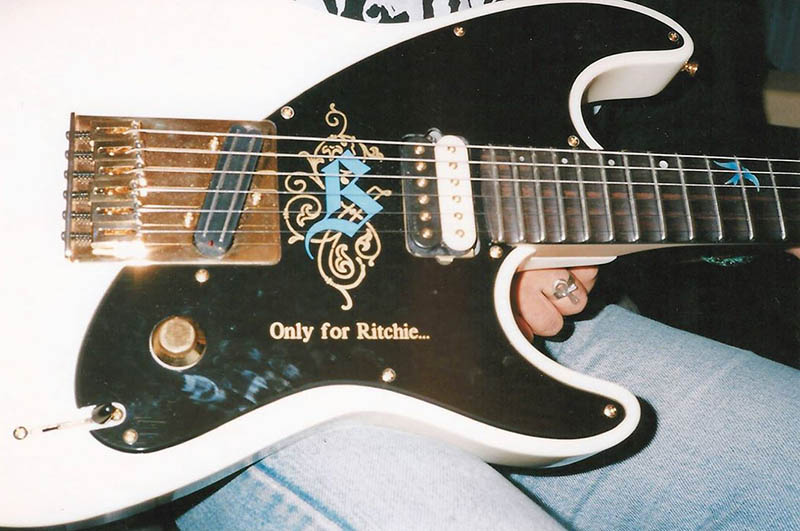 Roger Veissier, head of the Club Hard Rock association (in partnership with the FNAC), calls me on the morning of October 30, 1995:
He tells me: "Jean-Marc, are you ready for your surprise for Ritchie?"
"Of course! " I answer him ...
Roger: " Well, I have something for you ... Ritchie just asked us to build teams to play football this afternoon until the concert tonight! ... Do you want to come? "
Me: " Oh mash! I'm finishing preparing the guitar Only for Ritchie, with Christophe Leduc and my partner, I have to go to the pastry chef to get the cake with imitation of the football field for the 50th spring of Ritchie, I run everywhere, but I do not want to miss that! Do you already have everyone for the team? "
Roger: " Almost! I miss 2 or 3 people.
Me: OK, I'm going to call 2 or 3 friends and Christophe Leduc just confirmed that he's coming with us too! "
Roger: " Cool! Let's remember later!

Description of the guitar:

- Body type Stratocaster
- Telecaster type of equipment
- 2 humbucking pickups
- Fully scaloped handle (dug)
- Handle fingerboard made with a 250 years old rosewood! (supplied by Christophe Leduc)
- Inlays in turquoise

A jewel of guitar with a very particular sound and a new configuration to allow Ritchie to explore new lands ....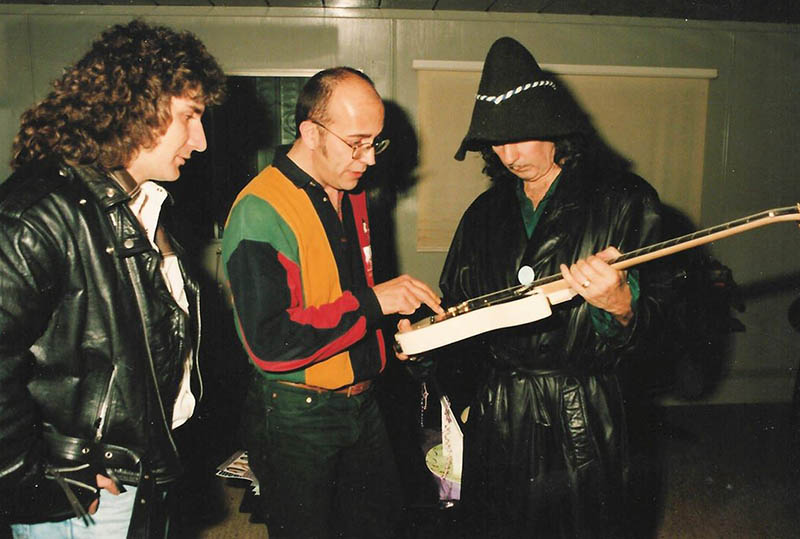 A magic moment to tell yourself that the person who inspired you most will receive this beautiful gift that you had the joy and happiness to be able to do for him ... It is beautiful as sensation ...

A touching moment of the Master Craftsman who made this dream real and realizing a guitar even better than my specifications. A masterpiece made by a master craftsman for a guitar master ...

After setting all the technical details for the backstage, the cake and the preparation of the guitar, we leave on the football field and we find all the friends and Ritchie. Ritchie true to himself but with the face of the boyfriend, certainly a little distant but accessible. A handsome Ritchie (I'm not Homo!). I remember that face and it still moves me today. The teams are formed and I find myself guard in the cages of the Ritchie team. :-) The kickoff is given and the action is at its height!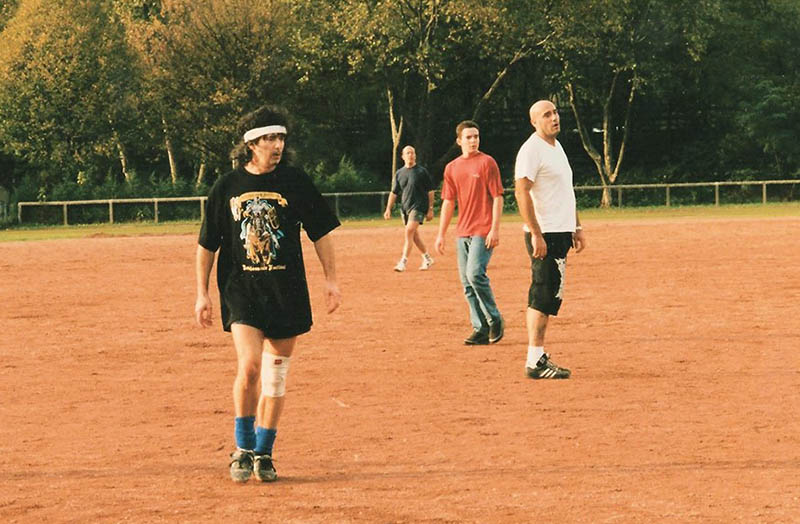 What you need to know for the little anecdote: Everyone knows the character of Ritchie or at least the reputation he has .... I turned out to be a very bad goalkeeper, and all the others panicked and jokingly said to me: "P .....! But stop in at least one! You're going to make us angry if we lose this part and if it is it will cancel his concert tonight with your c ...! "(Humor) This to say that: At the time of the photo, I see on the left just at the feet of Ritchie and next to Christophe Leduc. I'm the only one with the hand on the ground, for the following reason: Ritchie gave me a little knee to unbalance me at the time of the photo! I took this as a sign of affection and a joke. We had a magical time and for that I wanted to express my gratitude to Ritchie Blackmore for giving us this day and these moments and to Christophe Leduc for his contribution and participation in this wonderful gift. We really felt like spending a day with friends. It was so good. We do it again when you want Ritchie!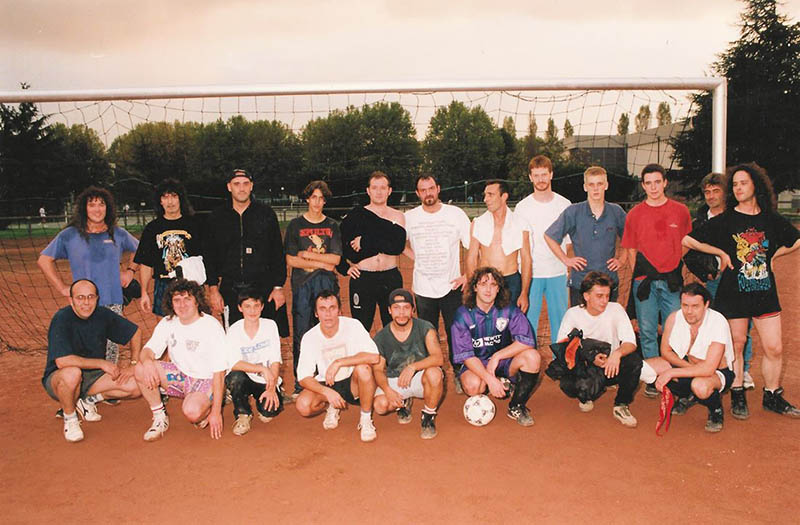 The concert will start with my favorite song "Burn" and all the rest will be fairy, until the moment of the backstage ..... Christophe explains the technical details of the guitar. Ritchie is very attentive to what Christophe explains to him (me too for that matter ...). Super moment between enthusiasts! The magic operates .... The current flows... The looks speak for themselves on the photo ... :-)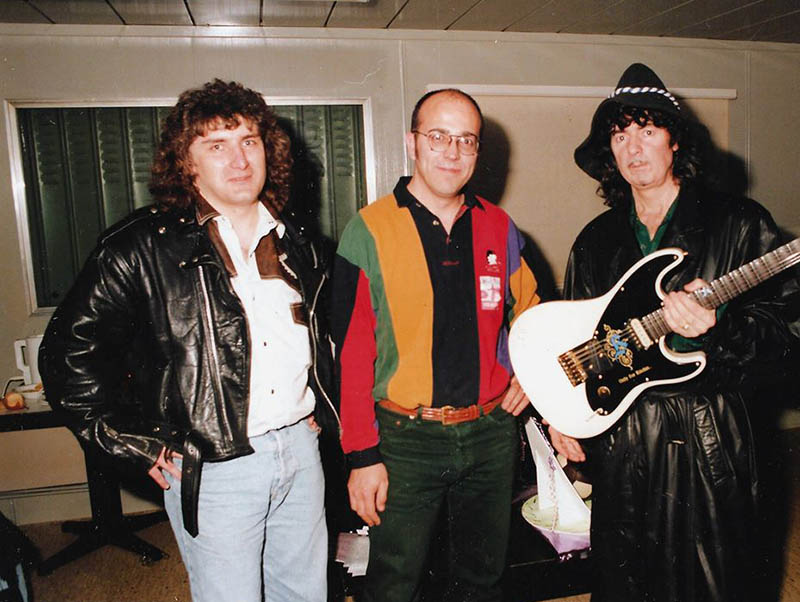 Contact passes and tears come to my eyes .... What charisma and energy ... After wiping the tears, we immortalize the moment ... I show Ritchie my Japan special edition of Made in Japan ... This album interests him because he notices something inside ..... He just put his autograph next to that of Roger Glover and Ian Gillan ... This album was exposed for a while at the store of my friends (Roland and Serge) Bouldingue in Lyon. A special thought for Serge...

We will keep the cake party for us. A little private moment that we wanted to keep just for us. Do not blame us. It's just to build a hidden little treasure. A privileged moment just for us :-)

Even the press talked about it .. A newspaper article was published... Ritchie talked about this guitar in a Japan TV special in which he was talking about this guitar

"Deep" on Rocking!

Jean-Marc Mauti