Rainbow
Big in Japan, but at the end of the Rainbow,
there's a crock of... what?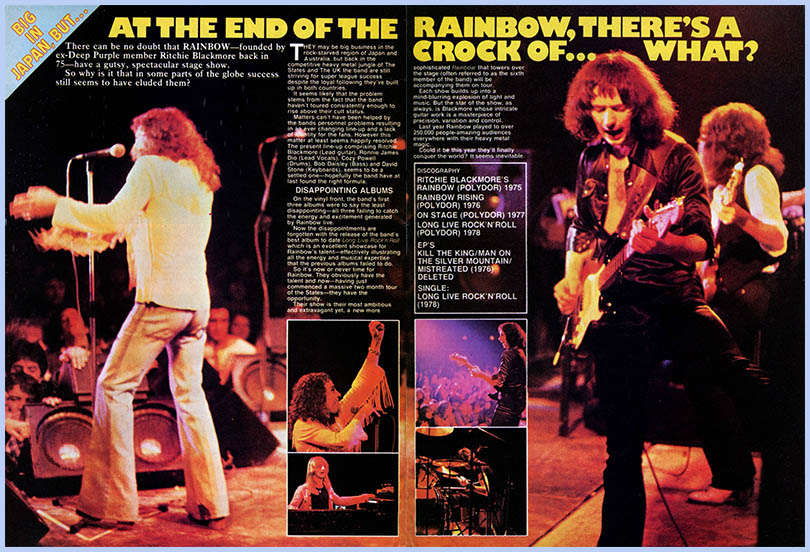 There can be no doubt that rainbow - founded by ex-Deep Purple member Ritchie Blackmore back in 75 - have a gutsy, spectacular stage show. So why is it that in some parts of the globe success still seems to have eluded them?

They may be big business in the rock-starved region of Japan and Australia. but back in the competitive heavy metal jungle of The States and The UK the hand are still striving for super league success despite the loyal following they've built up in both countries. It seems likely that the problem stems from the fact that the band haven't toured consistently enough to rise above their cult status.

Matters can't have been helped by the bands personnel problems resulting in ever changing line-up and a lack of identity for the fans. However this matter at least seems happily resolved. The present line-up comprising Ritchie Blackmore (Lead guitar), Ronnie James Dio (Lead Vocals), Cozy Powell (Drums), Bob Daisley (Bass) and David Stone (Keyboards), seems to be a settled one — hopefully the band have at last found the right formula.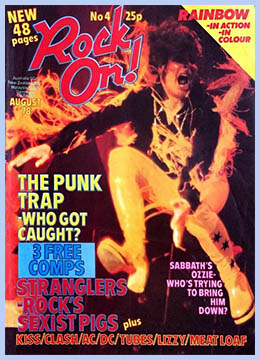 DISAPPOINTING ALBUMS


On the vinyl front, the band's first three albums were to say the least disappointing — all three failing to catch the energy and excitement generated by Rainbow live. Now the disappointments are forgotten with the release of the band's best album to date Long Live Rock n Roll which is an excellent showcase for Rainbow's talent — effectively illustrating all the energy and musical expertise that the previous albums failed to do.

So its now or never time for Rainbow. They obviously have the talent and now — having just commenced a massive two month tour of the States — they have the opportunity. Their show is their most ambitious and extravagant yet, a new more sophisticated Rainbow, that towers over the stage (often referred to as the sixth member of the band) will be accompanying them on tour.

Each show builds up into a mind-blurring explosion of light and music. But the star of the show, as always, is Blackmore whose intricate guitar work is a masterpiece of precision, variation and control. Last year Rainbow played to over 250.000 people-amazing audiences everywhere with their heavy metal magic.

Could it be this year they'll finally conquer the world? It seems inevitable.


DISCOGRAPHY

RITCHIE BLACKMORES RAINBOW (POLYDOR) 1975
RAINBOW RISING (POLYDOR) 1976
ON STAGE (POLYDOR) 1977
LONG LIVE ROCK'N'ROLL (POLYDOR) 1978

EP'S:
KILL THE KING/MAN ON THE SILVER MOUNTAIN/ MISTREATED (1976)

SINGLE:
LONG LIVE ROCK'N'ROLL (1978)


© Rock On Magazine no 4 - August 1978