RAINBOW
STRANGER IN US ALL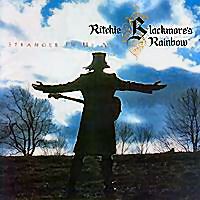 RainbowFlame's Metal Domain Review



When 'The Man In Black' quit Deep Purple after 'The Battle Rages On' many fans hoped that Ritchie would reform Rainbow. Well their wishes came true, the only debate now was who would be in the line-up and what era of Rainbow would they reinvent themselves on?? The 'new' band compromised of mainly all unknowns and that was a brave move, the style was somewhere between classic Medieval Dio-era and the more radio-friendly Joe Lynn Turner style. The album received general un-interest from the press but does that mean its uneventful?? Lets see..

1. WOLF TO THE MOON - [4.16]. A medium up-tempo opening track that sounds like latter day tracks such as 'Death Alley Driver' but with a more medieval feel. Doogie Whites' voice is strong and comes across as a nice mix of Dio and Joe Lynn Turner, but managing to still sound original. The lyrics tell of someone who lives on the road trying to find a home - 'Chasing the sun as it sets in the sky, Swear that I'll catch it someday. Lights of the city behind are fading away'. The solo from Ritchie opens with a melodic motif, before changing gears and hitting you in the face with wah wah licks and that smouldering vibrato. The only complaint I have with this track is John O' Reilly's drumming which sounds a little stiff at times and seems to be holding the band back from really going for it. Still a solid opener with a 'Spotlight Kid'-esque ending.

2. COLD HEARTED WOMAN - [4.31] Quite a radio-friendly rocker that is home to a latter day Deep Purple bluesy riff, which although is very simple sounds very powerful. The lyrics are similar to those on 'Lady Of The Lake' and '16th Century Greensleeves' in that they tell of becoming infatuated by a 'Cold Hearted Woman'- 'She came from across the water, A devils daughter was in disguise, I cried for mercy, She bound and chained me, And then she played me - I was mesmerised'. The solo sees a nice key change for more of Blackmore's blues licks before hitting the outro; which sees a more ethereal quality take over with some well suited keyboard stabs by Paul Morris [who actually was going to be in the band in the early 80's before David Rosenthal was hired]. Doogie closes with some R J Dio inspired ad libbing which is a pleasant throw back to those magical early albums.

3. HUNTING HUMANS [INSATIABLE] - [5.45] A slow tempo track that is very scary. There is only some crisp sounding drums with a haunting bass and guitar riff for the main riff. Doogie sounds excellent here and the lyrics are nicely doubled by Blackmore with some great call and response playing. The track builds nicely for the chorus which is very original, in fact I can't really relate this track to anything else 'Closer still, Lose your will, See my world, Its insatiable'. A very sparse track that still manages to say a lot and is one of the best on the album.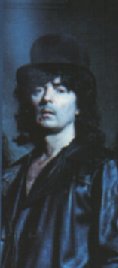 4. STAND AND FIGHT - [5.22] Another radio friendly rocker, this tracks reminds me a lot of 'Can't Happen Here'. That's not to say its a rip-off [far from it], more that is gives off a very similar vibe. The lyrics tell of being trapped in a relationship that isn't working and being determined to be the one not to leave 'Can't say something if the words ain't there, What you trying to do. Money can't buy me out of the trouble I'm in, I've been messing with the likes of you'. There is some harmonica work which is unusual on a Rainbow album and gives it more of a bluesy vibe. This is the kind of song most bands can turn out in there sleep so its with some respect that the band manage to make it sound strong, Ritchie throws in some great slide work which also raises it above the average more.

5. ARIEL [5.39] Another of the highlights of the album. A haunting riff with a slight eastern tinge to it opens the song. The track breaks down nicely for the verse which sees some superb acoustic guitar work, quite medieval sounding, this track could be seen as forerunner to the 'Blackmore's Night' style and it would not sound too out of place on either of those releases. Doogie's voice compliments the lyrics extremely well - 'I search for her in the dead of night, A silhouette lit by candlelight. In a whispered word she is gone, Familiar stranger without a name.'. Ritchie throws in a superb slide solo, a style of his playing which is greatly overlooked and deserves so much more recognition, simply beautiful. The track takes a turn into a more major uplifting sound before breaking back down to a dark outro. The outro sees some backing vocals from Candice Night that give the track an even more medieval feel. A great track.

6. TOO LATE FOR TEARS [4.56] Another bluesy rocker, while not an absolutely killer track, the groove of the song is irrisistable with Ritchie throwing all kinds of guitar hooks and licks all over the place. The chorus has a superb sing along quality that sticks in your head hours later 'What are we fighting for? Dontcha know that no one wins, What are we fighting for? Just give up and I'll give in, Its too late for tears'. The solo sees yet more Blackmore excellence with some great wah wah work, another good solid track.

7. BLACK MASQUERADE [5.35] This track is supposedly a remake of 'Anya' off Deep Purple's 'The Battle Rages On' which Ritchie felt Ian Gillan ruined! While their are elements that can be traced to 'Anya', 'Black Masquerade' is much more aggressive and superior. The lyrics are again pretty dark and mystical. The track bounds along with a crushing bounce that made this a killer in the live setting. The solo sees a superb acoustic interlude that shows off Ritchie's virtuosity to great effect before a keyboard solo that could do with being a little louder in the mix, in fact that is my only complaint with this track!

8. SILENCE [4.04] Yet another bluesy rocker and its the weakest track on the album. This is a run of the mill rocker that the band probably wrote in their sleep. The chorus is very weak and does nothing to aid the track. Even Ritchie's soloing doesn't save the track from being a big disappointment.

9. HALL OF THE MOUNTAIN KING [5.34] Things look up from the first note of this track after the last! Yes this is a full blown version of Grieg's classical piece of the same name. This gets the full Rainbow treatment, grandiose lyrics, the main hook and riffs pumped up to ten etc. Doogie sounds positively demonic here and make the lyrics sound more dark - 'Mysteries of ages told, stories now will unfold. Tales of mystic days of old are hidden in these walls. Hear the witches play their tunes, sing their songs to the moon. As they play the night will move, in the hall of the mountain king.'. Ritchie's build the main hook into a overblown frenzy and it sounds simply superb. Many bands have used this piece of music in tracks [Savatage, Roland Grapow], but Rainbow do perhaps the most authentic and best version.

10. STILL I'M SAD [5.22] Yes this is the same track that appeared in an instrumental guise on the first Rainbow album and the vocal version that appears on 'On Stage'. The first minute is taken up with some restraint guitar noodlings that set the scene perfectly before that main riff enters and blows anything near the speakers away!! The melody line of the vocals is deliriously swooping and infectious. This track was just made for Rainbow [it is a 'Yardbirds' number]. Doogie surpasses Ronnie Dio's vocal delivery [yes its that good] and adds more magic to this great track. Ritchie throws in yet more exceptional solo's with that Strat sound that is to die for. This album is worth getting for this tack alone!! A magnificent way to end the album.



Generally this album is extremely strong. Its just a couple of songs that hold it back from being up their with 'Rainbow Rising' and 'Straight Between The Eyes' as a bona-fide Rainbow classic.

The darker tracks are superb and obviously what this line up excelled at. Doogie White was a fine addition to the band and expressed himself admirably. This is a guitar dominated album with the keyboards taking a more backseat role and that is great for us Blackmore-ites.

Ritchie's playing sounds inspired and fired up throughout the record and proves that he is getting better with age. Their are clues in this album that 'Blackmore's Night' was on the horizon, Candice Night wrote the lyrics for several songs and many would work in that context. So overall if this is to be last 'Rock' album from Ritchie then he went out with a definite bang. The cover is also pretty cool!! Highly recommended.



RATINGS
Production - 8.0 Songs -8.5 Lyrics - 9.2 Performance - 9.5

OVERALL
8.8



Andy Craven, RainbowFlame's Metal Domain Review 2000



Additional Comments

I've had this album since right after it was released and for the most part, found it to be delightful and dreadfully underrated and overlooked. The Rainbow magic is captured in full glory on the dark gypsy vibe of majestic "Black Masquerade", the sonic onslaught of "Wolf to the Moon" and the medieval ghostliness of mystical ballad "Ariel", which also served as Candice Night's debut on a Ritchie record. Doogie White is a capable vocalist, rich in emotion and a tone caught in the crossroads between Dio and Turner, while Ritchie's riffs are as spectacular as ever, with his best acoustic performance ever flaunted on "...Masquerade". You can hear the Blackmore-ites rejoicing world round... its too bad Ritchie never made a follow up to the album and let the band disolve because he had a truly great thing on his hands and just didn't fully realize it.

Alanna Evans, RainbowFlame's Metal Domain Review 2000