When it comes to pioneering jam metal bands, few artists can compete with Rainbow and their legendary penchant for stretching out straightforward rock songs into exercises in instrumental abandon.

The 35th anniversary reissue of 'Live in Germany 1976' -- an unsung companion piece to the band's better known 1977 double concert album 'On Stage' -- showcases guitarist Ritchie Blackmore, singer Ronnie James Dio, keyboard player Tony Carey, bassist Jimmy Bain and drummer Cozy Powell nearing their creative peak.

Album opener 'Kill The King' explodes with compact muscularity and clocks in at 5:30, the shortest cut on the affair. From there, both the strengths and weaknesses of 'Live in Germany' are glaringly apparent.

Stretching out 99 minutes of music over eight songs is a feat that few metal bands beyond the most progressive ones could achieve. Studio material that was originally three or four minutes clocks in around the mid teens on 'Live in Germany.' That means how much you'll enjoy the double-disc has a lot to do with how patient you can be.

For those who can take the journey, 'Live in Germany' offers another chance to hear a cast of veteran metal all-stars considered by many to be the definitive Rainbow lineup -- even though the band would go on to greater commercial victories with later incarnations.

'Live in Germany' offers only two songs above and beyond what you can find on 'On Stage.' But those two alone -- the epic 'Stargazer' and the more straightforward 'Do You Close Your Eyes' -- make this a worthy listen.

Carey's extended keyboard solo during the intro to 'Stargazer' nearly rivals any of Blackmore's amazing fret-board wizardry. It's a song within a song, opening with psychedelic effects and moving on to a lighthearted melody around the three-minute mark that's uncommon in Rainbow's early work. The bulk of the tune itself checks in at a full 17:00 and highlights a heavy prog-rock influence.

'Do You Close Your Eyes,' meanwhile, is a straightforward rocker that is improbably stretched out to more than three times its normal album length at over 10 minutes. It's the most unpretentious song in the bunch, with lyrics that leave behind the demons-and-wizards references in favor of lusty come-ons typical of bar-room blues metal at its best.

Elsewhere on the disc, '16th Century Greensleeves' provides a textbook run through lumbering medieval metal, while 'Mistreated' veers from a chainsaw-buzz guitar opening to find Blackmore pulling dreamy notes out of his axe during the extended midsection breakdown.

'Man on the Silver Mountain,' meanwhile, opens with a funk-inflected rockabilly jam and some tasty Blackmore chicken-picking before morphing into the tune's driving signature riff. Toward the end of the 13-minute tune, Dio delivers chilling a capella moments that serve as testament to his enduring vocal legacy.

Theodore Thimou, Ultimate Classic Rock - October 31, 2011










RAINBOW • LIVE IN GERMANY 1976 (Connoisseur DP VSOP 155)

RainbowFlame's Metal Domain Review



To many Deep Purple fans, Ritchie Blackmore had been the essence of that band. This feeling had been reinforced by the groups lacklustre gigs with his replacement Tommy Bolin. Rainbow's shows were thus eagerly awaited and people were keen to see what Blackmore could deliver given a free musical reign. The fans faith was to be amply rewarded. Blackmore's total musical control gave him a freedom on stage he had never really had before, and while the set remained constant, he was able to develop and change the structure of the tracks as he so wished. The net result was guitar playing which reached new heights, with solo's stretched out or curtailed as the mood took him, running the spectrum of emotions from gentle runs to intense riffing. At many gigs audiences were reduced to absolute silence in which you could of heard the proverbial pin drop as Blackmore went off into the outer reaches during 'Catch The Rainbow'.

An album of this tour [originally planned for just the Japanese market] was released world-wide in 1977, however, to many it was somewhat of a disappointment. 'Rainbow On Stage' came predominantly from the Japanese shows of the 1976 world tour and featured an edited version of 'Mistreated' as well as missing key tracks - 'Stargazer' as well as the climatic guitar blitzing encore, that album also seemed to lack an intensity seen earlier in the European gigs.

Fortunately this album redeems the slight disappointment of 'On Stage' and as such is possibly one of the strongest live albums I have EVER heard. The sound of the album is excellent with the perfect mix of all the instruments and THE voice of Ronnie James Dio, each musician gets a showcase piece throughout the set and this only goes to highlight the musical geniuses that were perhaps the definitive line up of Rainbow.

Most of the tracks are extended way beyond their studio counterparts at over 12 minutes plus; and as such emphasise that 'live' was the setting were Rainbow really were the best ever!!

CD 1

1. KILL THE KING [5.25]. This classic track was the opening tour-de-force before it got it first official release on 'Long Live Rock N Roll', the driving riff is one off Blackmore's best and here it sounds positively demonic, Cozy Powell [RIP] matches Ritchie's full-on delivery and then Ronnie's voice soars. This is how ROCK is meant to sound!!! Ritchie delivers the solo and you can hear his true voice shine through every one of his Stratocaster's notes. Jimmy Bain sound like he is playing his bass within an inch of its life and Tony Carey as usual is perfection on the keyboards. This track really gets the blood pumping!!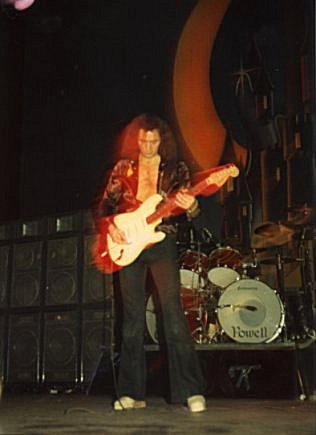 2. MISTREATED [16.00]. Starting with a mellow intro from Ritchie where he almost duets with his delay pedal you know you are in for something rather special.. When the main riff is played you know that this version could well top the one found on DP's 'Burn'. Ronnie's voice make you wonder if he really wrote the lyrics as there is so much commitment and feeling in the way he wrings every last bit of emotion out of his lungs, his delivery really is that good!! Then we get to the solo... well this is the first showcase piece of the night and Ritchie makes the most of it, gentle noodlings [you can see the Blackmore's Night stuff has always been in his soul] counteracted by weeping volume swells, this really is beautiful stuff indeed!!! Cozy adds some gentle percussion to the proceedings, then its back to the chorus where Ronnie again makes the track, Tony Carey is every bit as good as Jon Lord on the organ and is the perfect complement to Ritchie. Towards the end we are treated to Ronnie and Ritchie doing the duelling that he and Gillan did to great effect on the 'Made In Japan' album, only Ronnie surpasses Gillan with his superior voice matching Ritchie's choice notes perfectly. The track ends with the big crash ending and you feel positively drained after listening to it all, in fact after the first listen I had to listen to it again to make sure what I heard was real!!! Awesome...

3. SIXTEENTH CENTURY GREENSLEEVES [7.50]. Opening with Ritchie's rendition of 'Greensleeves' is the perfect intro to this track [one of my personal Rainbow favourites] it collides head on with the powerchord gusto that is the main riff, The whole band again sounds huge on this track and the end result is one of the highlights of the album. 'Meet me when the sun is in the western skies, the fighting must begin before another someone dies', great mystical lyrics to a gem of a track, words don't do this rendition justice so I will end by saying that to appreciate this track you really must listen to it loud [preferably in a candlelit room].

4. CATCH THE RAINBOW [14.50]. Regarded by many as the Dio/Blackmore masterpiece, although the track is similar in chord progression to Hendrix's 'Little Wing' it is still a very original track and again takes you back to medieval times. 'We believed we'd catch the rainbow, ride the wind to the sun', 'But lives not a wheel, with chains made of steel'; great lyrics which can be interpreted in many ways but above all emphasise hope and dreams. Again there is a long instrumental interlude from Blackmore which as mentioned earlier is literally breath taking. Another highlight of this track is Jimmy Bain's backing vocals, he even sings lead at one point, this shows that the band had two great singers in their ranks. Another highlight of the album and a great way to end disc one.

CD 2

1. MAN ON THE SILVER MOUNTAIN. Opening with Ronnie asking if everyone is in tune [even Cozy!!], onto Blackmore starting a funk-esque jam, you know that the band are having a good time [always a bonus]. This stops abruptly to go into the intro from 'Lazy' which is a cue for Ritchie to play some light speed soloing. From here we get another of Blackmore's gem riffs, the tracks is played a bit faster than the original version which only adds to the energy of the track. 'I'm the night, the night, the dark in the light' are belted out by Dio and are another example of his golden lungs. Blackmore plays a brief solo then back into the majestic chorus. This really is the sound of a band cooking!! The Man In Black goes into his own to world create sonic landscapes that picture images of yore. We are then treated to the 'Blackmore Blues' which shows he really should be as highly regarded in this field as Clapton, SRV etc. Ronnie then sings solo creating more histrionics ad libbing as he goes along to be joined by the band creating the basis for what could be a new song, 'I'm the man, the man, the mmmaaaaannnnn' and the band kick back in with the main riff. Cozy adds some great double bass drum work and then the end of this great track.

2. STARGAZER [17.10]. Opening with Ronnie explaining the meaning of the lyrics, we are then treated to Tony Carey solo, which sees him playing classical/futuristic lines on his 'Mini Moog' synthesiser which lasts for an awe-inspiring 4 ½ minutes. A brief drum fill from Cozy and then into that riff, possibly the most bombastic ever written. Ronnie's voice is again note perfect [is this man capable of hitting a duff note??]. After the second chorus we are treated as to what I can only describe as the Blackmore showpiece. His lengthy solo here comes screaming into your skull no matter how many times you play it. It makes his classic solo on the original version sound like a warm up exercise!! The stinging vibrato, the fast flurry of perfectly placed notes, slide work, special effects the best Stratocaster sound ever -its all here!!!! How he was always seen as second best to Jimmy Page in the 1970's is beyond me. The solo builds to a stratospheric climax, another brief fill from Cozy and its back to the verse and chorus. This song is another that is virtually impossible to translate into words. A classic song, the best version I have EVER heard.

3. STILL I'M SAD [15.00]. Opening with Ritchie blazing on the opening riff, Ronnie shines, Cozy beats the skins to within an inch of breaking, Tony beats on the Hammond and Jimmy grinds on his bass, a brilliant version of the 'Yardbirds' classic. 3 minutes in sees intense jamming which leads to another Tony Carey solo which segues into the ultimate drummers turn to solo. When I learnt of Cozy's death last year this was the first track I put on to see what a talent the world had lost. Cozy always managed to bring out the best in however he worked with including Yngwie Malmsteen, Whitesnake, MSG etc. His solo here covers every music genre their is Jazz to Funk to who knows what back to Rock, the bands comes powering back in for the finale of this track. A great tribute to possibly the best Rock drummer ever.

4. DO YOU CLOSE YOUR EYES [9.45]. I must admit to never really liking this song that much, but this version is great, Blackmore opens with more stinging Stratocaster licks. R J Dio is again flawless belting out the lyrics at high speed and Jimmy Bain adds some great backup vocals. Blackmore again is playing like his life depends on it, and what we are then treated to is the sound of his Strat dying a painful death, no visual images are needed as the sound lets you see everything, vicious whammy bar manipulations, extreme string bends, hitting the floor all the destruction is perfectly captured on disc. This lasts for a good 5 minutes and only makes you wish you were at this gig. The band carry on adding the perfect accompaniment to Blackmore's destruction. A great way to end an amazing live albums.

This is without doubt one of the finest 'Live' albums I have ever heard, it is up there with the all time greats such as: 'UFO - Strangers In The Night', 'Thin Lizzy -Live and Dangerous' and either of Deep Purple's 'Made In Japan' or 'Made In Europe'. It is also a live album in every sense of the word, no overdubs, no studio gimmicks, just a great Rock band going for the ultimate performance. It is a testament to the strength of the material that it still sounds fresh 20+ years after it was recorded, and like all great music it will continue to sound fresh. The musicianship is faultless and the energy displayed is nothing short of breathtaking. It is the kind of album that reaffirms your faith as to why you started listening to music in the first place. Full marks to 'Connoisseur Records' for digging these recordings out of the vaults and giving us hours of simple, honest musical pleasure.



RATINGS

Production : 8.5 Songs : 10.0 Lyrics : 9.0 Performance : 10.0

OVERALL

9.5 Andy Craven, RainbowFlame's Metal Domain Review 2000