RAINBOW
STRAIGHT BETWEEN THE EYES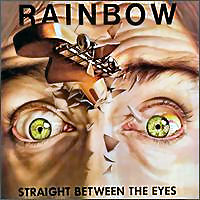 RAINBOW • STRAIGHT BETWEEN THE EYES (Polydor POLD 5056)

EYES RIGHT!



Rainbow are without doubt heavy metal's greatest phenomenon, and dare I say it, enigma. Which other heavy band could undergo such an almightly shift in direction from the overblown and altogether monumental sound of 'Rising' to the classy heavy pop of 'Difficult To Cure' and still maintain the respect of every denimed punter? I'd wager on that number being low - very low. I too have found much pleasure in the varied styles which Ritchie has followed (bar the infinitely tedious 'Down To Earth') and upon being treated to an earful of the single 'Stone Cold' from 'Straight Between The Eyes', I knew the man in black had done it yet again. "Stone Cold' is a tower of controlled emotion and power, so Foreignerish - so excellent.

You might be rapidly reaching the verdict that 'Straight Between The Eyes" is American made, and aimed, yet this isn't by any means the whole case, for while the song structures of numbers such as 'Power' (in which Joe Lynn Turner excels, running in line with Foreigner's Lou Gramm all the way) and 'MISS-Mistreated' are melody rather than riff based, Blackmore's playing and the spacious keyboards of new recruit David Rosentha1 are so steeped in Rainbow's traditional sound that the UK sound is still apparent. All in a11, this makes for an extremely interesting and satisfying conglomeration of diverse influential drawing points, which might easily have seen Rainbow falling on their backsides between two musical stools, but in fact sees the band grabbing the best of both worlds on an album which will certainly produce their biggest worldwide sales figures to date. 'Straight Between The Eyes' will crack the American market wide open for Rainbow.

Grudges are few, and far between but it is interesting to note that the band's favourite number, 'Tite Squeeze', also happens to be the one track which goes nowhere, and does nothing. I am actually trying to find something to knock to keep my critical faculties in order, and the truth of the matter is that of the Purple offshoot bands Rainbow are definitely the most exciting, innovative and simply the best.

Howard Johnson, Kerrang! April 1982










RAINBOW • STRAIGHT BETWEEN THE EYES (Polydor POLD 5056)

CHANGING COLOURS



At last Rainbow have cut their smooth approach and produced something with a bit more bite!

It seems their personnel changes have given them a, more direct, hard hitting style although it's still aimed at the US market. 'SBTE' will satisfy the most hardened head bangers among you and yet still remain highly accessible to the pop plebs.

All the tracks on the album are written by group members Blackmore, Glover and newcomer Joe Turner - the man who replaced Graham Bonnet on vocals and that's another bonus! The other new face, Bobby Rondinelli, although lacking the technical expertise of his predecessor Cozy Powell, is dynamically direct in his approach. 1 wasn't sure that he could fill, Cozy's boots, but he has definitely come up with the goods. His performance on 'Eyes Of Fire', a track that contrasts sharply with the rest of the album, is superb. He picks up on the Asian influence and, careful not to drown the sitar player (Blackmore perhaps?), comes out with rhythms that are 'Far East'.

But back to the good old boys. You can't forget the all important screeching inventiveness of Blackmore's guitar wrenching. Even the near ballad on the album, 'Tearin' Out My Heart', doesn't escape his multi-noted sheets of sound.

Produced by Rainbow's Roger Glover 'STBE' has all the hallmarks of an album that will yield a crop of successful singles. The one most likely to blast into the charts is 'Death Alley Driver', the opening track on Side One. It immediately sets the ear drums vibrating. The fast and fluid sound - with Turner not so far off being a Bonnet clone really drives the message home.

With this blend of hard and fast heavy metal 'Power' (which more or less explains itself) can be seen as an example of Rainbow relying on the music most of them must have played when they bought their first instruments.

With all this in mind, the remaining tracks are typical Rainbow compositions with strong lyrics, and although the edges have deliberately not been smoothed this time, every number is tight and full of immediate, violent impact. Raw energy however, can be really appealing, and I wouldn't mind betting that this offering from the old reliables is going to be a winner. It's available in a fortnight's time. Enough said. + + + + +

Wayne Fessey, Record Mirror, April 1982










RAINBOW • STRAIGHT BETWEEN THE EYES (Polydor POLD 5056)

SHEIK, RATTLE AND ROLL



EGOMANIA. OR merely dedication to the perfection of the serpent's egg, the Ritchie Blackmore debate will no doubt continue awhile yet. Whatever the final verdict, there can be no disputing that the current Rainbow lineup is as potent as any yet seen. Indeed, what king Dick appears to gunning his spit 'n' polished alchemy machine towards is a platinum-happy median mix of the poppy Graham Bonnet-era style, Americano rampage-rock hooks and just a pinch (no more, mind) of those garish instramental pyrotech burns which he himself innovated, mastered (with Purple and after) and ditched a few yonkos back. Those still interested in that redundant Popular Mechanics bilge should check out any Iron Midden album.

Side the first boasts five variable slabs of attacking stink of the type calculated to upset serious rock writers with hardening circulation figures everywhere, viz: 'Death Alley Driver', not much of a tune but a nifty all-out whine amalgam of Brit/USA hardrock matrixes, leaning heavily to the former with a stock footage guitar et keyboard dark head prowess-strut duel and subscribing to the big band theory at the close.

Then 'Stone Cold' is icy, premasticated ersatz soul straight from the Foreigner mould, pompchord organ giving way to a short, itchy Ritchie soul-o. Follow that with 'Bring On The Night (Dream Chaser)', a halfway catchy shuffle ordinaire which might serve as a future 45 on a rainy day, the mediocre Free-funque of 'Tile Squeeze' and a fair tortuous trek over the slowmotion metallic wastelands of grunt'n'groan balladry, called 'Tearin' Out My Heart', and you've got an uncommitted cynic (me) withholding his vote until something mean shows up. And, praise the Lord, up it doth show at the very outset of the flippo, in the bonecrunching but candy coated shape of the magnificently shaking opus entitled 'Power'. Never has a title so concisely conveyed the essence of the bumph at hand. Starting with just ye olde axe and naught else, 'Power' boasts one of those riffs, like 'Louie, Louie' or 'Sweet Jane', which has a decidedly inevitable feel to it, an unstoppable happy humpalong sassiness which screams H-I-T from every note. It builds and bubbles and falls way too short for everyone's good, which is always a neat sign. Undoubtedly the best thing here.

'Miss Mistreated' is, sadly, the other side of the coin, pure filler drag with vocalist Joe Lynn Turner back on the Lou Gramm trail again, but fluffing the pose somewhat badly. But I suppose the diehard brain hemorrhage mob have been waiting all through the blight for something like 'Rock Fever', a frantically indulgent piece of mesmerism short on tune but long on fret farce, where Blackmore wields his instrument like a Cobra charmer in India uses his flute. It's not the sound, it's the implication of the Strat, snakes being deaf and all. Ultimately music sans fangs, despite Roger Glover's vivid open-heart production. What the discerning fan ought to be delighting in (says I with confidence) is the experiment with lush, Arabian borrowed textures in 'Eyes Of Fire', a lengthy campfire dance with swirling string effects and haunting high-register guitar bleeps by Blackmore, all sheik, rattle and roll. Maybe Ritchie heard Bowie's 'Secret Life Of Arabia' or (more possibly?) Nico's similar "Drama Of Exile', both of which tread the same sands. Metal goes moody and all of Rainbow acquit themselves beautifully. Hey! Is this 'progressive'? Ulp. Naw. But it's a million flashbombs from the duff Rainbow of several years ago and a quantum leap towards what any great rock'n'roll should be about.

4 out of 5 stars rewarded
Sandy Robertson, Sounds 10 April 1982










RAINBOW • STRAIGHT BETWEEN THE EYES (Mercury)



Ritchie Blackmore has never really cared what people think of his music. Fortunately, many of the songs Ritchie penned during his days with Deep Purple and most recently, Rainbow, were well-received but Rainbow's last release, DIFFICULT TO CURE, definitely was not up to par compared to previous Rainbow LP's.

As a follow up to that last album, STRAIGHT BETWEEN THE EYES is a fresh, vibrant effort. "Death Alley Driver" kicks off the LP in fine style with Blackmore's guitar sounding much the same as it did on "Highway Star" years ago, while the more relaxed sounds of "Stone Cold" add a melodic touch to the album.

The most dominant song on STRAIGHT BETWEEN THE EYES is "Power." This irresistable tune features one of the most catchy chord arrangements Blackmore has come up with in years. It has that unique quality that makes you want to hear it again and again.

STRAIGHT BETWEEN THE EYES is a real winner. Even if you're not a Ritchie Blackmore fan, STRAIGHT BETWEEN THE EYES is sure to please.

Jack Hammer, Cleveland Scene - May 13, 1982










RAINBOW • STRAIGHT BETWEEN THE EYES (Polydor POLD 5056)



Let's face it: hard rock is an inward-looking genre. When I get a visit from a hard rock fan, it's like meeting a human from another planet. Yet it is and remains a type of music that can appeal to a large audience. How do hard rock acts like Foreigner, Van Halen and Joan Jett And The Blacks reach John Doe? By shamelessly recycling or using a slick ballad. But there is another way, with which also the more serious pop fan can be reached. Namely, by distinguishing yourself from the average hard rock mob, apart from flashy guitar work, by a well-considered use of keys, more experienced vocals and better compositions.

Rainbow follows that road. The hell of personnel mutations the formation has gone through - on "Straight Between The Eyes" Don Airey has been replaced by David Rosenthal - explains the lack of commercial success such as the above groups currently enjoy. The Roger Glover-produced album was recorded at Le Studio in Morin Heights, Canada, while the songs were digital mixed and mastered. A recording process that 99% of the hard rock groups would not dare venture into, because if there is one recording process where nobodies fall through, then it is the digital one. Rainbow can take it, because their hard rock is, besides dynamic, extremely transparent and quite intelligent, while the group consists of nothing but "cracks".

Ex-Fandango member Joe Lynn Turner is a fantastic lead singer, who can convey everything he sings about and credibly to the listener, Ritchie Blackmore's qualities as a guitarist are beyond question, while David Rosenthal often brightens up the instrumental framework with his keyboard contributions. Despite that "Straight Between The Eyes" in the neighbour country Canada was recorded, the LP contains with the exception of the absolute, commercial price track "Stone Cold" not much more American-oriented melodic hard rock. On the rest of the record Rainbow keeps the solid English, creating a whole full of variety that both the adepts of the hard rock genre and other fans of healthy and hard rock & roll music will appeal and hit you 'straight between the ears'.

Harry van Nieuwenhoven, Muziekkrant Oor Holland - April 21, 1982










RAINBOW • STRAIGHT BETWEEN THE EYES (Polydor POLD 5056)



Rainbow: what a band! Five exceptionally talented musicians, who put their individual qualities at the service of the group and not the other way around. That is the great strength of Rainbow: the total sound! Once again the quintet proves that they occupy a unique, very prominent place in the hard rock world. Their newest album "Straight Between The Eyes" again testifies top class. Melodic hard rock with excellent lyrics. The songs are played heavily but contain (luckily no long solos). A fascinating LP, played by pedigree musicians who understand their trade. Listen and check out Joe Lynn Turner's voice on the single "Stone Cold".

Album of the Week
Irene Linders, Hitkrant - 22 April 1982










RAINBOW • STRAIGHT BETWEEN THE EYES (Polydor POLD 5056)



A record that once again proves that Ritchie Blackmore and Roger Glover, the dark purple inventors of hard rock, are not finished yet. Especially Blackmore shines here and there with beautiful guitar work ('Death Alley Driver' for example). Rainbow relies mainly on the writing talent of the Blackmore/Turner couple and as long as Rainbow draws for melodic material, Roger Glover also stands up wonderfully well. A somewhat exaggerated title for a record with class.

Dutch Press - April 1982










RAINBOW • STRAIGHT BETWEEN THE EYES (Polydor POLD 5056)

RainbowFlame's Metal Domain Review



Usually I try to discuss albums with an impassive view, describing what I hear more than what is felt, but its difficult to not let the sentimental side cloud my judgement while gazing over the meat that makes up "Straight Between the Eyes". Looking for flaws, it's hard to see any, the album is simply so good, so close to me, so personal, that most of the reasoning has been stripped away leaving memories to take ahold. Everytime I read a negative review of it, I feel saddened, for the fact it's panned simply for not being "Rising". But it was never supposed to be. "Straight Between the Eyes" is an album that is all it's own and owes nothing to anything else. Yes, it was shaped by the strive for commercial success, the need to follow up small hits that came from the few fruits of labor of the past two albums, but the disc did not suffer from it, instead the music thrived, shaped into aural weapons wielded by masters that know how to milk each note for all it's worth.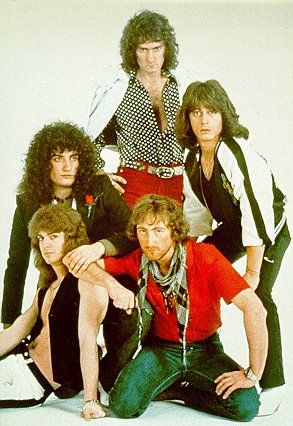 This is the album that houses "Stone Cold" for goodness sake. In my eyes that song is one of the greatest to come out of any era, but we'll get to that later. The disc itself is molded by talent and astonishingly tight song writing. Joe Lynn Turner, love him or hate him, has a voice to be reckoned with. He sings with heart, born on the wings of rawest emotion, but yet manages to take it to another level.

Another plane of existance entirely where few vocalists have managed to reach and be successful at it and more importantly, believable. He sings with his soul. Perhaps moreso on this record than any other in his career. Bursting with youthful energy and letting his voice take flight, summoning a smooth unwavering magic with a charm that is as expressive as it is mesmerizing. An untapped talent, taken under the wing of legendary guitarist Blackmore, given some freedom of musical creation, and the opportunity to shine that "Difficult to Cure" never allowed him.

Turner brings his own stylish stamp to the Rainbow camp, and the songs were obviously tailored to accommodate for all the nuances lurking in the darker, as well as the brighter shades of shadows and light that are present in his charismatic singing style. Then of course there is The Man in Black, ex-Deep Purple guitarist Ritchie Blackmore, seeking a new direction to take his music in, and apparently with some outside guidence, he has found it.

While oddly restrained, compared to the days of Purple, or even the fledging years of Rainbow when Dio was at the helm, using his own influence to sculpt the discs he was involved in closer to his visions, Blackmore trades extensive soloing for short bursts of brilliance. While lacking in length, his moments in the spotlight are illuminated with blazing passion, making the listener not just simply hear the music and appreciate it for it's technicality, but also to be able to tap into its inner essence and *feel* it.

The other musicians are of course worthy to note, especially another ex-Deep Purple member by the name of Roger Glover, bassist and co-writer for the majority of material written for this album, as well as all of Rainbow's releases during their twilight years 'commercial' period during the late, late 70s and the very dawn of the decade of excess, the 1980s. His command of the bass guitar, is as stellar as always, and backed by the rhythm drumwork of Bob Rondinelli, and yet another master of their instrument, David Rosenthal on keyboards, who is still weaving his synthesizer magic today in a UK band known as Ten.

1.] "Death Alley Driver" - Roaring engines, blazing cars, and a song atypical of the rest of the release, even if it's the first true example of how well this lineup meshes together, and eclipses... no... totally surpasses, any of the tunes present on their previous and far inferior offering, "Difficult to Cure", save for the instrumentals and Ballard penned "Magic". While the track itself might not measure up to the hefty competition awaiting their listening time throughout the rest of "SBtE", the solo on the other hand is a frenzied masterwork, with dueling Rosenthal on keys and Blackmore on the axe, that rivals even the classic solos from Deep Purple.

2.] "Stone Cold" - Beautiful, simply beautiful. Can words be formed and arranged in a proper order to pay tribute to this gorgeous offering of sonic bliss? If there is pleasurably painful to partake of its sorrow brimmed refined magic to be found within music, then this is the song that would make me believe it. A timeless half-ballad, soaked with the emotions of the devastated, the forsaken, having been thrown and dragged through the heartless frozen wasteland of love that was a lie by a woman with a heart as unfeeling as stone, and thrice as cold. Elegance, it's a tune like no other. Remembering back the first time I heard it, it had managed to burrow it's way into the depths of my soul and has stayed there, the words are engraved upon my heart, and I know them as well as I know my own name. "Stone Cold" is the kind of song that touches the listener, as has just been explained, but on so many levels, with a fervent raw emotion that is seldom even heard in music today. Joe Lynn Turner's pure unblemished vocals, strike a chord within while Blackmore's solo is just divine. Flawless...wistful...crying out with the pain it knows, the pain felt so deeply. Love that has been destroyed between two that shared so much, but only one came away from it feeling anything at all. A tragedy beyond recognition, Ritchie's axework rings out with this tragic conviction, as if trying to come to its own sorrow drenched conclusion. Rhythm riffs splattering like teardrops in the rain, the song fades, but the mark it leaves is permanent. The marking of a masterpiece. "Your words like ice fall on the ground, breaking the silence without a sound, Oh familiar strangers, with nothing to say...."

3.] "Bring On the Night (Dream Chaser)" - Speaking of magic, it's alive and well in this song, where it bounces along blissfully in tune with the music. Warped effects that sound straight from the psychedelic 70s, draw the listener into the Dream Chaser's web, and then whisks you back out again. A swerving, unpredictable ride of uptempo hard rock, delivered in an urgent pacing with an addictive chorus that begs for replay. An upbeat contrast to the frosty dying love of "Stone Cold". Fun and delightful, anything but serious, the inventive ride with the Dream Chaser is one you won't soon forget.

4.] "Tite Squeeze" - Refusing to settle down after being taken away by the Dream Chaser, Rainbow hurls forward into sexier territory with this rousing rocker with passionate lyrics that are searching more for a good time in the sack than grasping onto the threads of a lasting relationship. It's blatant subtleness leaves the listener to decide just how naughty this tune is, but who really cares as long as the music is decent, and in this instance it's far more than just mere 'decent'. It's a spectacle of vocal prowess and skipping guitar that seems all too delighted with itself and the situation. Sexual energy charges the performance up a few notches, blistering guitar leaving trails of fire leave an expected lasting impression and the beckoning vocals are suitably urgent with a pleading edge. The slinky pacing that lurks along like a wolf stalking its prey is the topping on the cake. "Rock me in your cradle, roll me like a dice, do it to me and I'll do it to you, do it till we do it right."

5.] "Tearin' Out My Heart" - Opening guitar riffs blindly reach out into the nothingness, looking for a scrap of love remaining. Well formed words drift into the light, proving to be deliciously deep and rich compared to the painstruck screeches that accent the chorus. Yet another heart wrenching tale of deaden love and deceit, this time delivered in a more upbeat fashion, but not for once lacking in emotion. The chorus swells with impact, mixing with untamed soul torn energy compared with the more sensitive, lulling verses that illustrate the emptiness feeling within the musical structures nicely. "All alone in the candlelight, I see your face again tonight, and I feel all the emptiness without you..."

6.] "Power" - "Woo! Come on! Ow! OW!" The lyrics are not the material poetry is made of, but there's just something about the 'unstoppable', 'never give up' themes that drives this one home, and in a sleek package at that. There's that unexplainably delightful vibe in Ritchie's guitar riffs that make up the rhythmic backbone, and most attractive draw to the song, stand out like a beacon of electric addiction. Squealing, wild and radiating with that tone that is distinctively and unmistakably the axework of virtuoso Blackmore. Turner's hefty vocals dare anyone to try and challenge him from his course in life (as fleshed out by the lyrics).

7.] "MISS Mistreated" - "I never meant to hurt ya baby..." A classic opening for yet another disc highlight. Plucky with attitude, soulful to the core, Turner takes the spotlight with conviction, never flenching in the face of danger, even when that danger is a woman who believes she's been mistreated. A few words at the end of a line are delivered with a stark deepness making them stand out against the rest of the smoothly sung string of nearly poetic lyrics. The vocal enriched ending sees the guitar ringing out gorgeously, hitting higher notes, sweeping downward, spiraling upward, darting around here and there, all with the bluesiness firmly intact. The song structure itself is created to dance along temptingly, with Joe Lynn's delivery being what makes the rest of the musical mass gel so finely.
8.] "Rock Fever" - By far the most simplistic song to be included on the album, but this one was made solely to translate into the form of a live concert. Repetitive chorus hammers it's point into the skull of the listener, but its fleeting hook-filled delivery makes it a sing-along favorite. Uptempo hard rock in an easily listenable form, not as memorable as other similiar fare like "Power", but still a solid track in its own right.

9.] "Eyes of Fire" - Refusing to go down with mediocrity being the last thing caressing the ears, Rainbow pulls out all the stops for this nearly seven minute tune that strives to be an epic, and accomplishes it with a graceful ease. Mystical in every sense of the world, with an opening featuring the dramatic swelling of sound trick, and middle eastern overtones that recall "Gates of Babylon" except with Turner on vocals and a more mainstream appeal. A slight distortion laid on the vocals bring a theatrical, otherworldly edge, like speaking from another galaxy of those eyes of fire. Those that believe Joe Lynn Turner is a run-of-the-mill 'rock' vocalist with no depth should only listen to this gem, that proves ten times over that he possesses the flexibility of an entire stable filled with metal vocalists. He pours out his heart, adding in little undecipherable in language, vocal sounds of punctuation to the complex backdrop. The guitar throbs like a shining star of fire against the black backdrop with pinpoints of light, winking in and out of existance and twirling around with all the grace of a ballet dancer while the middle eastern vibes pound on, building in intensity like a forever flame. Growing in strength and size while the guitar continues to dance enchantingly around the urging vocal centerpiece. The song fades out like a flame in the distance. "A demon, a daughter of madness, One look from her eyes could burn you alive, drown you in oceans of sadness."

Those that dismiss "Straight Between the Eyes" as a halfhearted attempt at 'selling out', are perhaps not quite seeing the entire picture. They are comparing it with releases that came out ten years before, maybe even further back in the Blackmore timeline, a man who was as different with Purple as he was with Rainbow, and as different in Blackmore's Night now as he was then. A guitarist who has grown and changed dictated only by what he himself wanted to write and perform, not what was expected of him. His compositions are creations of inspiration. On "SBtE" he was honing the metallic blade with pop sensibilities and hard rock influence, and managed to pull that musical sword from the fire branding heat and shine it to a glowing perfection, giving his all for the Rainbow of that time, not as the band as it was before the inclusion of Turner, and thus, for what the music was, and strove to be, it was an amazing success. Everything a melodic hard rock fan could want and more. It was truly a triumph of the genre.

RATINGS: Production - 8.0, Songs - 9.4, Lyrics - 8.6, Performance - 9.7 OVERALL: 9.6

Review by Alanna Evans, RainbowFlame's Metal Domain Review 2000
- very nearly gave it a ten, but "Rock Fever" brings it down a bit...