TWO STARS?! I hear you scream.

Yes, I'm afraid so. To come straight to the point and with the minimum of waffle: the days when a new Rainbow album was automatically awarded a Sounds 'Indispensable' tag are over. Finished. Dead and gone. I'm not taking this slant simply to be controversial. I'm not about to give 'Difficult To Cure' a drubbing because I feel it's an 'interesting' or 'different' angle to adopt. No, I sincerely believe that this LP is desperately disappointing, and moreover that guitarist and band leader Ritchie Blackmore has had his day.

I've said it. And I've started, so I'll finish...

Vocalist Graham Bonnet's and drummer Cozy Powell's departures from Rainbow heralded yet another new beginning for the band. However, despite criticisms of Mr Blackmore's continual chopping and changing of the group line-up, it's possible to argue that the multifarious Rainbow 'developments' have generally worked out for the best.

It's Ritchie's prerogative to mess about with his own band after all, and indeed more often than not his (initially apparently arbitrary) alterations have worked spectacularly well. Bonnet for example, despite his rather smooth appearance, was a more than worthy successor to Ronnie James Dio. Similarly, Roger Glover was a wise choice to hold down the position of bassist and Don Airey is undoubtedly the best keyboard player Rainbow have ever had.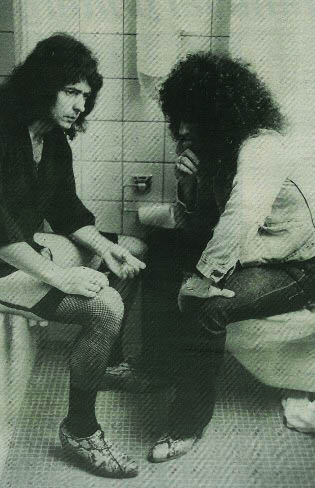 But this album sees Blackmore's once unerring ability to choose the right men beginning to wane. New drummer Bobby Rondinelli (yes, wrong spelling in the review, Ed.) is less than forceful, languishing at the back of the mix and making little impact, a sorry substitute for pounding Powell power. And shrill voiced Joe Lynn Turner has none of Bonnet's commanding vocal presence, spending far too much time apeing Foreigner's Lou Gramm for comfort.

The new Rainbow is not better, nor even as good as the old. For the first time, it's worse.

Coincidentally, Blackmore's playing seems to be suffering as well. Late on in his career, he seems content to limit himself to the 'hit singles market' rather than branch out into new areas of axepertise. In fact, his playing on 'Difficult To Cure' sounds terribly slow and dated. Apart from the odd classical take-off, the guitar tracks could conceivably have been recorded around Deep Purple's 'Machine Head' days.

While the new breed of guitar hero - the likes of Eddie Van Halen, Alex Lifeson and Randy Hansen - breaks new ground it's sad, not to say tragic, that the once masterful Blackmore has been left behind. He quite happily ploughs old furrows and stead fastly refuses to move with the times.

A track-by-track rundown, and matters become definitely disheartening.

I Surrender': The Russ Ballard song Blackmore filched from Praying Mantis. Lord knows why the guitarist went to such great lengths to secure the number as it is, at best, a poorman's 'Hold The Line'. That said, it's nonetheless preferable to a version of the Shirelles "Wilt You Still Love Me Tomorrow', once mooted as 'the next Rainbow single' and even performed at Castle Donington. But only just.

'Spotlight Kid': A lyrically interesting story of a stagestruck musician - 'They love you but you're in love with the spotlight'. But Blackmore's lead breaks sound hackneyed and the Cossack dancing/ELPstyle mid-section is confusing and incongruous.

'No Release': Blackmore has never played Led Zeppelin numbers before, so why is he starting now? And once again, centre-song, Rainbow lurch off on a tangent for no apparent reason, this time info the field of gospel with Joe Lynn Turner indulging in a continuous chant of 'Can't get no - can't get no - can't get no release'.

'Magic': Lightweight American Top 40 material, the same criticisms apply to this number as to 'I Surrender'. Probably the follow-up 45.

'Vielleicht Das Nachster Zeit (Maybe Next Time)': An introspective instrumental, Blackmore's slow bluesy style would probably have been labelled 'tasteful' in the early Seventies but today just sounds time-warped. If Rik Emmett started playing this you'd shout "Rubbish!" For heaven's sake Ritchie, this is 1981.

'Can't Happen Here': The words tell the tale of a blasé population's unwillingness to act in the face of imminent disaster. Unfortunately the impact of the message is lost as the song, once again, is given the supreme limpwristed treatment. Also, the pivotal guitar riff sounds naggingly familiar.

'Freedom Fighter': One of the album's better tracks, something of a two-fisted epic. But Joe Lynn Turner's homogenised AOR vocals don't fit comfortably with the rough'n'tumble subject matter. I would have enjoyed hearing Graham Bonnet sing this.

'Midtown Tunnel Vision'. Like a track off an early Robin Trower LP. Admittedly the heaviest number on the album, but how can it work under that sort of handicap?

And finally 'Difficult To Cure': A disastrous instrumental, 'from a traditional work by Beethoven'. It sounds like a heavy metal Sky and ends with joke bag laughter clicking in the run-out grooves in the style of 'I Am The Beat'.

So Ritchie is joking. Of course.

Geoff Barton, Sounds - 14 February 1981
rating: 2 out of 5 stars

Photo: Ross Halfin
Caption at the pic: "Shouldn't you have the stocking over your head, Ritchie?" New Rainbow drummer Bobby Rondinelli (yes again, Ed.) in a moment of serious contemptation.










RAINBOW • DIFFICULT TO CURE (Polydor POLD5036)

Good Heavy Pop




In the eyes of the media Ritchie Blackmore can do nothing right. Inevitably, the new Rainbow album will spark a caustic critical reaction, full of personal attacks about Blackmore's character and his inability to hold a band together. With this in mind, let it be recorded that "Difficult To Cure" is, to these ears, a mighty fine LP, a varied package of hard rock that should delight Rainbow devotees yet attract fresh fans.

It comprises nine new songs, delivered with an abundance of energy and skill, opening with the current single "I Surrender", though I do have some reservations about this track - like "Since You've Been Gone" written by Russ Ballard, and a predictably bouncy tune clearly aimed at the singles market. Fair enough. After their chart success in the past 18 months, the move toward commercialism is valid, and if the band can come up with good heavy pop songs that retain a hard edge then they can't be accused of mellowing. But why choose another Russ Ballard song? It invites immediate criticism. Ritchie and Roger Glover are capable of penning good pop songs as "All Night Long" proved and as "Can't Happen Here" does on this album.

"Spotlight Kid" is the next track, a Blackmore/Glover composition that drives along with great impact. Amid some heroic hard rock riffing Ritchie delivers some slick guitar work, and you're already very aware of the prescence of new vocalist Joe Lynn Turner, who took over from Graham Bonnet half way through the recording of the album. In technique he may riot match - his predecessor, who had an incredible range, but in general he fits in far better with the group, and has also helped Roger out with lyrics or a couple of tunes, something Bonnet never attempted.

The other new man, drummer Bobby Rondinelli, plays with brilliant control, providing solid skin beating throughout. "No Release", with hints of Zeppelin, is the most forceful track on side one, with Ritchie playing some of his best lead in years. The song builds gradually, through a slickly-produced vocal break, before exploding with some vicious solo axe. Rainbow have never broken through in a big way in the States and songs like "Magic" are included to crack the U.S. market; "Magic" is a refreshing hard rock song, crystal clear and emphasising the strength of Roger Glover's production. However, "Vielleicht Das Nachster Zeit" ("Maybe Next Time".), is a slow instrumental dominated by Blackmore's guitar.

The second side opens with "Can't Happen Here", a fastflowing, definitely number that should definitely be released as a single. The riff is reminiscent of "All Night Long" but the band's attack is given greater punch by Turner's powerful singing. The tempo drops dramatically for "Midtown Tunnel Vision", a slow blues that bites hard in Hendrix/Zeppelin style, and stands out as the album's killer punch. The album closes with the title track, another instrumental that is based loosely on Beethoven's Ninth Symphony. Blackmore will doubtless get some stick for using the great composer's theme as a rock piece, but he and Don Airey are in splendid form and fans of the band will recall parts of the number from the Rainbow live show.

There is even a touch of humour at the end as the sound of howling laughter (Oliver Hardy, by the way) breaks out when the music stops. "Difficult To Cure" is Rainbow's best album since "Rainbow Rising" and proves that the one and a half year gap since the last studio album has definitely been worth the wait.


Steve Gett, Melody Maker - February 1981










RAINBOW • DIFFICULT TO CURE (Polydor POLD5036)

Pretty rabid

Review include also:
TREVOR RABIN Wolf (Chryselis)
KROKUS Hardware (Ariola)



HEAVY METAL is so tame and listless because it is cheap. Pretty music tarted up with hygienically overproduced guitars. Behind every fearsome-looking lead singer lies a tart with the proverbial head of gold, a tart who never had a soul to sell in the first place. The only challenge open to a heavy metal group is to deafen, but since they're all deaf already it is not one they have to meet.

Heavy metal is about not growing up. The fact that Slade have been taken up by the headbanging crowd gives the game away. It's teenybop come again.

Of these three exponents of the genre, Krokus definitely come lowest on the bill. Without any doubt, they are one of the most straightforwardly crass heavy metal bands I've ever heard. Their surnames - von Rohr, von Arb, etc - would suggest they are Dutch, but really they're just Dumb.

There is nothing on 'Hardware' that even the most dilapidated headbanger won't have heard before. Marc Storace sounds exactly like that awful lout from AC/DC who expired on booze last year, the guitars have the effect of pulled hamstrings, and the drums (courtesy of one Freddy Steady) are like suet pudding. All their material is slothful, sexist, and repetitive 'Smelly Nelly' is stomach-churning.

Perhaps the most depressing thing about the new heavy metal is that it's no longer simply a vehicle for the guitar solo: the guitarists aren't good enough. Even Ritchie Blackmore on the Rainbow album hangs conspicuously low, his opportunities to show off saved for the instrumentals which round off each side: 'Vielleicht Das Nachstner Zeit (Maybe Next Time)' on side one and a horrendous arrangement of the famous bit from Beethoven's Ninth on side two. Other than these, a few bursts from his time-honoured Stratocaster, either phased or switched between speakers would seem to have appeased the old axe complex.

Rainbow make the fatal mistake of including two songs, Russ Ballard's 'I Surrender' and Mike Moran's 'Magic', that wouldn't look amiss in the repertoire, say, of the Dooleys. What this kind of error does for their credibility I don't know. I don't suppose anyone will notice. But it is the barefaced prettiness of such things which as I say, gives the game away.

Trevor Robin is a pretty boy who can write his own pretty tunes. 'Wolf' is by far the least offensive of these three records. What should really be noted, however, is the fact that the third album by a young, comparatively unknown South African should provide the excuse for a whole crew of old-timers - Jack Bruce, Manfred Mann, Rabbitt and Simon Philips - to get together in the studio. Even worse, the album is co-produced by the Americanized Ray Davies. How Noel McCalla got in on the act I've no idea.

Rabin is a fair guitar player, but even he fails to steer clear of those vacuous vibratto whirlpools of Les Paul Mark III virtuosity. Not unattractive on 'Wolf'are 'Open Ended', with a chorus lifted somewhere out of pre-Utopia Todd Rundgren, and the exciting 'Do Ya Do Ya Want Me'. Rabin's vocal on 'Pain' is a dead ringer for Alex Chilton, but the comparison stops there, and everything else is instantly to be forgotten.

From Krokus to Trevor Rabin is a long way, but this doesn't change the fact that in the long run, all three albums are just terribly tedious.

Barney Hoskyns, New Musical Express - February 1981










RAINBOW • DIFFICULT TO CURE (Polydor POLD5036)

Catching A Dose



Since the band's inception in '75 Rainbow's line-up has been, to say the least, fluid. With the exception naturally of ex-Purple axeman Ritchie Blackmore members have come and gone at a steady rate though it must be pointed out that change, however drastic, has usually been for the better, something indeed that still looks true today.

The band that crafted last year's "Down To Earth" LP - Cozy Powell (drums), Graham Bonnet (vocals), Roger Glover (bass), Don Airey (keyboards) and the man in black himself on guitar - certainly had a definitive feel but the going of Powell and Bonnet and the coming of Americans Bobby Rondinelli and Joe Lynn Turner has led to no apparent loss in direction of power.

Rondinelli, like his predecessor, uses his sticks to really force the pace whilst Turner, with a delivery pitched just on the tight-trousered side of Foreigner's Lou Gramms, looks to already have a place in the HM howlers hall of fame. Indeed, on the evidence of this, Rainbow's sixth LP, the present Anglo/US alliance could well be the pot of gold Blackmore's been searching for.

To many, of course, "Rainbow Rising"represents the cream of the man's post-Purple forays but in those eaqrly formative days the band seemed to be striving just too hard for the epic whereas now they're altogether more confident, relaxed and, above all, musical.

Seekers of cerebral cremation may well find this shift disappointing and Roger Glover's production does certainly provide "DTC" with a spotless commercial finish but for my money it's the band's most convincing album to date with Blackmore displaying a restraint and economy rarely hears before.

First away is the current chart single 'I Surrender', an infectious Russ Ballard number boosted by Blackmore's pleading pliant guitar, closely followed by 'Spotlight Kid', an energetic insight into the initially luring yet ultimately fickie world of rock'n'roll superstardom with Rondinelli's boisterous backbeat tempered by trilling pompy keyboards and just so harmonies.

'No Release' then heralds a more adventurous turn with it coarse-ground bluesy riff giving way to a gospellish mid-section whilst 'Magic', an immaculately handled Brian Moran composition, and 'Vielleicht Das Nachster Zeit', a poignant pining instrumental, round off the side in harmonious fashion. A tough first half to match but side two, although marginally weaker, is certainly no poor relation.

'Can't Happen Here' may have a riff similar to that which powered 'All Night Long' but needle sharp lyrics and expert phrasing make it more than worthwhile whilst one notch up stands 'Freedom Fighter', a superbly arranged rocker with Blackmore supplying both snaking lead and growling solo.

'Midtown Tunnel Vision' is next, the album's heaviest number boasting a measured riff that cardboard guitarists everywhere will soon be making their own. Then it's into the home straight for the title track, a semi-serious cover of a Beethoven opus clearly showing that the links between the heavy and classical music extend well beyond the 'Dear Fluff' show. At their best both combine excitement and emotional appeal with a healthy dash of the epic and that's a mix "DTC" achieves to a tee. Ludwig I'm sure would have been proud.

Dante Bonutto, Kerrang - February 1981










RAINBOW • DIFFICULT TO CURE (Polydor)


Using "Ritchie Blackmore" and "commercial" together usually sparks laughter. Stop laughing. Difficult to Cure is the most commercial and accessible Blackmore to date.

Yet the cause may lie at the other end of the Rainbow. Roger Glover's production and Rainbow member #15, Joe Lynn Turner (who's reminiscent of Foreigner's Lou Gramm) add new shades to this Rainbow.

Sing-along choruses ("No Release," "Can't Happen Here" and "I Surrender") may find the band nudging the AM band, butr the music is still uncompromisingly Blackmore, with no solo opportunity wasted. This effort should draw new fans without losing Blackmore purists. Who's laughing now?

Richard Perrotti, Circus Magazine 1981










RAINBOW • DIFFICULT TO CURE (Polydor)


What makes "Difficult to Cure- so embarrassingly bad is Rainbow bandleader-guitarist Ritchie Blackmore's failure to give his diseased riff-a-rama excesses a much-needed overhaul. The former Deep Purple ax-grinder has been doing this kind of mindless blues-based bashing since the Dark Ages of mid-70s British Heavy Metal, and it's getting a bit boring. You don't have to be a rock 'n' roll historian to spot the influences on each of the nine cuts here, and Blackmore's disregard for the genre's new musical code (no self-in-dulgent solos, no wimpy ballads, no artsy pretensions) makes this LP all the more irritating.

While fellow heathens Black Sabbath and Judas Priest have shown new signs of in what rapidly is becoming a young buck's game. Rainbow plods, grinds and ploughs its way like a legless fly trying to escape from a vat of heavy metal sludge.

Rich Harry, The Morning Call (Allentown, Pennsylvania) - March 21, 1981










RAINBOW • DIFFICULT TO CURE (Polydor)


Richie Blackmore, former Deep Purple guitarist, has led his latest Rainbow roster in churning out the group's best effort to date with "Difficult to Cure." Blackmore, whose hobbies are studying the supernatural and firing musicians, rips through the album with his exciting red-hot guitar riffs.

"Difficult to Cure" has a definite Deep Purple feel to it. Former Deep Purple bassist Roger Glover played, produced and helped with the song writing on the album. New keyboardist Don Airey's furious playing sounds remarkably similar to that of Jon Lord, Deep Purple's keyboard wizard. The album is strong instrumentally and lyrically. Blackmore wisely keeps his whipsaw guitar acrobatics from overpowering the excellent vocals of newcomer Joe Lynn Turner.

The album gets off to a good start with "I Surrender" in which Turner's vocals really shine. "Spotlight Kid" is a fast-paced number with Blackmore and Airey exchanging smoldering instrumental solos. "No Release" and "Magic" are both tight hard-rocking cuts reflecting Blackmore's love of the mystical and the supernatural. Rainbow slows down the pace with "Vielleicht Das Nachster Zeit (Maybe Next Time)," an instrumental song featuring bluely guitar work by Blackmore.

Side two opens with "Can't Happen Here," a heavy-metal look at the ills of the world as Rainbow sees them. "Freedom Fighter" is a forceful rock 'n roll anthem and "Midtown Tunnel Vision" is a seemy walk through the dark downtown streets. The album ends with the title cut, a heavy-metal version of Beethoven's Ninth that would have old Ludwig turning over in his grave. "Difficult to Cure" is by far Rainbow's best work. Lets hope Blackmore will hold on to this talented crew. It appears, however, that his habit of firing his musicians is difficult to cure.

David Wilson, Central Florida Future - April 24, 1981










RAINBOW • DIFFICULT TO CURE (Polydor)


Rainbow, with an album that manages to bring heavy metal into the pop realm, via the route of using classical elements and some solid vocals from Joe Lynn Turner (last worked with Fandango), returns to the forefront of inventive British bands. Deep Purple's loss of Ritchie Blackmore, as long as six albums ago, is even more apparent on the soaring-classically-flavoured guitar solos on all the cuts on Difficult to Cure.

While the personnel of Rainbow has undergone a transformation — new drummer, Long Island's Bob Rondinelli and Turner as vocalist — still performing admirably are bassist/producer Roger Glover and keyboardist Don Airey. Since their inception in 1975 Blackmore's Rainbow have been distinguished in establishing the fact that heavy metal units do not have to be mere eardrum concussing powerhouses with little genuine musical savvy. Rainbow play wide open, but there is an underlying basis of rigid form to their long seemingly free form guitar patterns.

Now added to the tight structures of Rainbow's impeccable instrumentation, are the vocal strengths of Turner — he is the leading edge on "Magic" or on the Russ Ballard song "I Surrender" which leads the album off with such authority. The late-Sixties love affair with Cream, Deep Purple and Hendrix is recalled in the moving instrumental performed by Ritchie's guitar on "Maybe Next Time". "Can't Happen Here" is a Stones-intensity number that brings the freshness and excitement of Rainbow into clear focus with a driving, relentless, rocking number, an ideal single possibility. If they are ever to achieve acceptance as a superband, then this album by Rainbow is the vehicle.

The Record, Canada - April 16, 1981










RAINBOW • DIFFICULT TO CURE (Polydor)


AOR's fever for classic heavy metal is "Difficult To Cure," but Ritchie Blackmore's latest assemblage of Rainbow delivers the rignt serum on its newest LP. Led by bassist/producer Roger Glover and Deep Purple's noted blackbeard of guitar (Blackmore), the band tears into a collection filled with break-neck paced rockers topped by "Can't Happen Here" and "Spotlight Kid." Lead singer Joe Lynn Turner is perhaps the finest vocalist to stand with Blackmore since Ian Gillan. Heavy Metal blues can be heard in all its glory on "Midtown Tunnel Vision."

Cash Box, USA - March 14, 1981










RAINBOW • Difficult To Cure (Polydor 2391 506)

Album of the Week



With drummer Bob Rondinelli instead of Cozy Powell, produced and provided with sonorous bass work, by Roger Glover and immediately on the first track, 'I Surrender', already on the spectacular tour: Rainbow's latest and I enjoyed it! If colleague Boskamp has no better offer, 'Difficult To Cure' will be Album of the Week. What a variety: Ritchie Blackmore's pseudo-folk solo in 'Spotlight Kid', frenzied singing by Joe Lynn Turner in 'Freedom Fighter' and good-natured trickery of the audience in the instrumentals 'Vielleicht Das Nachster Zeit'(it's wrong in German!) and 'Difficult To Cure' (nicked from Beethoven). "Rainbow has become symphonic!" some shout desperately. "Yes, and?" I call back enthusiastically. Class does not mind style.

Ton Vingerhoets, Hitkrant Holland - February 19, 1981










RAINBOW • Difficult To Cure (Polydor 2391 506)

Album of the Month



Last year, after the departure of drummer Cozy Powell to the Michael Schenker Group, rumors spread that guitarist/leader Ritchie Blackmore might give up on his Rainbow. Good thing it stayed and only were rumors. With this "Difficult To Cure" Rainbow clearly proves to have a whole portion of good taste and healthy courage with a changed line-up. The songs are not only compiled in composition, but space is also built in for original musical solutions within a number of songs.

That is why this LP is more than worth listening to. Great hard rock with a lot of improvisation talent you could say. Add to this the seasoned craftsmanship of Ritchie Blackmore, bassist Roger Glover (also producer), keyboard player Don Airey and the surprising contributions of singer Joe Lynn Turner and drummer Bob Rondinelli and you already understand: "Difficult To Cure" belongs in every HM collection.

Jaap, Muziek Expres Holland - April 1981










RAINBOW • Difficult To Cure (Polydor 2391 506)

Pat on the back



'Blackmore Is God' and under the motto 'Man Proposes, God Disposes', guitarist Ritchie Blackmore once again succeeded in thoroughly overhauling his group Rainbow and yet again deliver an excellent LP. Under the all-telling title Difficult To Cure, veterans Blackmore, bassist and producer Roger Glover and keyboard player Don Airey, together with ex-Fandango singer Joe Lynn Turner and drummer Bob Rondinelli, both Americans, have managed to create a piece that most closely resembles style with the penultimate LP Down To Earth, but especially because of the new singer radiates a freshness and energy that I had not expected.

Blackmore is really one of the few hard rock musicians, who is able to stir a good splash of commerce through his thick and fat heavy metal porridge in an artistically very responsible manner and with great success, without that typical Rainbow sound, as we know it of all albums, is lost. With his very high range and bluesy influences, Turner resembles former Rainbow singer Ronnie James Dio more than his predecessor Graham Bonnet, while Rondinelli can't make it to Cozy Powell, but is probably the best of his equals. I Surrender, written by Russ Ballard, is the most commercial piece on the record and one of the strongest. No long solos, but beautifully restrained themes and short improvisations are the part.

In Spotlight Kid there is clever play between keys and guitar, which is strongly reminiscent of Deep Purple. No Release, Magic (written by B. Moran), Freedom Fighter and Midtown Tunnel Vision are all excellent songs, in which Blackmore regularly shines in a flashy and beautiful way; just listen to the last piece of No Release. Vielleicht Das Nächster Zeit (Maybe Next Time) is an instrumental, semi-classical and romantic piece with beautiful, varied guitar playing in the style of the b-side of All Night Long, Weissheim and the title piece of the LP is a Blackmore, Glover and Airey edited version of Beethoven's Ninth, which Airey earn a pat on the back for. Under the influence of Roger Glover, Rainbow has taken a somewhat commercial path and Down To Earth was just a taste of that. The proof is called Difficult To Cure.

Kees Baars, Muziekkrant Oor Holland - Februari 1981










RAINBOW • Difficult To Cure (Polydor 2391 506)



Rainbow is a band founded by Ritchie Blackmore. Blackmore is the one who hires and fires people at will. Legend has it that Blackmore is one of the most difficult musicians to work with. Critical for others but also for himself. In itself this is of course an excellent setting, especially when it becomes visible in the music.

Although in my opinion this line-up is slightly less than that of a few years ago with Ronnie Dio (vocals) and Cozy Powell (drums), the current Rainbow line-up has put together a good album. The current singer Joe Lynn Turner also appears to have an excellent singing sound, but he is somewhat more limited in his possibilities than Ronnie Dio. In that respect he is comparable to Graham Bonnet. Rainbow's drummer Bob Rondinelli is good but not really noticeable. The music on Difficult to cure is excellent hard rock in the best Rainbow tradition.

It stands out in the large number of hard-rock groups because of the somewhat more nuanced approach. The album contains music that is rock solid, but it is not exclusively speedy music, like a number of other groups in this style. Each number has its nuances and highlights. And of course Rainbow has with Ritchie Blackmore a sublime guitarist. That man can play! Both his rhythm and solo parts pop out. It seems almost impossible to come up with something nice within the gigantic range of hard rock, but he does it over and over, every song.

Two strange ducks are the two instrumental songs that close both sides. The closing number of side 1, titled Vielleicht das nachster zeit, is a rather massive piece that does not fit well with the rest of the LP. The closing track of side two, Difficult To Cure, has as its guiding motif the Ninth Symphony by Beethoven and it is a good thing that old Ludwig is already dead because he would have a heart attack on the spot if he heard this.

The cover deserves extra mention, especially the photo on the back showing a number of doctors and a nurse at the operating table, but from the patient's point of view. It gives the title of the record something sinister. It may be hard to cure, but it is good hard rock.

Music Maker, Holland - April 1981










Short Reviews UK Press 1981


RAINBOW • DIFFICULT TO CURE (Polydor POLD5036)


The new (and improved) Rainbow, with new vocalist Joe Lynn Turner proving an able recruit to the ranks of the headbangers' heroes. Though things haven't moved on much since the days of early Deep Purple, the programme here includes a non-boring and sometimes surprisingly good collection of hard-edged pop including "I Surrender", an instrumental based on Beethoven's Ninth, and even a run-off groove filled with Oliver Hardy's laughter. A nifty nut-nodder. (7 out of 10).

Fred Dellar, New Musical Express 1981










RAINBOW • DIFFICULT TO CURE (Polydor POLD5036)


When it comes to those who come more heavily armed, Rainbow are among the best on the scene, as 'Difficult To Cure' so ably proves. The band have gone through a few changes lately, with Joe Lynn Turner replacing Graham Bonnet as lead vocalist and drummer Bobby Rondinelli taking over from Cozy Powell. Nevertheless, they sound better able to handle themselves than ever before, and their success with their 'I Surrender' single (included on the album should do their confidence no harm whatsoever.

source unknown, UK 1981










RAINBOW • DIFFICULT TO CURE (Polydor POLD5036)


The thing about Ritchie Blackmore's mob is that they have the power but don't mis-use it. The band actually sound as if they enjoy what they're doing and work in a couple of musical smiles here and there, one being a fun version of Beethoven's Ninth Symphony.

They also write real songs, Blackmore's and Glover's anti-nuke 'Can't Happen Here' being a good example, while they're not above nicking songs penned by others - like Russ Ballard's 'I Surrender' - in order to gain a-hot single from time to time. A cracker? Make that a double cracker!

Rating: *****

source unknown, UK 1981










RAINBOW • DIFFICULT TO CURE (Polydor POLD5036)
Crock Of Gold


By the time you're reading this, it's quite possible that Rainbow, the heavy metal band by which all the others should be judged (says Russ, and I agree with him) will have up to seven singles in the chart at the same time. Not a normal occurrence, eh? Definitely not, and what happened was this - yes well as releasing 'Can't Happen Here' from the latest 'Difficult To Cure' album as a 45, the group's record company decided to re-release all their previous singles, all of which had previously been hits (although some of them weren't exactly charttoppers first time round).

Surely everyone remembers such classics as 'Since You've Been Gone', `All Night Long' and 'I Surrender', but we have to admit that we'd half-forgotten 'Kill The King', 'L.A. Connection' and 'Long Live Rock'n'Roll', although they soon became pretty familiar when we heard them again. Of course, the group's recent (and highly successful) tour of Britain can't have done anything to harm the chances of these reissues, can it?

source unknown, UK 1981