RAINBOW
LONG LIVE ROCK'N'ROLL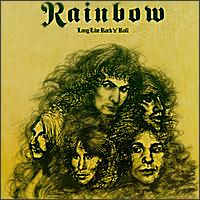 RAINBOW • LONG LIVE ROCK'N'ROLL (Polydor 2391 335)

RAINBOW LACK COLOUR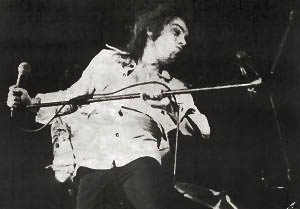 RITCHIE BLACKMORE'S RAINBOW:
"Long Live Rock 'n' Roll" (Polydor 2490 142).

Ritchie Blackmore (guitars), Ronnie Dio (vocals), Cozy Powell (drums), David Stone (keyboards) and Bob Daisley (bass). Produced by Martin Birch.

Of all the versions of Deep Purple formed by its ex-members, Ritchie Blackmore's variation, Rainbow, has come closest to recycling the brainblasting heavy metal of the original source. "Long Live Rock 'n' Roll" is, as its title suggests, a feast of the hardest rock this side of Detroit.

That, I should add, is an observation made more in appreciation of Blackmore's ability to produce the goods than personal commitment to the music. I like my hard rock with a bit more imagination than Blackmore instils in his. I find him a vastly over-rated guitarist although he does thrive within the narrow confines of Rainbow's material.

Rainbow's songs are written by Blackmore and Ronnie James Dio, and they're not exactly the most inspiring pieces ever to grace a record. A predictable formula is applied here - the thundering riff to open a number, words screamed out by Dio, the obligatory solo and then a race for the finish. It's the age-old story of heavy metal.

What separates Rainbow from all those other mediocre bands is that when the various pieces of the jigsaw are fitted together (the material, the singing, the guitarist and particularly Cozy Powell's powerful drumming) you get the archetypal heavy metal band, racing through the songs skilfully and powerfully. Rainbow leave an instant impression. The kids on the street will love this.

As I said, the material works to a formula. For instance, try distinguishing the title track, "Long Live Rock 'n' Roll," and the opener on side two, "Kill The King," though both fairly rattle along. The rest of the tracks, apart from the disappointing ballad "Rainbow Eyes" (totally out of place on this collection) follow the same pace and the pick of those is "Lady Of The Lake," which is reminiscent of something from Zeppelin's "Physical Graffiti" and is steeped in the sort of glazed romanticism that I thought died with hippies.

This type of stuff eventually becomes wearisome and then boring, but I do admit to being quite pleasantly surprised that "Long Live Rock 'n' Roll" wasn't as bland as I expected it to be. I admire it from a safe distance.

Harry Doherty, Melody Maker - May 1978





RAINBOW • LONG LIVE ROCK'N'ROLL (Polydor 2391 335)
THE IMPOTENCE OF BEING RITCHIE
Review include also:
GLENN HUGHES Play Me Out (Safari)
DAVID COVERDALE Northwinds (Purple)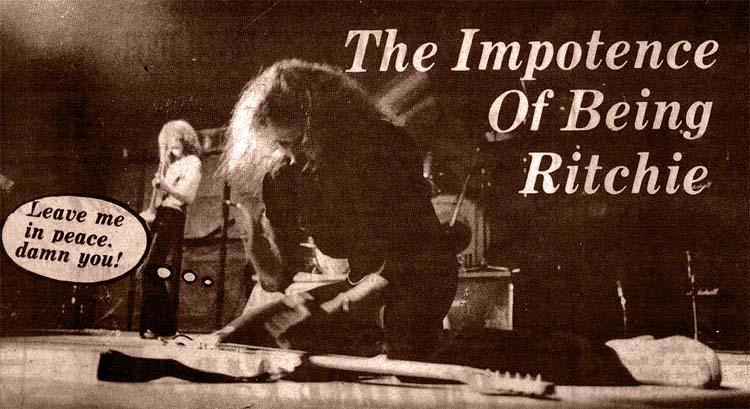 It is being said, in these the Telecommunicated '70s when everything - sex, death, politics, political death, sexual politics - can be, and is reduced to the one glossy common denominator of good media copy, it is being said that Disco Music is our (global) anthem. We the automotons. Our Surf Music. This is wrong. Disco is still constituted of very basic, essentially very human properties, even if its own particular 'fever' ain't the kind we unholy shit-gawdamn rock 'n' roll types prefer.

The graces and emotions invoked are traditional - transient physical, perfection in an atmosphere the turnaround of home life (TV life): lights out; sound inpenetrable; perfect brooding ground for narcissism and arrogance. If the actual music itself has become tantamount to soul-less, then that dehydration is only the historically inevitable intrusion of - quake - The Businessman and Technology. (Do you need second-hand Jungian trace books? Disco-pulse as sound of mamma's heart in the womb maybe?)

No, no, no, no! I have discovered the one and only TRUE sound of The Vacuum which threatens us all, and am at peace with my snakeskin boots.

Blackmore, Coverdale, Hughes. All at one warp or another were members of that wonderful British dragon Deep Purple. Blackmore played and demolished guitar, and away from the beast (is it dead?), maintains a similar schedule of rampant screechy macho Merlin HM with Ronnie Dio who screeches, and Cozy Powell who is rampant.

Coverdale and Hughes are clone-alike, except Hughes plays more instruments. On "Play Me Out" (did it yourself chief) Hughes operates electric devices which reproduce funky bleeps and W!O!O!OS!H! noises from finger cymbal through to food blender. We hear the sound of Zen-in-LA Bannanamugga milk Zodiac sign soul food, and P-funky it ain't.

Let us take the Hughes and Coverdale albums first. The collective enterprise is a spectacle akin to the local home-movie circle attempting a Star Wars cash-in. Vocals - both wish they were Stevie Wonder or, second choice, Robert Palmer. Lyrics - interchangeable. The usual hygenic cosmic jetage pap, with a lot of ridin' home to lay my body down in the crystal silence of your obsequience. To that effect.

Song structure implies 'retread'. The 'playing' (session musician or hep heavy cat friend) is slightly 'shop-soiled', as if everyone had Elastoplast wrapped digits. The - dare I suggest it? - purpose? These men will stop at nothing to have you perceive them as Real Musicians, with knobs on. Galore.

Rainbow even crack jokes like B.O.C., although their mystical lyrics pale beside the more heavy-edged clout of that same group's more Ouija Board out-takes. They are, I admit, almost constant, which might well justify the Grabba Grabba sales which will doubtless ensue. Barring, that is, the closing track "Rainbow Eyes" - very sub-MOR, very Sugar Puffs advertisement music. The contracted 240 seconds whip-sypoo which usually (not here) revs up into the cataclysmic meta-spasm frying lances bit.

Ouch, put down that mace. I'm sorry, is that the point? I fear it is; a plastic holocaust in your heavy heads... I can understand the Donna Summer school of faked orgasm (I hardly expect the por gal to do aught else but fake it) . But these guys! Having to fake impotency!

Ian Penman, New Musical Express - April 29, 1978





RAINBOW • LONG LIVE ROCK'N'ROLL (Polydor 2391 335)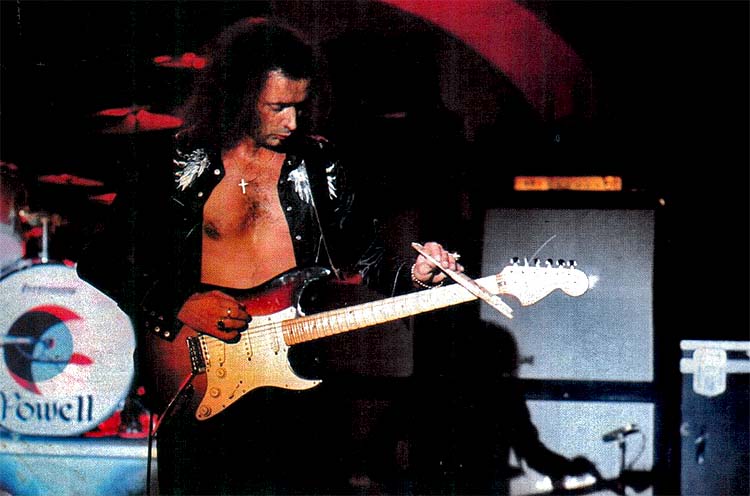 "I'm an extremist; I like really hard rock, medieval music or out and out ballads. I don't like this in-between cool, laid-back so-called music that people like. That most of the Americans are putting out these days. It's music to talk over."

The lines come from former Deep Purple guitarist and current Rainbow leader Ritchie Blackmore. Never one to mince words or his music. Blackmore still seems to have lost sight of his convictions over his group's last two releases (Rainbow Rising; On Stage). They were simply reworkings of the same Blackmore riffs, and could not even compare with the weakest of Purple's material. But with the release of Long Live Rock 'N' Roll, Blackmore and the band have hitched up their trousers to offer the blinding type of rock the English guitarist was so well known for.

It has taken Rainbow four albums to reach the levels one originally anticipated for this band. Coming off one of the most successful groups in rock history (Deep Purple), Blackmore was expected - as indeed he should have been - to produce an outfit of at least equal capabilities. This was not the case. Rainbow's first three albums - the debut recording held some promise but subsequent albums failed to make good - were of makeshift quality and could in no way stand up to such classics as Deep Purple's In Rock, Machine Head and Burn (Blackmore's favorites).

But Long Live Rock 'N' Roll smacks of the best of Purple, and while it does not have that magic quality it is nonetheless sensational. "Gates of Babylon" is one of Blackmore's mystical / minstrel pieces and include one of the most dramatic guitar solos the instrumentalist has played in some time. It curves and crawls all over the speakers and helps to once again establish the band as one of the premier in the business.

Sporting a new bassist and keyboardist (Bob Daisley and David Stone, respectively), the band and Blackmore play with a conviction missing over the last two albums. "Lady of the Lake", "Kill the King" (which appeared on the live album), and "Sensitive To Light" are all superb demonstrations of rock played with agility and skill. When Blackmore is at his height (as he was several times with Deep Purple, including In Rock and Burn) he is virtually untouchable as a guitarist and as a mentor of rock riffs. And certainly he is in a class of his own as far as quotes go.

"I like music that demands your attention and this certainly does. It demands you to either say 'Great' or 'It's terrible'. The same way In Rock and Machine Head did, and Burn to some extent.

Looking at it chronologically, however, it took Deep Purple several albums produced before they produced one of real merit, so the timetable is no slower than normal. Blackmore's main reason for leaving Deep Purple was due to a feeling of inertia; let's hope this quality does not set in with Rainbow and we're faced with three more albums of the ilk of Long Live Rock 'N' Roll. Like In Rock, this album stands strong on its own, but if it was followed by two more in the same style all hallmarks would vanish.

Steven Rosen, Record Review Magazine - August 1978










RAINBOW • LONG LIVE ROCK'N'ROLL (Polydor POLD 5002)



This would make any month's best album. I favoured Sad Café because they're on the way up - Rainbow are firmly at the top on this performance. I'm sure they won't mind a bit of support for the strugglers. They were there once but never likely to be again with this album under their belts.

Rainbow really come of age on this album and this line-up looks likely to be their most successful. Now Zeppelin are off the recording scene - hopefully only temporarily - Rainbow are their natural successors and certainly deserve the success in America that has eluded them so far. It's pretty impossible to single out tracks on this set. The best advice is go out and buy the album. Enjoy yourself.

John Thater, Rock On - June 1978










RAINBOW • LONG LIVE ROCK'N'ROLL (Polydor)



Ritchie Blackmore thrilled audiences for years while he fronted the greatest heavy metal band of all time, Deep Purple, with guitar playing as relentless and tough as the pistons on a super-stoked Shelby Cobra. When Deep Purple disbanded, Blackmore slapped together Rainbow and proceeded to ride the crest of his popularity.

Rainbow not only sold out houses in traditional markets but caused riots in Jakarta and Tokyo. Several months ago a 19-year-old girl was crushed to death at a Rainbow gig in Sappho, Japan, and fifteen others were rushed to the hospital with critical wounds.

The irony is that while Blackmore hasn't really lost his playing ability, Rainbow is still terrible at what it does. The band plays what amounts to a boring and monochromatic rehash of peak Deep Purple.

Without the power and frenzy of Deep Purple behind him, Blackmore sounds like just another talented guitarist looking for the right combination. The new album is Rainbow's most faceless and crummiest to date, a sleeper which is the ultimate death in heavy metal.

Bruce Malamut, Circus Magazine 1978










RAINBOW • Long Live Rock 'n Roll (Polydor 2391 335)



For many, the name Deep Purple still has a magical ring to it. And that is understandable, because as one of the most important hard rock bands in the world, Purple has had an influence that should not be underestimated on the development of this type of music. I can still very well remember what went through my mind when I first heard the now legendary Deep Purple In Rock. In 1975 the curtain fell forever and when we take stock of what emerged from the sentimental remains in 1978, it is very disappointing. Paice and Lord remain in silence after the very dubious Paice Ashton & amp; Lord project, Glover threw himself with varying degrees of success into all kinds of ambitious, but little related to Purple production practices, Gillan still tries to live on his old fame but don't come close, Hughes turns out to be a far too much of a huge fan of Stevie Wonder, judging by his solo record Play Me Out, Coverdale also doesn't know exactly what he wants, but needs to be kept an eye on and Bolin is no more.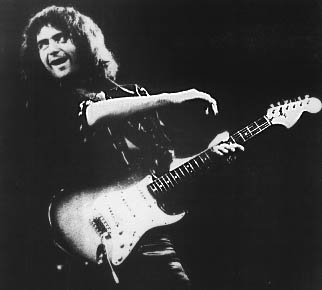 Then only remains the one and only ex-Purple member, Ritchie Blackmore, who did not give up, but formed an excellent hard rock group, which despite the various personal changes came up with a number of rock-solid albums.

The hard core is formed next to Blackmore by ex-Elf singer Ronnie James Dio and master drummer Cozy Powell. Rainbow is completed by Bob Daisley bass and David Stone keys; also part of the group during the fantastic concert in The Hague last October. And, I'm writing all of this down because another new LP has been released, the fourth, and what kind of one!

Immediately the first song cuts inexorably and removes any doubts mercilessly from the table. Long Live Rock 'n Roll, I just want to say. A very catchy chorus, cool and nice heavy recorded drum work, class guitar work from Blackmore and the familiar voice. And that continues throughout the album with the motto Full Power with Rainbow. L.A. Connection, Lady Of The Lake, great Rainbow-style rockers. In the song Gates Of Babylon a divine guitar solo of which especially the part after the break with the strings is one of the best in Blackmore's trick box.

On side two the absolute highlight: Kill The King, already known from the live double album On Stage: a Rainbow classic with many exciting drum breaks and killer up-tempo rhythms. And I can continue. The only deviating song is the ballad Rainbow Eyes, accompanied by a string quartet, which is somewhat reminiscent of Catch The Rainbow in terms of composition and performance. It's not my cup of tea, but live a song like that always breaks the violence speed. In short, a class record with a title that is far from covering the matter. Rainbow once again proves to be one of the greatest.

Kees Baars, Muziekkrant Oor - April 1978
foto: Anton Corbijn










RAINBOW • Long Live Rock 'n Roll (Polydor 2391 335)



Rainbow could be called an extension of Deep Purple, not only because leader and guitarist Ritchie Blackmore is an ex-Deep Purple member, but also because their music is indeed in the tradition of this supergroup. The new LP brings a large dose of hard rock. You should not expect major innovations from Rainbow, but it is solid craftsmanship in any case. And for the fans this record is definitely a must again. Ritchie Blackmore still remains an excellent guitarist, who perhaps only lacks a touch of originality to belong to the absolute top. On this record he also takes over the bass from Bob Daisley every now and then.

The voice of Ronnie James Dio, a very strong one by the way, fits perfectly with Rainbow and drummer Cozy Powell still determines the Rainbow sound. The album opens with the title track 'Long live rock'n'roll' which immediately captures the line that is extended almost throughout the album. The first side was written by Blackmore and Dio and the closing track is the striking 'Gates of Babylon', accompanied by the Bavarian String Ensemble. Also the closing number of side two, 'Rainbow eyes' has a classic touch with the addition of a string quartet and a flute. This is a very soft and beautiful song, which means a relief after the hard rock that Rainbow brings. Deep Purple is dead, but with this LP Rainbow does establish itself as the heir to the throne.

Joepie, Belgium - May 21, 1978










RAINBOW • Long Live Rock 'n Roll Polydor 2391 335

Superb wear and tear



"Rainbow has now come to the point where comparisons to Deep Purple can no longer be made. Purple was always Highway Star, Smoke On the Water, bang, bang, bang. I believe Rainbow is now like Ritchie thinks how the group always should have been: an aggressive, hard-hitting rock 'n roll band with musical influences from the Middle Ages and the Renaissance".

This statement, made after an extremely exciting concert in the Hague Congress Building on October 4 last year, by the sympathetic Rainbow singer Ronnie James Dio, plays through my mind as the needle slips into the first grooves. Hard and aggressive, did you say? The title song (now also released on a single) thunders into the room like a derailed train. A tad commercial: you are already singing after a minute. But that's no objection, because Rainbow is at the beginning of a grandiose breakthrough and a small push in the right direction can't hurt (or is this all tactics of the crafty Mr. Blackmore? On the single "Kill The King" was back then the Polyder mark even turned into a rainbow).

Side one of "Long Live Rock 'n' Roll" features three more Blackmore / Dio compositions: "Lady of the Lake", "L.A. Connection" and the mystical "Gates Of Babylon". Of course in every song beautiful guitar work and also beautiful vocals. Side two also contains four tracks. "Kill The King" (the rock-hard opener of the live show, now in studio version), "The Shed", the appropriate "Sensitive To The Light", and the intensely beautiful "Rainbow Eyes". This last song is completely without bass or drums included. You only hear Ritchie on guitar and Ronnie singing the lyrics, occasionally accompanied by violins. A great song for romantic moments. Unfortunately, that has happened to me in recent weeks (having a romantic mood, I mean), but that aside.

There is plenty of criticism to be made: this is an LP by the trio Blackmore/Dio/Powell, the sound of newcomers Bob Daisley - on bass - and David Stone - behind the keys - was only dipped in later. Ritchie himself can still be heard on bass, although it is not indicated in which songs he uses the thick strings. "Long Live" was scheduled to be released for the live double album "On Stage", so it's hopelessly out of date.

On side two the numbers on the label have been switched. The inside of the cover is childish and so on. One thing is absolutely clear, however: the quality of the music on this fourth Rainbow LP. In the meantime (after three weeks) I am already playing my second copy, and that does not happen every day.

Bart Hekkelman, Rock Scene - August 16, 1978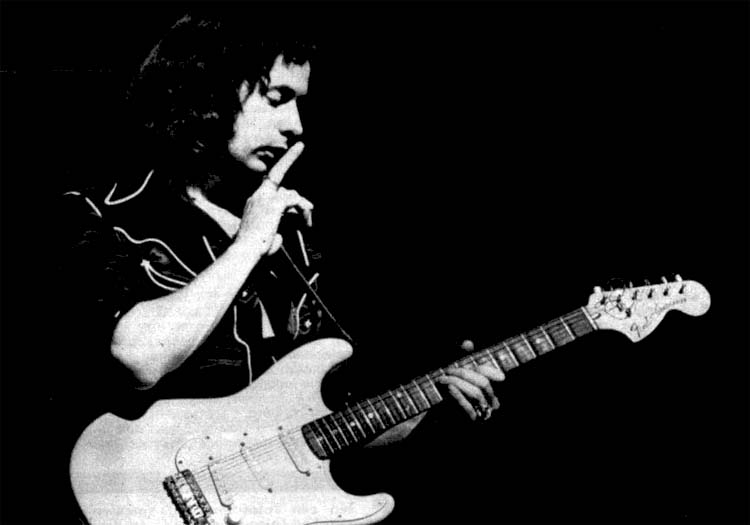 RAINBOW • Long Live Rock 'n Roll (Polydor 2391 335)



This is a powerful tribute to Rock 'n'Roll by rock fanatic Ritchie Blackmore. There is no energy saving during the execution. The members of Rainbow have squeezed all their available power into this record. They play their instruments at breakneck speed, with the drummer hnits his drums like crazy.

Singer (!) Ritchie Blackmore towers over everyone and sings 'Long Live Rock' n 'Roll' remarkably often. This makes the song unnecessarily long-winded on the one hand, but on the other it cannot be said enough: Long Live Rock 'n Roll!

Hitkrant, The Netherlands - April 1978