Ritchie Blackmore's Rainbow
Olympiahalle - Munich, Germany June 12, 2019

An ingenious, well-tempered Grantler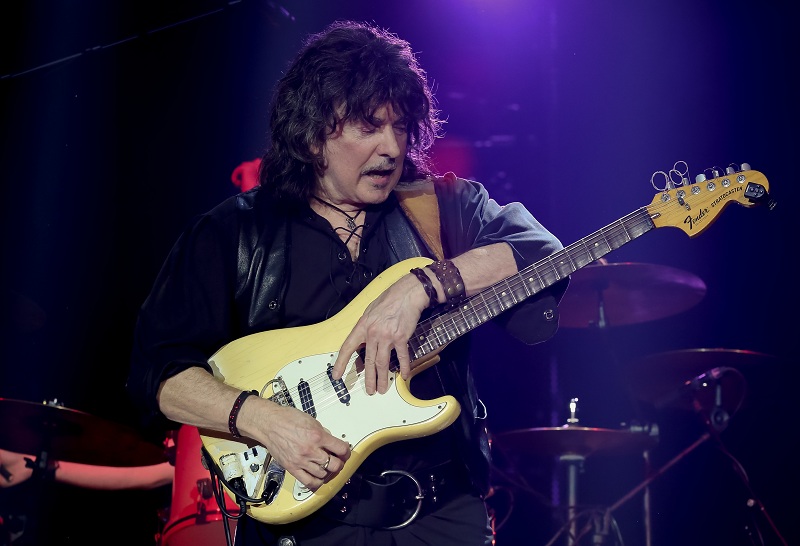 At the moment, one is still talking innocently with colleagues and friends, when suddenly an unknown man on stage screams an uncontrollably loud "A big applause for Tokyo" into the microphone. The ears are throbbing, the heart leaps in shock two storeys higher and one is sure that the announcement of this gentleman has cost at least five years of your life. The show of the German hard rockers around founding member Robby Musenbichler is relatively unspectacular on the stage, especially after the performance of their smaller hit 'Tokyo', the pulse quickly swings back into the normal range. Unfortunately, the sound of the opening act is not really good and one wonders if the sound engineer has just fallen asleep on the mixer and accidentally down-regulated all the highs and mids, or if perhaps not somewhere but a small, smirking Blackmore and give the support band a poor bass sound level.

When the latest incarnation of Rainbow hits the stage around 21:20, the sound guy seems to have woken up again, the sound of Blackmore and his cohorts is alright and the guitar master is welcomed by his faithful followers in frenetic applause in Munich. He looks cute in his now-standard garb of black tunic, leggings and boots, strapped into place by a Strat on his clearly recognizable tummy line. Although he is still considered a difficult character, in Bayern Blackmore might go through as the perfect 'Grantler', but already between the opener 'Spotlight Kid' and the following 'I Surrender' from 1981's DIFFICULT TO CURE he grazes elegantly in front of the first rows of his audience and is really in a good mood.

This impression continues throughout the set. Ritchie really enjoys this show. While he often lingers in the background, letting his young vocalist do the Dio voice (Ronnie Romero), at the right time, he interacts with the audience, like when he sings animated the 'Black Night' riff. That's important, too, after all, this is only the evening you're here for Ritchie alone. Of course, the other artists do their job and their solos very solid, keyboardist Jens Johansson was already in the 90s for a while on board and also Ronnie Romero is a talented singer, but in the end you look here on the still capable magic fingers of a living legend who has brought a little support.

In addition to the Rainbow classics such as 'Stargazer', 'Since You've Been Gone', 'Long Live Rock And Roll', 'All Night Long', or 'Man On The Silver Mountain', there are also some Purple numbers that shows Romero is somehow not quite as good stand despite a stable vocal performance. Shortly before closing, Blackmore also takes on a touching instrumental from his medieval band Blackmore's Night. While soloing "Carry On ... Jon," on the screen behind him are moving images of Jon Lord and Blackmore's shared past. Always a nice gesture to his former colleague.

Oh yes. Speaking of screen: The visuals of the rest of the show were rather ... well, let's call it habituation. Everyone remembers old Windows screensavers or the visual laser feats that the Windows Media Player used to automatically create when playing music. The visual underpainting of the concert, if not the look of cover artwork, provided some sort of entertainment. That did not bother me, but were only good enough for one or two smiles.

After 'Burn', the band leaves the stage, shortly afterwards Ritchie returns again and carefully throws T-shirts and CDs into the crowd, before he puts on his guitar one last time and chooses the biggest riff ever: first he plucks it in the style of a children's song, then he picks up the strings properly and let 'Smoke On The Water' sound through the hall. And as little as you can hear this song today due to its highly obtrusive radio presence, this ingenious riff of many ingenious Ritchie riffs will almost certainly last for centuries.

© Jacqueline Floßmann, Classic Rock - Germany





The Rainbow is still glowing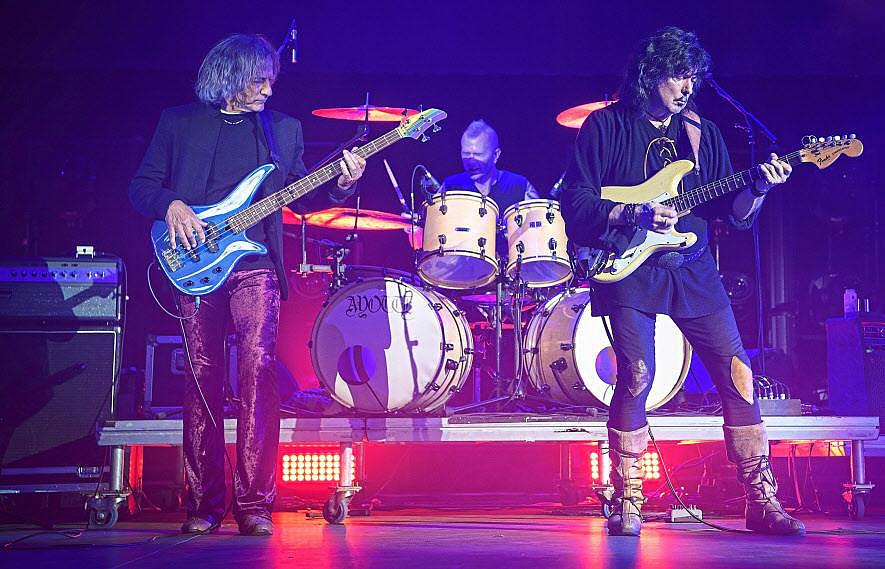 Under the banner "Rock Memories 2019", guitar genius Ritchie Blackmore's Rainbow, reformed in 2016, played her only German concert in Munich. And what was not there in the run-up to rumors about the 74-year-old master musician? From back problems over lost fire to notoriously bad mood, it was all possible with the Deep Purple and Rainbow founder.

Of all this today is nothing felt. Blackmore moves age-appropriate on the stage in the Olympic Hall and on the fretboard of his trademark, the white Fender Stratocaster and even makes jokes with the terrific vocalist Ronny Romero and the audience.

The musicians of Tokyo, who open the evening, do not joke, but their cause is good. Although different than expected by many. The revived rock band with new singer, which has delivered in 1981 with "Tokyo" the rock disco hit par excellence, acting surprisingly progressive. The most resonance is achieved by the '80s street tuner, but also the other numbers can be heard and listened to.

The British Blackmore and his new troupe under the old name have the undivided attention of the present, mostly older rock fans from quarter to nine. Blackmore and Co. launch 1981 with "Spotlight Kid" and "I Surrender". Right at the beginning, the string star, who has influenced countless instrumentalists, ranks number 50 of the best guitarists of all, according to a 2011 Rolling Stone list Times rank, even a small lunge and is effectively brought to its knees. Otherwise, he usually rocks the clock in his medieval legwarmers' boots. With the deep purple classic "Mistreated" it goes back further in rock history.

Anyone who has expected a pure rainbow set, will be surprised with excursions into other creative phases Blackmore. Keyboarder Jens Johansson builds snippets of Purple's "Woman From Tokyo" even in a strong version of the rainbow hit "Man On The Silver Mountain". But with Romero, Blackmore has brought a real vocal acrobat on board, who not only masters this task with ease. No matter which of the former Rainbow singers, such as Ronnie James Dio, Joe Lynn Turner and Graham Bonnet, comes from an original song.

The 37-year-old Chilene masters all the vocal colors of this rainbow perfectly. And Blackmore himself? He impresses with famous riffs en masse and partly extensive solos. And his penchant for classical music, when he builds the final movement of "Ode to Joy" from "Beethoven's Ninth Symphony". More Deep Purple milestones like "Black Night" and Rainbow classics like "Long Live Rock'n'Roll" make the hearts of classic rock fans beat faster.

The somewhat poor-looking video show with uninspired patterns, however, could have been left away. However, fading in and remembering the legendary organist Jon Lord, along with Blackmore's founding member Deep Purple, creates a great emotional moment. With the Purple classics "Burn" and the inevitable "Smoke On The Water" the colorful evening comes to an end. A memorable performance that was obviously fun for everyone involved.

© Martin Buchenberger, Donaukurier - Germany / Photo: Prager





Konzertbericht, 12.06.2019, Olympiahalle München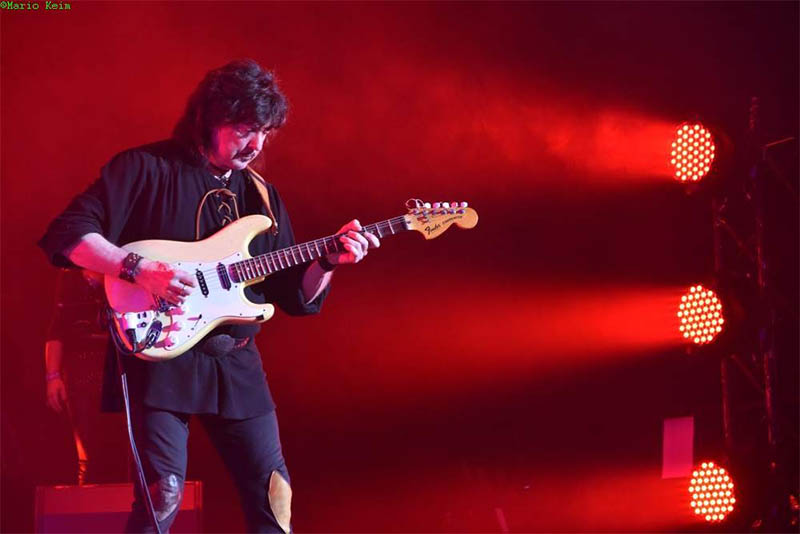 In his outfit with shirt, leggings and high boots Ritchie Blackmore is more committed to his great love, the music of the Middle Ages. Blackmore's Night is the name of his project, which he started in 1997 together with wife and singer Candice Night (real name Candice Lauren Isralow).

But it is not about appearances this evening in the Olympiahalle Munich. The fans in the not-completely-sold-out venue want to know what the 74-year-old still has today at the only German concert of Ritchie Blackmore's Rainbow this year, to play the classics of Rainbow and Deep Purple. The Hard Rock legend does not disappoint here. On the contrary, it's fun to watch him. Musically, he still plays in the upper league of guitarists. In the game breaks, he seeks contact with the audience a few times, and kisses the floor of the stage in the Olympiahalle at the end of the show. This is already more than in the past, where Blackmore was more known for his restraint, due to some tension with some of his fellow musicians.

'Rock Memories 2019' is the motto of the evening. Although Blackmore is clearly the focus of interest, he never plays in the foreground, usually looking for the proximity to drummer David Keith. He is part of a well-functioning band that at least on paper since 2015 in the same cast together. On the other hand, live performances are limited, but the guitarist has felt full employment with Blackmore's Night.

The tone in Munich is in the true sense of the word singer Ronnie Romero. The agile Chilene his voice does not let forget the ingenious Ronnie James Dio (1942 - 2010); Rather, the 37-year-old thanks to his voice color reminds of the unforgotten performer and is with his freshness and the good line to the fans the ideal cast on the microphone.

"Has anyone recorded this?" He shouts into the crowd after realizing that something fantastic has just been interpreted on the Deep Purple hit "Black Night". The musicians will focus on the classics without concentrating on the original 100%. Why? There are no dissolute solos. Blackmore limits himself to the respective part in the individual pieces. This is the appeal of the concert, which has a passable length of 110 minutes, but dramaturgically has to make do with a slight downer. So "Smoke On The Water" is the only encore after the official program block. As soon as the actors reappear in their seats after the "encore" calls, the marching music sounds so quickly. For me, this is a small aftertaste, but can not tarnish the positive overall impression in any way. The legend Blackmore has convinced in total.

Only "Smoke On The Water" provides goosebumps, as Romero and Blackmore tune in alone in the song and the chorus is taken over by the audience at the beginning before the keyboard and the rhythm section begin. Another emotional highlight is "Carry On ... Jon." It is an instrumental piece written by the guitarist for Blackmore's Night in honor of his fellow musician Jon Lord (1941 - 2012). In the background, photos of the founding member of Deep Purple can be seen in the background during the entire playing time on the screen. Together, both played together there for a long time together.

It's more than just a routine that makes Blackmore flash. Since one may already speak of a healthy dose of heart, coupled with first-class craftsmanship. Although there are many fans of bygone days who can not do much with Blackmore's Night, it is still appropriate to thank the guitarist and pay the utmost respect for his lifetime achievement.

All in all, Rainbow thinks it's an orderly withdrawal on installments. Blackmore will be 75 next year, the band will cover itself out in the absence of new tracks and the fans' euphoria will be limited given the sale of entry barriers at just a single concert in Germany. But who was there, may claim to have experienced a well-laid legend. Ritchie Blackmore's Rainbow is also a piece of nostalgia trip in the year 2019, albeit a very entertaining one. It can be called a journey into the past.

© Mario Keim, Rock Times - Germany





Long Live Rock N 'Roll Munich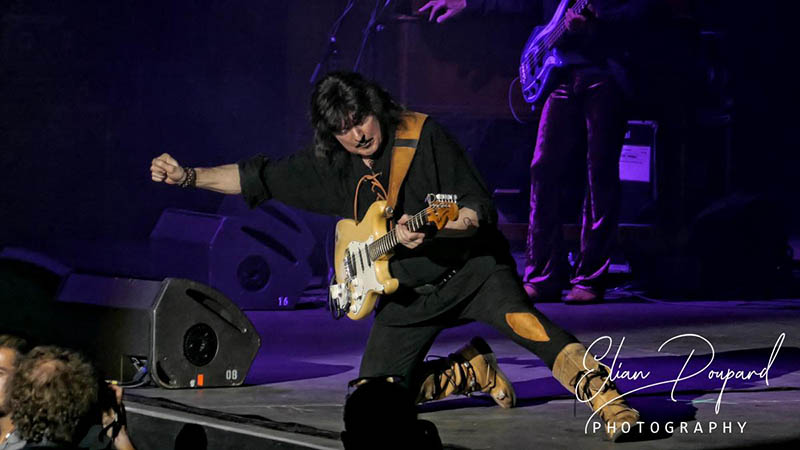 Ritchie Blackmore has recalled his friends for a series of 4 concerts events. I-Was-There made the trip to Munich. We tell you everything!

Go back ... we are on April 26, 2019, against all odds, Ritchie has released a version updated to the Black Sheep of Family followed 3 weeks later by The Storm. Everyone was expecting a new Rainbow CD "Rock" (the last album was released in 1995!). But it's bad to know our Black Knight who just said he could not want to do rock album (with or without Rainbow). and to top it off, a CD 4 tracks will be released in early June and will be sold only on the merchandising of each concert. Is it enough to go see for the 4th time in 4 years Rainbow? No, but that's another reason :-)

This year, no concert in England, no concert among the Soviets. Strangely, it will be Nordic countries, Germany and ... Spain! A first! I would have liked to make this last date Hispanic because the outdoor festival in Malaga with sea view seemed to me more friendly (and in view of programming: Scorpions, UFO, Europe ..). But, big dilemma, a concert of Mark Knopfler awaits us in Copenhagen!

I do not get too much idea about the setlist given the state of physical health of our guitar hero, Since the rebirth of Rainbow, the physical state of our greatest riff creator keeps decreasing. And these 4 dates seem to be the last ones.
Marketing side, it also seems to run out of steam. In 2016 we were treated to a sumptuous recording at the Monsters Of Rock with DVD / Bluray release, box, CD, Tshirt, limited editions in vinyl, etc ...

In 2017; a barely mixed CD from Birmingham and bonuses to make you smile.
In 2018, NOTHING.
So we imagine that 2019 will be of the same ilk.
Moreover, as I am curious, I watched the performances of his first 2 concerts at Rock Fest and Sweden Rock Festival .... Well, it does not look very good, setlist at a discount, performance very much lower than in previous years ...

But I had to make the trip, it may be the last time I can applaud my idol of youth.

A Rainbow concert is always a magical moment, it's LIVE. With that typical sound that made Ritchie Blackmore so popular for rock 's eternal pantheon. It's the biggest brand, a note and you know who's playing!

Special guest in Munich: TOKYO!
No, not TOKIO HOTEL ...
The little that I heard, it left me marble. I think I'll be eating a Pretzel or a beer, or both!
Munich, 42 years later

Munich is a first! This trip is not trivial. The Olympiahalle is not only the hall that hosted the 1972 Olympics in Munich but is known to Rock fans for being immortalized by Rainbow in 1977 with a legendary Ronnie James Dio - Ritchie Blackmore concert. 42 years later, The names are the same => Ronnie Romero - Ritchie Blackmore. But what will it be tonight?

The Olympiahalle is in the Olympic Park Munich. It's big, clean, you can walk around safely (even in the middle of the night). We are far from the Parc de la Villette in Paris where the day is Djembe badly played and in the evening a cut throat, make your choice! I stroll, I walk in the alleys of this beautiful Bavarian park, in this sweet afternoon of June, it is good to live in Munich.

At 1900 hours, the rockers have made an appointment. A much younger clientele than the Velodrom in Berlin last year. But the same desire to drink beer. German is never stuffed?! But how does he drink so much? In my turn, it will be a pint of beer + Pretzel XXL with a view of the lake.

20:15 I enter the hall, a little stop to the merchandising for the T-shirt of the tour 2019 and the famous CD not found available only on the concerts (apparently 500ex only). Note that Ritchie has signed some .... they left in a few minutes (40 € / CD).

The hall is quite unique, closed but lets in the light of day. The sun penetrates from east to west. I take my place while the FM rock without any interest of TOKYO finishes their show. And I'm waiting ...
Note: The acoustics are disgusting!
21:10 Let's go ! As usual, the music of Land Of Hope And Glory then Over The Rainbow resound in soundtracks. Artists come on the scene and Spotlight Kid starts. The sound has nothing to do with the first part ... CA CLAQUE GRAVE!

No pro camera tonight. We will not have the chance to have an official video recording of this concert, so we will do with the bootleggers ;-). Something else and that's a lot more embarrassing, I do not see (or very rarely) Ritchie Blackmore, the background singers and the drummer.

Shall I make you a drawing :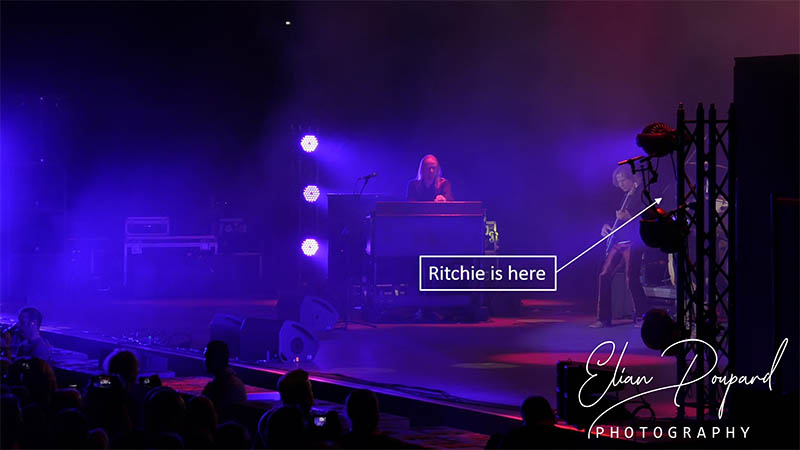 Do we play hide and seek Ritchie?

Ritchie had to take vitamins, his game is not the same as the records of the Sweden Rock Festival 4 days ago. The audience is very warm. It's an audience of connoisseurs, it changes everything. But there is something else, probably the shadow of DIO that hangs over this room. His heir Ronnie Romero starts very strong and it will go crescendo .... All the others do not care for me. We are tonight on a fucking good concert. Even the most "radio" makes me love my race (I Surrender, Since You Been Gone ...).

All the indicators are green and Ritchie has never been so good (over the last 5 years ... o is not going to race anyway), he has the modjo, nothing can stop it ??.

As long as we are, Bob Nouveau is even trying to sing / Slam on Man On The Silver Mountain / Woman From Tokyo ... it lasts ages, Ronnie plays with the public. Very good atmosphere, one would think to see a colo which explodes. The moment when everything rocked

The turning point of the concert was Stargazer. Ronnie Romero delivered a fair amazing performance. Ritchie Blackmore congratulated him directly on stage. After this kind of performance, we can let go of the horses. Nothing is the same and we discover a new Ritchie: A smiling Ritchie Blackmore!

It happens to slip one or two smiles a night but then to make jokes, to play with Bob and Ronnie + go back and forth to give beer to the public, CD or Tshirt: I've never seen so much attention.

He's so fit he'll give us a title he should not have played Carry On ... Jon. Title tribute to Jon Lord gone in 2012. Ronnie went chained on Smoke On The Water but Ritchie, in his tracks, preferred to put himself in danger with this title that he plays usually on the classical guitar but there, he stayed on the electric.

All the great classics of Rainbow and Deep Purple are here. And we end up very often with a very good Smoke On The Water which for me awakens badly with time. But the two frontmen Ronnie and Ritchie know how to sell it to us.

We could summarize by saying: Wow! That's the concert! The shadow of Ronnie James Dio hovered during 2 hours on this Olympiahalle. Definitely, this room succeeds in colorful concerts...

© Elian Poupard, I-Was-There





Rainbow in Munich June 2019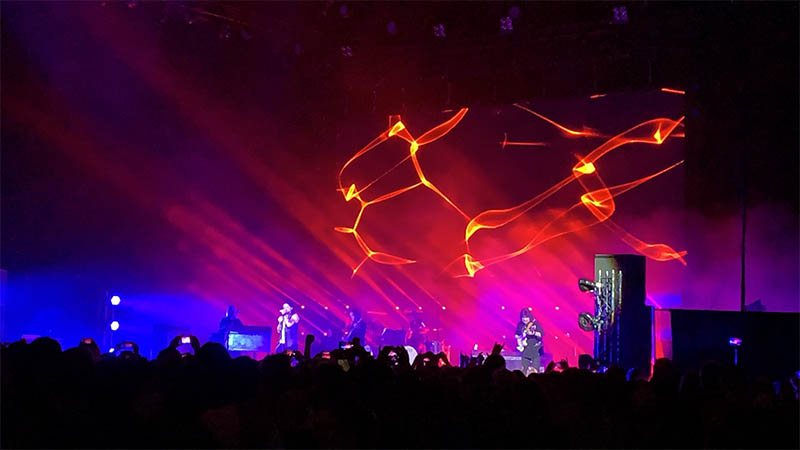 Memories of Rock - that was the title of the tour and if I remember Rainbow, the first thing that comes to my mind is the legendary performance of the guys around Ritchie Blackmore from 1977 in the Munich Olympiahalle. First of all, such an appearance did not happen in the same place in June 2019. I was not a friend of Blackmore's Middle Ages, and so I was glad that the former Guitar Hero went on tour again with his hard rock combo Rainbow. And he came to Germany for a single concert and even to my hometown Munich. The Bavarian state capital means a lot for Blackmore and he struggled.

After Ronnie James Dio and Cozy Powell from 1977 are no longer with us, Blackmore had to rebuild his band and he succeeded. The enthusiasm of the band is theirs. But what happened to our hero Blackmore? Once a berserker on stage who musically provoked that most of today's guitarists could play "the ass" (Blackmore quote) - yes, what happened to him? The moody man on the white Stratocaster has become quiet. No more emotional ego outbreaks like in the old days. He stands quietly and concentrates on his guitar playing. He still masters his instrument, no doubt. But dear Ritchie - look over to Steve Morse and there you can see how one plays guitar in a hard rock band today.

But after talking to fans who have done the last concerts of his, Munich has probably been a treat. Blackmore has been trying, but with arthritis is no longer masterfully playing the guitar. It's over with the high-speed solos, but then it's enough for a memoir in rock tour. Experiments could not be expected, but I had the impression that many songs were spontaneously tuned. Singer Ronnie Romero is not Dio, but he did a very, very good job. Some things seemed uninspired to me, like the solos in Mistreated - I always have David Coverdale in my ear.

It was nice that a Briton cited joy of beautiful divine spark in Difficult to Cure. A synthesizer may have been an innovation in the seventies and eighties, but the theme is through, no matter what improvisation Jens Johansson makes. The setlist varied in comparison to previous concerts of the tour. And of course Memories in Rock did not miss the Gassenhauer. The mostly older crowd celebrated their hero, teetered and after the record covers were showed on the video wall, you could remember what are the classics that you had to have. Emotionally it was finally finished with a nod to old buddy Jon Lord and finishing with Smoke on the Water. What more do you want?

On the way home by car, I first put Live in Munich in 1977. That was just a really good concert, just Rock Memories from 1977 and not a good concert from 2019.

© Matthias J. Lange, Redaktion 42





The Rainbow Still Lits Up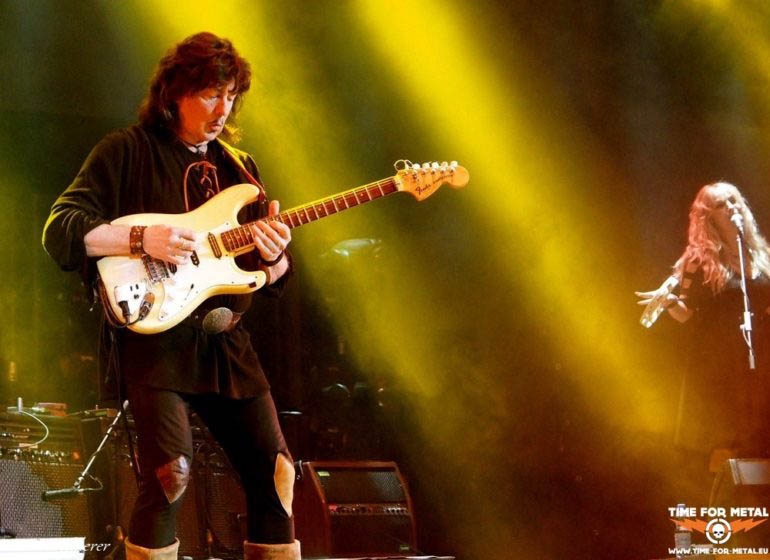 Munich is worth a visit. In this sense, I made my way yesterday from Kiel on the way to the only German concert of Ritchie Blackmore's Rainbow. The accreditation confirmation came at a very short notice and so remained the only affordable alternative to cover the good 850 km by car. Fix I had searched for a hotel and fortunately still found one near the Olympic Park. Since I have ample time to the inlet on today's concert day, I still enjoy the last rays of sunshine and that in a hearty beer garden. Many like-minded people, all of them well over 50, do the same and so the bridging time can be well endured until the beginning of a concert. I am then at the back of the hall in time to get my required access rights. Many VIPs and other guests are waiting for me on the inlet. Apparently, the AFD was represented, because when I make myself known as a press representative, it sounds to me from a gray-mistered gentlemen "lying press" contrary. What should you lie about in a concert report? That Ritchie is only 30 and they play songs by Helene Fischer? They are stupid people. Never mind, ignore and in. After the instruction to the behavior is still time to the beginning, and so I can without equipment already in the hall.

The Olympiahalle begins to fill up slowly and the merch stand is quickly relocated. Unfortunately, I'm a bit late because all the CDs signed by Mr. Blackmore have already been sold. Too bad. Oh well. On time I'm back to the photographer meeting and with four colleagues we go with official company to the photo pit. At 20:00 o'clock Tokyo begins, a band, which is already not quite dewy. They had a hit in the eighties, which was also called Tokyo and catapulted the Classic Rocker far forward. Despite three albums, the band went separate ways and only in 2016, because of great demand, a new attempt was started. So today they stand on stage as support and start with Stand Up. Three different vocalists with different vocal colors will let songs like Too High or Give Me Power shine in a new light over the next 45 minutes. Then the third song, their biggest success, the still manageable audience goes along well. The photographers, and therefore me too, have to get out now and, if we want, return to the hall without equipment. I give up in favor of some nice talks.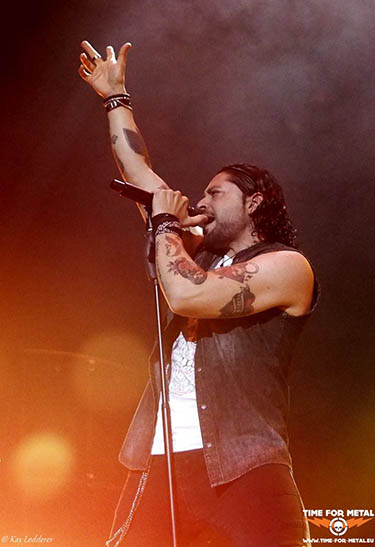 At 21:00 o'clock we are allowed to accompany the hall again. Significantly more press representatives cavort in the ditch, but it is nice wide and easily accessible. With the two tracks Land Of Hope And Glory and the obligatory Over The Rainbow the familiar intro is here and now it gets loud in the hall. The light is already darkened when keyboarder Jens Johansson enters the stage first and sits behind his Hammond organ. Followed by drummer David Keith, bassist Bob Nouveau and singer Ronnie Romero. When the first song, Spotlight Kid, is heard, Ritchie, the master of the guitar, enters the stage amid thunderous applause and shows, despite his already 74 years, why he is still so celebrated. Although not quite as fast as it used to, he is still much faster and more virtuoso than many of his playing comrades. Almost seamlessly, I Surrender continues.

The most striking is the Chilean Ronnie Romero, who is also the agile on stage. From left to right, from front to back. Always on the go, he makes it difficult for us to get him in front of the lens. But he proves his qualities as an entertainer when he announces Ritchie. He counters quickly. That's entertaining. Excellent in voice Ronnie gives the first songs the necessary depth, which just fits the songs. The third song proves this even more impressive. Mistreated, one of several Deep Purple covers, demands a lot from a singer. Gillan or Ronnie James Dio gave this song the soul and Ronnie does that too. Emotional and yet powerful, he intones the ballad. Ritchie plays on his white Stratocaster for rocking, bassist and drummer set the fat rhythm, while Jens Johansson provides the synth support. The song lasts about eight minutes and that's great for us photographers. Light is ok, and so are some good shots here.

Then it's time to take off some photo equipment but we're allowed back to the hall. So I just come back to Man On The Silver Mountain, where the accompanying rainbow cover is shown on the canvas in the background. On this screen otherwise boring is offered. Arbitrary patterns that blink differently, disturb more here. Two more Deep Purple classics are done. Perfect Strangers and Black Night. Especially with the latter then the audience may use, which makes it also willing and loud. Otherwise, that is a bit getting old and so is enjoyed rather than fiercely celebrated. The following block consists exclusively of Rainbow Songs. If cover pieces have been played before, hey are all in good quality, Difficult To Cure, All Night Long, the great Stargazer and Long Live Rock'n Roll are real Rainbow classics. With Difficult To Cure, Ritchie is placed in the limelight and impressively demonstrates what he is capable of in Beethoven's Ninth Symphony, better known as the Joy of Man's Desire. The little time-out that he indulges in after that use the other musicians to present themselves with their own solos.

The four newly played Rainbow songs reflect the different phases, and were also recorded in the genesis with various singers. Today, Ronnie Romero takes over all and masters this with flying colors. Ritchie plays sovereignly the well-known riffs, and also one or the other solo with and against the Hammond organ sounds through the venerable Olympic Stadium. It's fun and against all rumors, he is in a great mood. Comfortably dressed with his medieval legwarmers and loose black clothes, he does not move too much, but the announcements and jokes are well received by the audience. His wife Candice examines the performance from the background, because she acts here, unlike Blackmore's Night only as a backing singer.

Now it's getting sentimental. On the screen is the picture of Jon Lord, who unfortunately died much too early, and with Carry On ... .Jon, he is duly paid tribute here. After that, but it goes with a rapid burn to the final spurt. The spectacle is unfortunately over. Of course, there is an encore and so comes what must have come: Smoke On The Water. This overpower of Deep Purple is a worthy conclusion to a memorable concert. Those were real memories in rock today. The music is simply timeless and good for lovers of the seventies and eighties rock music. It does not require new songs, even though there are three, but they are not intoned here. Who knows, maybe there'll be a Memories In Rock 2020 and maybe new songs will be played there.

Conclusion: Successful evening with pure memories. Great musicians, a young Ritchie Blackmore, who still masters his work equipment, albeit not quite as fast as he did forty years ago. But he does not have to. A Ronnie Romero, who sings great and in one way or another comes close to Ronnie James Dio. Too bad that there is only one Germany concert. It has been more than just worthwhile, especially for nostalgics.

© Kay Ledderer, Time For Metal