Ritchie Blackmore's Rainbow
Sweden Rock Festival - Sölvesborg June 8, 2019

Ritchie Blackmore's Rainbow on Sweden Rock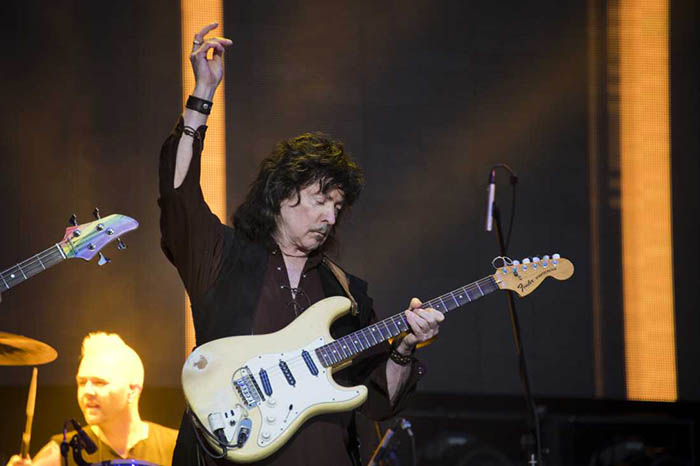 Theoretically, the constellation Ritchie Blackmore's Rainbow has all the makings to end the festival with a success. But in practice. The meeting with the festival audience is a reserved affair – which, however, is drawing to the end.

Ritchie Blackmore's Rainbow

Location: Festival Stage. Audience: 30,000 – in round throws. But many people leave the festival grounds during the performance. Length: just over 90 minutes. Best: The end. From "the whole night" it is really, very good. Extra Plus on the sidelines because they had a good habit of playing pretty early in the evening – more like that! The Worst: Basically everything before "All night long", with particular emphasis on all uuutdrawn solos.

"I'm not a guy who likes jamming and having fun, music is very serious." The Guardian's two-year interview quote basically says all about Ritchie Blackmore. The man, the myth and the hard legend look serious in the Festival stage. Alternatively, extraordinarily bored or fly cursed - it can be anything.

The guitarist and songwriter, as we know, have as much charisma and charisma as a pair of wet rubber boots. And for the most part, he looks to play in his sleep. Despite the fact that Nanne Grönwall himself stands and hugs the rattle fence, which the large-screen displays notice several times. And despite that, he has the great advantage of picking the raisins from Rainbows and Deep Purples' respective song treasures along with a motley crowd of musicians.

Calling the constellation of Ritchie Blackmore's Rainbow is of course also misleading. The life rep is stretching far beyond the breathtaking debut album Rainbow's delightful debut album. But let's go for Ritchie Blackmore's Deep Purple Rainbow had become too long a band name.

Missing Dio

But a more factually correct band name had however, not saved the first half of the gig. The energy is painfully low key and cruel. And if I'm not mistaken, Blackmore's fingers happen to slip on the guitar strings already in the initial "Spotlight kid". Oops.

It is also sparse in the public sea and many leave the festival area as well. In fact, I have never seen such a subdued audience in front of a headline act on Sweden Rock. Missing after Ronnie James Dio is also heartbreaking. Especially under "Stargazer", which is the world's best song - all categories.

But the gig has, after all, its moments. The galloping main punishment in "Perfect strangers" floats on like a dream. And the song star shot Ronnie Romero possesses a god-worshiped voice. But unfortunately also a bland stage personality.

It is also painfully obvious that Sweden Rock's audience has no relation whatsoever to the Chilean concealment. Romero bravely fights to win the audience's favor and love. For example, by trying to speak Swedish ("I can Sweden"). Turns on at the end. After many though and yet he succeeds.

It requires hormone therapy "All night long" so that everyone involved should light up properly. Unfortunately, the route until then is a disappointment to pancake-like proportions. But in the end, it takes speed. "Long live rock" n "roll", "Burn" and extra number "Smoke on the water" are performed with a much-needed damn embrace - and received with an equally enthusiastic response.

It's a pity that the atmosphere wasn't like this from the start. Then we had been able to talk about a successful festival ending. But better late than never, I guess...

© Sofia Bergström - Aftonbladet
Photo: Rickard Nilsson





Ritchie Blackmore's Rainbow - A sleeping pill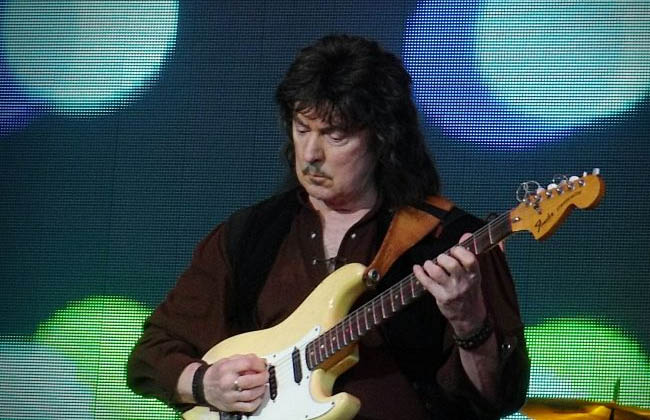 I am so terribly sad when a magnificent song treasure, managed by exquisite musicians, becomes a boring event entirely in the absence of life and joy. I really love almost everything created by tonight's protagonist Ritchie Blackmore. Deep Purple are ancestors of modern hard rock and it is possible to stack classics on high an entire afternoon. With Rainbow, further steps were taken in the creation of classics and another afternoon can be filled with songs from that repertoire. Even Blackmore's Night can offer a long evening with great songs. And so it gets so breathless and pointless.

It is really a collection of fantastic musicians on stage and Blackmore has got hold of an incredibly good singer who can carry these songs from the 70s and 80s to the present day. But it is wasted on unsafe middle-talk and really traditional instrumental parties that nobody gets happier about. I get the feeling that everyone on stage is so excited by the legend on stage, that they themselves become part of the audience. It's so sad to witness. Many also chose to look away, go home, do something else. It is not often you see so many walking towards the exit while the main attraction is playing. The last thing that happened was when Whitesnake crashed a few years ago.

This performance could have been carried out in the afternoon while people were chilling in the grass. It would have been more dignified. Now it is unfortunately just embarrassing. And then all the songs are good, fantastic pieces of music history that are performed with style and perfection. I do not understand how it is possible to fail when you have this material to work with.

Hope those who stayed there also lingered when the magnificent Myrath jumped in and replaced late canceled Behemoth as a nightly gig. Then maybe the evening was saved anyway.


© Erik Åman Laakso - Kulturmagasinet Kulturbloggen
Photo: Maria Laakso Åman





Invincible rock classics at Sweden Rock's final evening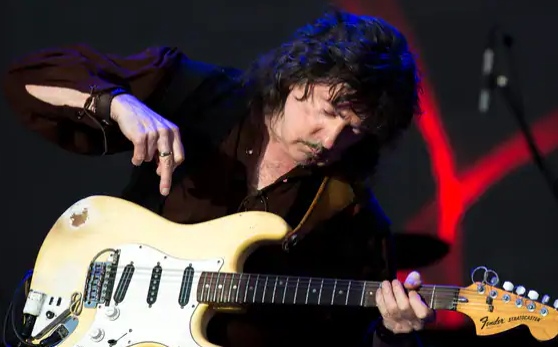 It looks like a thought that Ritchie Blackmore and his Rainbow will be honored to set the spot on the biggest stage for this year's festival. We have had a Sweden Rock year that can be summed up with the same support words that can also be applied to the live band Rainbow: Safe. Traditionally. And a little boring.

During the festival's last day, I see Phil Mogg deservingly putting his hat on the shelf after 50 years in UFO's service. I see Saxon doing his thing, I see Hammerfall charming a giant audience. But besides a complete freak party with the plover Green Jellÿ, most of the things I see are expected.

Which takes us back to Rainbow.

Blackmore belongs to the harder rock's perhaps five most important guitarists. A heavy stylist whose rifle from Rainbow and of course Deep Purple has ensured that the British guitarist's musical DNA is imprinted in all festival visitors here, regardless of age. And Rainbow is a given building block in the foundation of the hard rock.

As a legend, Blackmore is thus invincible. As a band leader in Blekinge, he seems quite uninterested.

In stringed leather boots, the British look like he has walked in directly from the forest. He works with small means on the stratocaster, does not want to be at the center. Chilean Ronnie Romero goes into power when he finds the very high notes but is no Ian Gillan in "Perfect Strangers" and of course no Ronnie James Dio in "Man on the Silver Mountain". He is not a charismatic frontman either. The screen display seems to be too small for generic projections. This would have been perfect in the afternoon sun. Not as closing act. Everything feels a little fresh.

So what will I remember from this year's edition of Sweden Rock? Guaranteed Slayer's powerful farewell night to Friday. Possibly Kiss bombs and Def Leppard's hit machine. And the amazing weather, of course. I've probably forgotten a little gig with Rainbow already next year.

Concert:

Richie Blackmore's Rainbow
Sweden Rock, Norje
Audience: Maybe 15,000.
Who: British hard rock band founded by guitarist Ritchie Blackmore in 1975 after leaving Deep Purple for the first time. Considered an important cog in the construction of heavy metal. In the beginning, Ronnie James Dio was a singer, today Chilean Ronnie Romero sings in the quintet. On keyboards is Swedish Jens Johansson.
What: Debut on Sweden Rock for Blackmore's legendary band.


© Anders Dahlbom - Expressen, Sweden





Ritchie Blackmore's Rainbow – Sweden Rock Festival 2019-06-08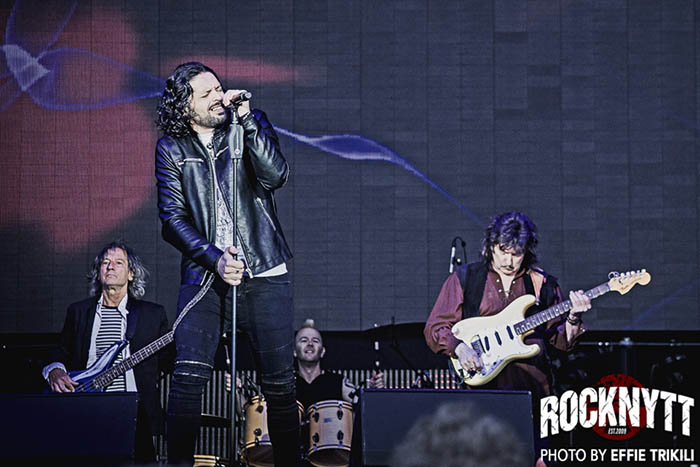 In the name of honesty, I will admit that I had great expectations of finally hearing this master of classical hard rock performing their work. At the same time, I had no idea how the other musicians would be and thus expectations fell more and more to a hope that it could be good. On stage stood a drum kit without a podium, an old organ and the feeling of hearing something completely different from hard rock crawling over me. The fears flew their cows when Jens Johansson stepped onto the stage and was what really the odds of Mr. Blackmore doing something that was not in the highest class? When the whole band with his beautiful Candice Night on chanting song was on stage, Robin Hood stepped out, or was it Blackmore who was going to produce the lute? One of the tiniest things, he found the riff and started the Spotlight Kid. I don't think for a second that it was a coincidence that it was just that song that had to start the evening's gig. Spotlight Kid is in capital letters, Ronnie Romero. Here I have praised Steve Overland and Tommy Nilsson, but here really Sweden Rocks was the best singer on the go. What Romero can't handle is really not, when it comes to being able to sing everything about Deep Purple and Rainbow, which I will return to a number of times in this review.

In Surrender, I really did and Blackmore still looked bluntly stubborn but Romero did his part to really cover the huge surface of the stage. A dream would have been to see Joe Lynn Turner perform it all, but this was better than the original and Romero would continue the evening. In order to be on the safe side that the Swedish audience would understand, Jens Johansson in his special way presented a number of songs. Man on the Silver Mountain, was purely epic and here somewhere, Ritchie Blackmore started thawing a little, with both guitar playing and light public contact. Jens Johansson's organ play is in pure world class and I need to mention that Romero matched Dio, albeit a little snap.

This evening, it was not only offered at Rainbow but also samples from Deep Purple and Perfect Strangers did not sound perfect from Blackmore's side but "good enough" to enchant the audience. Once Black Night was pumping, Romero was once again impressed. Here he had discussed Joe Lynn Turner, Graham Bonnet, Dio and now we got to hear Gillan in top form.

I hadn't expected any crackling stage shows and cool poses from Blackmore, and the music really spoke for itself. Stargazer was performed in the best possible way and besides the choir, competence was handled excellently by seasoned bassist Bob Nouveau and the youngster on drums David Keith. Somewhat chewy but completely given Long Live Rock'n'roll was performed before I was totally shocked when Burn started. For some reason, I have been told that the period with Coverdale / Hughes was not something that Blackmore was so fond of, but apparently they were completely wrong. It was here that Romero really knocked me off, when he sang both Coverdale's and Hughes singing loops to an impressive perfection without any problems. Concluding Smoke on the Water was perhaps not performed with the greatest enthusiasm but Blackmore has refused to play it sooner in Sweden so we gratefully accepted it.

In conclusion, I would like to point out that I am reviewing the entire Ritchie Blackmore's Rainbow and not just Ritchie personally who may not have been like great days but all right. On the other hand, as a group, I am more than happy with the performance and such should be rewarded.

Rating: 4/5

Best: Ronnie Romero, a singer we will hopefully have a lot of joy for a long time to come.

© Andreas Östlund - Rocknytt
Photo: Effie Trikili





Ritchie Blackmore's Rainbow with a strong
ending to this year's Sweden Rock Festival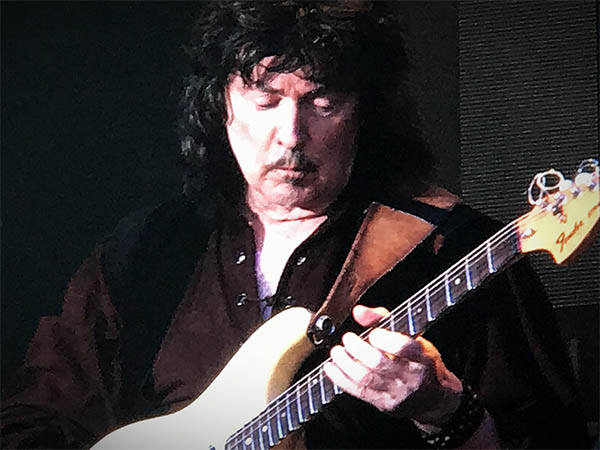 This year's fantastic Sweden Rock Festival ended the main stage (Festival Stage) with rock legend Ritchie Blackmore and his new line-up of Rainbow. The expectations for the concert were great, and many were probably also uncertain (as I was) about how the strange and sometimes erratic guitar and rock legend Ritchie Blackmore will appear during the summer night and the last festival day during the fantastic Sweden Rock Festival.

Let's agree right away with the sharpest critics ... well then, of course, Blackmore isn't as he was during Deep Purples heyday with his former bandmate legends Jon Lord, David Coverdale, Glenn Hughes, Ian Paice and Ian Gillan when they in the 70's and created several of rock history's greatest albums, which include "Deep Purple In Rock", "Burn", "Stormbringer", "Fireball" and "Machine Head".

Not as solid as when he left Deep Purple and created the amazing Rainbow with Ronnie James Dio and others. And released one of rock history's most unique albums "Rising" (1976).

But what do you do? Sky and sea, here you will experience a fantastic legendary artist who for several years has "lashed around" with the "magic hat" on his head and played under his quirky folk rock band project Blackmore`s Night. So suddenly, and very surprising, he picks up the super strong Spanish vocalist Ronnie Romero (37), Swedish keyboard / organist Jens Johansson (55), drummer David Keith (45) and bassist Bob Curiano (65) and blows life back in the Rainbow. And it sounds great!

Ritchie Blackmore was thrilled during the concert. His smile came out occasionally. And that says MUCH.... Thank you Sweden Rock for having this great concert.

© Knut Eirik Myhre, Rockman - Norway





Long Live Rock'n'Roll over the Rainbow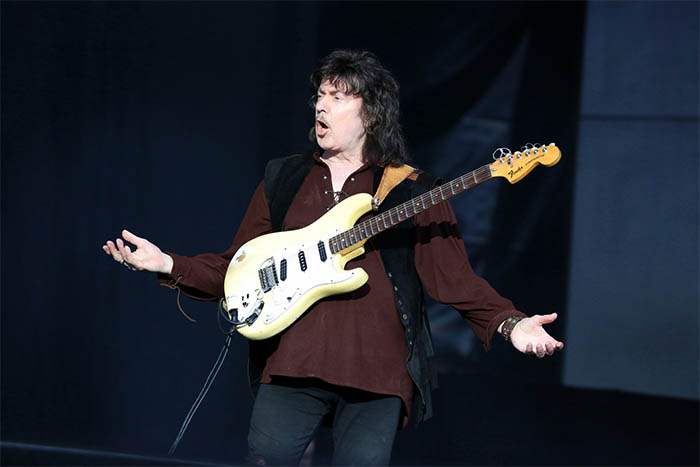 Our Swedish friends, in collaboration with Live Nation, understand year after year to deliver the one fantastic festival after another. I bend in the dust, because it is difficult to put a raised index finger on anything other than that perhaps a bit of spectators were closed in. Over the years, the number of spectators is clearly increasing, and it puts pressure on food stalls (the quality of the food as they are poorly able to follow), and the pressure in front of the scenes has also increased significantly. For especially the main names, I can imagine that many people had to follow them on the big screens.

Again this year I should like to point out that there were about 80 bands on the poster and there was everything from heavy metal, classic rock, melodic rock to progressive rock, thrash and much more. The festival ran over four days from Wednesday to Saturday, where Wednesday only had about 10,000 spectators and with the smaller stages in use.




Wednesday June 5th: JOE LYNN TURNER **** (4 stars)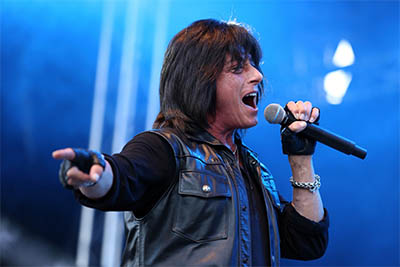 The former Rainbow singer Joe Lynn Turner has lived off his years in the Rainbow ever since the band broke 35 years ago when Ritchie Blackmore was reunited with Deep Purple. Joe Lynn Turner, who was next to the poster on Wednesday, can still sing the old songs, and the set list also consisted of all the old Rainbow classics plus a few songs from the time in Deep Purple and Yngwie Malmsteen respectively. Joe Lynn Turner doesn't have a permanent band and tour with different musicians, so it gets a little "come and see the giraffe" -like.

This evening, Joe Lynn Turner was flanked by the Swedish band Dynazty, who played after him on a smaller stage. It sounded really good, and the audience was also good at it. We got "Death Alley Driver", "Power", "I Surrender", "King of Dreams" and many more.

The only time the toes twisted in the shoes was when the young musicians played Ritchie Blackmore's instrumental song "Difficult to Cure" while Joe Lynn Turner had a break. Perhaps Joe Lynn Turner hadn't seen the legend Ritchie Blackmore himself standing on stage as the main name Saturday, and so we got "Difficult to Cure" twice!




Saturday June 8th: RITCHIE BLACKMORE's RAINBOW ****** (6 stars)


I first saw Rainbow in 1977 with Ronnie James Dio and then with Graham Bonnet, Joe Lynn Turner and Doogie White. There has been a lot of water in the river since then, and Ritchie has gradually gone and become an older gentleman of 74 years.

Ritchie is often criticized for his latest edition of RAINBOW, which consists of members from his primary band Blackmore's Night, who plays Renaissance music combined with rock / folk and new faces in the form of keyboardist Jens Johansen and Chilean Ronnie Romero on vocals.

Ritchie has always been his own and done what was right for him, and it was clear that he was enjoying this beautiful summer evening Over the Rainbow. Rainbow in 2019 is less hard-hitting than in the old days, where Cozy Powell struck the drums, and the solos had become shorter. In 1977, they played seven tracks for 1 hour 45 minutes. On Saturday, they played 13 tracks in the same period, and it actually dressed them as there were lots of fat guitar games along the way.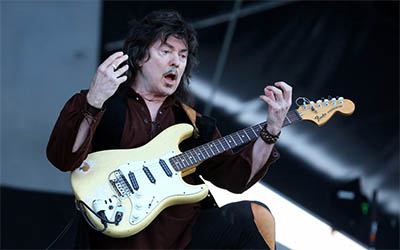 They set out with the "Spotlight Kid" at high speed followed by the melodic "I Surrender". Though reuniting with The Man in Black, who tonight had taken something that looked like a monk suit. But the guitar snapped, and we got a longer solo in "Mistreated". Although the concert was a Rainbow concert, there was also room for some Deep Purple songs, of which especially "Burn" and "Black Night" flashed, whereas the final "Smoke on the Water" seemed slightly understated and clumsy.

We got a nice version of "Man on the Silver Mountain" and "All Night Long" that put things in place. Singer Ronnie Romero sings amazingly and hits the exquisite mood of the former singers and was not far from legendary Ronnie James Dio. We were also due to Beethoven's 9th in "Difficult to Cure" and the mighty "Stargazer" from Rainbow Rising.

It was a really gratifying reunion with Ritchie Blackmore and his Rainbow in 2019. It was actually much better than I had expected based on the much previous mentions of Ritchie Blackmore and his shape nowadays. Ritchie Blackmore has always refused to play things that everyone had expected. He wants to surprise, and he wants to make another solo and just these years he is in stark contrast to all those who play the same over and over again. He's a legend ... maybe the biggest of them all!

Other bands Saturday: Beast in Black, Styx, UFO, Saxon, Hammer Fall, Demons & Wizards, Danko Jones, Electric Boys, Blue Coupe and more

Long Live Rock'n'Roll and thank you so much to Sweden Rock for four wonderful days with the biggest rock bands. The festival management really has the finger on the pulse and flair to put together an unmatched program with both classic and new.

Sweden Rock Festival 2020 will be implemented in the days 3-4-5-6. June 2020.

© Christian Weigel, Gaffa - Denmark / Photo: Henrik Hildebrandt





There was little gold at the end of the Rainbow this time!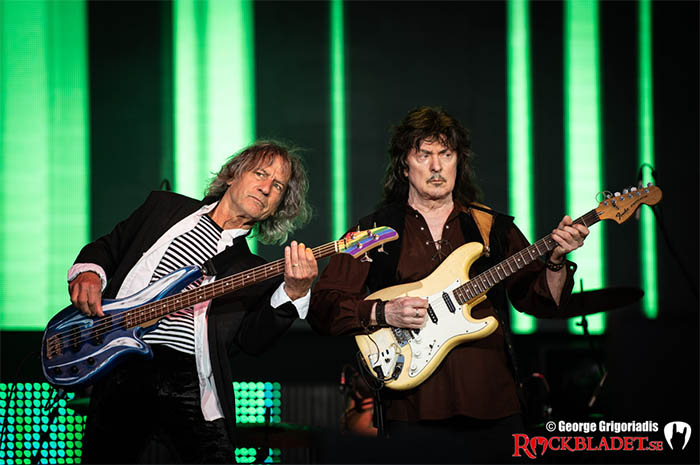 Just that - Ritchie Blackmore is always Ritchie Blackmore! It was an honor to see him play, albeit somewhat unfocused. The material you chose was good but it took too long before they got warm in the clothes. Perhaps you had won on warming up as a band like how Metallica does in a small temporary repository for about 30 minutes before going up the stage.

A somewhat loyal Ritchie Blackmore entered the stage on Saturday night at 21:00 at Swedenrocks Festival Stage. Or at least he felt a little laid-back anyway. When the tones sounded out of the guitar, it is still reminiscent of the color and tone that we are used to, however, it is slightly less sharp than usual. You are really looking for that sharpness that you are used to in Deep Purple and Rainbow songs, but it rarely shows up. Instead, it is singer Ronnie Romero who gives life to the concert and gets to pull a large part of the workload on stage. He sings really well, it's almost like you can sense Ronnie James Dio in the classic Rainbow material and Ian Gillan with a splash of David Coverdale bit by bit.

But, just seeing Ritchie Blackmore still caressing the old stratocaster is a dream come true. At last we got to see him in his true element. There were some errors here and there at the beginning of the concert. It was almost as if the autopilot went, a bit like he was wondering if he forgot about the stove while at the same time hurrying through the first four songs on the set list. With Man On the Silver Mountain, Ritchie seemed to find out that after all, he had remembered to shut down the stove and began to bring up the glow so slowly.

Unfortunately, it's not until after a version of Difficult To Cure, which feels like it never runs out, it's one of Rainbows Beethoven-inspired instrumental works from the record with the same name that usually maintains, in All Night Long that he got the heat in anyway something snap. It really was a version where it turned to properly. The fact that they then radiate the classics Stargazer, Long live Rock'n roll and Burn in the same ways is just wonderful. As an extra number they play the song they all think everyone wants to hear, Smoke on the Water - and it is not entirely untrue - it actually works like this in the evening but does not sit as completely cast as the 4 songs were run before.

Despite a lot of varying delivery of the material, it became an ok concert, but I would have liked to see them warm up before the concert so they had the opportunity to deliver the same drive and perhaps sharpen the whole concert through.

© Tony Asplund, Rockbladet - Sweden / Photo: George Grigoriadis