Ritchie Blackmore's Rainbow

Genting Arena, Birmingham UK June 28, 2017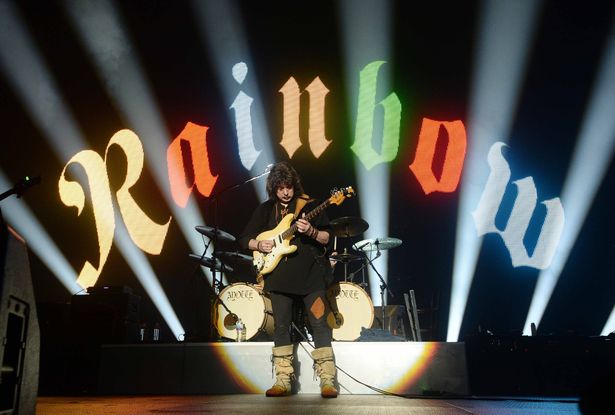 Rainbow and Sweet at Genting Arena - reviews and set lists

Crazy dancing on stage ends Ritchie Blackmore's last Rainbow rock gig in the UK



At the end of a brilliant, three-hour marathon double bill of powerhouse rock, guitar legends Andy Scott from Sweet and Rainbow's Ritchie Blackmore both left fans wanting more, more, more. Rainbow were the headline act, with Blackmore surprisingly back at the NEC's Genting Arena for the second successive June. Before that, the former Deep Purple classic line-up star had not played rock for years in order to concentrate on Blackmore's Night, his Renaissance-style act which works best in intimate theatres, not Genting-sized arenas.

After three earlier June 2017 dates in London, Glasgow and Manchester, it is once again highly possible – but hopefully unlikely – that Birmingham could have been Blackmore's last rock concert on home soil. While it didn't top last year's sole UK date, when the return of Weston-super-Mare's finest moody maestro came with an inevitable frisson about what he had up his sleeve, this show was so engagingly disjointed it even ended with his band members doing some crazy dance moves with interlocked arms. Freed of the need to play it all a touch safe, it was almost as if the now 72-year-old Blackmore had earlier relished playing devil's advocate again by being prepared to take extra risks on the fly.

He even seemed to have count himself back into the final song Smoke on the Water after it started with vocals only. But, hey, the band's show did last two hours and 15 minutes, with no time wasted walking off for an encore, and there were moments when the set's production values were slicker than last year. A case in point was Blackmore's deft playing during an instrumental 'Carry on Jon' tribute to his late former Deep Purple keyboard player Jon Lord, lavishly illustrated with some classic photographs on the brilliant digital screen which collectively added layers of emotion to what was already a sweltering night indoors.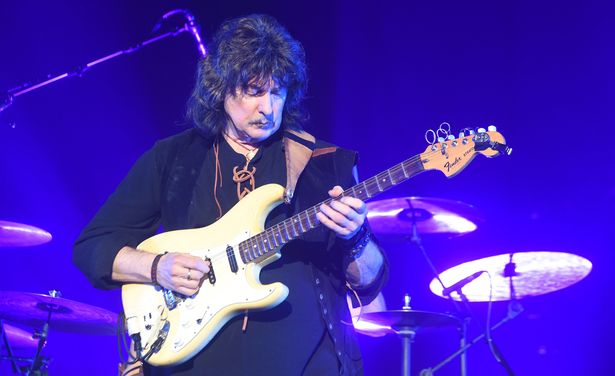 Other songs also featured a backdrop of archive video footage which enabled classic-era Rainbow warriors Ronnie James Dio and Cozy Powell to loom large from beyond the grave. Short-haired Chilean singer Ronnie Romero might not have full command of the audience, given Blackmore's insistence on spending virtually the entire gig standing centre stage in front of brilliant drummer David Keith, but he is a great find regardless. After just six songs, he had already fully honoured five predecessors – Joe Lynn Turner, David Coverdale, Ronnie James Dio, Graham Bonnet and Ian Gillan – while the remaining numbers included at least one more song from all of them bar Turner.

The ability to be so adaptable is such a brilliant feat in itself, that it surely demands Blackmore should write some new material to give Romero his own part in the legacy. Highlights included Mistreated and Soldier of Fortune, which both evoked Coverdale at his bluesy best, before Romero then put his own stamp on Ian Gillan's Child in Time. The best of Ronnie James Dio's contribution came on the peerless Stargazer, though Catch the Rainbow had a delightful finesse in total contrast to the blistering energy of Coverdale's Burn, played out at full throttle against a backdrop of orange-red flames devouring the giant screen.

The opening two songs reflected the more American-style Rainbow led by Joe Lynn Turner, while Since You've Been Gone and All Night Long recalled the pop era of Graham Bonnet, who's short stint with the band coincided with Rainbow launching Castle Donington's Monsters of Rock in 1980, the forerunner to Download. There was no Highway Star this time in a gig which felt more Rainbow than Purple – it was arguably the other way round last year – but the 1984 comeback song Perfect Strangers certainly stood up to be counted. Jens Johansson's early keyboard solo bizarrely went on for so long it almost seemed as if he'd forgotten there was an audience – unlike Blackmore who kept exercising his knees by bending down to offer cups of water to fans at the front throughout the show.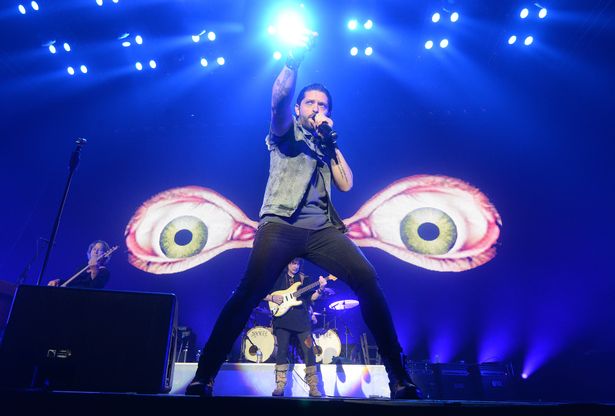 In contrast, the drum solo was as entertaining as it was beautifully lit. While David Keith was sitting on the stool, Romero came along to join in on the toms. He then took over the stool and picked up the rhythm, while Keith carried on playing in sync all the way round the entire outside of the kit. Romero then got up to let Keith regain the stool and, between them, they didn't miss a beat.

It was almost like a new entertainment show – Ritchie's Got Talent – and proof that even after almost half a century as a Purple prince, Blackmore can still find ways to move forward. Meanwhile youthful wife Candice Night was one of two backing singers working hard at the rear – and she's also the one who loves to send out all of the band's tweets on Twitter from her site @TruCandiceNight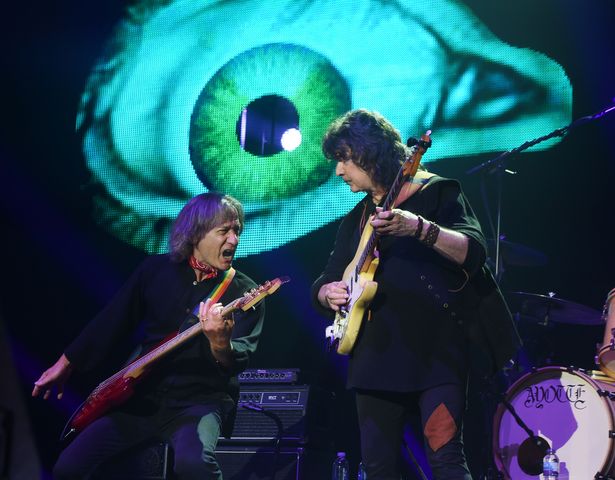 Earlier, Andy Scott's Sweet finally played the kind of British arena gig they have long deserved. Lionised to this day in Europe despite guitarist Andy being the sole original member, the band played for almost an hour in what still felt like a rushed set. As with Rainbow's Stargazer from the Rising LP, Sweet only played one track – Set Me Free – from their own best album, the seriously underrated Sweet Fanny Adams (1974). The rest of the set was jam-packed with their brilliantly-crated singles, all of them boasting the band's edgy guitar riffs, exciting lead guitar breaks, watertight drum fills and the kind of soaring vocal harmonies that were only ever rivalled by Queen, who play Birmingham on November 30 and 16.

Frontman Pete Lincoln, drummer Bruce Bisland and local lad Tony O'Hora on guitar and keyboards, all contributed mightily to authenticating the Sweet sound without which there would have been no Kiss , Motley Crue, Def Leppard et al. Andy Scott, who will turn 68 on June 30, thanked his long-standing pal Blackmore for letting the band on to the support bill - having previously suggested that Sweet's November 2015 gig at the Town Hall could be their last appearance in Birmingham. And he told the best gag of the night, saying: "I'm normally the oldest person at these gigs – thank you Ritchie!"

Having only just had a "procedure" on his leg this week, Andy quipped that he was "drugged up to the eyeballs... just like the 70s!" It was also fair comment when he said Sweet "deserved" to be on such a big stage in front of a full house gathered for them at 7.30pm. "We've been in the charts all round the world again thanks to (Fox On The Run) Guardians of the Galaxy 2," he said.

"Everywhere except the UK." Andy added: "We never get to play venues like this in the UK, but we deserve to be playing here more often, we're British!" After paying tribute to late founder members Mick Tucker (drums) and frontman Brian Connolly and delivering perfect versions of such complex hits as Action, Hell Raiser and The Six Teens, the band left to a fully-earned standing ovation. If Andy's health holds up – and he touched his chest hoping that it will – they will surely be back in arenas before long and, one can only hope and pray, with a full plethora of unsung album material, too.


Rainbow - Genting Arena setlist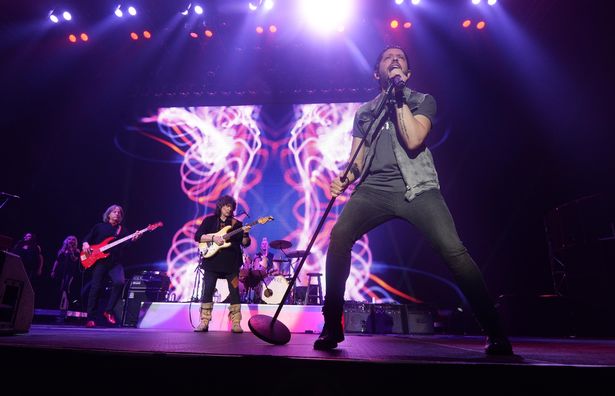 1. Spotlight Kid
2. I Surrender
3. Mistreated
4. Since You've Been Gone
5. Man on the Silver Mountain
6. Woman From Tokyo
7. Soldier of Fortune
8. Perfect Strangers
9. Keyboard solo
10. All Night Long
11. Child in Time
12. Stargazer
13. Long Live Rock n Roll
14. Lazy
15. Catch The Rainbow
16. Black Night
17. Drum solo
18. Carry on Jon
19. Burn
20. Smoke on the Water


© Graham Young - Birmingham Mail / Photos by Darren Quinton




Review: Ritchie Blackmore – Genting Arena, B'ham. 28th June 2017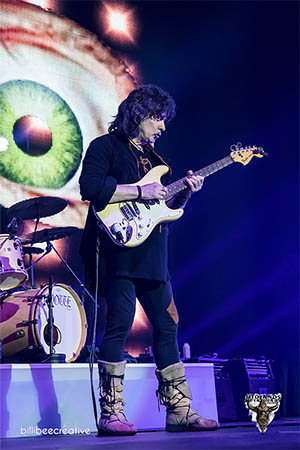 What can be said about Mr Blackmore that hasn't already been said ??

Last year saw his first live gigs as a Rock guitarist for 28 years and now, here we are again, 12 months later, playing to a sold out venue in the heart of the UK. Unlike last year where the Brum gig was the ONLY UK appearance, this year the tour has been extended to include London, Manchester and Glasgow also, the man is getting ambitious.....

So, last year we had UK Prog act Mostly Autumn as support, this year was rather more fun – SWEET, the Chinn/Chapman Soft Rock guys from the 70s, albeit with only one remaining original member – Andy Scott. We had the full treatment tonight – Blockbuster, Little Willy (no jokes please), Wig-Wam Bam, Teenage Rampage, The Six Teens, the hits kept coming – even a track from Sweet Fanny Adams. Nice they paid tribute to Brian Connelly and Mick Tucker with "Love Is Like Oxygen".

Their music might be considered twee these days, but they certainly got the audience up, dancing and in the mood for a good time so you can't knock 'em for that. In fact, Andy mentioned that they regularly sell out venues all over Europe and that it's a shame they have to take their music abroad to get the recognition, unfortunately, typical of many bands and artists these days. At one point, he commented that he'd "had surgery on his left leg so he was drugged to the eyeballs, a bit like every gig back in the 70s!!". A great sense of humour, harmless fun and a nice way to get the ball rolling.

The evening was running about 20 mins later than scheduled so even though RB was due to take the stage at 20.30, when a huge Union Jack filled the video screen at the back of stage to the strains of "Land Of Hope And Glory" we knew the band were on the way and so, around 20.55, we were in the company of greatness !!

With a set that ran around 2 1/4 hours we were treated to a "Best Of Rainbow & Deep Puple" including – I Surrender, Long Live Rock & Roll (complete with video accompaniment from Dio-era Rainbow, a homage to Cozy & Ronnie), All Night Long, Since You Been Gone, the inevitable Deep Purple classics – including Lazy, Child In Time, Mistreated, Black Night, Woman In Tokyo (shoe-horned into Man On The Silver Mountain), Burn and (the inevitable encore) – Smoke On The Water.

Two nice acoustic numbers with a be-seated Ritchie, some (maybe unnecessary) drum and keyboard solos which seemed to go on FOREVER, although interesting I do wonder if they were used as "set fillers" – Even so, I have to admit, being a Proghead at heart, I did enjoy the keyboard solo !!

I suppose it is fully expected that the great man would surround himself with an exceptional set of musicians so we had the same line-up as last year's gigs – Ronnie Romero (Lords Of Black) on lead vocals, Bob Nouveau on Bass, David Keith on drums (both ex-Blackmore' s Night) and Jens Johansson on Keys (Stratovarius) . Let's face it, a musician with such a high profile in the industry ain't gonna use second rate people to accompany him on stage and they certainly didn't disappoint....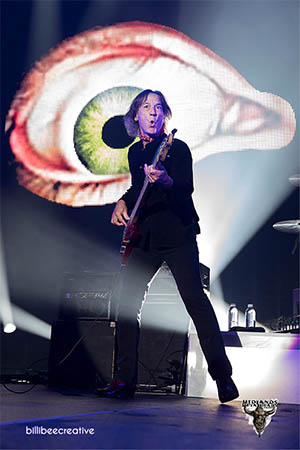 Solos aside, the guys did the music justice and with the mighty Purple due to hit the road this November, it will be interesting to see how they compare to these boys, a hard act to follow !!

At 72, Mr B certainly holds his age very well, but admits himself that after a long period of time ensconced in Renaissance music, has found it a challenge to return to the Rock arena. I have to admit, I'm not a big time fan of Purple or Rainbow, but TOTALLY acknowledge their place in the annals of Rock history and Mr B's reputation speaks for itself – up there with Page, Clapton, Iommi, Hendrix and the like, I did notice there was the occasional bum note, but as a registered pensioner I think we can make exceptions, although I will say his acoustic work was flawless......

With Ronnie Romero owning the front of the stage, Ritchie seemed more than happy to take his place at the back centre and it was nice to see a man who doesn't rely on hundreds of effects pedals to "enhance" his sound, relying more on his mastery of the guitar.

Ronnie was a formidable front man and it was nice to see some on stage humour between him and Ritchie throughout, although the great man did venture to the front to pass the odd drink to what must have been a very appreciative fan hanging over the security barrier plus an (apparent) interest in what tracks people were calling for, although I suspect the set was pre-ordained.

Overall, I suspect everyone left the Genting Arena content in the knowledge that the man still has skills and bottle to deliver the timeless classics expected from him.

Mr B, you were the shit and I suspect his return to the Rock arena will continue to excite, enthrall and entertain for the foreseeable future, Long Live Rock 'n Roll !!

© Steve Gould (The Progmeister) - Midlands Metalheads / Photos by Lisa Billingham (Billibee Creative)




Ritchie Blackmore's Rainbow – Genting Arena 28th June 2017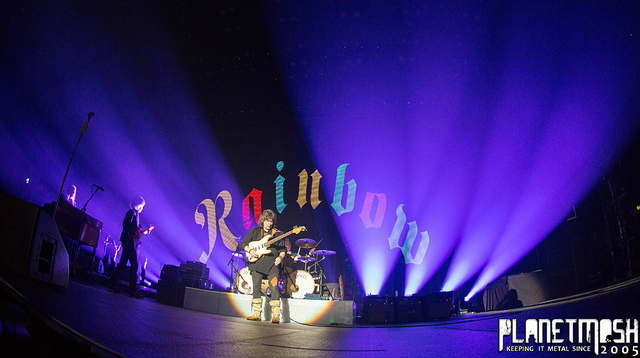 Last year Ritchie Blackmore returned to playing rock music playing just three dates with Rainbow including one in the UK. Now he's back doing a UK tour including tonight's show at the Genting arena. While he's touring under the Rainbow name, the shows last year included a lot of Deep Purple songs so I was curious to see how the set list had changed as well as looking forward to seeing Blackmore and his band perform again.

In the 70s Blackmore wasn't a great fan of the press and media, and one cameraman famously incurred his wrath for getting between him and the crowd and getting too close to him once too often and that resulted in Blackmore smashing his guitar over the TV camera breaking both. These days he seems to have mellowed as the first thing he did after walking on stage was to come to the front of the stage and shake hands with one of the photographers before taking his place and starting the show.

What to play or not play is a tough choice and one that will never please everyone – while some fans wanted more Rainbow, others love hearing the Deep Purple stuff too. Overall the setlist is largely the same as for last year's show, but two notable additions were "I surrender" and "All night long", both hits for Rainbow (although "I surrender" is actually a Russ Ballard song).

"Difficult to cure" is Rainbow's version of Beethoven's Ninth symphony, and it's such a great version, but tonight it's extended significantly and includes a bass solo and a very long keyboard solo.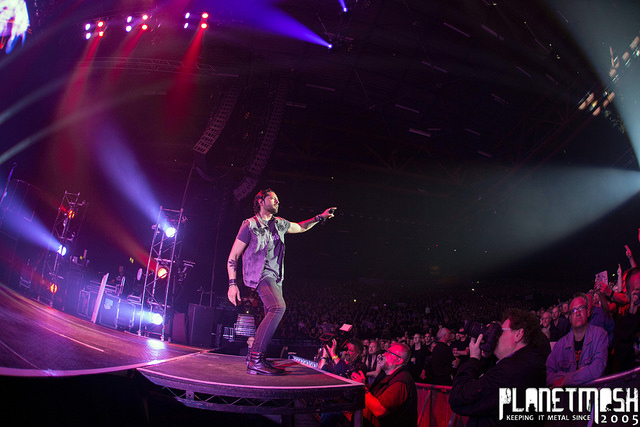 A Deep Purple song – Lazy, is another welcome addition to the set, with a nice bluesy intro to it. After that it was time to "Catch the rainbow" before "Black night". Part way through, the song progressed into a drum solo and the rest of the band left the stage, return after the drum solo was over. With no stop between the main part of the set and the "encore", this gave them all a break apart from the poor drummer.

While tonight was supposed to be all about Rainbow and Deep Purple, for me the highlight of the night was an instrumental from the last Blackmore's Night album. Entitled "Carry on Jon", it's an absolutely beautiful tribute to Jon Lord. I wasn't expecting it to be played, but when the first photo of Jon Lord appeared on the screen and the opening notes of the song started as the crowds cheers died down, I was over the moon. I love the song on the album, but with the photos of Jon Lord on the screen as the music played, this live experience was simply incredible.

After that beautiful piece of music, it was time to ramp up the volume and bring the show to a close – especially as the 11pm curfew had already come and gone, so "Burn" and "Smoke on the water" brought the show to an end.

Nearly two and a half hours of fantastic music made this a night to remember. Ritchie Blackmore is still a superb guitarist, ok there were one or two moments where things weren't perfect, but that didn't come close to spoiling things. His band are all very talented musicians and singer Ronnie Romero does a fantastic job of performing songs written for Ronnie James Dio, Ian Gillan and several other singers, all with their own distinctive voices. He's also developing into a great frontman too, seeming far more confident than last year.

© Ant May - Planet Mosh




Ritchie Blackmore's Rainbow – Genting Arena, Birmingham
review with pictures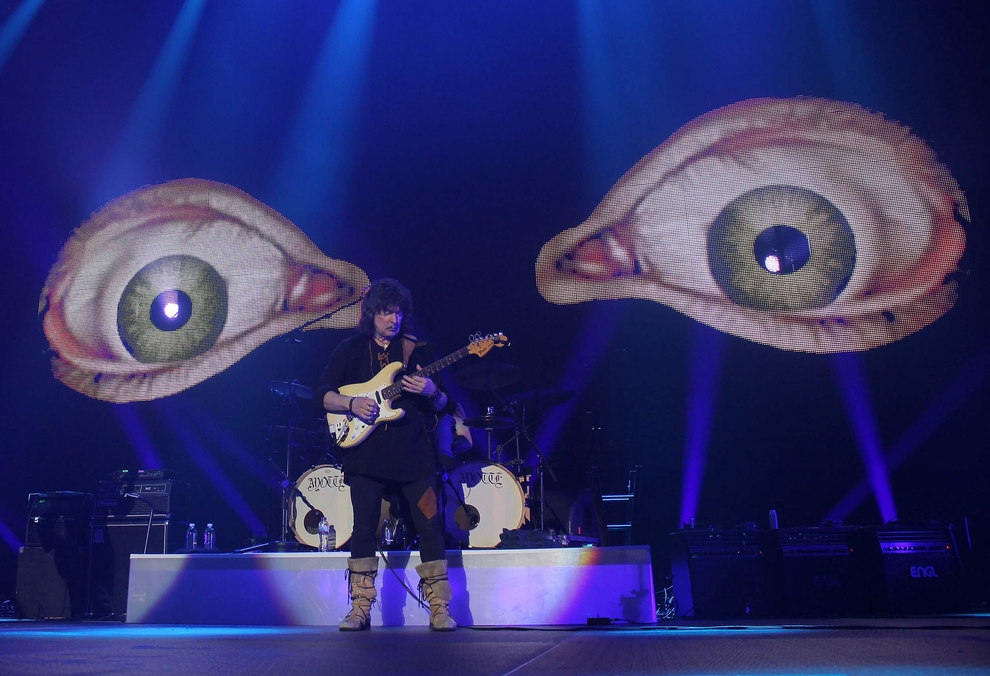 Wow, did that really just happen? Sometimes at a rock show you'll witness something quite unexpected - and seeing Deep Purple and Rainbow guitar legend Ritchie Blackmore utterly fluff his all-time most famous riff definitely falls into that category.

Having kicked into the rock shuffle that is Smoke On The Water, Blackmore suddenly appeared to be playing a completely different song to the rest of the band. A quick adjustment and all was well again, but on an otherwise triumphant night, it was a bit like seeing your star player score an own goal when you're about to chalk up a glorious 5-0 win or an ice skater tumble on the way to Olympic gold.

Wednesday night's gig was almost a year ago to the day that Blackmore plugged in his white Strat again, ending decades in what many fans see as his renaissance folk wilderness, and brought his reincarnated Rainbow to Birmingham. But it's fair to say that fan reactions 12 months ago were mixed - while many hailed the return of the king, others were left disappointed, especially those who were expecting a feast of Rainbow songs and found they instead had a buffet of that band's hits mixed with picks from the 72-year-old's tenure with Purple. This time round, hopefully, most people knew what to expect - even if many might want to think of this band as 'Purple Rainbow'.

The Rainbow hits were present and correct of course, from opener Spotlight Kid through to I Surrender and Since You've Been Gone. Singer Ronnie Ramero really shone on the Ronnie James Dio-era songs though, particularly on the outstanding Stargazer and utterly sublime Catch The Rainbow. What a find the Chilean is.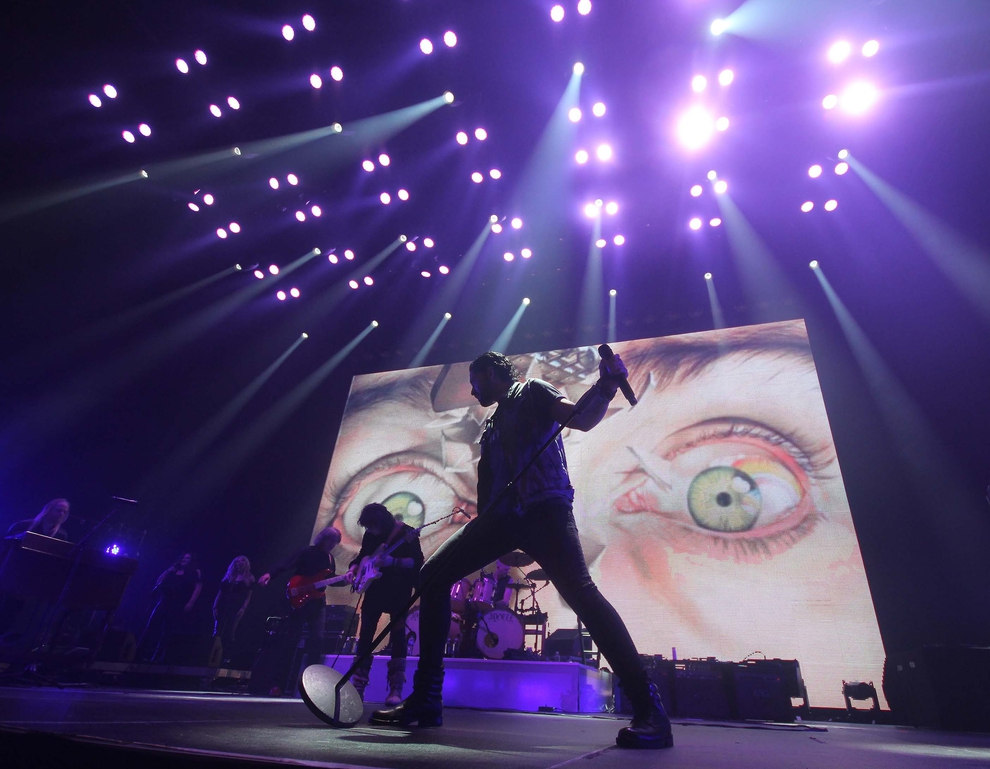 Blackmore himself seemed to ditch his glowering 'man in black' image of old, playfully interacting with the front rows and members of his band. His guitar tone remains unique, full of staccato stabs and fluid runs - often going off piste to improvise on a theme - although he unexpectedly sidestepped the guitar solo to Since You've Been Gone in favour of going straight into the riff for Man On The Silver Mountain.

Elsewhere, he returned to his Deep Purple glory days, powering through the mighty riff to Burn, the slow-burning Mistreated, a lovely acoustic reading of Soldier Of Fortune and an astonishing Child in Time. During the show the big screen at the back of the stage paid moving homage to dearly departed members of the Deep Purple and Rainbow family - Dio, Cozy Powell and Jon Lord - to huge cheers from the crowd. But the one nod to the past which wasn't entirely welcome was the insistence on keeping long, momentum-sapping, 70s style keyboard and drum solos in the show - queue a drift to the loos from many.

Earlier, 70s glam heroes Sweet, led by original guitarist Andy Scott, did a superb job in warming up the audience - most of who were on their feet by the end. "Normally I'm the oldest person here," Scott told the crowd. "But not this time. Thanks Ritchie!"

© Ian Harvey - Express & Star / Photos by Andy Shaw




Ritchie Blackmore's Rainbow in Birmingham: Back to Rock Again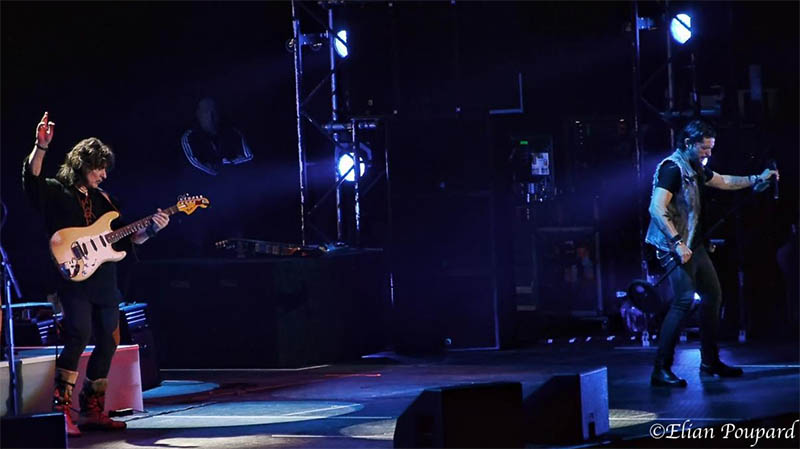 Already there was the question of a possible new formation or rebirth of Rainbow. Well, it took place last year for 4 concerts immortalized in CD and DVD. Of course, I made the trip to Birmingham to take part in the Ritchie Back To Rock Tour. But from there to say that a year after Ritchie and his band would give the cover ... what a joy!I obviously jump on the occasion and I take 2 tickets for London and one for Birmingham.

Ritchie Blackmore's Rainbow: London June 17, 2017 In London, many posters of the concert but oddly few fans with Tshirt.... I see fans of the Guns'n'Roses (GNR are also performing in London tonight and tomorrow). I got my places for the Guns the next day... I was not going to miss the opportunity. I am in front of the room of the O2, surprisingly empty place... looking at my ticket in hand, I realize that I was wrong one day, the concert is the next day! That's it, I AM A BIG BULLET.

As the next day, it's the Guns family, well, well Ritchie it will be for June 28 in Birmingham....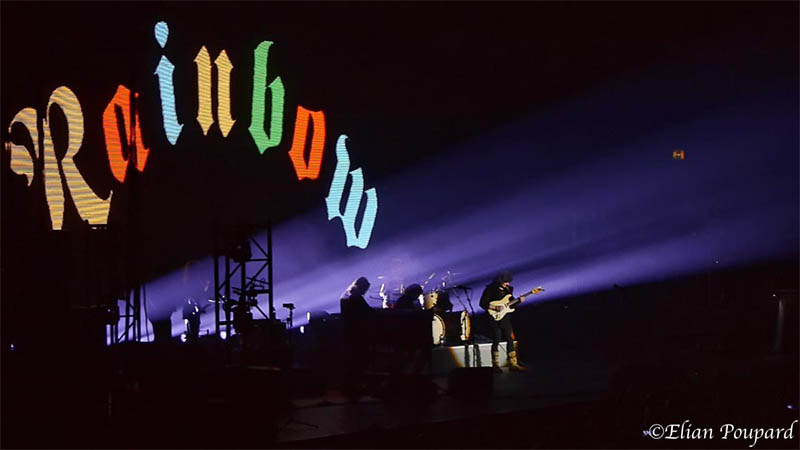 After the failure of London, we take control. Almost 1 year to the day after the last Ritchie Blackmore's Rainbow mini tour, I'm back at the Genting Arena in Birmingham, rainy weather, a lot less fans, merchandising around the room, the atmosphere is not the same. The fans are from all walks of life and this year, many Japanese have made the trip... (The big Japan community of fans of Rainbow and Deep Purple).

Same ritual, beer(s), junk food and collector's t-shirt purchase and we enter the hall ... almost in the same place as last year.

Support act: The Sweet

What a strange thing this group... a first part of a group of the 70s, forgotten but still alive. With its iconic leader Andy Scott who does not go unnoticed with the long white manes (it looks like a wig from a joke shop in the Rue de Montmartre) and always accompanied by his red Stratocaster customized by Mike Johnson.

The return of the Rainbow

Compared to 2016, the scenography has evolved: A giant screen with some visual effects well kitsch, But hey, we're on a Memories of Rock 70's-90's ;-).

Level performance of the titles played, we are on copy and paste, in 1 year Ritchie has not reworked the arrangements, always breads and the same refrain but what a sound! I'll never grow tired.

Ronnie Romeo is much more comfortable on stage, and out of his frame "the shadow of Ritchie". The most flagrant example is his "improvisation" on drums. The concert breathes despite the setlist very similar to 2016. One of the big highlights is Carry On Jon, an instrumental tribute to Jon Lord, co-founder of Deep Purple who died in 2012, Ritchie wrote him this song appearing in the album of Blackmore Night Dancer And The Moon released 1 year after his disappearance. Very nice tribute and great emotion to see scrolling photos of Jon and Ritchie during the Deep Purple years.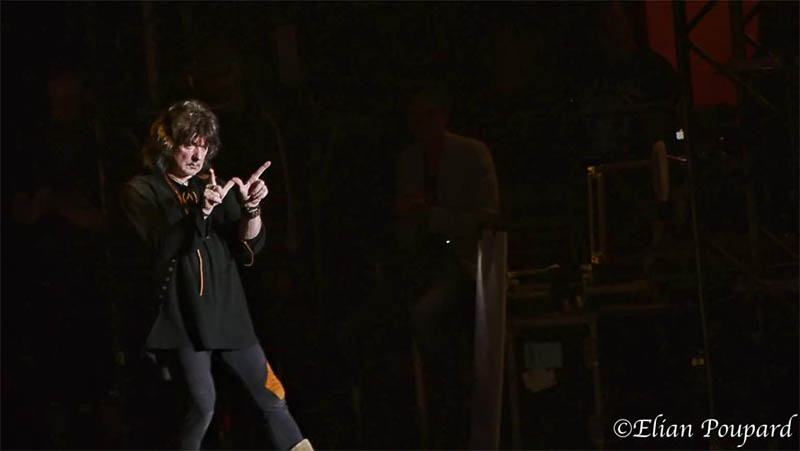 Many tributes tonight and reminders of what made Ritchie Blackmore's career. Strong emotions and nostalgia found against the archival images of Jon Lord, Ronnie James Dio or Beethoven for the oldest of us who knew him. The concert is more worked than in 2016, visually and artistically. However Ritchie has more trouble in solo, it feels feverish and the inspiration is no longer the same. He knows it, he plays it and like Mark Knopfler, hides it behind the orchestration. The solos are choppy and shy. He no longer enters a solo as a participant of Koh Lanta in front of a rib of beef. Catch The Rainbow is a glaring example. A solo can inspired and minimalist but Ronnie Romero worthy son of the late Ronnie James Dio gives him a new life.

The concert is still tinged with magic moments. Ritchie's gift to his fans is huge. Nobody would have bet on this return to rock after so many years in medieval music. These years of medieval wanderings have perhaps a little face reality for him. The past success is behind him and the big euphoria of the fans too. The man has put water in his wine to be more "smiling" and closer to his fans. It shows. End the era of the man in black hating everything and especially turning his back on his audience .... we all remember the past.

© Elian Poupard, I-Was-There





Gig Review: Ritchie Blackmore's Rainbow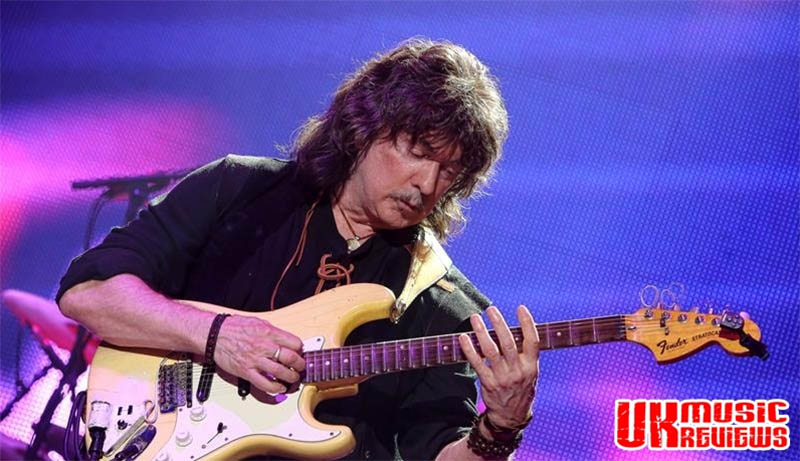 Ritchie Blackmore has distanced himself from Rainbow for almost twenty years but last night he was back. Leaving Deep Purple for the final time in 1993 he reformed Rainbow for one album (Stranger In Us All) and one tour, before bringing things to a premature close in Denmark in 1997.

And from that moment on he has put aside the rock so that he could concentrate on Blackmore's Nights, a renaissance rock band which included his wife, Candice Night, and where lutes and flutes were the familiar sound.

But last night the only nod to Blackmore's Nights were the pixie boots that Blackmore wore as he brought Ritchie Blackmore's Rainbow back to the Genting Arena. Since Rainbow never recorded two albums in a row with the same line up, it was no surprise to see him unveil his latest young guns and power rockers.

With Chilean Ronnie Romero being handed the vocal duties, he tore into the opening trio of Spotlight Kid, the pop rock of I Surrender and the Deep Purple classic Mistreated, whilst staying true to the style of Joe Lynn Turner and David Coverdale. But it was Since You've Been Gone that had this crowd on their feet and singing along, and all thoughts of Graham Bonnet were put to one side with Romero's searing vocals.

Man On The Silver Mountain was offered up in tribute to original front man Ronnie James Dio and was excellent whilst Soldier Of Fortune evoked Coverdale at his bluesy best. Child In Time was absolutely sensational, with Romero mirroring Ian Gillan's crooning to screaming style perfectly, whilst a truly exquisite guitar solo from Blackmore had the years rolling back as the notes just flew from his fret board.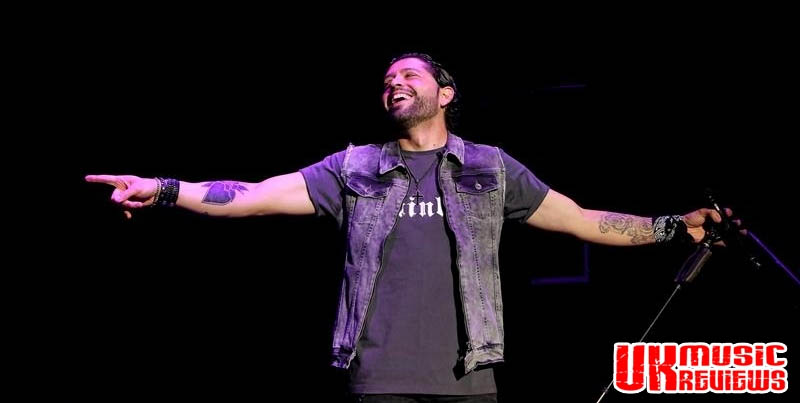 Jens Johansson's keyboard solo on Difficult To Cure went on a tad too long, but David Keith's drum solo was a real highlight. Up next was Stargazer; the seminal track from the Rising album, which showcased Romero's credentials. As a Ronnie James Dio tour de force, the young Chilean absolutely nailed it.

With the set coming to a close it was Deep Purple's Lazy that ignited the crowd whilst Catch The Rainbow had a really delightful finesse. Blackmore's playing during the instrumental Carry On Jon, was a sensational tribute to his late former Deep Purple keyboard player Jon Lord, coupled with some lavishly illustrations and photographs on the brilliant digital screen behind them.

During other songs there was a backdrop of archive video footage which enabled classic-era Rainbow warriors Ronnie James Dio and Cozy Powell to loom large from beyond the grave, whilst the blistering energy of Coverdale's Burn was played at full throttle against a backdrop of orange and red flames devoured the giant screen.

But it was Deep Purple's Smoke On The Water that this crowd had been waiting for, and regardless of the countless times that Blackmore has played this, he missed the introduction and it started with vocals only.

But overall this was a triumph for Blackmore, who's playing was exceptional throughout. He is undoubtedly one of the greatest guitarists of all time and while he may be 72, you would never have guessed it on this performance. After all, Ritchie Blackmore's Rainbow is all about the guitarist.

© Kevin Cooper - UK Music Reviews










Triumphant return of rock giants

Ritchie Blackmore's Rainbow at Genting Arena, Birmingham 2017



It was 12 months ago, almost to the day, that guitar legend Ritchie Blackmore returned to a UK stage – Birmingham's Genting Arena – for an evening of Deep Purple and Rainbow anthems. For the previous 19 years Ritchie, a founder member of Deep Purple and Rainbow, had concentrated on making Renaissance and medieval-style folk music with Blackmore's Night, largely ignoring his Hard Rock past. It was a glorious gig – and on June 28, 2017, 72-year-old Ritchie and his Rainbow mates returned to Birmingham for an encore performance.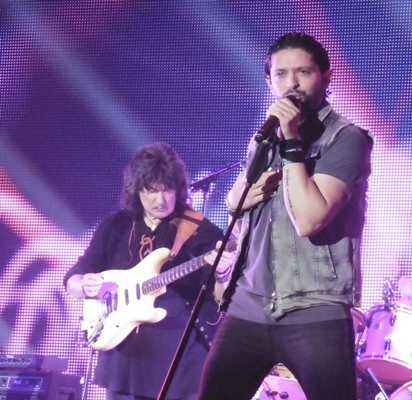 There is not yet any new material from the band, just re-recorded versions of Land of Hope and Glory and I Surrender, but the faithful were rewarded with two hours, 15 minutes of fan favourites and some unexpected treats.

After the new version of Land of Hope and Glory, played over pictures of tickets of past Rainbow concerts projected on the large screen at the back of the stage, had heralded the band's arrival, vocalist Ronnie Romero launched into a sizzling Spotlight Kid before adding his own touch to I Surrender and Purple's Mistreated. Following near-perfect renditions of Since You've Been Gone and Man on the Silver Mountain (with a snippet of Woman From Tokyo) it was obvious the material made famous by previous Purple/ Rainbow vocalists Joe Lynn Turner, Graham Bonnet, David Coverdale, the late Ronnie James Dio and Ian Gillan was in safe hands.

Photographs of the original Rainbow line-up projected on the backdrop during Man on the Silver Mountain was a nice tribute but Ritchie obviously thinks he's uncovered a winner in Chilean Ronnie Romero. After a show-stopping Soldier of Fortune he even wiped the perspiration from the singer's shirt!

There were more highlights – Child In Time had the whole arena joining in, Stargazer took the gig into the stratosphere and Lazy - with a blues intro - was a welcome surprise. Another high point was Carry On Jon, Ritchie's guitar instrumental dedicated to the late Jon Lord, keyboardist in Purple, complete with projected photos on the big screen.

Keyboardist Jens Johansson's prog rock/classical solo during Difficult To Cure was too long but the drum solo, that other rock standard that signals a dash to the bar, was enlivened by Ronnie joining drummer David Keith for a percussion duet.

Ritchie has a reputation for being moody and just a bit grumpy. Okay, he rarely smiled during the show and, while Ronnie ran round covering as much ground as he could, remained mainly static centre-stage, but throughout he joked with the band, handed cups of water to the front row and initiated a running joke towards the end of asking fans close to the stage what they wanted to hear next. And was it because of a senior moment that he messed up one of the most famous riffs in rock history during show-closer Smoke on the Water? Or his way of signalling that he won't be playing that song ever again? After all, his next tour is around Europe with Blackmore's Night, until August 19, 2017.

© Andy Coleman - Weekend Notes / Photo: Tampa Photography Group










Ritchie Blackmore's Rainbow + Sweet - Live at The Genting Arena



The Sweet (8/10) have never really had their fair dues and no one seems more aware of that than themselves. Sweet thanked Ritchie Blackmore for the opportunity to play an arena. As "we're a British band and we deserve to play here more than we do". If this sounds like moaning then it wasn't. Sweet clearly enjoy playing hugely. They still have the energy and enthusiasm of a much younger band. Founder member Andy Scott also pointed out that due to his recent knee surgery he was "drugged up to my eye balls, like all the gigs in my 20's". The reason Sweet might be overlooked in their own country is that despite the pop songs, they're a hard rock band. A point they're still proving 40 years later. Their songs are irresistibly fun and catchy. Fox on the Run (a recent chart hit because of Guardians of the Galaxy - but not in the UK), Blockbuster, Teenage Rampage and Ballroom Blitz, were all able to have an entirely seated audience* standing, clapping and singing along. The Sweet formed over 40 years ago, but it feels like they are only getting started.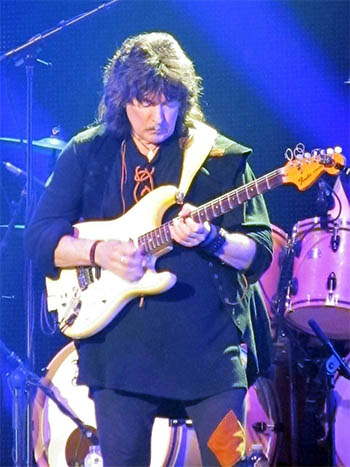 Ritchie Blackmore's Rainbow preceded their set with a huge union jack projection, with pictures of their many old tickets stubs projected onto the screen to 'Land of hope and glory'. An indication that this wasn't going to be a 40 minute greatest hits set. The Union Jack gave way to an actual rainbow as Ritchie Blackmore's Rainbow came on to the stage to huge applause. It quickly became apparent through the opener 'Spotlight kid' that despite 20 years of loving in the middle ages Ritchie is still both a rock legend and guitar hero. The singer for this line up is the Italian, Ronnie Romero. Ronnie seems to have been born destined for this job. Attractive, charismatic and a fantastic singer, Ronnie was born for the job. Ronnie is clearly standing on the shoulders of giants such as DIO, Gillan and erm... Bonnet. Yet unlike many of those singers there was clearly no clash between him and Ritchie as he was as much of a fan as anyone in the crowd, and a fitting side-man for the rock legend. It did however feel at times that Ronnie was bordering on karaoke, paying tribute to DIO by imitating his voice perfectly. Ronnie Romero is be a fantastic singer but I never really heard his voice.

The two hour set was filled with Deep Purple and Rainbow anthems and deep cuts with a fantastic light show throughout. Ritchie paid tribute to both Jon lord (with a long instrumental acoustic guitar piece) and DIO (with pictures and footage of the 70's band on the screen behind them) Rainbow in 2017 are still as excessive as in 77'. Ritchie incorporated Beethoven's 'Ode to joy' into his own 'Difficult to Cure' and Jens Johannson's ten minute keyboard solo was a welcome toilet break opportunity and reminder of why punk had to happen. More fun was the drum solo where David Keith shared his kit with Ronnie Romero, for the first two man drum solo I've ever seen.

Thankfully 'All Night Long', Since You've been gone' and 'Long live Rock N' Roll' made up for the extended soloing. Although Ritchie Blackmore gained cheers for every solo. He also seems quite literally down to earth with his fans, sitting on the stage, shaking hands and listening to requests from people in the front rows. It's probably not because I shouted for it, but Deep Purple's 'Black Night' went down a storm, as did 'Burn'. Of course the last song of the show had to be 'Smoke on the Water', the most famous riff of all time played by the man who wrote it, awesome.

© Beat Town Blog





Ritchie Blackmore's Rainbow, Sweet at Genting Arena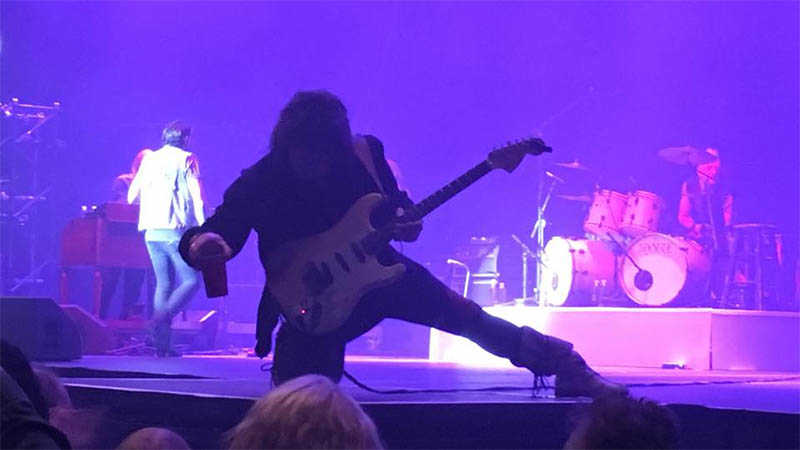 "So I'm off my face on drugs" is a statement that you probably could associate with many rock n roll bands over the years but it's not usually preceded by the words "I had surgery on my leg earlier this week." But then, none of us are getting any younger, not least The Sweet main man Andy Scott. He might have piloted the band for getting on for 50 years but the fire still burns. "We are a British band and we should be playing here more often, we never get chance to play places like this here" is another Scott line. You'd say – under normal circumstances – that it was bitterness at odds with the outright glam sheen of the music, but watch the band and say Scott is wrong: you couldn't. For 45 minutes they churn out hit after hit. "Action","Hell Raiser" and "Teenage Rampage" is just for starters and frankly you'd need a heart of stone to resist the quite brilliant "Wig Wam Bam/Little Willy" medley. "Fox On The Run" is gleefully nostalgic, and they afford themselves an encore of sorts. But then so would you if you'd got the well, blockbusters of "Blockbuster" and "Ballroom Blitz" left. That's a back catalogue that most bands would kill for – and it's one that the 2017 vintage of The Sweet make stunning use of. Far too much fun to be a cult act in their homeland.

When Ritchie Blackmore announced his surprise return to electric music last year, the sense of excitement was palpable. MV was there to witness an evening that reduced grown men to tears as they relieved their fantasies of Blackmore playing Rainbow and Deep Purple songs again. So popular was it, in fact, that it was never going to end there, so it is a year and just a few days from where it all began, Blackmore has another night. And largely speaking it was the same as last year too. There are subtle differences, no "Highway Star" this time for example, but mostly if you liked the last one, then this does the job as well.

The band he's got are an extremely talented bunch, but the star of 2016's show (and it is noticeable that he comes out last here, even after Blackmore) Ronnie Romero seemed strangely flat this evening and things perhaps lacked the momentum that they needed. When things clicked – "Man On The Silver Mountain" and "Perfect Strangers" for example – it was superb, but there were too many moments when the need to change gear was missed, as on the extremely lengthy keyboard solo from Jens Johannson.

On the positive side, though, Romero is perfect for the Dio era cuts, and nails "Stargazer" and "Long Live Rock N Roll" while Blackmore himself appears in good spirits, particularly on his Beethoven homage of a solo. He excels too in perhaps the evenings most touching moment when all the bluster is stripped away and he plays his acoustic for "Carry On Jon" as vintage photos of the late, great Jon Lord beam down from the big screen.

After such naked emotion it seems almost a shame to play the encore of "Burn" and "Smoke On The Water" but they were always going to be here, and if the former sounds fantastic then the latter remains a classic even if it has a slightly different arrangement tonight.

A show this lengthy and featuring quite so many solo slots – the drum spot also features Romero as well as David Keith – was perhaps never going to flow perfectly, but this was about preaching to the converted rather than reaching to the new and for the second year on the trot Ritchie Blackmore did exactly that in his inimitable way.

© Andy Thorley - Maximum Volume Music / Photo: Garry Foster





Ritchie Blackmore's Rainbow - Genting Arena, Birmingham


When I was a teenager getting seriously into rock and metal in the early 80s I was lucky enough to see some of the biggest acts around: AC/DC, Sabbath, Quo, Ozzy etc. One band I never got to see, however, was Rainbow and one guitar wiz I never got to see (in any formation) was Ritchie Blackmore.

For some inexplicable reason (and I'm normally really on the ball with this) I failed to get myself a ticket when Blackmore revived the Rainbow name and announced a tentative return to rock ' n' roll last year. So when a further tour was announced this year I made absolutely sure I was going to be there this time around.

The evening was going to be made even more special when I found out the support act would be Sweet, who I have been following for as long as I've been following Rainbow. Unlike Rainbow, I have seen Sweet many times before over the past twenty-odd years – but usually in small rock venues or provincial theatres, never in an arena with a 15,000 strong crowd. In some ways, both Rainbow and The Sweet summed up the music of the mid 70s: the albums-based rock was brilliant and the singles-based pop was brilliant, too. Perfection!

Tonight would give Andy Scott and co the chance to rekindle their relationship with many older rock fans as well as hopefully winning over some newer fans, too. 'Hellraiser', 'Teenage Rampage', 'Blockbuster', 'Ballroom Blitz' et al all go down an absolute storm.

My only complaint was that the set was heavily weighted towards the old hits, with little time for the harder-edged album-oriented rock of which the band have an impressive, if less well-known, back catalogue. However, we did get stunning versions of 'Set Me Free' and 'Love Is Like Oxygen' and hopefully Andy Scott's continuing version of The Sweet has a good few more fans after tonight.

"I'm playing all the right notes, but not necessarily in the right order," Eric Morecambe once famously said. No-one in their right mind could ever accuse guitar god, Ritchie Blackmore, of that. But funnily enough I was reminded of the old Morecambe & Wise gag when I was thinking about Ritchie Blackmore's set-list at Birmingham tonight. Pretty much all of the songs that I very much hoped he'd play were in there – but the set order seemed to be in random shuffle mode with little attempt at any sort of thematic approach.

We jumped from the polished commercial rock of Joe Lynn Turner-era Rainbow, to Coverdale-era Deep Purple, to the infectious pop-rock of Graham Bonnet, to the heavy prog-tinged majesty of Dio-era Rainbow and so on and so on. I suppose the main message was: "I have been involved with creating some amazing music in different bands with different vocalists and different styles – and whichever order you put them in they are all amazing…" Which is true!

After years away from doing gigs of this type and making albums like this Blackmore's stunning guitar skills have not dimmed. Never guilty of being flashy for the sake of being flashy or of putting technical prowess ahead of creating beautiful melody, there is an elegance about his playing that is a joy to see live.

Ronnie Romero, too, I thought was a good choice of vocalist. Of all the iconic vocalists Blackmore has worked with over the years, Romero probably sounds closest to Joe Lynn Turner in style, but he handled all of the material well from Gillan through to Coverdale, Dio, Bonnet and Turner. Towards the end a keyboard solo seemed to go on forever but that is a minor quibble. At the age of 51, the teenage rock fan in me has finally got to see Ritchie Blackmore live on stage and has finally got to attend a Rainbow gig. He is happy.

© Darren Johnson - Get ready To Rock / Photo: Andy Nathan