Ritchie Blackmore's Rainbow

SSE Hydro, Glasgow Scotland June 25, 2017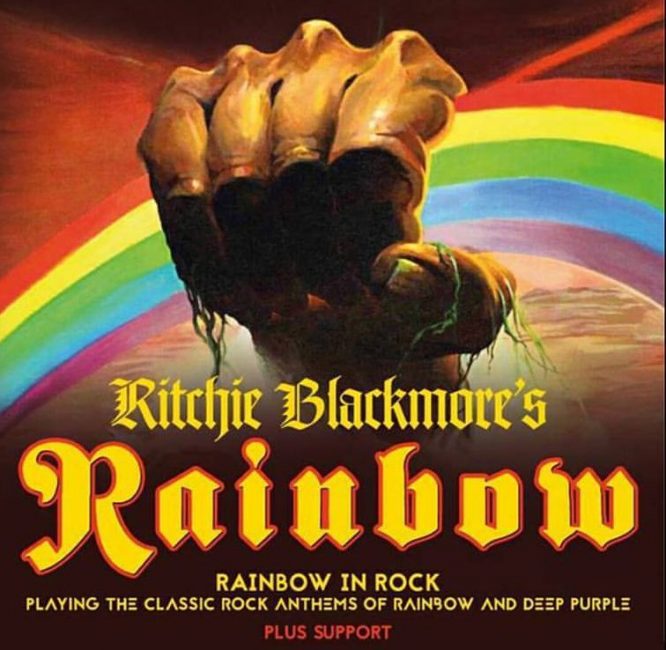 Exactly a year after I got to witness the return of Ritchie Blackmore's Rainbow in Birmingham, the band were back with their first UK tour in many years. Being able to say that I have seen the band is a dream come true, being able to say that I have seen two of their shows in the space of a year is just unreal.

When I attended the event last night, there was a great mix of people in the crowd from little kids, their parents, to their parents and even grand parents. But there was a lot of talk from the older generation that I found a little sad. By that, I mean I don't think a lot of the older generation quite appreciated what they were getting last night. There were a lot of comments (through out the venue) regarding how the performance would not be the same as the '70s and '80s. What these people don't realise is that the people of my generation or younger have never had the opportunity to see Ritchie Blackmore's Rainbow live and for Scottish rock fans like myself under the age of thirty five, this was something we never thought we would get to see and are grateful for every second we got from the band.

With all that said, the band sounded fantastic for the most part last night. By comparison to last year's show, it was clear within the first minutes that Ritchie and the boys had rehearsed more. Not only did Ritchie Blackmore himself play considerably better with a lot more consistency, precision and a big boost in confidence, the band themselves felt more enthusiastic and a lot less nervous.

Much like the previous year Rainbow hit the stage with the Joe Lynn Turner classic Spotlight Kid. But unlike the previous year, every note came out much clearer and considerably sharper. The band sounded magnificent from the get go. I Surrender came next with a great belting performance from Ronnie Romero that continued through Mistreated and Since You've Been Gone. It is interest to note how well Romero's voice suits songs written for different singers like David Coverdale, Ronnie Dio and the previously mentioned Joe Lynn Turner. Even though he has a much more coarse singing voice than these singers, he always belts them out with good consistency and a lot of power. I especially loved his performance in Mistreated, though that was not just a highlight for Romero but the band as a whole. The song was less drawn out compared to last year and felt a lot more enjoyable for it.

After that magnificent set highlight, the band blasted out the Russ Ballard fan favourite, Since You Been Gone which ended before the solo and quickly transitioned into Man on the Silver Mountain and Sixteenth Century Greensleeves. These songs were great to hear and worked very well battered out in quick succession. To round off this group of songs we got a lovely rendition of Soldier of Fortune (another highlight for Romero) and Deep Purple's Perfect Strangers. The latter is another example of the band sounding tighter then before. In Birmingham Perfect Strangers was a little too loose but was short, tight and snappy in Glasgow. The extra power provided to the organ and guitar really helped make the sound pop out the PA for that matter.

Right after this, the band played the set instrumental Difficult To Cure. All was going well with the band sounding extremely energetic when all of a sudden the band leave the stage. At this point the audience looked puzzled as poor Jens Johansson had the spotlight on him as he performed a keyboard solo for what felt like an eternity. Look, I love this guys previous work. I know very well what this guy is capable of, he is a legend in the world of heavy metal but someone needs to have a word with the person who decided this was a good idea. Half way through the keyboard solo, the crowd lost their cool shouting and booing at the stage. Something I have never seen during a performance.

Thankfully the band had the sense to come back on stage to play an excellent guitar heavy rendition of All Night Long, a good lengthy version of Child In Time and a hair raising performance of Stargazer. Stargazer also came across more powerful and hard hitting then it did last year. The added bass drum fills at the start really gave drummer David Keith a bit more credibility with the old timers. Which to be fair, he sounded great playing next to Bob Nouveau all night. The two are a great rhythm section with their chemistry clearly being a lot smoother this time round. The main set finished off with the classic Long Live Rock 'n' Roll. This one wasn't quite as impactful as the previous tracks but had a nice shuffling groove and felt a little laid back by comparison. I actually quite enjoyed the song this way. It kind of gave the band some breathing room and had a great groove thanks to the previous mentioned bassist and drummer.

After a very short (and pointless) wait, Rainbow came back for their encore playing Deep Purple's Burn, Black Night and Smoke On The Water. I won't deny that I could have done without the last two songs as I have heard them way too much over the years and I'd like to wager that Ritchie Blackmore himself is sick to death of playing them. I was however surprised to hear the band play The Temple of the King from the band's debut album. I personally would have played the previous song and followed it up with the beautiful and sadly missing Catch The Rainbow. But that is just my opinion and who am I to dispute Ritchie Blackmore's choice in songs.

The show last night was not perfect by any means, but I'd rather have a band flub a chord or two every now and again then play the song exactly how it is on CD. That kind of unpredictability is what I want to see from Ritchie Blackmore's Rainbow and was exactly what we got last night. To make the night even better, the sound man responsible for the show did a wonderful job with how the band sounded. Even up in the balcony, both Mostly Autumn and Rainbow came across beautifully with each instrument coming across powerful and crystal clear. I would recommend this tour to any fan out there who wants to witness this legend in person. As far as concerts go, I have no problems seeing this line up on tour again and I hope they go on the road this time next year as I feel that this line up has a lot of talent and it would be a crying shame to under utilise it.

We had a blast two shows running, now lets make it three!

© Demons Zone





Music review: Ritchie Blackmore's Rainbow, SSE Hydro, Glasgow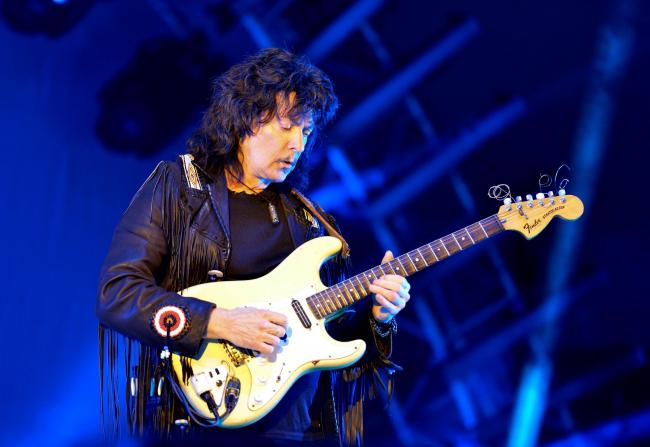 This really could have been an appalling car wreck of a gig. Here was Ritchie Blackmore, back playing hard rock after two decades of the medieval lutes and tights of Blackmore's Night and promising a selection of classics from both Rainbow and Deep Purple. A recipe for disappointment all round that turnedout to be very good indeed.

Much of the credit rests with his new vocalist, Chilean Ronnie Romero. Blackmore describes him as a cross between Ronnie James Dio and Freddie Mercury. Indeed, Romero had the unenviable task of covering the umpteen vocalists involved in both Purple and Rainbow, but he managed it superbly. He tore into the opening trio of Spotlight Kid, the pop rock of I Surrender and the Purple classic, Mistreated, whilst staying true to the style of Joe Lyn Turner and David Coverdale. But he really shone on the Gillan and Dio material. Man on the Silver Mountain was excellent, but Child in Time was sensational, with Romero mirroring Gillan's crooning to screaming style, perfectly. The song also featured a truly exquisite solo from Blackmore, the years rolling back as the notes flew from his fret board. But it was Stargazer, the seminal track from the Rising album, which underlined Romero's credentials. A Ronnie James Dio tour de force, the young Chilean nailed it.

There were a couple of low points. Difficult to Cure, in particular, developed into an interminable keyboard solo, which killed the atmosphere stone dead. But overall, this was a triumph for Blackmore, whose playing was exceptional throughout. He is one of the great guitarists and whilst he may now be in his early seventies, watching this, you would never guess it.

© Stuart Morrison - The Herald, Scotland





No Black Night For First Rainbow Show In Glasgow For Forty Years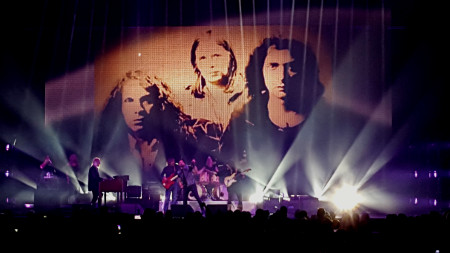 Following on from a successful trio of live dates last year, Ritchie Blackmore has once again plugged in his Fender Stratocaster and reacquainted himself with the Deep Purple/Rainbow back catalogue to venture out on another clutch of dates. Blackmore's tour itinerary this year included a headline performance at London's Stone Free Festival followed by a duo of arena shows in Glasgow and Birmingham and it was at the Glasgow show that we caught up with him and his merry band of musicians. The support act was Mostly Autumn, a band heavily influenced by seventies progressive rock and this was a five-piece version, reduced form their usual seven, as explained by vocalist Olivia Sparnenn.

More used to venues of between a couple of hundred to a few thousand people it was certainly the biggest audience MA have played to in some time – or rather it would have been if half the audience had actually bothered to enter the arena earlier. As it was, the bars outside were bulging whilst Mostly Autumn performed in front of a more modest rather than packed out crowd. They had great sound throughout their set and highlights included 'Only The Brave', introduced and sung by guitarist Bryan Josh, and 'Evergreen' which showed a softer side to the band with simple guitar from Josh and the soulful voice of Sparnenn front and centre before the drums of Alex Cromarty and Iain Jennings' keyboards kicked in to fill out the sound.

'Silhouettes Of Stolen Ghosts' was a simpler piano and vocal arrangement which showcased Sparnenn's fantastic voice with a sympathetic accompaniment from Jennings. Their last number, 'Heroes Never Die' had the vocals shared between Josh and Sparnenn in what was an upbeat guitar driven finish with a heavier section towards end thanks to the beefed up sound courtesy of Cromarty. The band may not have been everyone's preferred choice of support band, but they were afforded warm applause as they took their final bows and left the stage, paving thet way nicely for when they return to Glasgow in November, as part of a larger UK tour.

If you're from Glasgow and an older fan of Ritchie Blackmore's work, then Wednesday 9th November 1977 could well be a date long in your memory. It was, in fact, the last time that Blackmore trod the boards on a Glasgow stage and nearly forty years later, he has seen fit to return to the city. Sure, he's played Edinburgh a couple of times since then, most notably in 1983 on the 'Bent Out Of Shape' tour and most recently in October 2015 with Blackmore's Night, and having missed out last year it's good to see Scotland afforded the opportunity to see this current incarnation of Rainbow on stage on what could potentially be a last chance to see him live.

Touring under the name Ritchie Blackmore's Rainbow seems to have some internet keyboard warriors in a state of uproar, but at the end of the day he can call it what he likes. This is as much a new version of Rainbow as it was when the versatile (and hugely under-rated) Doogie White served as frontman back in the nineties, or when Graham Bonnet or Joe Lynn Turner spearheaded the band in the late seventies/early eighties, whether the hardcore "it;'s not Rainbow without Dio on vocals" brigade like it or not. In fact, the pull of the Blackmore name coupled with the promise of a trip through the Rainbow and Deep Purple back catalogues ensured a nearly sold out house in the 13,000 capacity Hydro.

Having not been back to the venue since Iron Maiden's performance in early May, which was dogged with sound problems, I was hoping this show would be incident free, and on the whole it was. With no new album to push this was always going to be a trip down memory lane for the older members of the audience and as the band made their way on stage to 'Land Of Hope And Glory', they were greeted enthusiastically by the audience, although an image of the Union Jack on the large screen was met with booing from some sections of the audience.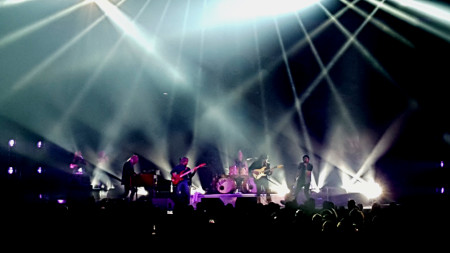 In time honoured fashion, the sound of Judy Garland's voice coming through the PA ("We must be over the rainbow, rainbow, rainbow") signalled the start of the show which wasn't vastly different from their set last year, but this time around it was much more Rainbow centric with seven Deep Purple numbers included along with ten Rainbow songs. Blackmore had surgery on his left hand early last year and some critics at the time complained about some less than fluid playing from him, but this year there was no problem as he played exceptionally well throughout the show which lasted the nearly two hours. The only real issue was the rest of the band – you have to remember that Rainbow are a rock band and a hard hitting one at that, however, the band he's surrounded himself with seem to lose the hard rock element and were a bit more laid back than expected.

Drummer David Keith (who also plays in Blackmore's Night) simply doesn't have the power that some of the past Rainbow drummers have had, leading with a somewhat underwhelming drum sound throughout the show. Bass player Bob Nouveau (another Blackmore's Night member) did a solid enough job however, keyboard player Jens Johansson (from Finnish Power Metal band Stratovarius) played his parts to perfection – although his extended keyboard during 'Difficult To Cure' was longer than it needed to be and the crowd got a bit restless towards the end, to say the least, with one woman even shouting: "We paid to see Ritchie!"

The real gem in the band has got to be frontman Ronnie Romero (who is also the frontman for Spanish Metal band Lords Of Black) who has been handed a real opportunity to show what a truly excellent singer he is. His ability to sing songs from all eras of the Rainbow back catalogue was the reason he got the job in the first place, and his vocals were pretty much flawless throughout the set, despite occasionally missing his cue and the soundman forgetting to turn his microphone on on one occasion, leaving a few lines unheard.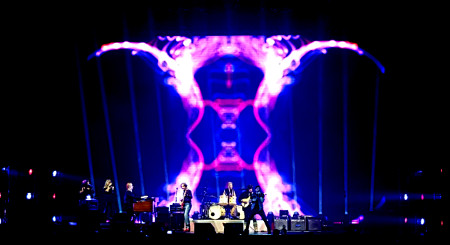 Highlights from the set included an impressive version of 'Man On The Silver Mountain' which had pictures of past Rainbow line-ups displayed on the large screen with cheers going up every time Ronnie James Dio's image was displayed, followed by 'Sixteen Century Greensleeves', an unexpected but very welcome addition to the set. Romero's vocal performance during 'Child In Time' stretched his voice to the limits but he pulled it off unscathed whilst he and Keith ingratiated themselves by wearing Scotland football tops during the set, a move which was roundly appreciated by the audience. Blackmore seemed to be enjoying himself, encouraging the crowd on to get involved several times during the show and only occasionally leaving the stage.

The party atmosphere was heightened during 'Long Live Rock N' Roll' with the whole place going wild, boisterously singing along during the chorus and exuding yet more cheers as Dio's image once again appeared on large screen at the back. Another unexpected addition to the set was 'Temple Of The King' which was sandwiched between two Purple classics, 'Black Night' and set closer 'Smoke On The Water' with the former testing the audience's patience once again with a drum solo mid-song before the latter closed off the night in fine, if predictable, fashion.

Tonight was a dream come true for the younger members of the audience and a trip down memory lane for older members but it seems to be the latter who went away disappointed, whilst the former were maybe a bit more forgiving.

Ritchie Blackmore's Rainbow Setlist: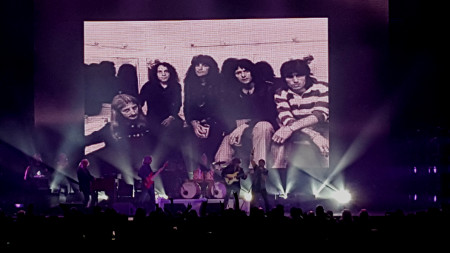 Spotlight Kid
I Surrender
Mistreated
Since You Been Gone
Man On The Silver Mountain
Sixteenth Century Greensleeves
Soldier Of Fortune
Perfect Strangers
Difficult To Cure
All Night Long
Child In Time
Stargazer
Long Live Rock N' Roll
Burn
Black Night
The Temple Of The King
Smoke On The Water



© Johnny Main - Metal Talk / Photos: Carlan Braid





Music review: Ritchie Blackmore's Rainbow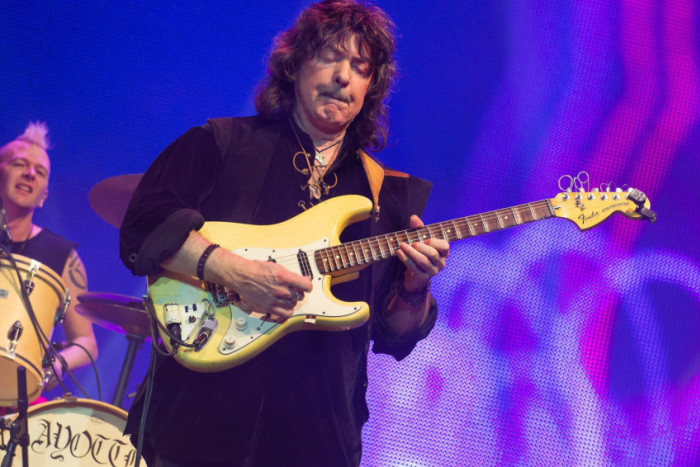 Over much of the last 20 years, former Deep Purple guitarist and Rainbow mainstay Ritchie Blackmore has disappeared down a renaissance rock wormhole with his band Blackmore's Night, but those beseeching cries of "Ritchie!" from the otherwise somewhat muted Hydro crowd were heeded as this aloof metal god, looking like he had just stepped off the set of Wolf Hall, unveiled his latest young guns line-up of 70s power rockers Rainbow.

Chilean vocalist Ronnie Romero had the pipes to tackle soft rock anthems I Surrender and Since You've Been Gone and especially his bravura rendition of Stargazer, but not the presence of some of his predecessors, as demonstrated on the hoary hippy rocker Man on the Silver Mountain, offered up in tribute to original Rainbow frontman Ronnie James Dio. This was pomp rock from the land that time forgot with fancy fretwork, suitably craggy soloing against a mountain backdrop on Sixteenth Century Greensleeves and a baroque'n'roll keyboard odyssey which far outstayed its welcome. Despite the undeniably muscular sound, the whole show was a little dwarfed by the venue, which is rarely a welcoming place when it's only partially full.

However, a generous showing of Deep Purple tunes kept the fans onside, including acoustic power ballad Soldier of Fortune, a moody Child In Time and the overwrought chest-beating Mistreated, a song which does not take rejection well, before they boogied into the sunset with Burn, Black Night and Smoke On The Water.

© Fiona Shepherd - The Scotsman / Photo by RMV-REX





Rainbow & Mostly Autumn @ The Hydro, Glasgow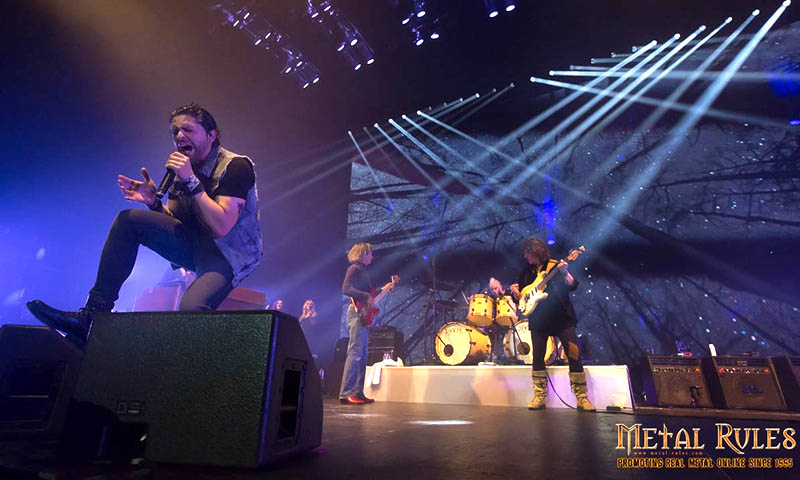 What more can be said about the guitar icon that is Ritchie Blackmore? He's been testing the boundaries of both music and the guitar for 50 years and it must be said that there's never been anyone else quite as spellbinding as he is. Having brought Rainbow back in existence in 2015 -after an eighteen year hiatus- he has been clocking up some miles and been entertaining the masses at some of the biggest and renowned venues. Tonight he was bringing the Rainbow show to the SSE Hydro for a mix of some of his most legendary songs from both Rainbow and Deep Purple.

The venue itself is becoming one of Scotland's foremost attractions, having brought some of the biggest names in rock and metal to play a host of historical concerts to sold out audiences. I remember the skeletal form of the Hydro, consuming the landscape in the guise of a mini-colosseum when it was under construction. For years it seemed as if we were getting an open air venue which of course, in the west coast of Scotland, was surely an insane concept. Good thing that they put a roof on it. Fast forward a few years and the Hydro has become king, welcoming tens of thousands of people to some of the largest events in the country. It had been three and a half years since I had last been to the venue when Black Sabbath had reunited (minus Bill Ward) and it was a good feeling to return.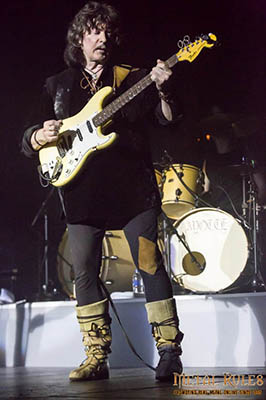 As I entered the venue, the air was alive with excitement as many an attendee was garbed to the hilt with many a Rainbow top in sight, covering countless tours from years long past. The announcement that the show was about to begin rang loud as the audience were shuffling about, getting the drinks in, having a laugh and preparing themselves for a journey back to the glory days of rock music. There was just one supporting act on the night in the form of the progressive folk rock outfit Mostly Autumn. The band usually performs as a septuple but tonight they were only five, as Anne-Marie Helder and Liam Davison were both out of the picture. They had released their latest and twelfth studio album in 'Sight Of Day' in April so it was more than likely that we were to be treated to some of its contents.

Treated? Greeted actually, as Mostly Autumn [3.5/5] opened their set with the anthemic 'Tomorrow Dies'. Vocalist Olivia Sparnenn used her high and mesmerising voice to open the song as founder and guitarist Bryan Josh built the melody. The chorus is huge as all forces combine with piercing synths, rolling rhythm, massive guitar chords and her hypnotic and highly emotive singing.

Not everyone that was attending this night had filtered in yet which is a shame as Mostly Autumn were providing a very valuable musical experience. The third song 'Only The Brave' was another track from their latest effort and was announced by Josh as a song about legends and sounds. There was a very traditional celtic sound in the opening moments, visions of hills, mountains and wind swept shores of an ancient land came to the minds eye. Josh had vocal duties on this song, his voice a calming current before a coming turbulence. This song had a more harder and psychedelic edge to it with some impressive lead guitar work, also by Bryan Josh.

Mostly Autumn came into some technical difficulties during the fourth song 'Evergreen' as Josh's guitar seemed to fail. It wasn't long before it was remedied and made up for with some more excellent lead work. Quite reminiscent of David Gilmour with his controlled bends and well measured notes; really authentic and moving music. Olivia was then left with Iain Jennings on stage, playing soft notes and chords on the keyboard as 'Silhouettes Of Stolen Ghosts' was played to the appreciative audience. The set concluded with 'Heroes Never Die' from 'For All We Shared'. Another triumph of moving music with gentle vocal harmonies, progressive notey guitar verses and more stellar lead work. They were not the usual sort of group I would go to see but they had such depth and personality that I would definitely consider going to their own headlining show. The band served as a solid opening act and served the audience well.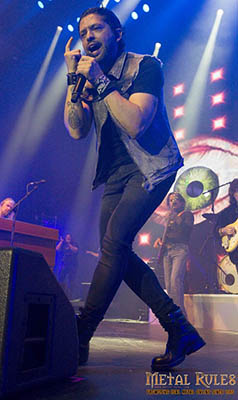 After a thirty minute or so wait it was time for the main event as the arena was filling up, awaiting the arrival of Ritchie Blackmore and Rainbow. There were a few empty seats about the upper rim but it still appeared to be a fairly large crowd. The anticipation was growing until the moment when the band came out after what felt like an age. The crowd all stood up in unison and it would be a while until any sat back down again. Rainbow had returned to Glasgow and the atmosphere was electric as 'One Step Over The Rainbow' was ringing through the speakers and the music got underway.

Rainbow [4.0/5] came out with all guns blazing as 'Spotlight Kid' erupted from the band. I was eager to hear this vocalist, also named Ronnie, and see how he could handle Dio's amazing range. Although this song was not one that Dio sang on, Ronnie Romero sounded very much akin to Dio and was sounding incredible. Ritchie Blackmore took charge with the first solo of the set and was the first of his solos that I had seen live. The slides elevated the noise to extraordinary heights.

The applause was a cacophony of whistles, claps and exerted shouts of approval. We were treated early on with some Deep Purple in the form of 'Mistreated', such a bluesy song made to emotionally exhaust with many a voice heard singing along in the crowd. A song which asks a lot vocally and Ronnie Romero was equal to the challenge. Next up was one of the Rainbow's more chart successful songs in 'Since You've Been Gone'. The Russ Ballard cover had to be expected as Rainbow's rendition was a shining example of the band's transition after the RJD period. The next song however, was all about Dio as Ronnie Romero screamed "who is the man on the mountain? Dio is the man on the silver mountain.' Images of the Dio era were displayed on the massive screen behind the band as 'The Man On The Silver Mountain' blasted out at a high tempo.

Even Ronnie Romero's movements matched those of Dio and horns were raised as his voice transcended to a spectacular level. This was one of the songs that got me into Rainbow and I was more than happy with the band's display. Ritchie Blackmore and bassist Bob Nouveau swapped their instruments for a couple of acoustics as the moving 'Soldier Of Fortune' was played. The tone coming from the guitars was warm and rich as Ronnie Romero sang so elegantly, never missing a note or overstepping. More Deep Purple followed with 'Perfect Strangers' and Ritchie Blackmore donned his ivory Strat again. In an interesting twist, the band all joined forces to play a very 70s prog styled version of Beethoven's 'Ode To Joy'.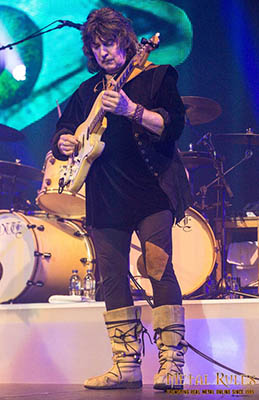 The song went through various interchanges before members started walking off stage leaving keyboardist Jens Johansson in charge. His dexterous charge was something to behold. From exhilarating scales to soft and melodic notes and chords he excelled and kept on going. Some of the crowd grew restless though and a few boos rang out towards the end of his performance. Some members in the crowd clearly didn't care for these solo displays of musical mastery which is a bit of a shame as he was excellent and did not deserve to be met with such disregard. Most were genuinely appreciative though as the band walked back on stage to bring 'Ode To Joy' to a close.

From this point forward it was just hit after hit after hit. A candle blazed on the screen as 'Sweet Child In Time' captured our souls. From there 'Stargazer' sent us on a journey through time and space, though Ritchie Blackmore didn't feel the need to continue the melody, with the verse riff being performed as ghost notes which left the song with a little less impact. Still, there were great trippy visuals to accompany another smashing song, executed superbly by the rest of the band. 'Long Live Rock And Roll' then brought us back down to earth before the members all left the stage building up to the encore. Not a big fan of encores myself but it's all part of the show and we were about to be given an exemplary send off with four huge songs.

The band came back on stage and led us into the fiery 'Burn', an old favourite of mine. Ritchie Blackmore was ever so slightly off at certain points but the full on energy carried the song. Next, 'Black Night' got more people moving which gave the spotlight to drummer David Keith for a riveting five minute drum solo before things slowed down with the ever soulful 'Temple of The King'. Ronnie then brought us to the climax of the evening as the quintessential 'Smoke On The Water' was introduced with "We all came out to Montreux!!!' to which the crowd replied "On the Lake Geneva shoreline". The instruments came in on the chorus and all attending were singing along. Some were holding each other, others were jumping up and down.

Such an iconic song to bring the night to a close. A monumental gig which ticked off a lot of boxes for myself and a sheer crowd pleaser. We left the Hydro and entered the night with an accomplished feel knowing we have witnessed a grand spectacle, a show to be remembered for the rest of our days.

© Pete Mutant - Metal Rules / Photos: Gavin Lowrey