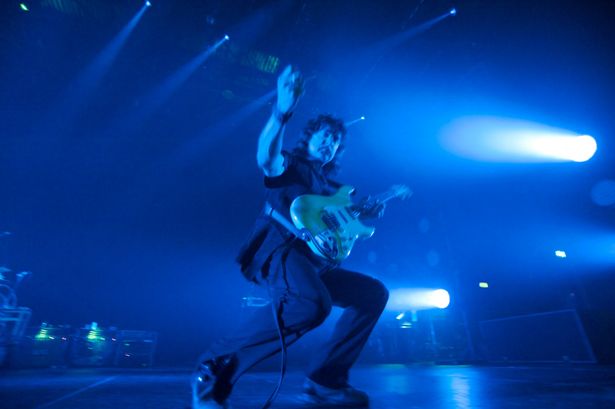 Ritchie Blackmore triumphs as Rainbow play Deep Purple hits at Genting Arena



It was a gig stuffed with some of the best of Deep Purple and yet, in the end, it was somehow a Rainbow show, too. A truly memorably night which glowed brightly in the darkness of the Genting Arena thanks in no small part to the clever electronic rainbow spanning the rear of the stage. The sheer musical dexterity of the gig justified the effort many had made to be there – even in a relatively small sample test, I met fans from Manchester to London and from Belgium, Cardiff, Malta and Greece (via Germany).

All night long, the air was rich with European accents of all persuasions. Guitarist Ritchie Blackmore has never suffered fools gladly, but, at 71, here was a near two-hour test to put his reputation as a perfectionist on the line. Deliberately choosing Birmingham's vast but still intimate Genting Arena for the honour, this was the first indoor rock concert he had played for two decades just a week after two festival shows in Germany. What was the point? Why bother disappointing fans of both bands by calling himself Ritchie Blackmore's Rainbow and making a hash of playing Deep Purple?

Well, after 20 years of playing medieval music with Blackmore's Night, the man in black from Weston-super-Mare clipped his finger nails, returned to his roots and simply got on with it. Even though Blackmore's Night drummer David Keith's kit was the smallest I've ever seen at major rock gig, it's how you play that counts. And so Ritchie kept faith with him because of his "feel for rhythm", with ex-Blackmore's Night bass player Bob Nouveau, also from Connecticut, returning with a big smile on his face.

Swedish keyboardist and pianist Jens Johansson currently plays in the Finnish power metal band Stratovarious. No matter that his gear looks like an old wooden bureau on spindle legs that had been found in a skip, the late Jon Lord from Deep Purple would surely have enjoyed his enormously varied contribution. The night, though, belonged to frontman Ronnie Romero, originally from Chile and now fronting Spanish metal band Lords of Black.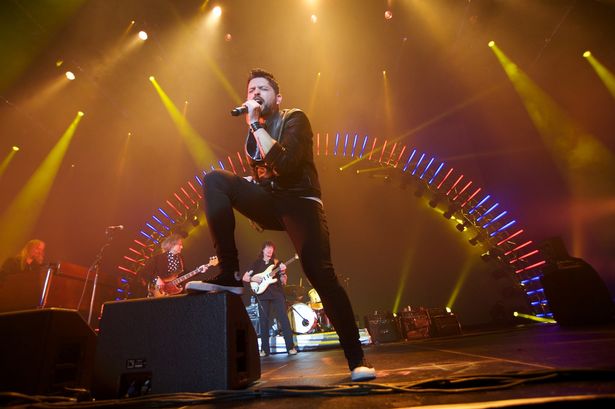 So much so that "Ronnie Romero" was all that Ritchie said to the crowd when he took the mic. If this is the last time Blackmore ever plays a gig like this, then it will go down in rock history as a one-off high. To paraphrase the TV talent show verdicts, the fact that Romero genuinely "nailed" every single song from the Ian Gillan and David Coverdale eras of Deep Purple, through to the Ronnie James Dio, Graham Bonnet and Joe Lynn Turner versions of Rainbow was, quite simply, astonishing. If only Ritchie Blackmore's Rainbow was Romero's band, he might have injected a touch more personality into the night and made up for Ritchie's inclination simply to stand back and play.

Romero did speak to the crowd in between every song and with natural warmth, though, using the Perfect Strangers title from the last Deep Purple classic line-up reunion to tell his new, cheering audience they were no longer strangers. Dressed in black and, without Blackmore's cream Fender round his neck, Romero would have been hard for fans right at the back to pick out given there were no video screens. And he might look more like Freddie Mercury than someone who could convince you of the reality of wizards, like Ronnie James Dio.

But Romero more than did justice to Dio's Man on the Silver Mountain, Catch the Rainbow and Stargazer, the stand-out track from the seminal Rainbow Rising album which would have sent shivers down the spines of anyone hearing it live for the first time. Decades have passed since Ian Gillan could sustainably reach the high notes of Child in Time like this – and he never had the luxury of two female backing singers either.



But Romero could also handle Coverdale's range from Mistreated to Soldier of Fortune and even a blistering version of Burn, too. Two days after the EU Referendum vote, perhaps Burn was included with a touch of irony as it was the opening track on the 1976 live album Made In Europe, released after Deep Purple had broken up. An energetic Spotlight Kid – the sole nod to Joe Lynn Turner – didn't feel out of place riding on the back of the set-opening Highway Star, while Since You Been Gone was a crowd-chanting token nod to Rainbow's 1979 pop sensibilities when Graham Bonnet had replaced Dio and a cover version (of a Russ Ballard song) was deemed acceptable. Some fans called out for (Rainbow's) Kill The King, but Blackmore hasn't played it since 1978 and that would have been one surprise too many.

Me? I'd have loved Tarot Woman or Light in the Black from Rainbow Rising (1976), but at least Black Night and the encore Smoke on the Water were played with a deep reverence to how they sounded when they were written more than 40 years ago with Ian Gillan's classic Deep Purple line-up. Concentrating on his notes while clearly enjoying himself, Blackmore was often content to often stand at the back or in front of the drums. Though he rarely ventured truly forward and only raised his right arm gently to conduct, Blackmore did at one point rather gracefully – for his age – go down on to his knees at the front of the stage before briefly waving his arms with the synchronicity of a pair of windscreen wipers.

With wife Candice Night one of two backing singers behind, he had no problem getting back up either, which perhaps bodes well for the father of their six-year-old daughter Autumn fancying another crack at the art form he helped to pioneer alongside the likes of Tony Iommi, Jimmy Page and Pete Townshend. If you enjoy playing, and are this good, then why not? As the Ronnie James Dio era song goes... Long Live Rock 'n' Roll.


© Graham Young - Birmingham Mail / © All photos: Graham Young





Ritchie Blackmore's Rainbow

Genting Arena, Birmingham, UK June 25, 2016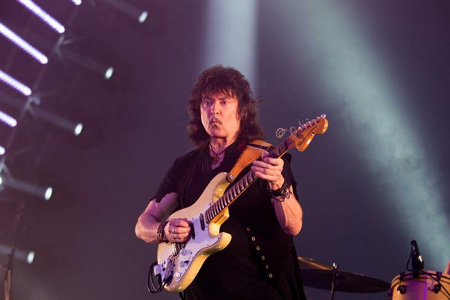 RITCHIE BLACKMORE'S RAINBOW 'BURN' BIRMINGHAM'S
GENTING ARENA WITH SURREAL PERFORMANCE



When Ritchie Blackmore closed the door on his heavy rock career in 1997 to go and play renaissance folk music with his wife Candice Night in Blackmore's Night nobody would have predicted that the door would be firmly shut for almost twenty years.

In fact the door had been bolted for so long that eventually no-one would predict that the Man In Black would plug in his Stratocaster one more time and play heavy rock at ear splitting volume ever again.

Rumours eventually started to fly around, promoters were waving cheques, former Rainbow vocalist Joe Lynn Turner was publicly boasting on stage that he had been in talks with the maverick guitarist but there was no word from the secretive Blackmore camp. That door was finally busted open late last year when it was announced that Ritchie Blackmore's Rainbow would "re-unite" for just three shows, two in Germany and one solitary date for the UK in Birmingham.

Tickets sold out faster than a fireball, despite the fact that nobody knew who would be joining Blackmore for these historic gigs. Many fans were hoping for a nostalgic treat with either Graham Bonnet, Joe Lynn Turner or even Doogie White on the vocals along with possibly Bob Daisley or Bobby Rondinelli amongst many other former members being asked to catch the Rainbow one last time.

The truth of the matter was that the phone never rang for any of them.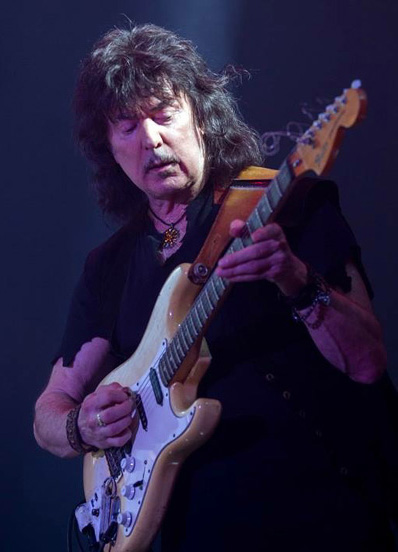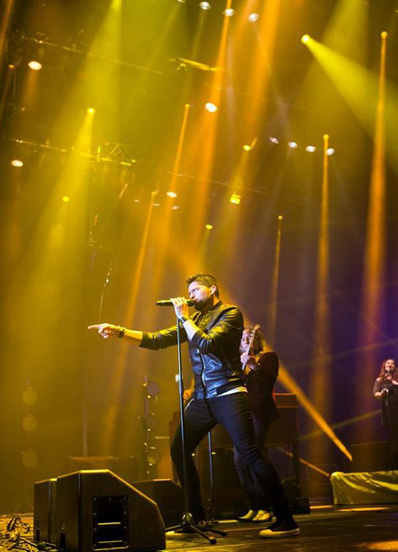 When news broke announcing the new line-up, along with an unflattering promo shot of the band, many fans were left flummoxed and bemused. A brand new line-up of relatively unknowns left many afficionados feeling that Blackmore had well and truly lost the plot.

But Blackmore is no fool; it wasn't the first time in his long illustrious career that he had brought along a complete unknown and put the kid in the spotlight.

Chilean born Ronnie Romero, frontman of Spanish Metal band Lords Of Black, was the man given the daunting task of not only singing the songs of Rainbow, but also Deep Purple.

Joining him is Jens Johansson on the keys who has proved his worth with Dio, Yngwie Malmsteen and Stratovarius while The remainder of the line-up is from the comfort of Blackmore's Night with drummer David Keith, a returning Bob Nouveau on bass with Christina Lynn Skelros and Ritchie's wife Candice Night on backing vocals.

The choice of the Genting Arena in Birmingham was a surprising one given that the last time Ritchie last performed here was with Deep Purple in 1993 when the venue was known as the NEC. That concert is immortalised on the 'Come Hell Or High Water' DVD when Blackmore infamously come on stage late halfway through 'Highway Star' and promptly threw a cup of water over a cameraman/Ian Gillan, depending on which story you wish to believe.

Having said that, it was no surprise that a London venue wasn't chosen for this one-off UK date as Ritchie hasn't set foot in the capital since a rather awkward Blackmore's Night gig at the Cambridge Theatre way back at the start of the Millennium.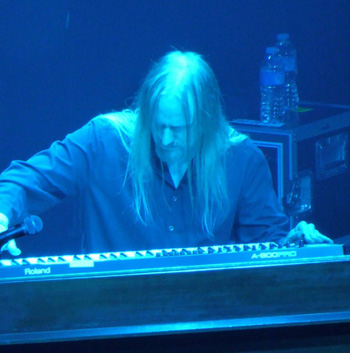 Concerns were being raised about these three shows during the build up. At 71-years-of-age could Ritchie still cut it? More fears were heightened when in February Blackmore underwent a finger operation to remove an excess of uric acid build up in his finger joint and it would be at least a month before it healed and he could strum the strings again.

Reports from the two German shows were mixed with many connoisseur fans saying that Blackmore was performing at a rigid slower pace but there was high praise for Ronnie Romero with the second show being the much better of the two.

As clearly stated on the poster it was to be a show of both Rainbow and Deep Purple numbers, just as it had been on the previous Ritchie Blackmore's Rainbow tour two decades previously.

Tensions before the show were high; personally I could hardly speak and I couldn't believe it until I saw it with my very own eyes that Ritchie Blackmore would be back on stage doing what he does best and what any self respecting rock fan loves him for.

And then it finally happens - the music of Sir Edward Elgar's 'Pomp And Circumstance' with the chorus of 'Land Of Hope And Glory' booms over the PA and then there he is, casually walking on stage dressed fully in black with a creamy white Stratocaster and he slips into the dreamy riff of 'Over The Rainbow'.

Ronnie Romero is the last to appear; he walks out front and teases repeatedly: "Nobody gonna take my car...", but something is amiss as Deep Purple's driving anthem 'Highway Star' explodes into life. It's driven along in third gear and struggles past the chequered flag.

A short pit stop and 'Spotlight Kid' follows, the only Joe Lynn Turner vocal era track performed and Blackmore loosens up but the first jaw dropping moment comes with the epic ten minute ballad 'Mistreated'. Ronnie Romero's voice really comes to the fore on this number and he handles the big vocals of Ronnie James Dio with ease.

Ritchie performs the first real intricate solo of the night and it's full of emotion and passion. He looked happy afterwards, bending down on one knee to give a lucky fan down the front a pint of beer.

A simple shoe shine version of the commercial hit 'Since You've Been Gone' is quickly knocked out to please the masses, the only Rainbow hit single included in the set much to the dismay of Blackmore newcomers.

A crunching 'Man On The Silver Mountain' and once again Romero proved he's got the pipes to match his predecessor on this belting number while Ritchie picks up the acoustic for a flamenco intro that led to the beautiful 'Soldier Of Fortune' with the crowd joining Romero on the vocals; delightful.

The instrumental 'Difficult To Cure' gave the band a chance to prove their worth with bass, drum and keyboard solos and for many the first chance to nip to the bar for a refreshing beer, myself included.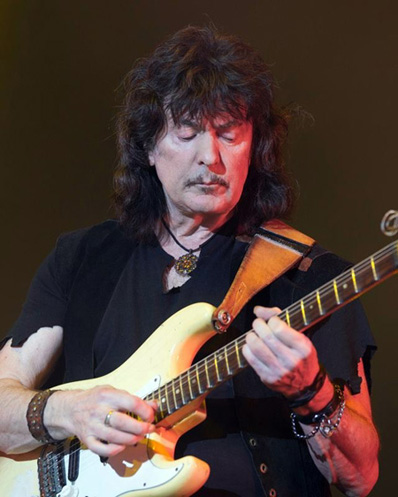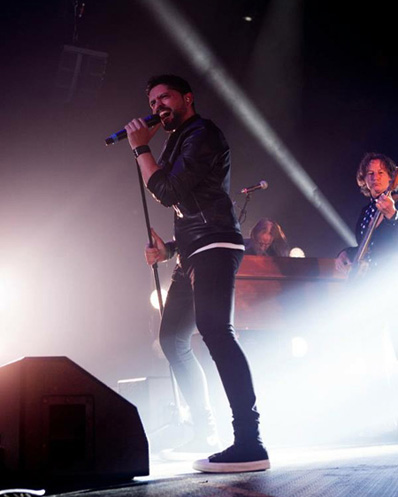 The dreamy 'Catch The Rainbow' was completely spine tingling with Romero holding court as Blackmore drifts into a sublime delicate solo and although there was not to be a crescendo ending it was still marvellous.

'Perfect Strangers' lacked bite and power, as did 'Long Live Rock 'N Roll' where Ritchie performed the intro in a more swinging blues style and this is what is evident throughout his whole performance; at 71-years-of-age, the demonic ferociousness of before is replaced with a more relaxed approach, the question being, is Ritchie playing to his full abilities or purposely adopting a calmed self restraint in his twilight years?

A song that Deep Purple haven't performed in many years is 'Child In Time' and Ritchie might be having a little dig at Ian Gillan here by including it in the set for the first time under the Rainbow banner, but what a magnificent version it was with once again the crowd being encouraged to join in on the words; magical.

A majestic 'Stargazer' was stunning with Blackmore really finding his depth on this epic number while 'Black Night' ended the main set and was basically a free for all jam with Blackmore playfully playing on and off letting the band and crowd do the work.

The first encore, a rip roaring version of 'Burn', set the Genting Arena alight with ecstasy as Blackmore duels with Jens Johansson who was on good Lordy form all evening.

Romero gave out the band introductions and then surprisingly Ritchie took the microphone to praise his impressive frontman before the grand finale of 'Smoke On The Water' with stripped spoken intro before that immortal riff.

There was to be no smashing up of the guitar or exploding amps to signal the end - Blackmore carefully laid his Stratocaster on the floor and took a bow with the band before leaving Candice Night and Christina Lynn Skelros to merrily jig with other band members on the stage in celebration.

This was a different Ritchie Blackmore and all eyes were transfixed on the enigma throughout the entire gig, watching his every move.

It was a surreal and euphoric experience watching an icon who although he divides opinion with everything he does, is still one who fans marvel at and stay deep in conversation about hours after the gig.

After the show there is no talk of the special effects or how great the pyrotechnics were, just passionate opinions of the set list, the performance, the band, the Man In Black... it was just like the good ole days...

There's no doubt about it - Ritchie is God.


© Mark Taylor - Metal Talk

© Photos by Anthony May
© Jens Johansson photo by Alayne Taylor with very special thanks.









Ritchie Blackmore's Rainbow

Genting Arena, Birmingham, UK June 25, 2016



The announcement that Ritchie Blackmore was to perform a handful of shows with a new incarnation of Rainbow came as a complete surprise. With the exception of power-metal stalwart Jens Johansson on keys, the band was made up of relative unknowns, including Ronnie Romero on vocals. In recent year Blackmore has devoted his creative energies to the medieval folk-pop of Blackmore's Night, and it's been many, many years since he last played a hard rock gig on a major stage. So there was much anticipation and speculation as to what to expect. Would the shows be a triumph, or turn out to be a complete car crash? Enough people were willing to take a risk that the sixteen-thousand capacity Genting Arena in Birmingham sold out within 24 hours of going on general sale.

Opening the show, for one of the biggest gigs of their career, was Mostly Autumn. To be strictly accurate is was four-sevenths of Mostly Autumn; the restricted space available on the stage meant there was only room for a cut-down foursome comprising Bryan Josh, Olivia Sparnenn, Alex Cromarty and Iain Jennings, covering the bass on keys. Bryan told us how he's been a fan of Blackmore since he was 10, and never expected to be the opening act for Rainbow in an arena.

A fusillade of drums and Bryan's Blackmore-like spiralling guitar figure of "In for the bite" opened their six-song set, which included the standards "Evergreen" and "Heroes Never Die", more recent hard rockers "Drops of the Sun" and "Deep in Borrowdale", and a spine-tingling "Silhouettes of Stolen Ghosts". Even though the arrangements lost the layers of the full band, the songs chosen still worked remarkably well in cut-down format, and there was plenty of Bryan Josh's soaring lead guitar. Aside from an unfortunate pause when a string came loose mid-song, it came over well and the band deserve to have won over new fans with that one.

Rainbow began with that familiar opening from the classic 1977 live album; the intro tape of Judy Garland from the Wizard of Oz and Blackmore playing the main theme from "Over the Rainbow". Then he launched into the intro of "Highway Star" with Ronnie Romero repeating the opening line over the intro before Blackmore hit the opening riff and launched into the song proper.

Over the next two hours it was greatest hits from across the Rainbow and Deep Purple songbook. "Spotlight Kid" and "Mistreated" early in the set didn't quite catch fire, but from then on things got steadily better as the show went on and Blackmore loosened up. At 71 years of age he doesn't have the speed of decades past, for example "Catch the Rainbow" had a slower more melodic solo rather than the blur of notes of his 1970s performances. But that distinctive classical phrasing is still there.

Ronnie Romero proved to have a fine voice, and came over best on Ronnie Dio and David Coverdale songs, though his dark take of "Perfect Strangers" impressed a lot, and he succeeded in projecting himself to the crowd as a frontman. Two backing singers including Blackmore's other half Candace Night filled out the sound.

Once or twice things faltered; in particular the somewhat butchered version of "Since You've Been Gone" didn't quite come off. In contrast, the acoustic version of "Soldier of Fortune" was a delight. The rocked-out version of Beethoven's ninth, "Difficult to Cure" became a vehicle for solos, first a drum solo that was short enough not to outstay its welcome, then, horror of horrors, a bass solo, and finally an interminable keyboard solo. It actually started out well with jazz flavoured Hammond, but lost its way with an overlong classical style piano section and blasts of every differed keyboard effect from 70s parps to pipe organ. It's Blackmore the audience paid to see, and this sort of thing should have been left in the 70s where it belonged.

The best came towards the end. After an impressive "Child in Time" with the two backing singers adding another dimension came a truly monstrous take on what has to be the definitive Rainbow song, "Stargazer". Romero nailed the vocal and Blackmore himself was on fire for the solo. They finished the main set with the early Purple hit "Black Night" tailing off with the audience singing the riff over and over as the band left the stage.

Any worries that Blackmore would throw one his legendary strops and refuse to do an encore proved groundless; they were back with a rendition of "Burn" as monstrous as Stargazer before it. But still they weren't quite done. Romero led the audience through an a capella first verse of "Smoke on the Water" before Blackmore came in for That Riff after the first chorus.

Despite a slightly shaky start this ended as a triumphal gig; the power and intensity of the last few songs in particular sent the audience away feeling they'd had their money's worth. Here were songs few thought they'd ever hear played live by anything other than tribute bands a year ago, and for some, Stargazer alone was worth the price of the ticket. These shows were initially going to be one-offs, but Blackmore has since hinted that they may be further shows next year.


© Tim Hall - Where Worlds Collide




Ritchie Blackmore's Rainbow

Genting Arena, Birmingham, UK June 25, 2016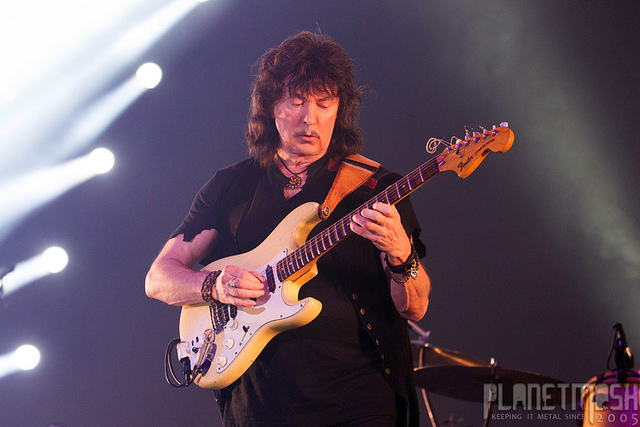 Tonight's gig was a band I thought I'd never get to see – Ritchie Blackmore's Rainbow. It's a long time since Ritchie Blackmore has played rock, so this mini-tour of three dates in Europe (none announced for anywhere else in the world so far) was a very rare chance to get to see a rock music legend perform some classic songs from his time with Rainbow and Deep Purple.

First up was the support act, Mostly Autumn. I suspect most of the audience were seeing them for the first time tonight, and they did seem a slightly odd choice to open for Rainbow – you'd expect a classic rock act but instead we have a more Prog sound from Mostly Autumn. Lead singer Olivia Sparnenn has a lovely voice, and the band are great musically. I definitely enjoyed their set, but on a night like this, no matter how good the support, people were here for Ritchie Blackmore.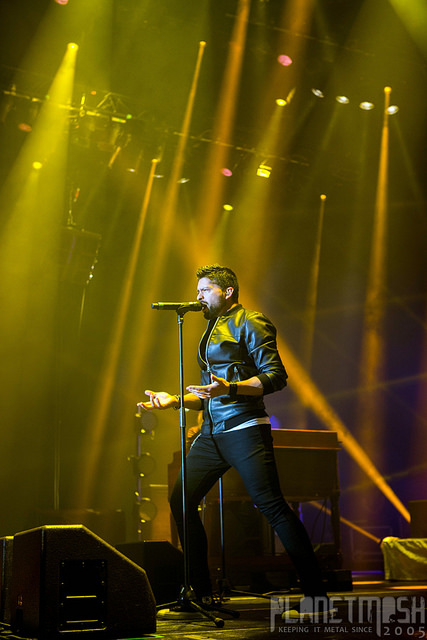 After a slightly longer than planned break, the lights went down and the intro tape started. Then the band came out, with the appearance of the man himself, Ritchie Blackmore being greeted with huge cheers. For his band, Ritchie Blackmore has brought along Blackmore's Night drummer David Keith, former Blackmore's Night bassist Bob Nouveau and Stratovarius keyboard player Jens Johansson. He also has two backing singers including his wife Candice Night. His choice of singer was a leading subject of discussion as rather than choosing a former Rainbow singer (somethign Joe Lynn Turner was quite vocal about), he's opted for an unknown singer, Ronnie Romero. It's a decision that I think most of the audience approved of fairly quickly as he showed he had a voice able to cope with songs that were originally written for and performed by a range of vocalists – Ronnie James Dio, Ian Gillan, David Coverdale and Joe Lynn Turner. That's a wide range of stuff, but Ronnie Romero does a great job of singing them all, and he certainly looks and acts the part of rock frontman. The only area he needs to improve is his between-song banter.

Ritchie Blackmore may be 71 years old but he can still play guitar. Admittedly his playing isn't quite as flawless as in his younger days but he's still a superb player, and as far as most of the crowd are concerned, he can do no wrong. Hearing him play those classic songs is a real treat. The set tonight is a mix of Deep Purple and Rainbow songs, and with some of them, Blackmore played just a few opening notes before the crowd joined in and sang the words, that's how well known and loved these songs are. It's hard to pick out a particular highlight – the whole show was a highlight really.

Partway through the set, during "Difficult to cure" Blackmore and most of the band left the stage for a rest while we got a drum solo then a keyboard solo before the others returned to the stage to finish off the song. We had classic hard rock with songs like "Highway star" and "Black night" as well as softer songs like "Soldier of fortune" and "Child in time". For the encore we got "Burn" and then without playing the famous riff, Ritchie Blackmore quietly played a few notes and Ronnie Romero started the vocals and with the crowd singing along we had "Smoke on the water". Surely we weren't going to be robbed of the chance to hear Ritchie Blackmore play that riff one last time? Happily it wasn't too long before Ritchie cranked up the volume and we heard that riff – which has to be one of the most instantly recognisable in rock music. What a great way to end a fantastic night.

I'd been looking forward to tonight with high expectations, and am happy to report that Ritchie Blackmore's Rainbow not only met those expectations, but exceeded them. This really was an amazing gig, hearing the classic songs I grew up listening to, being played by the man who created them. A night I'm unlikely to ever forget.


© Ant May - Planet Mosh




Ritchie Blackmore's Rainbow

Genting Arena, Birmingham, UK June 25, 2016
The lights dimmed and blue spotlights lit the stage, before
Judy Garland's voice announced: "We must be over the rainbow."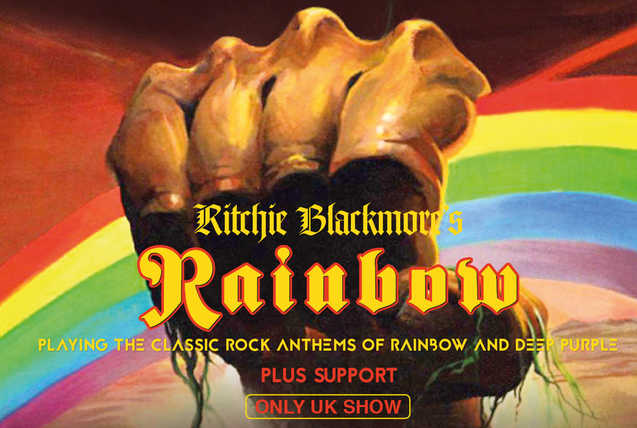 Over them we most certainly are not - and, with the help of the incredible Ronnie Romero on vocals, guitar superstar Ritchie Blackmore and his band cast fans back to the seventies with huge hits from Rainbow and Deep Purple.

The show - which was, in fact, the group's only UK date on their current tour - was kicked off with 1972 high-energy Deep Purple hit Highway Star. And, with thrilling, gritty riffs, hefty drum and bass, and phenomenally strong, wide-ranging vocals, the tone for the night was set.

Fans were on their feet from the get-go, singing along to every word, banging their heads and throwing their arms in the air at every opportunity.

In my view, Ronnie James Dio - who tragically died back in 2010 - was one of rock's greatest voices. But young Ronnie Romero truly did the metal idol justice last night, with his jaw-dropping thunderous vocals and a great energy, which soon saw the crowd in the palm of his hand.

And, though Ritchie is now 71, his guitar skills were incredible throughout - with powerful, intricate solos and heavy metal riffs punctuating the thrilling two-hour set.

Powerful renditions of huge hits came thick and fast; the band performing with impressive professionalism throughout - with Since You've Been Gone and Perfect Strangers being particular highlights.

Man on the Silver Mountain, Long Live Rock 'N' Roll, Burn and Catch The Rainbow followed, before the show was ended with all-time rock classic Smoke On The Water.

A phenomenal show from start to end - and one fans can only hope they will have the chance to see again soon.


© Kirsten Rawlins - Native Monster




Ritchie Blackmore's Rainbow

Genting Arena, Birmingham, UK June 25, 2016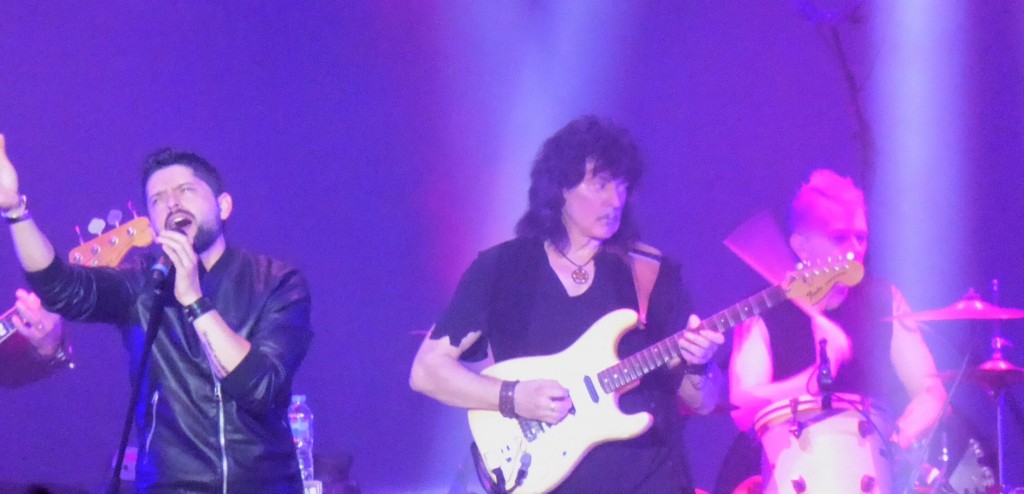 For us rock fans of a certain age- perhaps from early forties to sixty-ish- Ritchie Blackmore sits in the pantheon of rock royalty. As guitarist and songwriter in both Deep Purple and his own band Rainbow, he pushed the boundaries of heavy rock with his original, classically-inspired musicianship and some of the best known riffs in rock, and inspired countless other imitators.

However for the past 20 years his talents have been lost to our world as he chose to pursue his love of medieval renaissance folk inspired music with Blackmore's Night. So the news last autumn that he was going to strap one the ivory-coloured Stratocaster one more time and return to his rock roots meant that this, one of only three dates, was 2016's hottest ticket in town.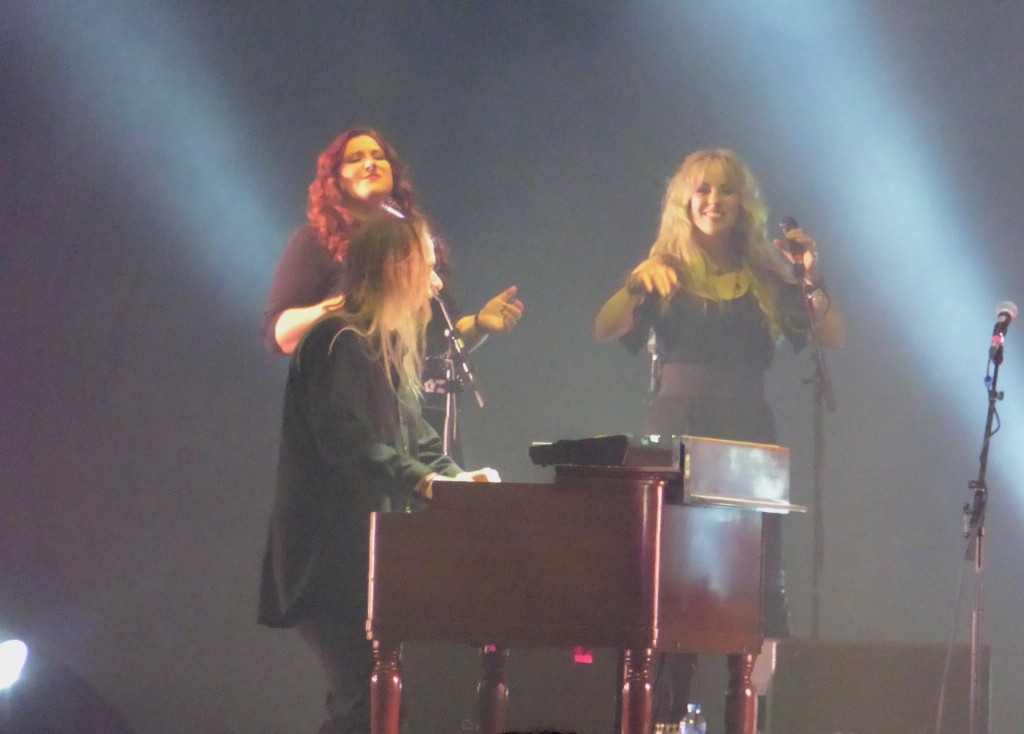 How information travels in society has changed hugely in those 20 years, so this anticipation was tempered by the fact that footage from the two preceding German shows had been put on YouTube and an army of laptop generals already had an opinion prior to this show.

I tried to ignore the discussion and published setlist, in the manner of the Likely Lads famously trying to avoid the score before watching the England football highlights, so I could be surprised and judge for myself, even if it is never ideal to witness a gig in a venue like this, an anonymous shed in which the subtleties of the sound are drowned in a sonic mush, and where those of us nearer the back did not even have the luxury of video screens.

After the trademark intros of 'Land of Hope and Glory' and 'Somewhere Over the Rainbow', and with a rainbow-style arch of lights forming the stage backdrop, history was made as the new-look Rainbow opened with 'Highway Star'. It was a slightly tentative version and the atmosphere off stage was a touch subdued, as if rather than enjoying the moment we were forming a judgement on whether the Man in Black could still cut it.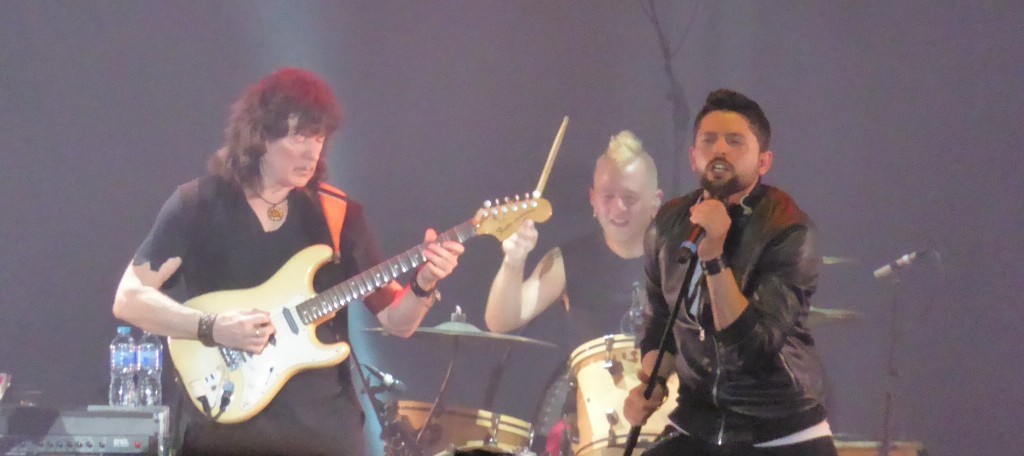 Some of the old magic returned on the opening riff to 'Spotlight Kid', where a couple of woman backing singers including his wife Candace Night made their first appearance, then new singer Ronnie Romero introduced a surprisingly 'Mistreated' and Ritchie was on fine form, though restraining himself from improvising with the song kept to a 'mere' nine minutes.

This was a good point to reflect on one of the talking points of this Rainbow reunion, which is that Deep Purple rather than Rainbow material actually comprised the majority of the set. I could see both sides of the coin- on the one hand, the band name and the use of the iconic 'Rainbow Rising' artwork implied he would focus on Rainbow songs which – at least since Ronnie Dio's sad passing- are rarely played live, whereas Deep Purple very much remain a touring band in his absence.

On the other hand, as one of my fellow hacks pointed out, the billing had promised a night of Rainbow and Deep Purple anthems, and a gig should be seen as a celebration of his whole career's work, and therefore the Purple songs had as much right to be there.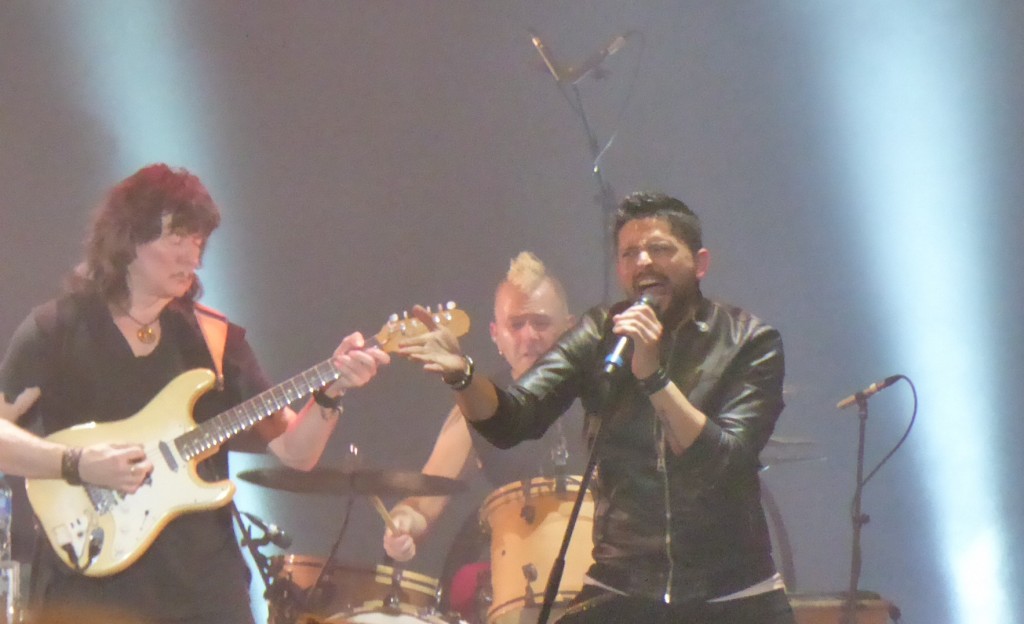 'Since You Been Gone'- a reminder of another Blackmore legacy as Rainbow were the first hard rock band to regularly have top 10 singles with more commercial numbers- got the first audience participation with arms swaying though it was a rather perfunctory version with Ritchie skipping the guitar solo entirely and instead segueing into 'Man on the Silver Mountain'. Then Ronnie introduced a new song: my jaw initially dropped, but then I realised he meant one that had not made the German setlists in a quite beautiful and tasteful 'Soldier of Fortune'.

Ritchie then went into the song that above all proved his mastery of adapting classical melodies to heavy rock in the instrumental 'Difficult to Cure'- broken up by rather dull band solo slots- and I mused on the irony that I was hearing a song inspired by Beethoven's ninth, which was also adopted as the EU's official anthem, on this momentous weekend of the referendum vote to leave Europe.

I found his newly assembled band a touch plodding, although it must have been great for keyboardist Jens Johansson to play with the real McCoy after so many years with Blackmore clone Yngwie Malmsteen. However, having gambled on relative unknowns Ritchie seemed to be taking particular care to ensure the band were on his wavelength with several subtle nods to his right where they were stationed.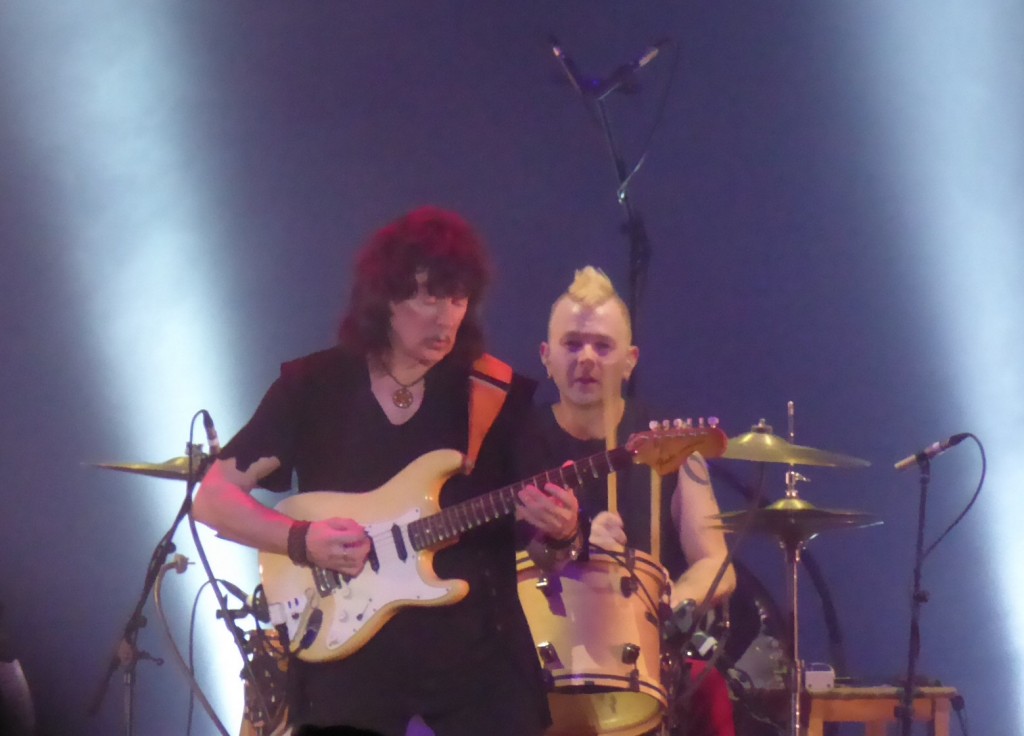 The other big talking point would be whether rookie singer Ronnie Romero could cut the mustard. Though the rasp in his voice (which reminded me of Scorpions' Klaus Meine) grated initially, he emerged as an undisputed star for two reasons. With the man everyone had come to see a static and reticent presence, he carried off the difficult task of owning the stage and, in his heavily accented English, carrying the audience with a confidence that reminded me, allied to a physical likeness, of the way Adam Lambert has risen to the task of fronting Queen.

Moreover he also responded to the challenge of covering songs originally sung by no less than six different people. He did a respectable job on all, but was most comfortable on the Ronnie Dio material, epitomised by a beautiful 'Catch the Rainbow'.

'Perfect Strangers' was a nod to the post-reformation Deep Purple although I felt it lacked something compared to the current DP line up's live version, followed by an old Rainbow favourite in 'Long Live Rock n Roll'. However the way it was slowed down to an almost bluesy swing was an illustration of how some of the material was rearranged to suit a 71 year old's somewhat less nimble fingers these days.

In those circumstances though, 'Stargazer' was a revelation with Ronnie giving his all and the old Blackmore magic returning , reminding us of why this epic was a mainstay in the top 3 alongside 'Stairway to Heaven' and 'Whole Lotta Rosie' when early Kerrang! Readers polled the all-time greatest tracks.

To add to the sense of being transported back to those halcyon days, it was followed by another all-time classic in 'Child in Time', wisely not attempted by DP since Ian Gillan's range began to falter. Ronnie's audience participation had people attempting ball crushing falsettos and there was a vintage Ritchie solo mid-song, before a looser 'Black Night' with a snatch of 'Woman From Tokyo'.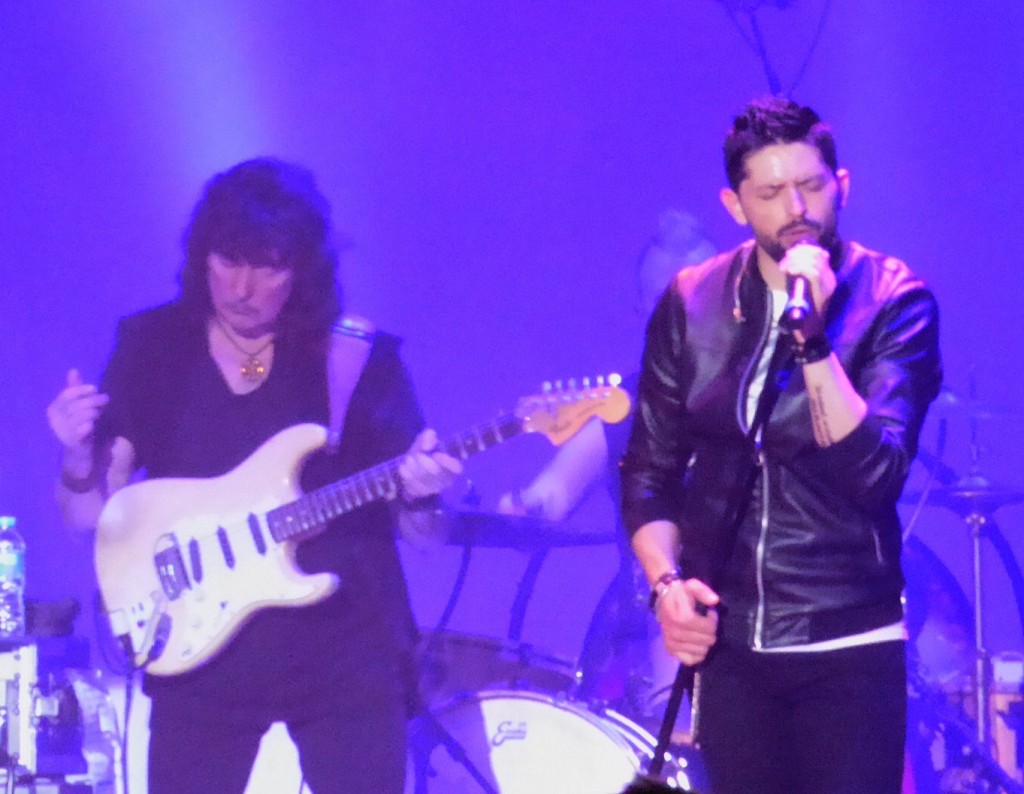 Tantalisingly the band left the stage mid-song leaving the crowd to chant the unmistakable riff. There was always the risk on past performances that Ritchie would walk off at any moment, which it seemed to me Ronnie sensed by regularly turning to him for reassurance between songs in the latter stages of the set.

However this time there was to be no strop, but instead a great surprise, not least for those who had followed the German setlists, as he cranked out the memorable riff to 'Burn'. It's been played countless times, not least by his old bandmates Glenn Hughes and David Coverdale, but he took a noticeably lower key role compared to the histrionics their bands give the song and even to my ears seemed to be deferring to Jens during the instrumental passage. It was then fitting that a near two hour set should end with 'Smoke on the Water', the most famous riff in rock being played one more time by its progenitor.

Objectively speaking, the now 71 year old did not play the gig with the fire and speed of old, but in fairness had he been touring for the last 20 years like many of his contemporaries, this change would have emerged gradually and thus been less of a surprise.

Hopefully the love that Ritchie felt from an adoring crowd of long-time admirers may make him want to do this repeatedly rather than as a glorious one off. In the meantime for all present it was a memorable evening to be reminded of his musical genius and hear him once again play the songs that built rock.


© Review and Photos by Andy Nathan - Get Ready to Rock




Ritchie Blackmore's Rainbow

Genting Arena, Birmingham, UK June 25, 2016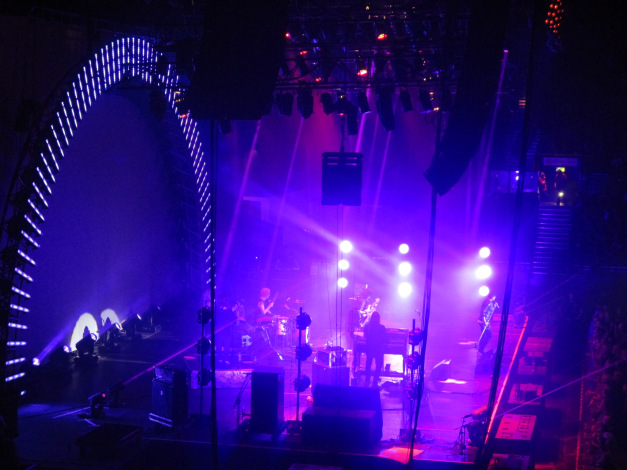 Years have passed since I last went to a big show at the NEC, Birmingham, (I think it was MEGADETH in '92), so what a band to make it back there for, arriving for the gig of the century on a warm and sunny Saturday afternoon, to see The Man In Black's return to rock! The area was packed full of happy looking RAINBOW fans wandering around the Resort World complex, eating, drinking and watching Euro 2016 on the big screen outside.

Walking into the Genting Arena, we were faced with a great band playing on a small stage, going by the name of DAYLIGHT ROBBERY, with quite a crowd watching their set. After of course buying TShirts to mark this legendary event, we went to find our seats, on the side block next to left of the stage was a pretty good view. I hadn't heard of English rockers MOSTLY AUTUMN prior to them being announced as support for this show, but they put on a great performance at what must have been the biggest show they have played. It's easy to see why they were chosen for this gig, they fitted in very well with the whole theme of the night and went down really well with the packed out arena.

Slightly later than scheduled, at 8.45pm, the lights went down and 'Land Of Hope And Glory' then 'Over The Rainbow' started blasting over the PA, signalling the entrance of the band and guitar GOD Ritchie Blackmore! So many fans have been waiting for this 'return to rock' moment for the last twenty years and they greeted the band and of course main man Ritchie with deafening cheers as they launched straight into 'Highway Star', setting the excellent tone for the night.

I've known vocalist Ronnie Romero since the return of RAINBOW was announced last year and his work with his own band LORDS OF BLACK. Ronnie was a great choice to be the new singer, his voice is exceptional and suits all the material, whether it be DEEP PURPLE or RAINBOW. Ronnie is also a commanding front man and interacted well with the crowd throughout the show.

The other musicians supporting Ritchie consisted of Bob Nouveau on bass, David Keith on drums and Jens Johansson on keyboards, along with two backing singers, one being Candice Night. Even though I know all the previous incarnations of RAINBOW well on recordings, I had never seen the band live before and it did not matter one bit to me that there were no other original musicians playing these shows. I feel the band worked extremely well as a unit and though not very animated (except for Ronnie) that was okay, the musicianship shone through. Not sure if it was just me, but I couldn't really hear the backing vocals much. After a few DEEP PURPLE tracks, the band launched into 'Man On The Silver Mountain', one of my favourites of the show. Of course nobody could or even wants to replace Ronnie James Dio, but I'm sure would he have loved Ronnie Romero's vocals on this song, absolutely excellent!

Let's just get this bit out of the way – as we all know, Ritchie is now 71 years old, so of course combined with his recent surgery, has slowed down since the days of RAINBOW past! Personally, for me it was unbelievable to see such a legend up on that stage, it felt like a momentous and historic occasion where every moment had to be savoured. And Ritchie looked in fine shape, he made his Strat sing all night long! (no pun intended ;)). There were some very cool moments – not once, but twice Ritchie suddenly lay down at the front of the stage and passed a drink to a lucky member of the front row and we heard him speak just once, to introduce Ronnie. He really looked to be having a great time throughout, waving his arm sometimes. The only tiny criticism I have (which isn't really!) is that he didn't go to the other side of the stage so I could get a decent photo ;)

'Soldier Of Fortune' was another shining moment, full of emotion from both Ronnie and Ritchie, with the crowd singing along in fine voice. 'Difficult To Cure' was up next, followed by brilliant bass, keyboard and drum solos. 'Child In Time', what can I say, it was absolutely outstanding! Ronnie could easily match Ian Gillan's voice, this song particularly showcased his amazing vocal range and he has one hell of a scream on him!

Last month we had a special tribute week to celebrate the 40th anniversary of the RAINBOW "Rising" album and as I had listened to it so much recently and gathered other artists thoughts on it, it seemed to make it even more special when the drum intro to 'Stargazer' kicked in, then that riff! A definite favourite of the whole show, Ronnie delivered the vocals with all of his heart and soul and Ritchie's slightly changed solo was brilliant. The icing on the cake was to see this classic performed under the 21st century rainbow lighting rig, just stunning! The night ended all too quickly (unfortunately without 'Gates Of Babylon', maybe next time!) with two more DEEP PURPLE classic tracks for the encores, 'Burn' and 'Smoke On The Water', I'm sure leaving most people feeling the same way as me – we would love to see more from Ritchie Blackmore's RAINBOW!


© Alison Booth - Metal Shock Finland




Ritchie Blackmore's Rainbow

Genting Arena, Birmingham, UK June 25, 2016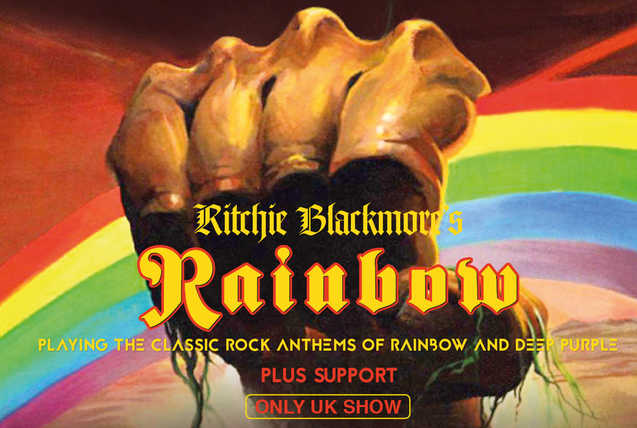 It was unfortunate that the first thing I noticed after entering the impressive Genting Arena for Ritchie Blackmore's Rainbow was a seriously poor collection of t-shirts at the merchandise stand. How difficult would it have been to produce a nice black shirt with the Rising cover on the front and the single NEC date splashed across the back for a smugness level of 11? Mind you, you did get a free Blackmore's Night CD with every purchase, so there was that, I suppose.

Support act Mostly Autumn were up first, and shorn of a member or two, could realistically have been called Mostly Mostly Autumn for the evening. Hard rock with a celtic edge, singers Bryan Josh and Olivia Sparnenn sounded fantastic, but you felt they would have been far better suited to a much smaller stage.

And so to the only reason people were in attendance. Ritchie Blackmore's Rainbow. Arriving on stage to a recording of 'Land of Hope and Glory' the lengthy intro was completed by a sound clip of Judy Garland in The Wizard of Oz followed by Blackmore playing 'Somewhere Over the Rainbow' while accompanied by the loud and rapturous applause of everyone inside the sold out venue.

Opening properly with Deep Purple's 'Highway Star', it was lift-off inside the arena as everyone sang along with relatively unknown vocalist Ronnie Romero at the top of their voices. However, even at such an early stage in proceedings it was clear that Ritchie was not on top form. Well, how could he be? He's 71 with the onset of arthritis and recovering from a recent operation on one of his fingers. This wasn't Blackmore at the height of his pomp, this was an ageing Blackmore doing his very best his fingers would allow. His guitar sound wasn't great, he stayed pretty much rooted to the spot, steadfastly refusing to move to the other side of the stage even for a couple of minutes, and he appeared to be playing everything a little slower and a lot more staccato than the studio material everyone knows so well. But he was there. It's a distinct possibility that Black Sabbath won't sound their absolute best when they play their final show here next year, but you know it'll go down as a classic regardless of their performance, and it was the same for Rainbow last night. Blackmore might not be able to let his fingers fly like they used to, restricting his solos to bluesy licks and scales, occasionally throwing in short bursts of speed when needed, but he still gave it his all and the gig will still be talked about for a long time to come.

If it wasn't for Blackmore, vocalist Ronnie Romero might well have stolen the show last night. I'd never heard of him or his band Lords of Black until very recently, but if there's any justice in this world then he'll have a big future ahead of him. He belted out Ronnie James Dio's Rainbow tracks with complete authority and his voice was nothing short of spectacular. He handled the Ian Gillan stuff incredibly well too, showing the right amount of power and emotion, with only 'Child In Time' being a bridge too far for his ability as he let the two female backing singers take the ridiculously high notes for him while he continued in a lower register. Keyboard player Jens Johannson, stolen for this brief run from Finnish Power Metallers Stratovarius excelled in his role as Ritchie's foil, playing off the guitar parts and taking over when he needed to. His playing even turned a predictably tedious drum solo into something actually worth listening to.

Mixing just about the right amount of Purple and Rainbow material, Blackmore always had the audience on side, and God help me, I'm sure I even saw him crack a smile on a couple of occasions. 'Man on the Silver Mountain', 'Spotlight Kid', 'Mistreated', 'Perfect Strangers', and 'Soldier of Fortune' were brilliant. 'Long Live Rock and Roll' turned into a massive sing along, and 'Stargazer' was phenomenal. However, 'Black Night' sounded a little twee, and you'd think the guy who wrote 'Smoke on the Water' would be able to play it in time. The few first bar was off by about half a beat and it took a few seconds to get back into it. 'Since You Been Gone' was another huge sing along and 'Catch The Rainbow' although played well, just wasn't as good as when Opeth played it at Bloodstock Open Air shortly after Ronnie James Dio died. That version was a serious shivers down the spine moment, while last night it just lacked something special. Thankfully, the omission of the hugely overrated 'I Surrender' helped make up for this.

A massively enjoyable evening where everyone went home with daft grins, thoroughly happy that they'd seen someone called Ronnie sing Rainbow songs with Ritchie Fucking Blackmore on the stage.


© Gary Alcock - Ghost Cult Magazine




Ritchie Blackmore's Rainbow

Genting Arena, Birmingham, UK June 25, 2016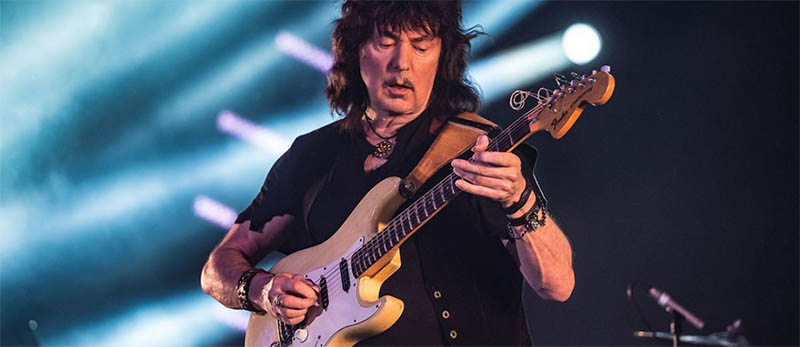 Even after two decades of self-imposed exile from hard rock, Ritchie Blackmore has not forgotten how to make a grand entrance. Reactivating the classic Rainbow brand name for the first time since 1997, the veteran guitar legend arrives in Birmingham to a storm of torrid classical riffs, a rousing blast of Land Of Hope And Glory and a scorched-earth version of Over The Rainbow from The Wizard of Oz. The overall mood feels somewhere between The Last Night Of The Proms and a bell-bottomed, bong-smoking, rowdy student house party circa 1975.

On a short break from his medieval folk-metal outfit Blackmore's Night, the 71-year-old routinely hailed as the finest Britrock guitarist of his generation surprised us all when he announced this rare live return to his bluesy prog-metal 70s roots, revisiting tracks from both his Rainbow and Deep Purple days. This mini-tour takes in just two German festival shows and one night only in Britain, then Blackmore returns to his goblin-fiddling day job. Understandably, ticket sales were brisk and the Genting Arena is heaving.

Reconvening under the full band name Blackmore adopted after leaving Deep Purple in 1975, this rebooted Rainbow have no connection to previous line-ups, besides their guitarist and founder. Drummer David Keith and bass guitarist Bob Nouveau are both veterans of Blackmore's Night, while authentically hairy Jon Lord-ish keyboard player Jens Johansson is on loan from Finnish power metal troupers Stratovarius, and Chilean-born singer Ronnie Romano from his own Spanish-based group, Lords Of Black.

Purists might argue that this glorified tribute act have scant claim on the Rainbow name, but let's face it, Blackmore is Rainbow, and vice versa. After all, even at their commercial peak in the late 70s and early 80s, they never recorded two albums with the same line-up. And more than any other genre, old-school metal seems to have the flexibility to adapt and survive in the face of constant personnel changes. Band members are temporary; great songs endure.

But first things first: opening for Rainbow are Mostly Autumn, whose proggy, folky, knowingly nostalgic take on hard rock is a good match for Blackmore's various musical identities. Normally an eight-piece collective, they are slimmed down to a trio in Birmingham, with Bryan Josh and Olivia Sparnenn sharing vocal harmony duties.

"Ritchie Blackmore was my hero growing up," Josh gushes. "If you told me back then that I'd be playing a show with him one day, I would probably have spontaneously combusted." He doesn't burst into flames, alas, though his guitar comes pretty close during the cosmic wig-out finale of Heroes Never Die.

Long before Blackmore even arrives, the mood in Birmingham is emphatically old-school metal; all grey-haired Saxondale rock-blokes squeezed into Whitesnake T-shirts that betray a lifetime of real-ale pub lunches. All the same, this near-capacity crowd is surprisingly diverse in age and gender, with a healthy balance of male and female, and young and old.

Even Rainbow's stage set looks like a self-consciously retro tribute, with a wood- encased Hammond organ and modest drum kit huddled at the centre of a bare stage. The sole concession to high-tech theatricality is a rainbow-shaped archway of lights standing high behind the band, rippling with different colours throughout the evening like the entrance to a vintage fairground thrill ride.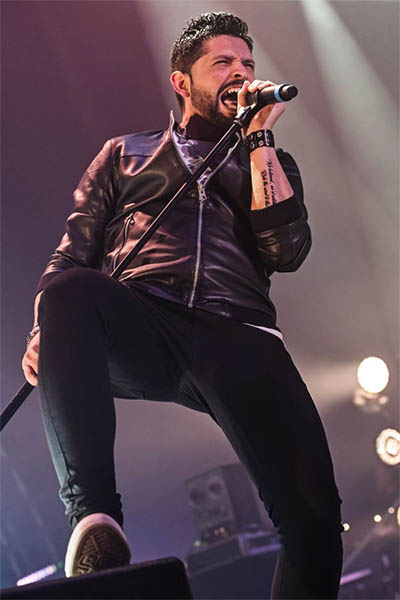 Barely updated since Blackmore's 70s heyday, this is analogue-age arena-rock spectacle from an era before heavy metal splintered into glam, thrash, doom and post-grunge subgenres. On the one hand, it feels disappointingly spartan. On the other, it's an impressively forensic exercise in historical reconstruction. This is a performer, after all, whose favourite musical era is the 1520s.

Arriving to boisterous cheers, Blackmore remains a diffident stage presence, his communication limited and his charisma confined to fretboard pyrotechnics. His current look is saturnine and quietly louche, midway between Jason King and the Witchfinder General. He barely says more than two words to the crowd all night, though he kneels before the front row at several points, ritually sharing his beer. By the usual standards of rock-star egomania, Blackmore's style is refreshingly reserved. He came here with one job only: to play guitar like a flame-fingered axe god in Valhalla's very own house band. Nothing more, nothing less.

The opening gambit is Deep Purple's Highway Star, which becomes a nimble, knotty three-way dance between guitar, bass and organ. While it hardly blows the roof off, one thing is instantly clear: Blackmore's publicly aired anxieties about his declining agility on the strings are a little premature. He sounds as dextrous as ever, from vaulting arpeggios and staccato blues licks to neo-classical flurries, breakneck shredding and Hendrix-level ostentation. There is life in the irascible old goat yet. Rainbow's Spotlight Kid is next, its boneshaker rhythm adorned with more filigree guitar work and two female backing singers, including Blackmore's longtime life and music partner Candice Night, who add a heady whiff of Stonesy gospel-rock sorcery to the cauldron.

Also abundantly clear from these opening numbers is Ronnie Romano's vocal prowess. Of all the giants whose shoulders he stands on – from Ian Gillan to David Coverdale to Joe Lynn Turner – the 34-year-old Chilean is closest to Ronnie James Dio in poise and delivery. Comfortable with the ballads but tapping great reserves of lung power during the louder tracks, he throws great shapes and shoots for maximum melodrama. Proof that fresh blood and lusty vitality can make ancient songs sound brand new.

Dressed down in casual non-metal gear, the singer adds a youthful edge to Rainbow's latest reboot. There are faint echoes of Adam Lambert fronting the current Queen line-up here, but Romano is clearly screeching to the converted.

Even Romano's short hair appears to have met with Blackmore's approval. The famously tetchy taskmaster must have mellowed a little since his farcical attempts to prevent singer Graham Bonnet sneaking away to the barber during Rainbow's commercial peak.

Romano also does most of the talking tonight in his faintly amusing second-language English: "We've been waiting such a long time for this moment, isn't it?" he beams. We sure have. It certainly is.

Blackmore initially suggested there would be a 70/30 split between Rainbow and Deep Purple material at these shows, but it actually turns out to be a fairly even split. Indeed, he's missed a trick by not performing these shows under the name Purple Rainbow. Doh! But whatever it says on the poster, it's the Purple songs that steal most of the thunder in Birmingham.

Sounding monumental in scale, the bluesy slow jam Mistreated is an early highlight, packing real punch and swing, a hefty stomping beat and an undertow of carnal yearning. With sparks almost zinging from his fingers, Blackmore piles on the maximalist guitar adornment, stirring lustrous eastern-tinged melodies into the churning maelstrom.

On balance, the Rainbow tracks pale slightly when compared to the richer Purple material. Man On The Silver Mountain and Catch The Rainbow both drag a little, even if Romano's powerhouse vocals lend each of them extra clout, while the facile Pavlovian crowd-prodder Long Live Rock 'N' Roll has not aged gracefully.

That said, there are some blazing peaks from the Rainbow canon too, including their biggest smash hit Since You've Been Gone. This immortal Russ Ballard cover still sounds like the perfect pop-metal anthem, full of zing and zest, roaring gradients and kinetic key changes. Detonating like a controlled explosion, it is by far the most concise, catchy and commercially slick song played tonight, and it never fails to get the adrenaline pumping.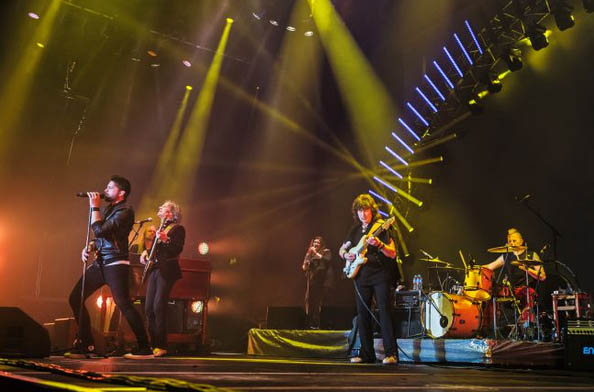 The sprawling centrepiece of this show is the epic instrumental Difficult To Cure, which is essentially a rocked-out cover version of the finale of Beethoven's Ninth Symphony, aka Ode To Joy. As this tune is the European Union's adopted anthem, it's tempting to read this inclusion as a timely post-Brexit statement from Blackmore, who's lived in Germany for long spells over the years. Except, of course, he began playing this tune in Rainbow shows more than three decades ago.

Following his blazing introduction, Blackmore vacates the stage for 15 minutes as the drummer, bassist and keyboard player all work up frenzied solos and duelling sections. As the tune hits a crescendo of overblown pomp, he re-emerges to pick up the original melody once more. Totally old-school, preposterous but exhilarating all the same. Roll over, Beethoven.

Soldier Of Fortune is another slow-burn Purple ballad, building from an acoustic intro into an arm-waving, phones-aloft anthem. Child In Time is also magnificently moody, and includes a speed-riffing solo that could stun a horse from half a mile away. The all-time boogie-metal classic Black Night also packs a wallop, its growling vocal and strutting bassline making for a robust pre-encore climax.

The ripest slab of vintage Rainbow comes late in the set in the form of Stargazer, a Blackmore/Dio monster from 1976, which weaves an exotic melody around an operatic storytelling lyric about Egyptian slaves and wizards. Palatial in scale, full of secret chambers and hidden corridors, this shamelessly overblown baroque-and-roll behemoth features a climactic section in which the female chorus follow the contours of Blackmore's luxuriant guitar solo. Stupendous.

The encore is a double whammy of Purple cuts. Once a career-launching vehicle for David Coverdale, Burn is surging and anthemic, ablaze with florid keyboard runs and sawn-off riffs, propelling fruity black magic lyrics about burning a witch: 'I didn't believe she was the devil's sperm…' Hell yeah. Diabolically great.

The obligatory closing number is, of course, Smoke On The Water. Blackmore must be sick to death of cranking out his most globally beloved caveman riff by now, but he rescues it from decades of guitar-lesson cliché with a lean, gravelly version that's more gritty garage blues than pub-rock karaoke. Sloping offstage with a perfunctory wave, he leaves the band to finish the song and his backing singers to link arms for a celebratory jig. The mood in the crowd is similarly euphoric. Even after two decades away, Blackmore can still deliver the goods.

The last few years have seen way too many farewells, funerals and final tours right across the rock spectrum. Indeed, one reason that Blackmore has given for revisiting Rainbow in 2016 was the recent loss of old comrades Jon Lord and Ronnie James Dio. One by one, rock's founding fathers are stepping down or slipping away.

Of course, seeing Rainbow back in action is not quite on the same historic scale as Black Sabbath's current retirement tour, but Blackmore's latest comeback is no antiques roadshow either. Hearing these classic songs performed in their full-blooded pomp by the man who wrote them remains a rare, joyful, life-affirming experience we should all savour for as long as he is still willing and able to play them. Blackmore has already hinted that there may be further dates next year. Judging by his rapturous reception in Birmingham, the demand will be huge. This feels like a door opening, not closing for the last time.


© Stephen Dalton - Louder




Ritchie Blackmore's Rainbow

Genting Arena, Birmingham, UK June 25, 2016

Ritchie Back to Rock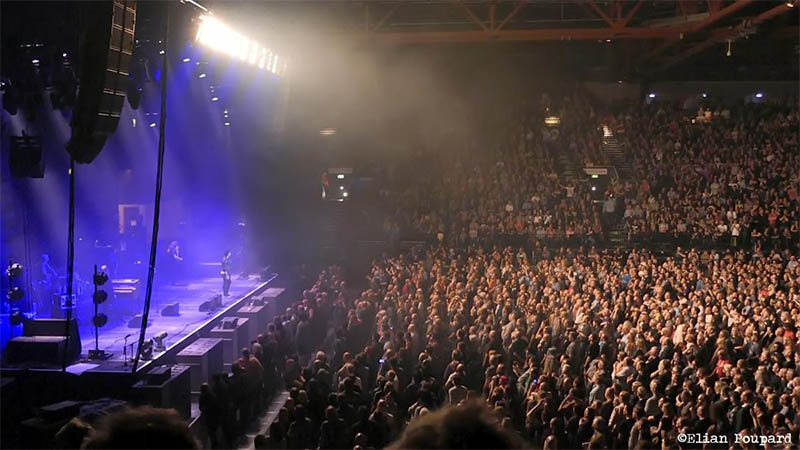 On the evening of July 4, 2015, reading the long (and very interesting) interview of Ritchie Blackmore made by the very talented Michel Valentin (unfortunately his blog on Parisien.fr no longer exists and it is very sad), I could not not imagine that one year later I will be in Birmingham to be moved by Rainbow's return with ears and a head full of memories.

The press from around the world told a year before the announcement of Ritchie Blackmore's desire to "return to Rock" for 3-4 concerts in May-June 2016. Rumors were rife about the setlist, the presumed venues or festivals and especially the line-up for these concerts events.

And when at the beginning of the year the formalization of the first 2 concerts was launched, I was like crazy.... Am I going or not? In view of the places and my calendar, it was complicated, yet the poster made you want... Rainbow with 2 dates in Germany was to resurrect the Monsters of Rock Festival, the one who contributed to the legend Rainbow in 1980... arf... I decide to wait for other possible dates... they will not play anyway THAT in Germany, it is English, it will be well for us to leave a date in England....

Late the date comes out! And it will be Saturday, June 25, 2016 at Genting Arena Birmingham. Perfect for me! I jump on the opening of the tickets and GO I take my place. Well, I do not hide that I was a little afraid... I only got my place a few days before the concert... but the Holy Grail was there!

I take this sweet moment to get back to my classics Rainbow, I put the guitar (Fender Strat Blackmore signature, the original limited Japanese version of 97 for connoisseurs, not this pale Mexican copy :-)) and it's part for a few riffs of the man in black... Good seen my level, the showcase is summarized to some notes of Smoke On the Water, Burn, Highway Star, Greensleves, Ariel... on bottom background the last (and the 'unique) Bluray dedicated to the master.

Let's go... in my package are my batteries and SD cards, they are ready to heat... We GO! No distinctive ostentatious signs, no Deep Purple T-shirt in Montreux or one umpteenth Deep Purple T-shirt of the last rounds, no, no, no, I make it simple...

Arrived in Birmingham, exit the airport towards the hotel... I have several hours in front of me (it was planned) to walk around the room... No trip to Birmingham city because the city is .. well, not the nicest and culturally poor. However, the surroundings of Genting Arena are quite pleasant, a large lake, a mini beach and a very large shopping center.

Looking at the forums dedicated to the concert tonight I see that already several fans are stationed to wait for the arrival of the artist and even stranger, some have already taken pictures with Ronnie Romero (the singer), neither a nor two, I decide to go there to crane when Ritchie arrives. Without real conviction of course because knowing our friend Ritchie, this kind of affection towards his fans is not really his cup of tea...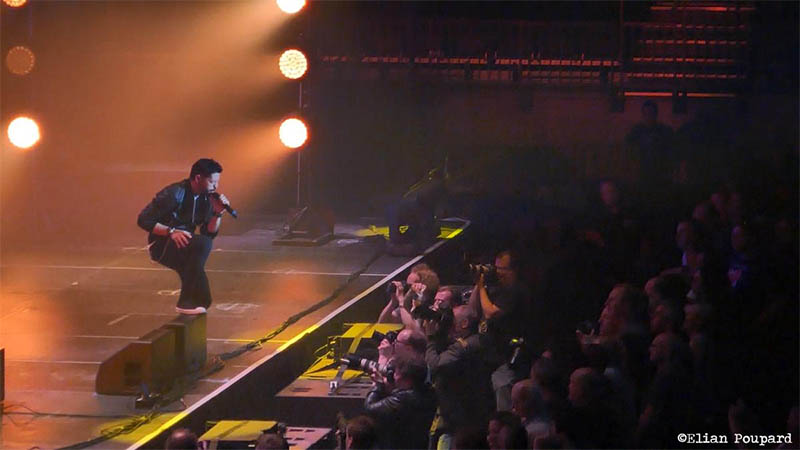 After 3 hours of waiting (yes it's long...) the 15-20 "fans" present could be released.... Ritchie and Candice arrived in limousine with smoked windows... and immediately returned to the room without a look or a sign to the public... nice! And to say that I could walk around the lake, make ricochets with pebbles (fans will see some references to the text of Child In Time)... And no, I preferred to wait and watch the fans coming to the venue... yes I know it's pathetic!

The audience is very "international", a lot of Anglo Saxon (inevitably) and a lot of hardcore fans with t-shirts of the first 2 shows at the Monsters of Rock Festival in Germany. Nordic and Eastern Europe are well represented too. No wonder, Ritchie with his band Blackmore's Night happens very often in these countries and see the bootlegs of Rainbow or Deep Purple, the community of northern and eastern Europe (or western Russia) is very active. The merchandising stands are multiple, even before entering the hall and are assaulted by all. That evening, they will make moneye!

The entrance to the hall is no problem. The search is more than light because... there is no search! Unbelievable when one is Parisian or when a few days before for the concert of Insus at the Zenith, one was entitled to a complete search in good and due form. The hall of the room is gigantic, a kind of exhibition hall with all its shops (exclusively food and beer) and in the middle, a small stage and a group that plays... Rock! I ask myself 30min with my meal vegan (and then?). And my pint of beer (we do less clever here, huh!) Before entering the hall...

Wow, that's great! Less than Bercy (oops.... AccorHotel Arena) but it throws and at least there, there is not 1/3 of the hall exclusively for sponsors / partners.... The arena has sitting places... we are far from the California Jam of 74.... I am on the side, a bit high, given the configuration of the hall, I am not well placed. Too high and not enough in front of the stage, I feel that the few cables that dangle in the air on each side of the stage will embarrass me well... In short I take place and I wait for the time said.

Part one: Mostly Autumn. Even if the group is very nice, the eyes are on the great blonde singer dressed in leather and a voice reminiscent of the first singer of Nightwish, Tarja Turnunen, it goes up and it holds the note! And if 2-3 live tracks are much better than the studio versions, however, I have a big red card to address the guitarist and unfortunately singer: "Stop singing, stay on the guitar! You are singing wrong! VERY wrong!"

After this first part, place the god!

Rainbow with the colors of 2016

The room darkens and left for more than a 2:30 concert!

Obviously I had watched the setlist and performances of the first 2 shows and tonight I knew they had to play BURN that I heard before during the soundcheck during my 3 hours of waiting (my only comfort)... But the pleasure is there, the eyes wet with emotion of hearing Rainbow sound and seeing Ritchie Blackmore with his 70's Strat to play something other than medieval music.

Even if tonight's band has nothing to do with past lineup, we do not care, we want to see and hear the Ritchie Blackmore Strat. In Paris, in July 2015, he had plugged his guitar for a few titles, he left me on my hunger (note: concert Blackmore's Night), I wanted more! Rock, solos and the mythical Rainbow standards reinterpreted...

It starts a Capella, Ronnie alone for Highway Star, just the first verse.... after the machine gets underway and off to rock big back to the '70s. The sound of the Strat of Blackmore, oh lala my god it's good to hear it live. I pass you the details of the model of Strat and microphones chosen... but I can answer the questions :)

A little disappointed is that he does not take his signature US Blackmore Strat with his Roland micro, I've never seen it play live (and I'm looking for it... so if a collector wants to get rid off this model, I'm interested!), sadness.... not serious, this Strat "vintage, relic and customized" (from 1977) will do.

The solo of Highway Star is far from its studio version or any other live elsewhere. That's all Blackmore's talent, improvising according to his mood. Well, we will not hide, there are false notes and his fingers have trouble following his inspiration... We wait for the rest to verify these words...

Rainbow's hits follow one to another, often with a hint of his FM time. The public is there and even if the average age is well over 40, they sing and they raise their arms to the sky... and it is already a lot. One of the highlights, he takes his classical guitar for Soldier Of Fortune. Oh shivers... And there, magic of music is 15 000 people singing in unison.

Blackmore is the conductor and will even ask Ronnie to let the audience sing... A magical moment filled with emotion. Catch The Rainbow, I stay with the version of Rainbow On stage that is fabulous... tonight is a different version. No endless solo but an audience that takes the whispers of the song. Ritchie on his solo did only what he could, at age 71 we can not ask him to do Malmsteen.

Long Live Rock n'Roll, here is a good FM title that wakes everyone to sing the chorus. Just enough energy for the coming monument: Child In Time! I have not heard since 2002.... Ian Gillan with Deep Purple does not take the risk anymore. But who would risk it then? Ronnie YES! What audience! Ronnie sings and the audience makes hearts, what a moment!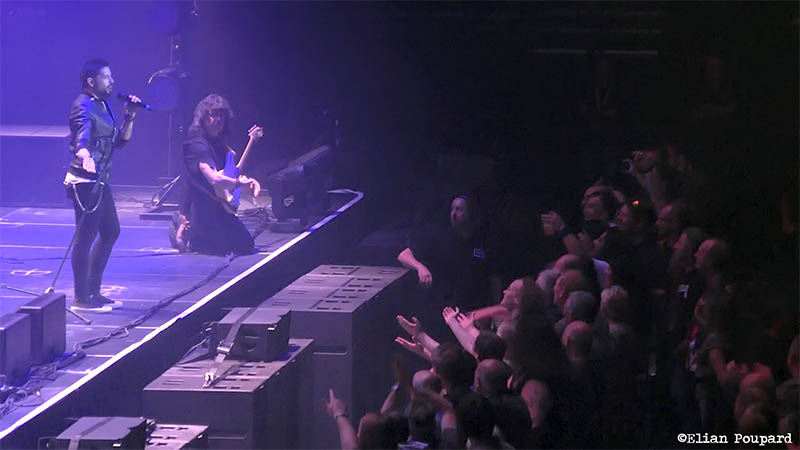 Well, for my part I had a Bavarian German, beer and fries in hand, I can tell you he did not have a voice slender... Ritchie did not linger on a long solo, we still had a few reminders from the last (aborted) tour of 94 with Deep Purple. We can not blame him, bring out this huge title is already a beautiful proof of love for his fans.

But the big moment will come soon after with Stargazer. What a title! Ronnie (Romero) is the heir of Ronnie (James Dio), what a voice! This title of the album Rising has never packed me more than that, it was nevertheless hailed by the critics as THE title of the album. Surely a little too black for me and not enough "classico-medieval". But there, what vocal power. I closed my eyes and clearly heard the late Ronnie James Dio.

Black Night, good OK it's nice because the audience reacts and plays with Ritchie but hey, it's always the same, I heard this song dozens of times with Deep Purple and there, Ritchie makes it an umpteenth cover-like. Pity.

Burn, a title that stands out too ... Good it's been over 2 hours that Ritchie heats his sleeve (no other hint that the handle of his Strat) and he begins to tire, the riff and especially the solo is much less clear than in the 70s. Whatever, we like it! And of course, it ends with the timeless hymn of any guitarist, the ultimate riff that everyone has played at least once in his life: Smoke On The Water.

2:30 of nostalgia and see Ritchie again with his Strat and a brand new band, we want to have more. He promised it, he will return next year for a few more concerts ... but when and where? Will Ronnie be partying? Everything seems to believe it so... Look forward to reliving this and surely with more Rainbow and less Deep Purple... I dream of an Ariel or Rainbow Eyes with Ian Anderson on the flute... I dream, I dream... but who knows...

Update 2017:
Note that you can get the DVD (or even better bluray) of the mix of the first 2 concerts of this mini tour. For the die-hard fans, a 2DVD + bluray + 3LP box is also available. The video and audio quality is exceptional, the performance a bit less...

For the most collectors, the Birmingham CD is also available but the sound is very far from the expected quality. Go your way on it, too bad because Birmingham was the best concert of these 3 dates.

© Elian Poupard, I-Was-There





Ritchie Blackmore's Rainbow

Loreley - Bietigheim Bissingen - Birmingham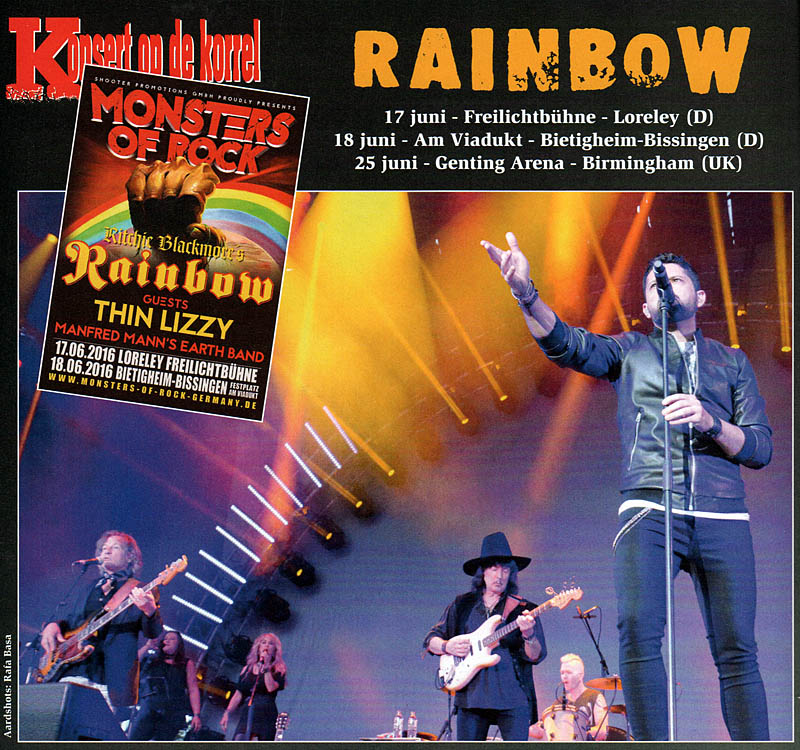 When last fall it was announced that Ritchie Blackmore would play three 'reunion shows' with Rainbow one thing was clear for the writer: the agenda in June would be fully adapted to these three shows. Here we had indeed been waiting for twenty years. Once it was announced on the various social media there was busy discussion or Joe Lynn Turner, whether Graham Bonnet or Doogie White would pop up behind the microphone. Blackmore came up with one Ronnie Romero, an unknown Chilean from the band Lords Of Black. The big questions previously was therefore: how would this Romero do and - above all - would Ritchie Blackmore still have it in the fingers? Superfan Ludy Wetzl was there.

FRIDAY JUNE 17

The Freilichtbühne, a beautiful outdoor amphitheater, located on a hill. Because all traffic has to go up on one single road and it does not go faster than walking, we miss in the real Aardschok tradition Thin Lizzy. At the last moment, Mr Blackmore himself apparently decreed that Manfred Mann's Earth Band must be moved a place up on the bill at the expense of Thin Lizzy. The site of the Freilichtbühne is turned into one big mud puddle and our eastern neighbors have not thought to throw down ramps or at least wood chips.

The prime location is changed into a mountain mud slide. About Manfred and his cronies I can be short: not Aardschok worthy. Moreover, the sound of the PA was so soft that it came barely above the clatter of raindrops. At half past ten finally it is so far: the intro tape of "Over The Rainbow" starts, the moment many have been waiting for twenty years. Opener "Highway Star" starts a bit more cautious rather than how we have the song in our memory. Also immediately noticeable drummer David Keith and bassist Bob Nouveau, both of the band Blackmore's Night, the two outsiders in our midst in this Rainbow lineup. Further there is Jens Johansson (Stratovarius) and two background singers, including Blackmore's wife Candice Night.

Keith and Nouveau are quite out of place. Carefully expressed: I've seen better rhythm sections. The set that follows is a balanced mix of Rainbow- and Deep Purple songs. The first time there are goose bumps is in the form of "Mistreated". Remarkably positive is that the songs from the Dio era are written perfectly for Ronnie Romero. Much more than several Deep Purple songs. Especially "Perfect Strangers" and "Black Night" are in my opinion not very good. Absolute highlight of the first day is "Stargazer", perhaps maybe the best made hard rock song ever . I never thought that after Ronnie James Dio anyone could sing this song so convincingly. If there are still doubters, Romero is the right man in the right place. Halfway through the inevitable encore "Smoke On The Water" we slink off. The game of singing in this song I've heard and seen too many times. After all, we still have a long way to go down the valley of the Loreley again.

SATURDAY - JUNE 18

With somewhat mixed feelings about the night before we drive on the German autobahn much further to the south to Bietigheim, near Stuttgart. The Loreley show, despite some goose bumps moments, still has not returned the feel as hoped. Is it because of the appalling weather conditions that we had to endure or was it the lesser good playing of Blackmore than expected - afterwards we heard from an informed source that he suffered a lot of cold fingers during the show. Most likely a combination of both.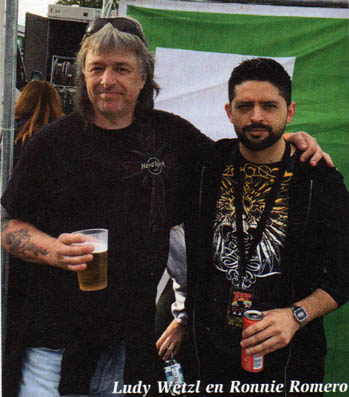 Beforehand I looked with frown eyebrows at the location of today - an overpass ?! - But on arrival it appears to be a revelation. The sun is faintly shining and there are plenty of eating and drinking places without long waiting times. And that overpass, projecting high above the stage and where occasionally a train goes past, this just makes a beautiful backdrop. Now we have plenty of time and the first thing you notice is that virtually all merchandise is already sold out. Thin Lizzy we miss this time not and although there are more Black Star Riders on stage than Thin Lizzy, it can be described as a very pleasant best-of-show, also because of the great vocal performance by Ricky Warwick.

Manfred Mann accompanies us in the background while we are eating. At exactly nine o'clock there is what we have come for: Rainbow. Right after the opening salvo of "Highway Star" and "Spotlight Kid" we know this will be a very different evening than yesterday. Once again the sluggish rhythm section, we won't mention that again, but Jens Johanssen today is in top form and Blackmore himself, however, is much better than yesterday. but stealing the show is singer Ronnie Romero. An absolute world singer, especially like he shows in "Mistreated", "Catch The Rainbow" and Stargazer". Romero is not nervous, it seems, and his announcements sound much more confident. In the form of "Sixteenth Century Greensleeves" there is also an additional number in the set.

Although it sound different than the live version that we know from the distant past, but who cares, this is also fine. Furthermore, the set list is no different to yesterday. The Rainbow songs "Man On The Silver Mountain", "Long Live Rock 'n' Roll", "Since You've Been Gone" and Deep Purple songs "Child In Time"," Perfect Strangers","Black Night" and "Smoke on the Water" all over again and also here Romero sings these songs much better than yesterday. The only sleep moment, it is totally unnecessary drums / keyboard duel in the middle of "Difficult to Cure". It does not disturb me though for years. Rather, nice bathroom break. This time we did not leave the site before the end of the show, but we enjoy all and we see how the band is cheered massive and long after the show. With a big smile on our face we walk back to the nearby hotel, assuming this was just the show of the year.

SATURDAY 25 JUNE

With the fantastic Bietigheim show still fresh in our memory we get on the plane for a quick visit to Birmingham, where today the third show is scheduled in the Genting Arena. This show was sold out in a matter of minutes, as opposed to the two German shows, for which ordinary tickets were still available at the box office. After mild irritation about having to wait almost an hour before it was proved to go inside we see to have gotten a perfect spot fortunately. Sight and sound leave nothing to be desired. About the setlist I will be brief. "Sixteenth Century Greensleeves" is removed again. Not a disaster, because in its place is "Soldier Of Fortune" which came one of the highlights this evening, and again an excelling Ronnie Romero. A certain David Coverdale can suck a very big point to this! Highlight this evening is however the entire venue is singing "Child In Time" along from beginning to end. Wonderful to see and hear! In the encore we get alongside the usual "Smoke On The Water" also "Burn". Told from the wildly enthusiastic response from the audience, no one is sorry about it. Was I last week still assuming likely to have seen the show of the year. Tonight I got that one seen clearly.

Conclusion after the three shows: Ritchie Blackmore played well, but nothing more than that. As in the 'good old days' it certainly was not. No shame for someone who already has already seen 71 springs. His backing band he should have chosen more carefully. Not a bad word about Jens Johansson, but the rhythm section left it severely to be desired. Especially drummer David Keith lacked the power of, say, the late Cozy Powell. Only the way he destroyed the legendary drum intro of "Stargazer" each evening.... my goodness.

Major surprise of these three shows was without any discussion singer Ronnie Romero. That boy is going to be a star, which Blackmore acknowledged again very well. Do yourself a favor and go see him when he goes on tour with his own band Lords Of Black and will play Weert The Netherlands) in September. In case there will be a continuation on this short adventure, I have a tip for my big idol: replace please some Deep Purple songs by a pair of Rainbow classics, so the set list is no longer in balance with both bands. The name Rainbow would do more justice to this. The Rainbow banner after all, was clearly on the posters for all three shows. Moreover, Deep Purple is itself yet around, so plenty of options to go and see these songs elsewhere.

© Ludy Wetzl - Aardschok no 8/9, 2016