Ritchie Blackmore's Rainbow

Genting Arena, Birmingham, UK June 25, 2016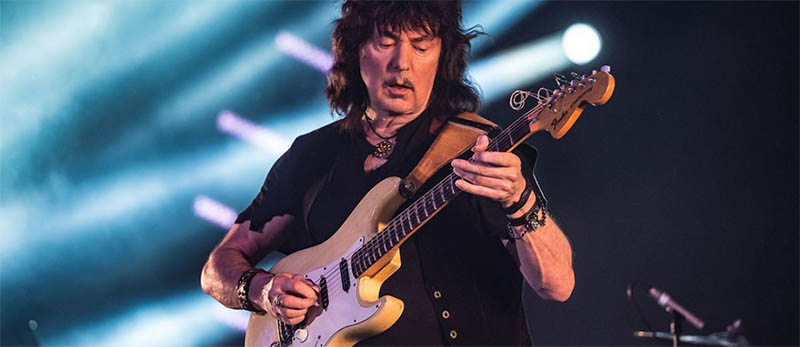 Even after two decades of self-imposed exile from hard rock, Ritchie Blackmore has not forgotten how to make a grand entrance. Reactivating the classic Rainbow brand name for the first time since 1997, the veteran guitar legend arrives in Birmingham to a storm of torrid classical riffs, a rousing blast of Land Of Hope And Glory and a scorched-earth version of Over The Rainbow from The Wizard of Oz. The overall mood feels somewhere between The Last Night Of The Proms and a bell-bottomed, bong-smoking, rowdy student house party circa 1975.

On a short break from his medieval folk-metal outfit Blackmore's Night, the 71-year-old routinely hailed as the finest Britrock guitarist of his generation surprised us all when he announced this rare live return to his bluesy prog-metal 70s roots, revisiting tracks from both his Rainbow and Deep Purple days. This mini-tour takes in just two German festival shows and one night only in Britain, then Blackmore returns to his goblin-fiddling day job. Understandably, ticket sales were brisk and the Genting Arena is heaving.

Reconvening under the full band name Blackmore adopted after leaving Deep Purple in 1975, this rebooted Rainbow have no connection to previous line-ups, besides their guitarist and founder. Drummer David Keith and bass guitarist Bob Nouveau are both veterans of Blackmore's Night, while authentically hairy Jon Lord-ish keyboard player Jens Johansson is on loan from Finnish power metal troupers Stratovarius, and Chilean-born singer Ronnie Romano from his own Spanish-based group, Lords Of Black.

Purists might argue that this glorified tribute act have scant claim on the Rainbow name, but let's face it, Blackmore is Rainbow, and vice versa. After all, even at their commercial peak in the late 70s and early 80s, they never recorded two albums with the same line-up. And more than any other genre, old-school metal seems to have the flexibility to adapt and survive in the face of constant personnel changes. Band members are temporary; great songs endure.

But first things first: opening for Rainbow are Mostly Autumn, whose proggy, folky, knowingly nostalgic take on hard rock is a good match for Blackmore's various musical identities. Normally an eight-piece collective, they are slimmed down to a trio in Birmingham, with Bryan Josh and Olivia Sparnenn sharing vocal harmony duties.

"Ritchie Blackmore was my hero growing up," Josh gushes. "If you told me back then that I'd be playing a show with him one day, I would probably have spontaneously combusted." He doesn't burst into flames, alas, though his guitar comes pretty close during the cosmic wig-out finale of Heroes Never Die.

Long before Blackmore even arrives, the mood in Birmingham is emphatically old-school metal; all grey-haired Saxondale rock-blokes squeezed into Whitesnake T-shirts that betray a lifetime of real-ale pub lunches. All the same, this near-capacity crowd is surprisingly diverse in age and gender, with a healthy balance of male and female, and young and old.

Even Rainbow's stage set looks like a self-consciously retro tribute, with a wood- encased Hammond organ and modest drum kit huddled at the centre of a bare stage. The sole concession to high-tech theatricality is a rainbow-shaped archway of lights standing high behind the band, rippling with different colours throughout the evening like the entrance to a vintage fairground thrill ride.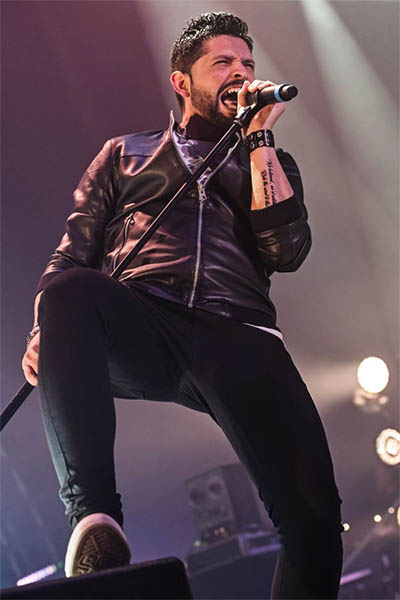 Barely updated since Blackmore's 70s heyday, this is analogue-age arena-rock spectacle from an era before heavy metal splintered into glam, thrash, doom and post-grunge subgenres. On the one hand, it feels disappointingly spartan. On the other, it's an impressively forensic exercise in historical reconstruction. This is a performer, after all, whose favourite musical era is the 1520s.

Arriving to boisterous cheers, Blackmore remains a diffident stage presence, his communication limited and his charisma confined to fretboard pyrotechnics. His current look is saturnine and quietly louche, midway between Jason King and the Witchfinder General. He barely says more than two words to the crowd all night, though he kneels before the front row at several points, ritually sharing his beer. By the usual standards of rock-star egomania, Blackmore's style is refreshingly reserved. He came here with one job only: to play guitar like a flame-fingered axe god in Valhalla's very own house band. Nothing more, nothing less.

The opening gambit is Deep Purple's Highway Star, which becomes a nimble, knotty three-way dance between guitar, bass and organ. While it hardly blows the roof off, one thing is instantly clear: Blackmore's publicly aired anxieties about his declining agility on the strings are a little premature. He sounds as dextrous as ever, from vaulting arpeggios and staccato blues licks to neo-classical flurries, breakneck shredding and Hendrix-level ostentation. There is life in the irascible old goat yet. Rainbow's Spotlight Kid is next, its boneshaker rhythm adorned with more filigree guitar work and two female backing singers, including Blackmore's longtime life and music partner Candice Night, who add a heady whiff of Stonesy gospel-rock sorcery to the cauldron.

Also abundantly clear from these opening numbers is Ronnie Romano's vocal prowess. Of all the giants whose shoulders he stands on – from Ian Gillan to David Coverdale to Joe Lynn Turner – the 34-year-old Chilean is closest to Ronnie James Dio in poise and delivery. Comfortable with the ballads but tapping great reserves of lung power during the louder tracks, he throws great shapes and shoots for maximum melodrama. Proof that fresh blood and lusty vitality can make ancient songs sound brand new.

Dressed down in casual non-metal gear, the singer adds a youthful edge to Rainbow's latest reboot. There are faint echoes of Adam Lambert fronting the current Queen line-up here, but Romano is clearly screeching to the converted.

Even Romano's short hair appears to have met with Blackmore's approval. The famously tetchy taskmaster must have mellowed a little since his farcical attempts to prevent singer Graham Bonnet sneaking away to the barber during Rainbow's commercial peak.

Romano also does most of the talking tonight in his faintly amusing second-language English: "We've been waiting such a long time for this moment, isn't it?" he beams. We sure have. It certainly is.

Blackmore initially suggested there would be a 70/30 split between Rainbow and Deep Purple material at these shows, but it actually turns out to be a fairly even split. Indeed, he's missed a trick by not performing these shows under the name Purple Rainbow. Doh! But whatever it says on the poster, it's the Purple songs that steal most of the thunder in Birmingham.

Sounding monumental in scale, the bluesy slow jam Mistreated is an early highlight, packing real punch and swing, a hefty stomping beat and an undertow of carnal yearning. With sparks almost zinging from his fingers, Blackmore piles on the maximalist guitar adornment, stirring lustrous eastern-tinged melodies into the churning maelstrom.

On balance, the Rainbow tracks pale slightly when compared to the richer Purple material. Man On The Silver Mountain and Catch The Rainbow both drag a little, even if Romano's powerhouse vocals lend each of them extra clout, while the facile Pavlovian crowd-prodder Long Live Rock 'N' Roll has not aged gracefully.

That said, there are some blazing peaks from the Rainbow canon too, including their biggest smash hit Since You've Been Gone. This immortal Russ Ballard cover still sounds like the perfect pop-metal anthem, full of zing and zest, roaring gradients and kinetic key changes. Detonating like a controlled explosion, it is by far the most concise, catchy and commercially slick song played tonight, and it never fails to get the adrenaline pumping.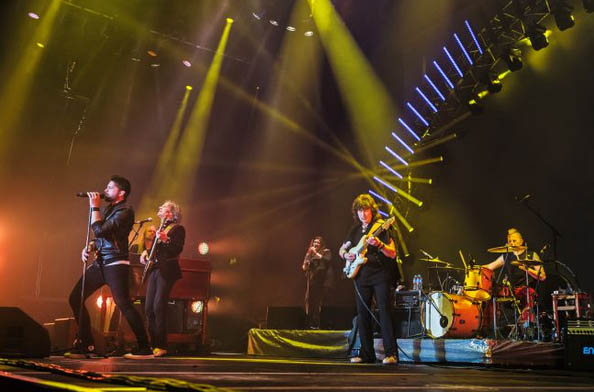 The sprawling centrepiece of this show is the epic instrumental Difficult To Cure, which is essentially a rocked-out cover version of the finale of Beethoven's Ninth Symphony, aka Ode To Joy. As this tune is the European Union's adopted anthem, it's tempting to read this inclusion as a timely post-Brexit statement from Blackmore, who's lived in Germany for long spells over the years. Except, of course, he began playing this tune in Rainbow shows more than three decades ago.

Following his blazing introduction, Blackmore vacates the stage for 15 minutes as the drummer, bassist and keyboard player all work up frenzied solos and duelling sections. As the tune hits a crescendo of overblown pomp, he re-emerges to pick up the original melody once more. Totally old-school, preposterous but exhilarating all the same. Roll over, Beethoven.

Soldier Of Fortune is another slow-burn Purple ballad, building from an acoustic intro into an arm-waving, phones-aloft anthem. Child In Time is also magnificently moody, and includes a speed-riffing solo that could stun a horse from half a mile away. The all-time boogie-metal classic Black Night also packs a wallop, its growling vocal and strutting bassline making for a robust pre-encore climax.

The ripest slab of vintage Rainbow comes late in the set in the form of Stargazer, a Blackmore/Dio monster from 1976, which weaves an exotic melody around an operatic storytelling lyric about Egyptian slaves and wizards. Palatial in scale, full of secret chambers and hidden corridors, this shamelessly overblown baroque-and-roll behemoth features a climactic section in which the female chorus follow the contours of Blackmore's luxuriant guitar solo. Stupendous.

The encore is a double whammy of Purple cuts. Once a career-launching vehicle for David Coverdale, Burn is surging and anthemic, ablaze with florid keyboard runs and sawn-off riffs, propelling fruity black magic lyrics about burning a witch: 'I didn't believe she was the devil's sperm…' Hell yeah. Diabolically great.

The obligatory closing number is, of course, Smoke On The Water. Blackmore must be sick to death of cranking out his most globally beloved caveman riff by now, but he rescues it from decades of guitar-lesson cliché with a lean, gravelly version that's more gritty garage blues than pub-rock karaoke. Sloping offstage with a perfunctory wave, he leaves the band to finish the song and his backing singers to link arms for a celebratory jig. The mood in the crowd is similarly euphoric. Even after two decades away, Blackmore can still deliver the goods.

The last few years have seen way too many farewells, funerals and final tours right across the rock spectrum. Indeed, one reason that Blackmore has given for revisiting Rainbow in 2016 was the recent loss of old comrades Jon Lord and Ronnie James Dio. One by one, rock's founding fathers are stepping down or slipping away.

Of course, seeing Rainbow back in action is not quite on the same historic scale as Black Sabbath's current retirement tour, but Blackmore's latest comeback is no antiques roadshow either. Hearing these classic songs performed in their full-blooded pomp by the man who wrote them remains a rare, joyful, life-affirming experience we should all savour for as long as he is still willing and able to play them. Blackmore has already hinted that there may be further dates next year. Judging by his rapturous reception in Birmingham, the demand will be huge. This feels like a door opening, not closing for the last time.


© Stephen Dalton - Louder