Ritchie Blackmore's Rainbow

Genting Arena, Birmingham, UK June 25, 2016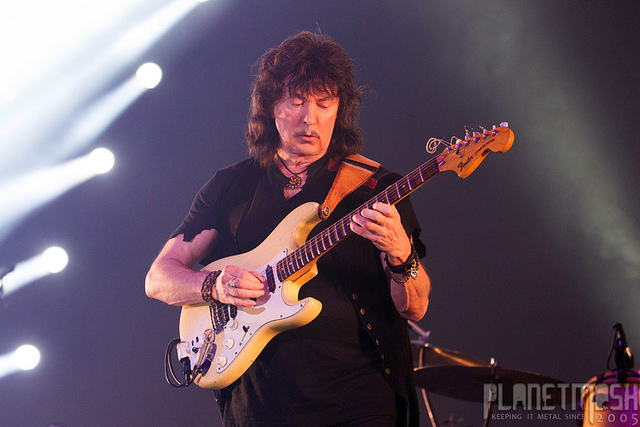 Tonight's gig was a band I thought I'd never get to see – Ritchie Blackmore's Rainbow. It's a long time since Ritchie Blackmore has played rock, so this mini-tour of three dates in Europe (none announced for anywhere else in the world so far) was a very rare chance to get to see a rock music legend perform some classic songs from his time with Rainbow and Deep Purple.

First up was the support act, Mostly Autumn. I suspect most of the audience were seeing them for the first time tonight, and they did seem a slightly odd choice to open for Rainbow – you'd expect a classic rock act but instead we have a more Prog sound from Mostly Autumn. Lead singer Olivia Sparnenn has a lovely voice, and the band are great musically. I definitely enjoyed their set, but on a night like this, no matter how good the support, people were here for Ritchie Blackmore.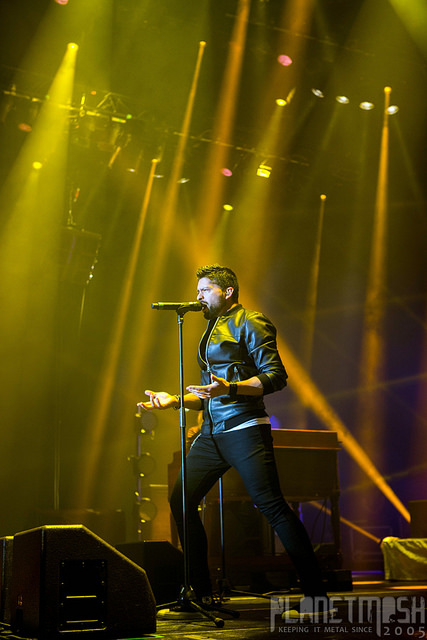 After a slightly longer than planned break, the lights went down and the intro tape started. Then the band came out, with the appearance of the man himself, Ritchie Blackmore being greeted with huge cheers. For his band, Ritchie Blackmore has brought along Blackmore's Night drummer David Keith, former Blackmore's Night bassist Bob Nouveau and Stratovarius keyboard player Jens Johansson. He also has two backing singers including his wife Candice Night. His choice of singer was a leading subject of discussion as rather than choosing a former Rainbow singer (somethign Joe Lynn Turner was quite vocal about), he's opted for an unknown singer, Ronnie Romero. It's a decision that I think most of the audience approved of fairly quickly as he showed he had a voice able to cope with songs that were originally written for and performed by a range of vocalists – Ronnie James Dio, Ian Gillan, David Coverdale and Joe Lynn Turner. That's a wide range of stuff, but Ronnie Romero does a great job of singing them all, and he certainly looks and acts the part of rock frontman. The only area he needs to improve is his between-song banter.

Ritchie Blackmore may be 71 years old but he can still play guitar. Admittedly his playing isn't quite as flawless as in his younger days but he's still a superb player, and as far as most of the crowd are concerned, he can do no wrong. Hearing him play those classic songs is a real treat. The set tonight is a mix of Deep Purple and Rainbow songs, and with some of them, Blackmore played just a few opening notes before the crowd joined in and sang the words, that's how well known and loved these songs are. It's hard to pick out a particular highlight – the whole show was a highlight really.

Partway through the set, during "Difficult to cure" Blackmore and most of the band left the stage for a rest while we got a drum solo then a keyboard solo before the others returned to the stage to finish off the song. We had classic hard rock with songs like "Highway star" and "Black night" as well as softer songs like "Soldier of fortune" and "Child in time". For the encore we got "Burn" and then without playing the famous riff, Ritchie Blackmore quietly played a few notes and Ronnie Romero started the vocals and with the crowd singing along we had "Smoke on the water". Surely we weren't going to be robbed of the chance to hear Ritchie Blackmore play that riff one last time? Happily it wasn't too long before Ritchie cranked up the volume and we heard that riff – which has to be one of the most instantly recognisable in rock music. What a great way to end a fantastic night.

I'd been looking forward to tonight with high expectations, and am happy to report that Ritchie Blackmore's Rainbow not only met those expectations, but exceeded them. This really was an amazing gig, hearing the classic songs I grew up listening to, being played by the man who created them. A night I'm unlikely to ever forget.


© Ant May - Planet Mosh