Ritchie Blackmore's Rainbow

Genting Arena, Birmingham, UK June 25, 2016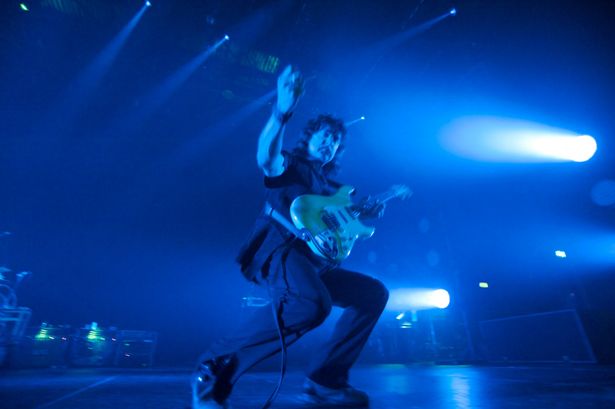 Ritchie Blackmore triumphs as Rainbow play Deep Purple hits at Genting Arena



It was a gig stuffed with some of the best of Deep Purple and yet, in the end, it was somehow a Rainbow show, too. A truly memorably night which glowed brightly in the darkness of the Genting Arena thanks in no small part to the clever electronic rainbow spanning the rear of the stage. The sheer musical dexterity of the gig justified the effort many had made to be there – even in a relatively small sample test, I met fans from Manchester to London and from Belgium, Cardiff, Malta and Greece (via Germany).

All night long, the air was rich with European accents of all persuasions. Guitarist Ritchie Blackmore has never suffered fools gladly, but, at 71, here was a near two-hour test to put his reputation as a perfectionist on the line. Deliberately choosing Birmingham's vast but still intimate Genting Arena for the honour, this was the first indoor rock concert he had played for two decades just a week after two festival shows in Germany. What was the point? Why bother disappointing fans of both bands by calling himself Ritchie Blackmore's Rainbow and making a hash of playing Deep Purple?

Well, after 20 years of playing medieval music with Blackmore's Night, the man in black from Weston-super-Mare clipped his finger nails, returned to his roots and simply got on with it. Even though Blackmore's Night drummer David Keith's kit was the smallest I've ever seen at major rock gig, it's how you play that counts. And so Ritchie kept faith with him because of his "feel for rhythm", with ex-Blackmore's Night bass player Bob Nouveau, also from Connecticut, returning with a big smile on his face.

Swedish keyboardist and pianist Jens Johansson currently plays in the Finnish power metal band Stratovarious. No matter that his gear looks like an old wooden bureau on spindle legs that had been found in a skip, the late Jon Lord from Deep Purple would surely have enjoyed his enormously varied contribution. The night, though, belonged to frontman Ronnie Romero, originally from Chile and now fronting Spanish metal band Lords of Black.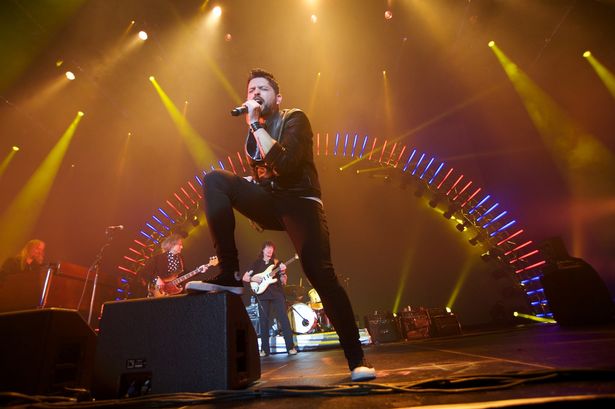 So much so that "Ronnie Romero" was all that Ritchie said to the crowd when he took the mic. If this is the last time Blackmore ever plays a gig like this, then it will go down in rock history as a one-off high. To paraphrase the TV talent show verdicts, the fact that Romero genuinely "nailed" every single song from the Ian Gillan and David Coverdale eras of Deep Purple, through to the Ronnie James Dio, Graham Bonnet and Joe Lynn Turner versions of Rainbow was, quite simply, astonishing. If only Ritchie Blackmore's Rainbow was Romero's band, he might have injected a touch more personality into the night and made up for Ritchie's inclination simply to stand back and play.

Romero did speak to the crowd in between every song and with natural warmth, though, using the Perfect Strangers title from the last Deep Purple classic line-up reunion to tell his new, cheering audience they were no longer strangers. Dressed in black and, without Blackmore's cream Fender round his neck, Romero would have been hard for fans right at the back to pick out given there were no video screens. And he might look more like Freddie Mercury than someone who could convince you of the reality of wizards, like Ronnie James Dio.

But Romero more than did justice to Dio's Man on the Silver Mountain, Catch the Rainbow and Stargazer, the stand-out track from the seminal Rainbow Rising album which would have sent shivers down the spines of anyone hearing it live for the first time. Decades have passed since Ian Gillan could sustainably reach the high notes of Child in Time like this – and he never had the luxury of two female backing singers either.



But Romero could also handle Coverdale's range from Mistreated to Soldier of Fortune and even a blistering version of Burn, too. Two days after the EU Referendum vote, perhaps Burn was included with a touch of irony as it was the opening track on the 1976 live album Made In Europe, released after Deep Purple had broken up. An energetic Spotlight Kid – the sole nod to Joe Lynn Turner – didn't feel out of place riding on the back of the set-opening Highway Star, while Since You Been Gone was a crowd-chanting token nod to Rainbow's 1979 pop sensibilities when Graham Bonnet had replaced Dio and a cover version (of a Russ Ballard song) was deemed acceptable. Some fans called out for (Rainbow's) Kill The King, but Blackmore hasn't played it since 1978 and that would have been one surprise too many.

Me? I'd have loved Tarot Woman or Light in the Black from Rainbow Rising (1976), but at least Black Night and the encore Smoke on the Water were played with a deep reverence to how they sounded when they were written more than 40 years ago with Ian Gillan's classic Deep Purple line-up. Concentrating on his notes while clearly enjoying himself, Blackmore was often content to often stand at the back or in front of the drums. Though he rarely ventured truly forward and only raised his right arm gently to conduct, Blackmore did at one point rather gracefully – for his age – go down on to his knees at the front of the stage before briefly waving his arms with the synchronicity of a pair of windscreen wipers.

With wife Candice Night one of two backing singers behind, he had no problem getting back up either, which perhaps bodes well for the father of their six-year-old daughter Autumn fancying another crack at the art form he helped to pioneer alongside the likes of Tony Iommi, Jimmy Page and Pete Townshend. If you enjoy playing, and are this good, then why not? As the Ronnie James Dio era song goes... Long Live Rock 'n' Roll.


© Graham Young - Birmingham Mail / © All photos: Graham Young