Ritchie Blackmore's Rainbow

Monsters Of Rock live review

Loreley, Germany June 17, 2016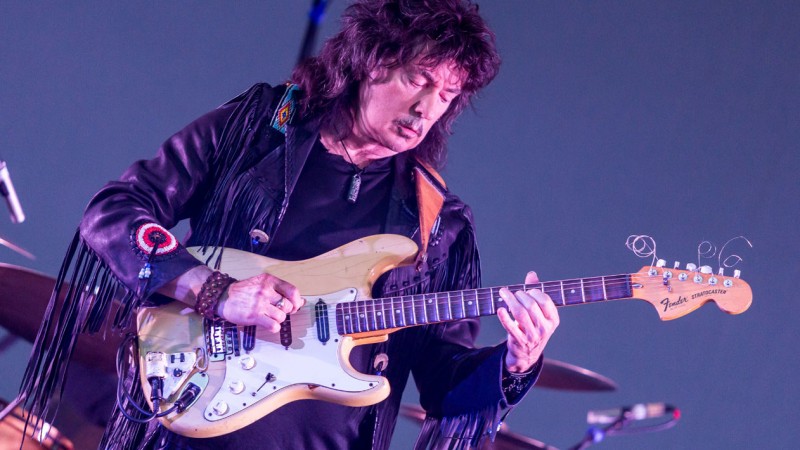 Last night, the new line-up of Ritchie Blackmore's Rainbow made their live debut in Germany. Classic Rock were there to see another Rainbow rise

Rumours are spreading like wildfire: "They may open with Highway Star."

Instead of Kill The King?

What the hell is going on? Well, the answer's simple: it's Ritchie Blackmore, and he's back in business. The Man in Black. The man who plays by his own rules. The master of practical jokes. A man with the balls to capture the first gig of his reunited Rainbow line-up on film for a future DVD release, with a band that has never played live before.

Blackmore has been away for almost twenty years. After he left Deep Purple for the final time in 1993, he reformed Rainbow for one album (Stranger In Us All) and one tour, ending things in Denmark in 1997. From there on he was only seen in strange clothes performing medieval music with his wife Candice Night, preferably in those old German castles he loves so much. No more guitar smashing; the brain behind classic hard rock anthems like Smoke On The Water and All Night Long had left the rock'n'roll building.

So when the news broke that he might do some shows torturing that famous white Stratocaster again, former Rainbow and Deep Purple vocalist Joe Lynn Turner wasn't the only one eager to clamber on board once more. But Blackmore has always been like that box of chocolates in Forrest Gump: you never know what to expect. Instead of calling old buddies like Bobby Rondinelli, Bob Daisley, Don Airey or somebody else from those good old days, he opted for another way, forming a new band out of the blue. But does it matter? After all, Rainbow never recorded two albums in a row with the same line-up. And if you'd asked any of the people standing in the muddy theatre, nine out of ten would not have been able to tell you the new singer's name.

It's all about the guitarist. Almost 13,000 fans have made their way from all over the world (some from as far away as South America) to see one 71-year-old man playing his guitar and his songs for the first time in almost twenty years, and you can tell from the opening chords of that classic Wizard Of Oz intro Over The Rainbow that they've been starved.

When Blackmore (in black bell-bottoms and fringed jacket) enters the stage at last, the crowd goes nuts, and the whistleblowers were right: they open with Highway Star, but in a singalong style (Black Night gets the same treatment later on).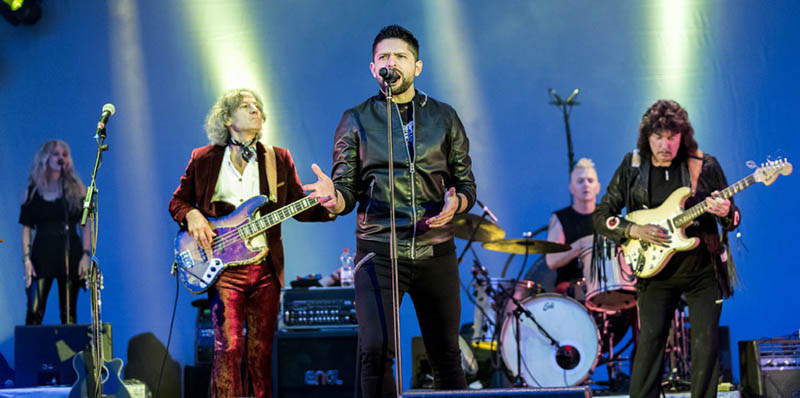 Thumbs up for 34-year-old Ronnie Romero: he hits the first note right and never falters the rest of the night. The young Spanish resident from Chile may look like Adam Lambert in sneakers, but his voice is simply awesome: his version of Coverdale's signature tune Mistreated is terrific, and he even takes Gillan's Child In Time to another dimension. After he dedicates Man On The Silver Mountain to the late Ronnie James Dio, he has the audience in the palm of his hand. Nice move. His boss also appears to be satisfied, making his way to the first row to gave away his beer before going to the mic and talking, even making Romero introduce Stratovarius keyboardist Jens Johansson twice. History in the mud.

Quibbles? Blackmore could have hired a more appropriate rhythm section: bassist Bob Nouveau's style is way too funky for this classic hard rock set, and Bob Keith's drum set looked like one Cozy Powell might have received for his ninth birthday. And maybe, just maybe, Rainbow could have played more Rainbow songs.

After all, that's what the punters expect at a Rainbow concert, right? If you promote a series of comeback rock shows as being "nostalgic", why not give people the nostalgia they might expect from the Rainbow Rising tour shirts - with the 1976 dates on the back - available for 25 euros at the merch stall?

The crowd's reaction to last night's climax of Long Live Rock'n'Roll and Stargazer was truly amazing. It felt like the place had erupted, with people dancing and singing all over the place, having the time of their lives. But if we're ever to see All Night Long or I Surrender or Starstruck or Sixteenth Century Greensleeves in the future (if there is one!), perhaps Blackmore could leave out lesser Purple standards like Perfect Strangers.

And maybe they could open with Kill The King.

© Joerg Staude - Team Rock / © All photos: Thorsten Seiffert