Maverick
featuring Ronnie Romero

P60, Amstelveen, The Netherlands September 23, 2016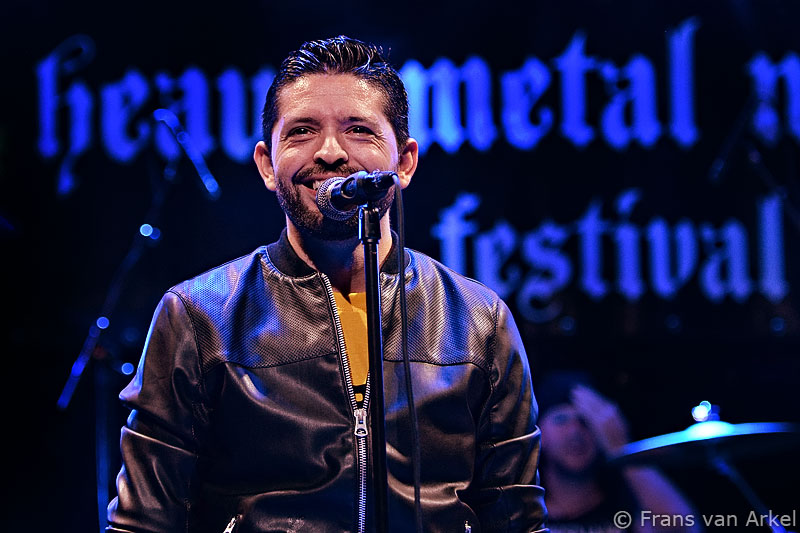 Just after Ronnie Romero finished the tour with Lords of Black as support act for Axel Rudi Pell he hooked up with his Spanish friends of Maverick to join them for two dates in The Netherlands. Since their singer David Requejado was not available for these dates the young Spanish band asked Ronnie to help them out for these shows.

Maverick is a young Spanish band that released in October 2015 their debut EP "Break It Up". The band is grounded in 2014 by their bass player Javier Endara (ex-Wild's frontman). The EP included 5 of their own songs plus a cover of Gary Moore's 'Out In The Fields' as a bonus track. Their style is a mix of Thin Lizzy, early Whitesnake, 70's-80's Judas Priest, Dokken and Foreigner. Besides Javier Endara the line up of the band has ┴ngel Mu˝ˇz (ex-Steel Horse, Nigromante) on guitar, Chris Giardino (ex-Eldorado) on drums, David Requejado (ex-Perfect Smile, Alborea) on vocals and Alejandro Gabasa (Leather Heart) on guitar.

In Amstelveen they opened the two day Heavy Metal Maniacs Festival. A nice cozy festival with many obscure bands that have had their origin in the NWOBHM period in the early eighties. Maverick kicked off the first night with their fine melodic hardrock. Ronnie Romero sang their songs very well, he only passed on the Gary Moore track 'Out In The Fields' which got sung by bass player Javier Endara. When guitar player Alejandro Gabasa got some technical problems the other guitar player, ┴ngel Mu˝ˇz, played the riff of 'Man on the Silver Mountain' and Ronnie joined him briefly. Later on in the show we got a full Rainbow track after all. Romero said he loves Ronnie James Dio but also likes Joe Lynn Turner. And they were going to do one of the songs from his period with the band. They gave the audience a fine version of 'Spotlight Kid' which was the highlight of their show.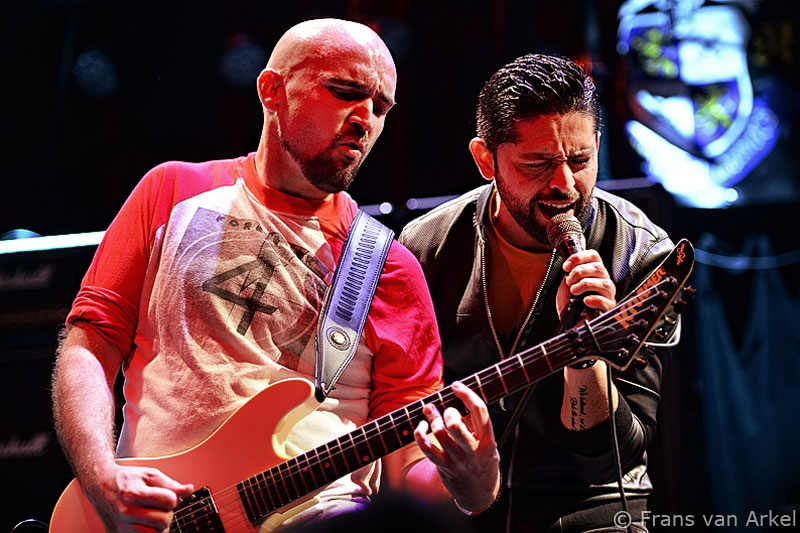 After 40 minutes their show was over. They seems to have enjoyed themselves very well on the stage and were later on hangin' around in the venue watching the other bands. The next day they were all also present at the festival as ┴ngel Mu˝ˇz is also the bass player for yet another young promising Spanish band named Frenzy, a fine Judas Priest type of band which also impressed the audience.

Other bands on the bill of this festival were the Dutch band Jackal, German speed metallers Iron Angel (Jürgen Blackmore once was briefly a member of this band and two of the current line-up's members played in the past in Jürgen Blackmore's Superstition!), the British NWOBHM bands Troyen, Salem (great performance) and Savage, Iron Kobra and Iron Thor (there was a lot of 'iron' from Germany on this festival), Swedish answer to Judas Priest RAM and headliner ex-WASP guitarist Chris Holmes with his band Mean Man.

It was funny to see Iron Thor doing a copy of the show his dad Jon Mikl Thor (remember him? the guy who blew up hot water bottles on stage) got known for in the 80's. Same songs, but a very poor singer. The show however was visual the highlight of the fest with all the tricks (the heavy hammer, bending a steel bar and fighting with Vikings. Mean Man Chris Holmes went through hard times as guitar player next to Blackie Lawless in WASP. Later on his career went downhill fast and he released some pretty poor solo work. Still it was an entertaining performance with a handful of WASP classics. He ended the festival by inviting all the bands on stage to do a version of AC/DC's 'Highway To Hell'. Nice way to end this two day festival.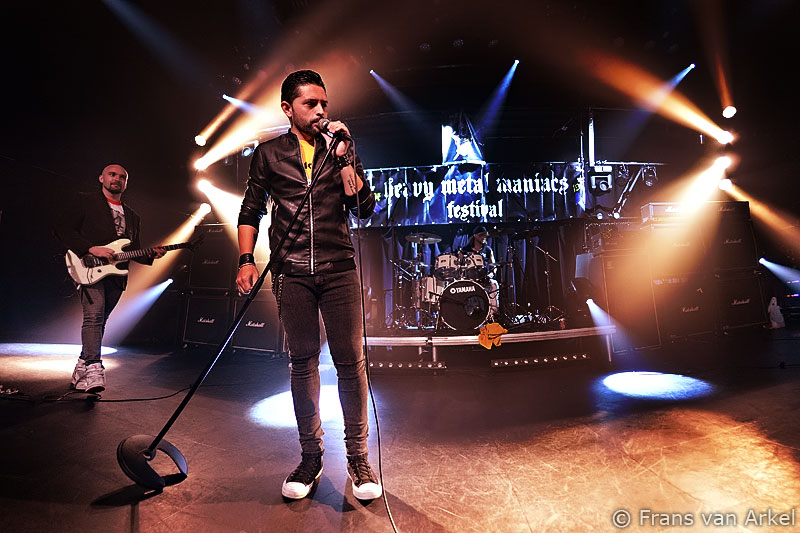 The next day Maverick and Frenzy both also played all the way up north in a very small venue in a small village called Nieuwe Pekela. The venue was not filled that well, even tough the capacity of only 125 and the show was on the late Sunday afternoon. Maverick did the same set with again "Out in the Fields" and "Spotlight Kid" on the setlist. Also 'Man on the Silver Mountain' was played very briefly, this time without Alejandro Gabasa having technical problems though.

To conclude we can say it was great to see the guy who did so well last June on stage with the mighty Ritchie Blackmore enjoying himself and his Spanish mates on this trip in The Netherlands. The Spanish bands stayed on a low budget camp site and had a great time. No big ego's and other bullshit here. They just went out, played some pretty cool shows and gave the fans one hell of a time.

Maverick will be support-act for Graham Bonnet in Madrid in Spain on November 3rd while Ronnie Romero will return early December again to the Netherlands. They'll then do two gigs in Zoetermeer (December 2nd) and Hoorn (3rd) as part of their 'Merciless Over Europe' Tour.