Demon's Eye

with Doogie White

Asta Theater - Beek, The Netherlands October 4th, 2015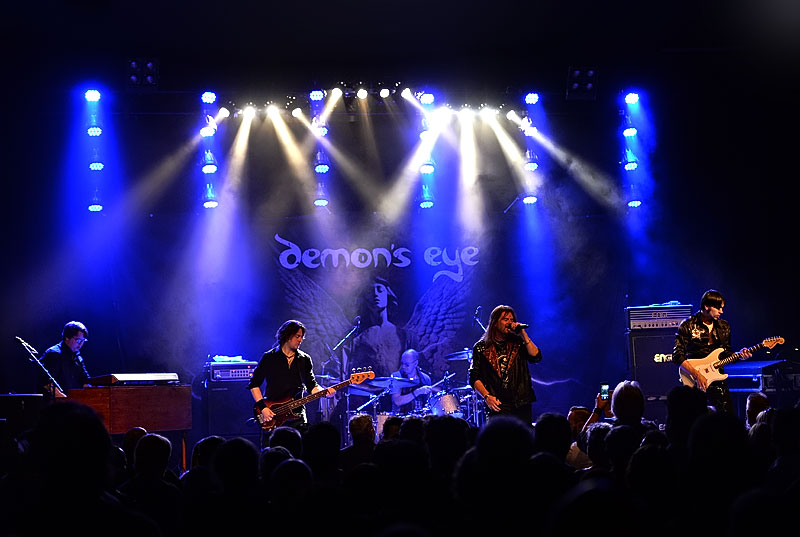 Demon's Eye released two weeks ago their second studio album titled 'Under The Neon'. Like on their debut 'The Stranger Within' ex-Rainbow singer Doogie White is the vocalist. To promote the album Demon's Eye are doing a two week live tour through Germany with one show abroad. That show was just over the German border in Beek, a little village in The Netherlands near Maastricht.

In Beek the support act was Steeler, a Led Zeppelin tribute band. Actually it was more a double headliner as this Led Zeppelin tribute band played 80 minutes including an encore in which they did 'Stairway To Heaven'. Their guitar player Luca Giordano handled a double neck guitar in that song. Before that we'd seen him busy with the violin bow just like Jimmy Page used to do in his days with Zep. Also the singer Marijn Geluk, bass player JP Hofman and drummer Lennard Veldhoen played their parts very well. They delivered all the known Led Zep classics. Steeler showed they are a very good tribute band. Even Jimmy Page himself was impressed by this band and once said about them "these guys keep the Led Zeppelin flame burning in the best possible way".




Even though we enjoyed the Steeler show pretty much, we ofcourse travelled all the way to the very south of Holland to see in the first place Doogie White and Demon's Eye. We all known the skills of our Scottish rawker Doogie White. Since 2008 he has performed regularly on stage with the band from Germany. The rest of the band however is also top notch. Guitar player Mark Zyk breathes like Ritchie Blackmore, his guitar playing is phenomenal, he mastered all the known Blackmore moves and signs, maybe only misses the real charisma of the one and only Man in Black himself. Still it's a great experience to see him play his Stratocaster live on stage. Also the others in the band doing their part excellent with drummer Andree Schneider, bass player Maik Keller and keyboard player Gert-Jan Naus. The last one we saw perform last year with Physical Graffiti..... another Led Zeppelin tribute band, and a great one too.

Demon's Eye kicked off their show after the 'Epic' intro with 'Road To Glory' just like their new album starts. With versions of Deep Purple 'Stormbringer' and 'Space Truckin' they got the audience in the mood. The band played some more of their own material which is actually pretty good. From their debut they only did one song, 'Far Over The Rainbow'. But with 'Five Knuckle Shuffle', 'Finest Moment' and 'Welcome To My World' they promoted the new 'Under The Neon' very well. All great songs in the Purple/Rainbow vein but with a modern feel that showed the band's own style. I guess we can say they are definitely one of the bands that filled the gap of missing a band like Rainbow these days.




In between all their own material they did some very good versions of 'Ariel', 'Man On The Silver Mountain' and 'Child In Time'. The last part of their show was another bunch of classics from the days of Deep Purple and Rainbow. We got 'Tarot Woman', 'Mistreated', 'Black Night' and 'Highway Star' to end the set. And there was more to come in the encores. First there was a splendid version of 'Perfect Strangers' that included also 'Stargazer' followed by 'Burn'. The second encore ended the show in a sensitive way with 'Temple of the King' that was dedicated to Ronnie James Dio, Cozy Powell and Jon Lord. The show got finished with an outro in which we heard 'Remember Times Like These', a bonus track from the new album. The song is a tribute to Jon Lord who, in 2009 and 2010, also has been performing live with Demon's Eye.

Demon's Eye showed in Beek that they are the ultimate Deep Purple/Rainbow tribute. But not only that, they are not just only a tribute band. With two albums of own material that is just very, very good the band has proved to have outgrown the 'tribute' label. They could do without a doubt a show on their own material without any covers. They might disappoint the fans that way so they choose the best out of two worlds for the gigs on this tour with both their own as well as Purple/Rainbow songs. And this way they gave all the fans who came to this show an excellent Sunday night.

Setlist:


Intro: Epic
Road To Glory
Stormbringer
Space Truckinī
Five Knuckle Shuffle
Far Over The Rainbow
Ariel
Man On The Silver Mountain
Child In Time
Finest Moment
Welcome To My World
Tarot Woman
Mistreated
Black Night
Highway Star

Perfect Strangers incl. Stargazer
Burn

Temple Of The King

Outro: Remember Times Like These