Rock Icons close up with
Joe Lynn Turner

Leipätehdas - Vaasa Finland April 24th, 2015

If someone had told me in the early 1980s that the vocalist of Rainbow would someday perform live in the small town in Finland where I was born and raised, I would simply not have believed it. Back then, if international stars even came to Finland at all, it was usually Helsinki that hosted the events. Before the age of internet it was extremely difficult to find out about and get tickets to something like that. Internet with all its ticket services and social media has brought my heroes into my life in a way I would never have dreamed possible.

Joe Lynn Turner has toured Finland quite frequently and this was the second time I saw him live in Vaasa. Both times the venues have been quite small. It feels surreal and very special to me that he would sing in a pub in Vaasa. This close up and close to home, no way???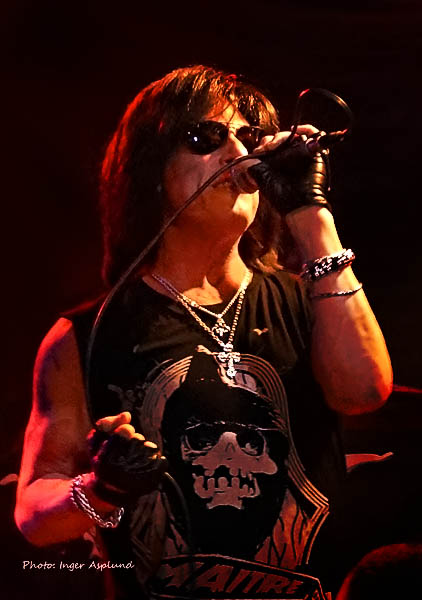 The opening act was a Swedish rock band called Captain Black Beard that I was not familiar with. They rocked and they were energetic all right. Unfortunately it was impossible to hear any of the lyrics because the singer's voice drowned in the loud music. Their performance was not as enjoyable as it might have been, had the sound been more balanced.

We waited while the stage was being prepared for the next act. And then finally the Rock Icons came walking right through the audience towards the stage, followed by Joe Lynn Turner himself. Rock Icons is a Swedish/Danish band with Søren Andersen on guitar, Pontus Engborg on drums P-O Nilsson on keyboards and Ken Sandin on bass guitar.

They began at high speed with "Death Alley Driver" and "I Surrender", then "Perfect Strangers", "Stone Cold," "Jealous Lover" and "Street Of Dreams." Before singing "Can't Happen Here," Joe briefly mentioned the situation in the world right now. Sadly the lyrics still ring true today and yes, maybe it CAN happen here?

After "King Of Dreams," Joe dedicated "Man On The Silver Mountain" to the late Ronnie James Dio. It always sounds brilliant live I must say. I would recognize that intro anytime anywhere, even in my sleep. The work of geniuses. You could tell the rest of the audience felt the same way. The show ended with "Spotlight Kid" and, since the audience demanded an encore: "Long Live Rock And Roll."

Rock Icons did a fantastic job with all those Rainbow and Deep Purple classics and Joe's voice was absolutely flawless. Of course we expected nothing less - and they delivered.

What a magical night to remember. Thank you guys and see you next time!






Review, Photo & Video: © Inger Asplund