Don Airey

Progression Club, Warsaw, Poland March 21, 2015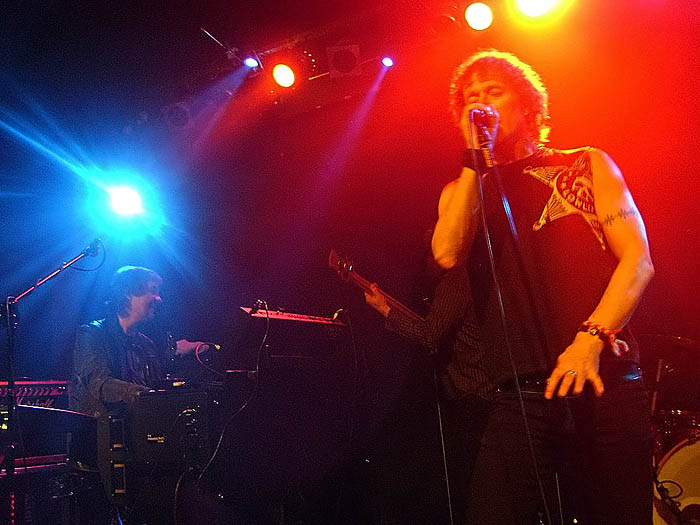 Now, I have to say it, this WAS THE REAL TIME MACHINE. I mean, we go a bit to the concerts of th performers who are quite far after the days of yore and we usually enjoy the sentimental trip, still it often doesn't sound as exciting as in the old days. This wasn't the case here.

Thanks to assembling a killer backing band for his own immense tallents Don Airey - the man who IS a living history of classic rock - managed to pull the switch and take his audience of 300+ way back and, quite surprisingly, it was no more, no less but... 'Down To Earth' tour from 1979.

Theoretically this short tour of Europe (quite intense, they did 12 gigs within 14 days) was supposed to promote the latest solo release by Don, the great 'Keyed Up' album. Quite surely his best to date, filled with great performances and the guest slots by the comets of Graham Bonnet and Gary Moore (possibly his last ever recorded guitar parts were used for The Suite and re-arranged Adaggio originally composed in baroque age by Albinioni) it indeed deserved a chunk of promotion. Somehow though, the setlist got reconstructed to the way of basing largely on Don's first Rainbow album - and the one he for years seems to remember most fondly from the period.

The great music proves it's qualities even better with passing time and coming of age, slowly turning timeless. I have to admit that opening the set with the epic 'Mars: The Bringer Of War' theme, announcing 'Eyes Of The World' is a real brainkicker, guaranteed to send the dino-rock starving buggers into a bliss of frenzy. With the awesome vocal skills of Carl Sentence (who's about to start fronting Nazareth this year) and the revelation in shape of Irish guitar wizard Simon McBride - we could really feel transported 35 years back, right in front of the stage owned by vintage Rainbow. If in 1979 the album could have felt as the setback to more pop-oriented sound, then in 2015 it clearly appeared that this material wasn't less gritty and rocking than anything Rainbow has done prior to it. Airey's band not only provided the must chestnuts of 'All Night Long' and 'Since You Been Gone' mega hits around the end of the set / start of the encores - but decided to do the stuff that the Rainbow's Bonnet incarnation never took for a concert ride. 'No Time To Loose' slayed in live setting - it's almost impossible to understand why Blackmore and company treated it like a 2nd cathegory track in their days. We also got a rousing version of the 'Bad Girl' outtake from the sessions which served as the second (unplanned, but forced by the extatic audience) encore. It did kick balls too, again proving to highlight how good the 'Down To Earth' material was / is. Don Airey also took some liberties to dig into the mood of that specific tour even deeper: before 'All Night Long' he performed with Mc Bride the medley of Bach's Brandenburg Concerto paired with 'Over The Rainbow' - exactly as Don did with Blackmore during the 1980 Rainbow gigs. In addition the 'Lost In Hollywood' arrangement was enhanced by a large portion of the solo sequence from Rising's 'A Light In The Black'. If we round it up with the Beethoven's Ninth a'ka 1981's 'Difficult To Cure' - one may say that it really was a Rainbow trip, this gig, but thankfully it was only one of the shades it had.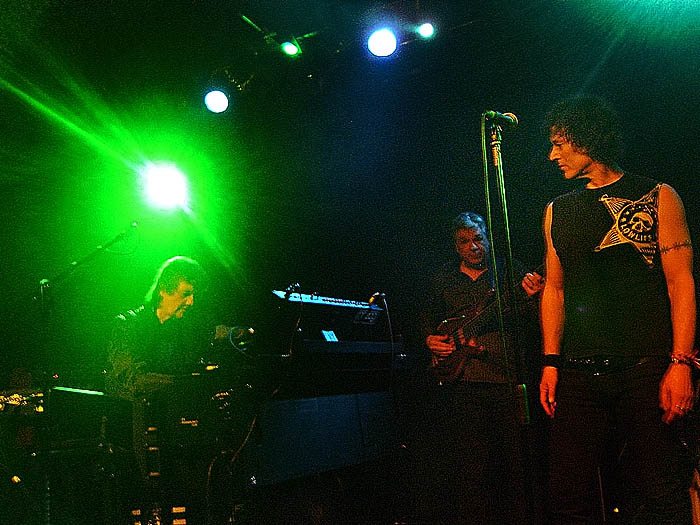 Don Airey in his welcome speech said: "This is the celebration of my 40 years in classic rock that went on just like that: 'whooosh!' " - and justifiedly he took some shots from other stints of his rich career. There had to be references to Gary Moore periods - we got bullet sharp re-endition of 'Back On The Streets' and 'Still Of The Blues' which proved to be a real showcase for the fingers of Simon Mc Bride. Man, this boy REALLY can play and he channels Moore into his parts in the best possible way, totally awesome. And he isn't too shabby on taking his approach to parts of Blackmore, Hendrix (the band did 'Fire' in the middle of the set, rearranging the closing part to include keys-guitr duel) or Sykes! Yes, THIS John Sykes, of Lizzy, Snake and Blue Murder fame. 'Is This Love' was like fourth track in the set, surprised me a bit, but I assume Airey must have been a session musician on '1987' album too. Could have been the oddest choice of the night in the set, but with such a tight band it did sound great in the live setting.

And last but not least Don has taken two nods to Deep Purple, specifically the 'In Rock' era. Brisky re-endition of 'Child In Time' was introduced by a bass solo of Laurence Cottle (of Sabbath's 'Headless Cross' and Bill Brufford jazz project fame) and the classic felt more in Purple vein than they themselves ever did that since 1993. 'Black Night' was another choice of the colour that served as the perfect encore slot, flowing for 15 minutes, interpolating a lot of solos, improvs and fun all rounded up with the band introductions.

By the closing stage of the show the band and the audience were so heated up and taken over by the feeling of a great rock party and good vibrations in the venue that Airey decided to really mess around a bit. He introduced 'Since You Been Gone' in the form of woodeville piano-voice duet with Carl, making it sound like the jazz musical from 40's or 50's. No woder that when Mc Bride tore the riff up, the hall went apeshit. Simon got so high during the encores that in 'Black Night' first solo he tore up at least one guitar string during his part - another nod to the good 'ol times - 'cause it seems so natural when you do your Blackmore thing! We were also teased in typical Airey way - he played a medley of Chopin tunes on piano before encores and threw in the national anthem in full as the leading motive of his 'Black Night' improvisation. All done on the Hammond organ! Not that he needed this to make the crowd eat from his hands, really, he had that since the minute his band entered the stage!

It wasn't the first solo tour by Don (he does a short strings of solo gigs every spring every year since more-less 2009), but he hasn't been in Poland before. I was advising Don pre-show that we, the audience, are going to give them a good run for their money regarding the great atmosphere and I think that we did rise to the ocassion. While Airey might know that from the memories of Purple gigs here, the rest of his band seemed to have been genuinely taken aback by the crowd response they got. Carl Sentence quickly gave up trading vocal licks with audience in 'All Night Long' blaming us we were too good in bailing him out in these! Everybody were invited to the merchandise stalls after the show for signing of memorabilia, photos and huge huge thanks for a sentimental journey and a great party that both the musicans and the audience seemed to like a lot. Don, Carl, Simon, Laurence and Darrin - thank you so much for coming and making all involved having a helluva good time!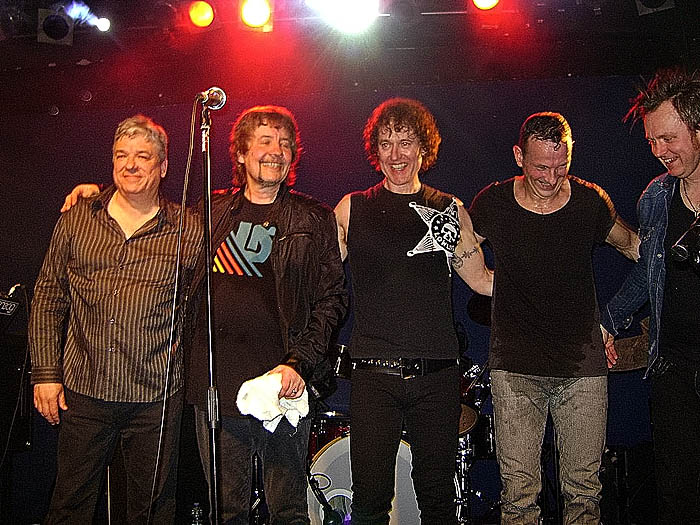 DON AIREY - kbd., bk. voc.;
CARL SENTENCE - voc.;
SIMON MC BRIDE - gtr.,
LAURENCE COTTLE - b.;
DARRIN MOONEY - dr.

Setlist:
INTRO TAPE
EYES OF THE WORLD (Rainbow)
3 IN THE MORNING (Airey)
NO TIME TO LOOSE (Rainbow)
IS THIS LOVE (Whitesnake)
BACK ON THE STRASSE [as written on the original setlist sheet!] (Gary Moore)
STILL GOT THE BLUES (Gary Moore)
FIRE [~ drum solo by Darrin Mooney, The Scorch Colloseum II tease] (Hendrix)
[~ bass solo by Laurence Cottle] CHILD IN TIME (Deep Purple)
THE WAY I FEEL (Airey)
DIFFICULT TO CURE 2013 [announced by DA as "difficult to play as we call it"]
BRANDENBURG CONCERTO - OVER THE RAINBOW (Blackmore, Airey)
ALL NIGHT LONG (Rainbow)
LOST IN HOLLYWOOD [~ A LIGHT IN THE BLACK SOLO PART] (Rainbow)

Encore 1:
[~ Chopin Tunes Medley] SINCE YOU BEEN GONE [complete with piano-vocal jazzy intro 1st verse] (Rainbow)
BLACK NIGHT [with band introductions] (Deep Purple)

Encore 2:[not on the official setlist!]
BAD GIRL (Rainbow)


Review & Photos: © Marcin Karski (Wroclaw, Poland)