Axel Rudi Pell

De Boerderij, Zoetermeer, The Netherlands September 20, 2014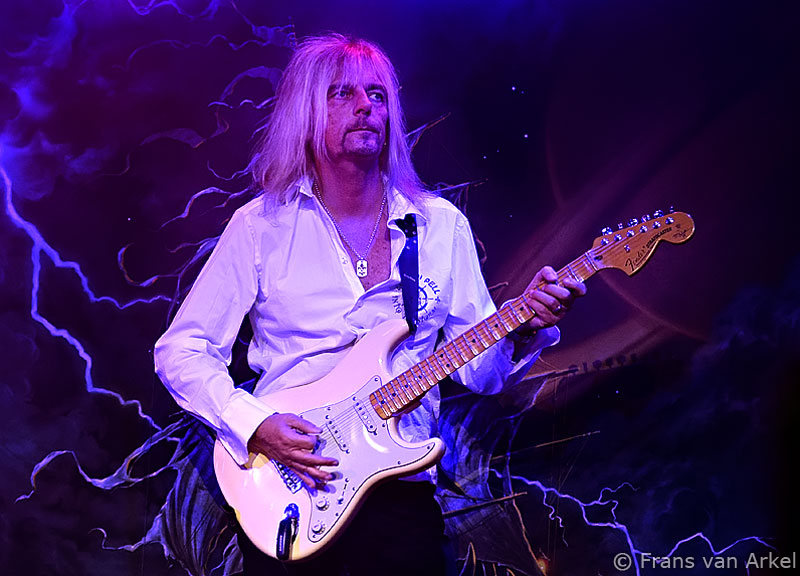 Some people, or is it much more than just some, call Axel Rudi Pell the German Ritchie Blackmore. The guy who already has released 15 studio albums is for sure heavily influenced by the former Rainbow and Deep Purple axe man. Since he now also has ex-Rainbow drummer Bobby Rondinelli in his line up it has become high time to go and see the German guitarist play live in concert.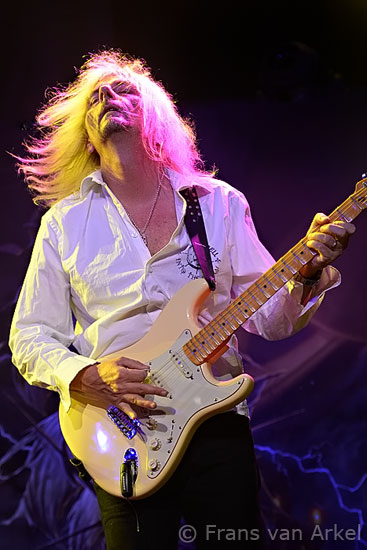 Early this year Axel Rudi Pell released his new album "Into the Storm". The band decided to do a tour in two stages. In February they visited several German cities plus London and Weert in the Netherlands. Axel Rudi Pell has now embarked on the second leg of the tour to promote the album. Besides again a number of concerts in Germany now also Switzerland, Austria, The Czech Republic and Belgium will be visited. Netherlands also got a show again. Last Saturday the German guitarist did a concert at "de Boerderij" (which literally can be translated as the Farm) in Zoetermeer. Rebellious Spirit, a young sleaze rock band from Germany, was the support act. They did a fine energetic show but ofcourse almost all the visitors came to see Mr Axel Rudi Pell.

Axel Rudi Pell is already 25 years in the music business. He celebrated last summer at the Bang Your Head Festival in Germany this joyous occasion with a great performance with many guest musicians from the hard rock world including Graham Bonnet, Doogie White, Tony Carey, Vinny Appice, John Lawton, Jeff Scott Soto and some others. Although insiders agree that his guitar playing is excellent, he never really got a big break through. In his own country, he might have some success, but outside Germany not too many people are familiar with this fine guitar player.

Pell, born in 1960, is a gifted guitarist. He has a band that has have a fairly stable line-up. Axel has been with most of the other musicians playing live for many years now. Only drummer Mike Terrana left last year the band. He also plays in the band of ex-Nightwish singer Tarja Turunen and could not combine both bands. In his place came non other than Bobby Rondinelli who in the past ofcourse played in bands like Rainbow, Black Sabbath and Blue Oyster Cult. Axel Rudi Pell is clearly heavily influenced by Ritchie Blackmore. There's nothing wrong with that. You can choose worse examples. But because of his admiring for the former leader of Rainbow he's getting the stamp of one of the many Blackmore adepts without an own style. And that is perhaps the reason that Pell never really broke through. It's not innovative and it's all been done before the critics say.

The fans however don't give a shiney shite about that. And Axel Rudi Pell proved in Zoetermeer that he can bring a night full of good old, maybe old-fashioned but for sure very enjoyable, melodic hard rock with strong songs, an occasional ballad but most of all dazzling guitar work. Singer Johnny Gioeli is an excellent hard rock singer who more than adequately is able to sing the songs. In addition, he is a first class party animal. He knows how to get the audience involved in the show and regularly got the laughter of all both before and on the stage. With keyboardist Ferdy Doernberg and bassist Volker Krawczak Pell has two solid strengths and with drum animal Rondinelli he has found a very adequate replacement for the popular Terrana.



Pell knows how to entertain the reasonably filled venue and played for almost two hours. Despite the fact that especially in the beginning there were some serious sound problems on stage, the band took that obstacle and made it a great evening for all the present hard rock fans. Apart from songs from the new album Axel Rudi Pell of course also played for his fans his familiar songs like 'Nasty Reputation', 'Call Her Princess' and 'The Masquerade Ball'. Most striking though was the Neil Young cover 'Hey Hey, My My (Into the Black)' which is also on the "Into the Storm" album. Live Axel Rudi Pell takes the opportunity to throw in some classic riffs of his heros. We got fine excerpts from 'Kashmir' (Led Zeppelin), 'Smoke on the Water' (Deep Purple) and 'Man on the Silver Mountain' (Rainbow) in this cover of Neil Young.

As it seems to belong in an "old-fashioned" hard rock concert there was apart from the numerous guitar solos also room for keyboardist Ferdy Doernberg and Bobby Rondinelli to show their skills. With their own solo they got a part of the spotlight too. After the long one and an half hour set it didn't took the audience long to bring the band back on stage for a series of encores. Towards midnight it finally was over and the public went with a satisfied feeling home.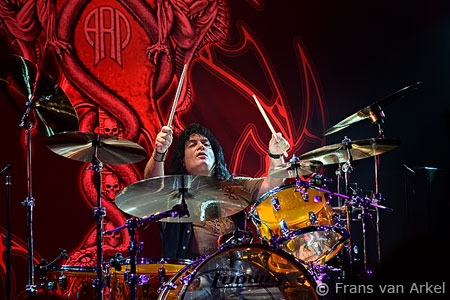 Setlist Axel Rudi Pell:

Burning Chains
Nasty Reputation/Strong as a Rock
Edge of the World
Before I Die
Oceans of Time
Hey Hey, My My (Into the Black)
Warrior
Keyboard solo
Into the Storm
Drum solo
Mystica
Too Late/Call Her Princess/Jam/Eternal Prisoner/Too Late

Encore:

Masquerade Ball/Casbah