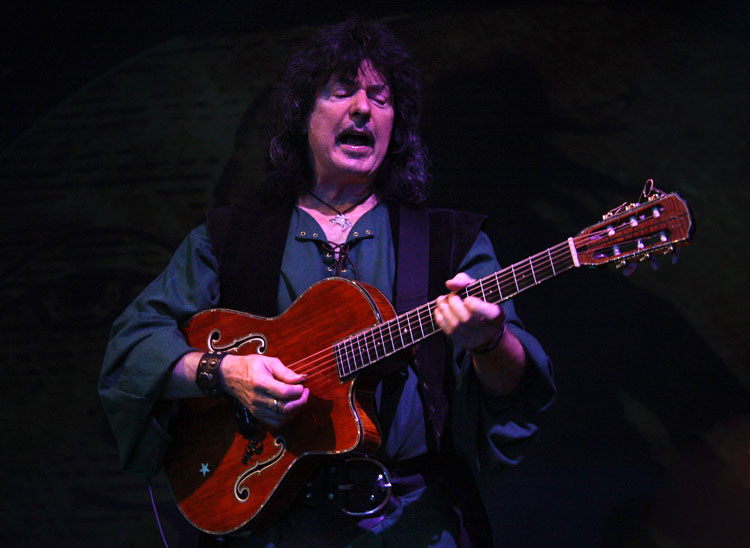 On a sultry summer evening visiting a Blackmore's Night concert remains special.

After the release of the new album 'Dancer and the Moon' I was wondering how this gig was going to be and I drove with a friend of mine, Theo Feldmann, to Krefeld to see Blackmore play live. Especially for this concert we had two Strats prepared to get siged. This was prevented by the German security. Ritchie's PA, Richard Michels finally helped and was responsible for the fact that I got after the encores one of them signed after all. I wish it could have been more relaxed and got both signed, but you have to be lucky...

We had the opportunity to photograph the first two songs. After that shooting photos was not allowed.

The concert opened with the new songs and took us through a series of songs from the now already 17 years Blackmore's Night history. The highlights were "Diamonds and Rust", "Ghost of a Rose" where Candice showed she has a brilliant voice. The ambiance of such a castle gives you the feeling that you are really heading back to the Middle Ages. Yet there were other highlights like "Soldier of Fortune" and "Whiter Shade of Pale" with incredible solos by the Man in Black. But the most impressive highlight was when Ritchie started "Carry on Jon". During this song great slides were projected on the backdrop with a series of photos of Jon and Ritchie from the old Deep Purple times which clearly showed how strong the bond between the two masters was. Ritchie was visibly emotional during this song, and also went to sit on a stool, something I've never seen him do before.

The public got their money's worth with a show that lasted for two hours. For Stratocaster fans the last twenty minutes was a real treat.

It was remarkable that the encores were immediately done after the regular setlist was finished. This was no problem though. There were also special guests like Axel Rudi Pell and Dr. Mark Zyk (Demon's Eye) present to see their hero. The question remains how long will he continue to do this. Although I suspect that an artist like Ritchie wants to die playing music. Because music is and remains his passion. He still proves that every concert.

Hopefully there will be another opportunity to sign our other Strat. Thanks to Theo Feldmann for his Stratocaster that I had been given to convert into a Blackmore scalloped version.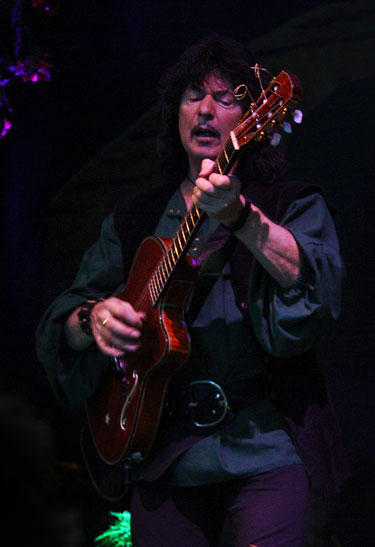 Setlist Blackmore's Night Krefeld 1st August 2014

Do you hear the people sing? (intro)
Dancer and the Moon
Darkness
Dance of the Darkness
Queen for a Day - part II
Under the Violet Moon
Soldier of Fortune
Durch den Wald zum Bach Haus
World of Stone
All the Fun of the Fayre
All Because of You
No Second Chance
Gilded Cage
Benzai Ten
Shadow of the Moon
Diamonds and Rust
Toast to Tomorrow
Ghost of a Rose
Keyboard Solo
Drum Solo
The Moon is Shining (Somewhere over the Sea)
Loreley
Difficult to Cure
St. Theresa
Home Again
Renaissance Faire
Carry on Jon
A Whiter Shade of Pale


Review & photos: © Henk van Schijndel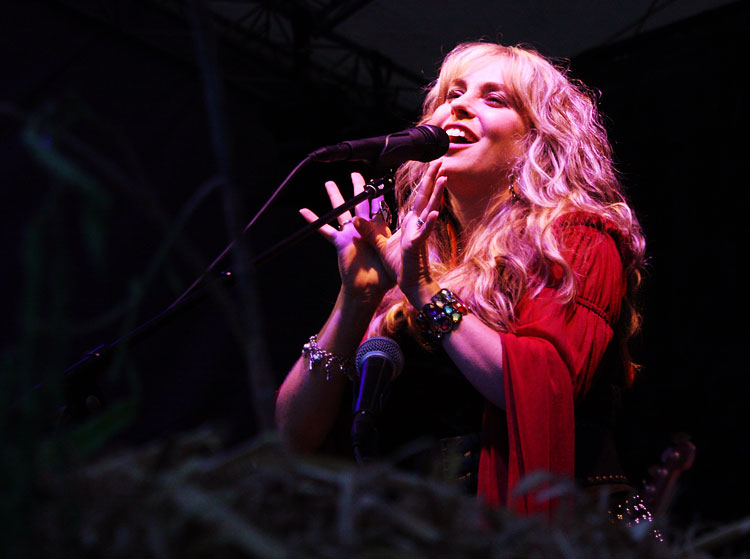 Op een zwoele zomeravond een concert bezoeken van Blackmore's Night blijft bijzonder.

Na het uitbrengen van het nieuw album 'Dancer and the Moon' was ik benieuwd hoe deze gig zou gaan verlopen en ben ik met een vriend van mij, Theo Feldmann naar Krefeld gereden om Blackmore aan het werk te zien. Speciaal voor dit concert hadden we twee Strats geprepareerd om te laten signeren. Dit werd door de Duitse beveiliging onmogelijk gemaakt. Uiteindelijk heeft Ritchie's PA, Richard Michels ervoor gezorgd dat ik na de toegiften alsnog een vlugge krabbel van Ritchie op slechts één van de speciale Strats heb gekregen. Had het liever iets relaxter gehad en op allebei maar daar moet je mazzel bij hebben.

We hadden de gelegenheid om de eerste twee songs te fotograferen waarvan dus gretig gebruik heb gemaakt. Daarna was fotograferen niet toegestaan.

Het concert opende met de nieuwe songs en voerde ons door een serie nummers van de inmiddels alweer 17 jaar Blackmore's Night historie. De hoogtepunten waren "Diamonds and Rust", "Ghost of a Rose" waar Candice weer liet horen dat ze een briljante stem heeft. De ambiance van zo'n kasteel geeft je het gevoel dat je echt weer terug gaat naar de Middeleeuwen. Toch waren er nog meer hoogtepunten zoals "Soldier of Fortune" en "Whiter Shade of Pale" met waanzinnige solo's van the Man in Black. Maar het meest indrukwekkende hoogtepunt was toen Ritchie "Carry on Jon" inzette. Tijdens dit nummer werden er grote dia's op de achterwand geprojecteerd van een serie foto's van Jon en Ritchie uit de oude Deep Purple tijd waar duidelijk te zien was hoe sterk de band tussen die twee die grootheden was. Ritchie was gedurende dit nummer zichtbaar emotioneel en ging ook op een kruk zitten, iets wat ik hem nog nooit heb zien doen.

Het publiek heeft wel waar voor zijn geld gekregen met een show die twee uur duurde. Voor de Stratocaster fans was dan ook de laatste twintig minuten smullen geblazen.

Opvallend was wel dat de toegiften meteen na de reguliere setlist werden afgewerkt. Dit deed overigens geen afbreuk aan de gig. Ook waren er speciale gasten zoals Axel Rudi Pell en Dr. Mark Zyk (Demon's Eye) aanwezig om hun held aan het werk te zien. Want het blijft de vraag hoe lang zal hij dit nog blijven doen. Alhoewel ik vermoed dat een artiest als Ritchie in het harnas wil sterven. Muziek is en blijft zijn passie. Dat bewijst ie nog elk concert.

Hopelijk komt er nog een kans om onze andere Strat te laten signeren. Met dank aan Theo Feldmann voor zijn Stratocaster die ik gekregen had om tot een Blackmore Scalloped versie te mogen ombouwen.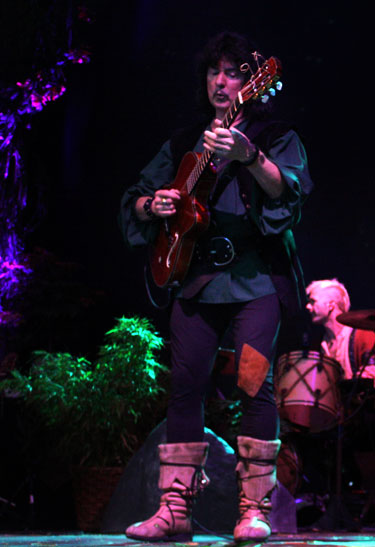 Setlist Blackmore's Night Krefeld 1st August 2014

Do you hear the people sing? (intro)
Dancer and the Moon
Darkness
Dance of the Darkness
Queen for a Day - part II
Under the Violet Moon
Soldier of Fortune
Durch den Wald zum Bach Haus
World of Stone
All the Fun of the Fayre
All Because of You
No Second Chance
Gilded Cage
Benzai Ten
Shadow of the Moon
Diamonds and Rust
Toast to Tomorrow
Ghost of a Rose
Keyboard Solo
Drum Solo
The Moon is Shining (Somewhere over the Sea)
Loreley
Difficult to Cure
St. Theresa
Home Again
Renaissance Faire
Carry on Jon
A Whiter Shade of Pale


Review & photos: © Henk van Schijndel