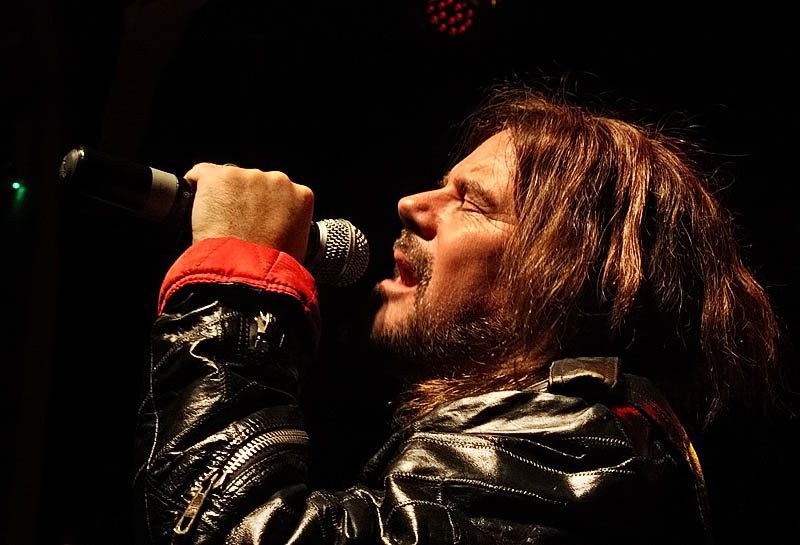 Because I happen to have some appointments for my work in Dortmund it was natural that I would go to see Demon's Eye. It was at least an extra trip less to Germany. I already had asked Doogie if I could use his dressing room because I can not stand in a Boss suit in front of the stage. So when I arrived Moni took me to the dressing room to change. The band had already began at the soundcheck and I could enjoy, what later turned out to be, some surprises. While I was changing Doogie came in the dressing room to welcome me. He was happy to see me again. "You are looking like a sharp dressed man". Then the other members greeted before the band went to have lunch.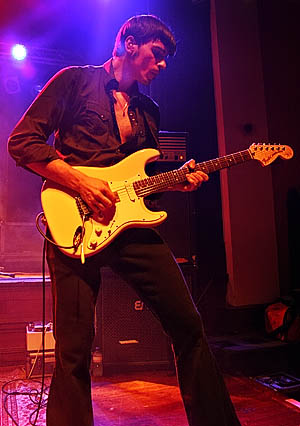 At 20.30 the concert began with "Burn" followed by a mix of "Strange Kind of Woman" and "Stormbringer". Again, you could feel that they were in a fine mood. After about 25 minutes the first surprise "Fools" (of Deep Purple's Fireball), to my mind rarely played live. Mark was again the leading man with a dazzling solo. Highly concentrated he played his Stratocaster just like Ritchie also could play it. Then "You Fool No One", "Blues", "The Best Of Times" and "Child In Time" followed.

Completely unexpected a pause followed. Later I found out that was because they played a longer show. After the break the second surprise, from In Rock came namely "Flight of the Rat". I had previously heard that this song was never played before, so tonight they did it for the first time live with Doogie.

Despite this it sounded like the song was played for years. I continue to repeat but Demon's Eye and Doogie give the full 100% and you'll never go home disappointed. No setlist is the same and certainly not routine. The set list went on in the magical "Ariel", followed by "Tarot Woman" with Florian to show his craftsmanship skills.

Then Doogie announced that a new DVD of Rainbow was out and was on number one in the Germany charts. Well, I would not have been a great Rainbow fan if I did not have a copy with me to get it signed. So during the announcement I gave my Doogie Black Masquerade DVD and he could show the picture of the cover while talking about it.

It was followed by Rainbow's "Hall of the Mountain King", "Mistreated" and with utmost concentration Mark played a perfect solo during "Mistreated".

The first encore consisted of the usual medley "Long Live Rock ' n Roll", "Demon's Eye", "Space Trucking", "Woman from Tokyo", "Smoke on the water".... and my favorite "Highway Star. The up tempo song that Andre plays with full dedication. Now is also was clear why there was a break in the concert. Much energy calls for a break.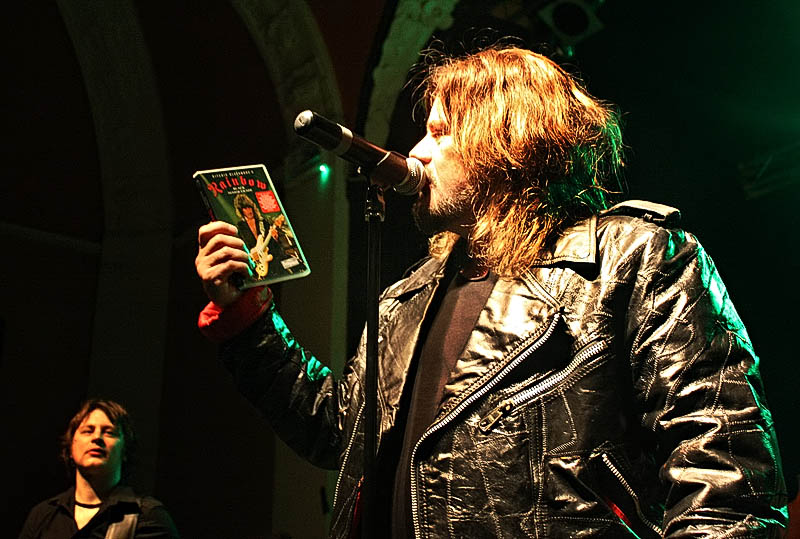 Andre finally took the microphone and announce the final encore... "Rainbow Eyes" that was played in a dignified manner and with a very nice ending with Mark who ended on his own a swirling show.

After the show the band took plenty of time to chat and pictures. I also spoke extensively with Doogie. We were told stories that occurred during recording and gigs with Rata Blanca, Midnight Blue, Tank, Doogie's own album and Michael Schenker. We were also invited to the upcoming Michael Schenker tour. Finally it was time to say goodbye and to go home with a satisfied feeling. I like to take all the trouble to go and see this band. As I already have written many times they are true professionals.

Thanks to Moni for using the dressing room.....

Review & photos: © Henk van Schijndel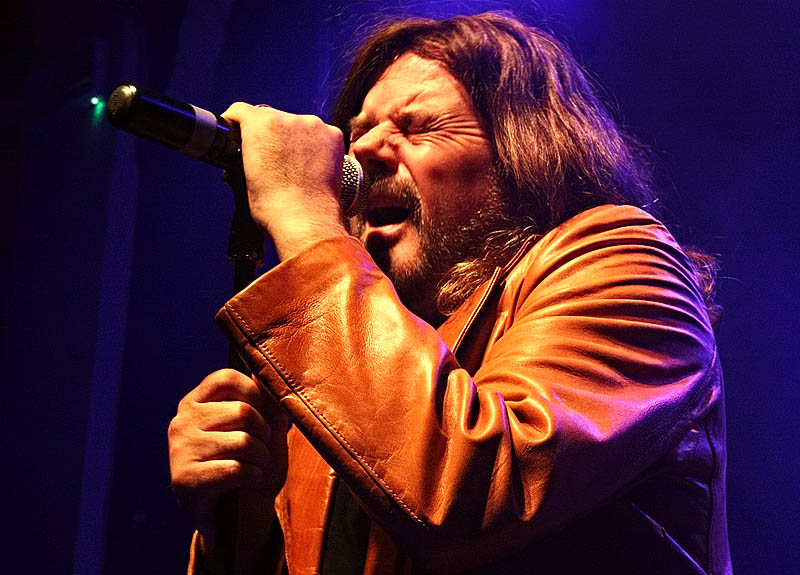 Doordat ik voor mijn werk toevallig wat afspraken had in Dortmund was het vanzelfsprekend dat ik naar Demon's Eye zou gaan. Het scheelde in ieder geval een extra trip naar Duitsland.Vooraf had ik Doogie al gevraagd of ik gebruik kon maken van zijn kleedkamer omdat ik niet in een Boss maatpak voor de Bühne kan gaan staan. Dus bij aankomst had Moni mij naar de kleedruimte gebracht om me te verkleden. De band was al aan de soundcheck begonnen en kon dus meegenieten van de, wat later bleek, de verrassingen. Terwijl ik me stond om te kleden kwam Doogie binnen en heette hartelijk welkom. Hij was blij me weer te zien. "You are looking like a sharp dressed man". Vervolgens de overige leden begroet en daarna ging de band nog even lunchen.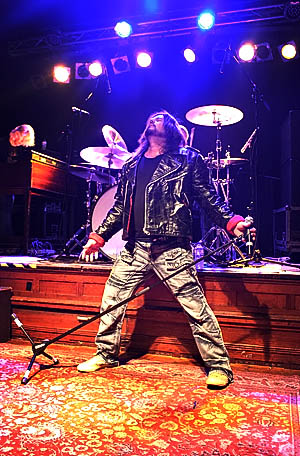 Om 20.30 uur begon het concert met "Burn" opgevolgd door een mix van "Strange Kind of Woman" en "Stormbringer". Ook nu weer was voelbaar dat ze er veel zin in hadden. Na ruim 25 minuten kwam de eerste verrassing "Fools" (van Deep Purple's Fireball), naar mijn mening zelden live gespeeld. Hierin was Mark weer the leading man met een wervelende solo. Uiterst geconcentreerd speelde hij zijn Stratocaster zoals Ritchie hem ook kon bespelen. Daarna volgde "You Fool No One", "Blues", "The Best Of Times" en "Child In Time".

Geheel onverwacht werd een pauze ingelast. Maar later bleek dat er uiteindelijk een langere show gespeeld werd. Na de break kwam de tweede verrassing, uit In Rock, namelijk "Flight of the Rat". Vooraf had ik gehoord dat deze song nog niet eerder was gespeeld en dus vanavond voor het eerst live met Doogie.

Ondanks dit klonk het alsof deze song al jaren werd gespeeld. Ik blijf in herhaling vallen maar Demon's Eye met Doogie geven zich voor de volle 100% en je gaat nooit teleurgesteld naar huis. Geen setlist is hetzelfde en zeker geen routine. De set list ging verder bij het altijd magische Ariel gevolgd door "Tarot Woman" waarbij Florian zijn vakmanschap laat horen.

Daarna kondigde Doogie aan dat er een nieuwe DVD van Rainbow uit was die in Duitsland op nummer 1 stond. Nou zou ik geen goede Rainbow fan zijn als ik deze niet bij me zou hebben om te laten signeren. Dus tijdens de aankondiging gaf ik Doogie mijn Black Masquerade DVD en kon hij het plaatje bij zijn praatje houden.

Hierop volgde Rainbow's "Hall of the Mountain King", "Mistreated" en met uiterste concentratie speelt Mark een perfecte solo tijdens "Mistreated".

De eerste toegift bestond uit de gebruikelijke medley "Long Live Rock 'n Roll", "Demon's eye", "Space Trucking", "Woman from Tokyo", "Smoke on the water" en... .mijn favoriet "Highway Star". Het uptempo nummer dat Andre met volle overgave speelt. Nu blijkt ook waarom er een pauze in het concert zat. Zoveel energie vraagt om een pauze.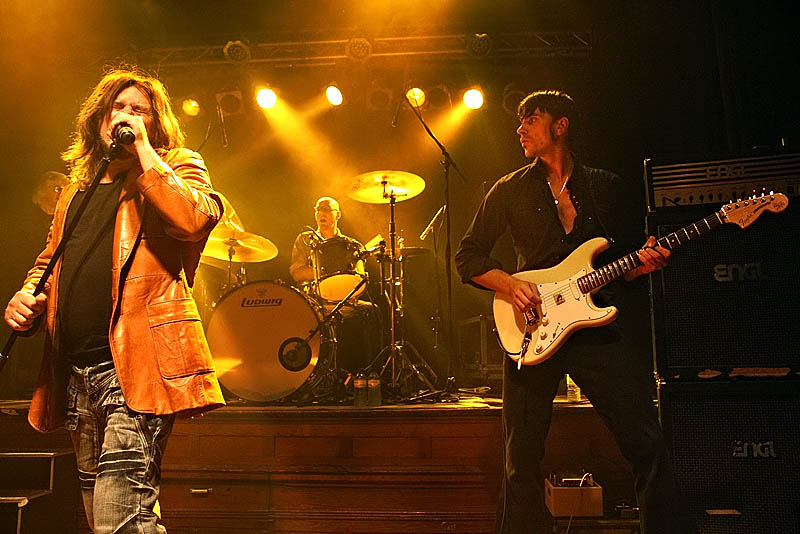 Uiteindelijk nam Andre de microfoon de laatste toegift aan te kondigen... "Rainbow Eyes" dat op een waardige wijze werd gespeeld en met een bijzonder mooi einde van Mark die geheel in solo een wervelende show beëindigde.

Na afloop nog ruimschoots de tijd gekregen om met de bandleden te chatten en op de gevoelige plaat te gaan. Ook Doogie uitgebreid gesproken die op zijn spreekstoel zat. We kregen de verhalen te horen die zich afspeelde tijdens de opname en gigs met Rata Blanca, Midnight Blue, Tank, Doogie's eigen album en Michael Schenker. We werden uitgenodigd voor de upcoming Michael Schenker tour. Uiteindelijk afscheid genomen en met een tevreden gevoel naar huis. Maar ik heb het graag over heb voor deze band. Zoals ik al vaak heb geschreven zijn het echte professionals.

Dank aan Moni voor het beschikbaar stellen van de kleedruimte....

Review & photos: © Henk van Schijndel