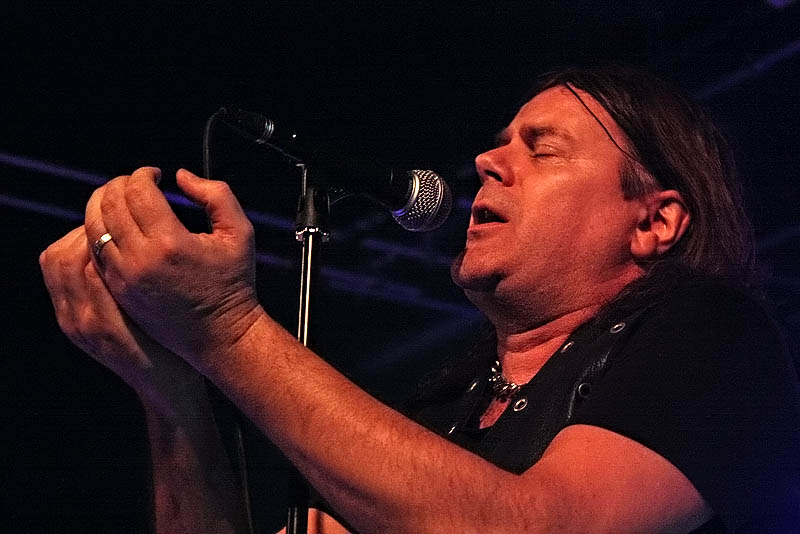 This time it was the Netherlands again for a concert of this German coverband. Although I now find 'coverband' an inappropriate term. Demon's eye has become a mature rock band. We now know them as the band who create the famous Purple and Rainbow atmosphere and bring yourself back to the good old times. The gig was a great and good mix of Purple and Rainbow songs.

The evening opened with the intro of "Over the Rainbow" by Judy Garland succeeded by "Spotlight Kid". "Stormbringer" was then deployed and the atmosphere was immediately well. With Doogie who as ever was in good voice shape and Mark who gave us the feeling as if the real Man in Black was there the night could not get any better. Andreas and Maik had clearly defined which was noticeable during "Far over the Rainbow", their own song. At the request of Doogie they had a completely custom setlist to the Purple Mark IV period.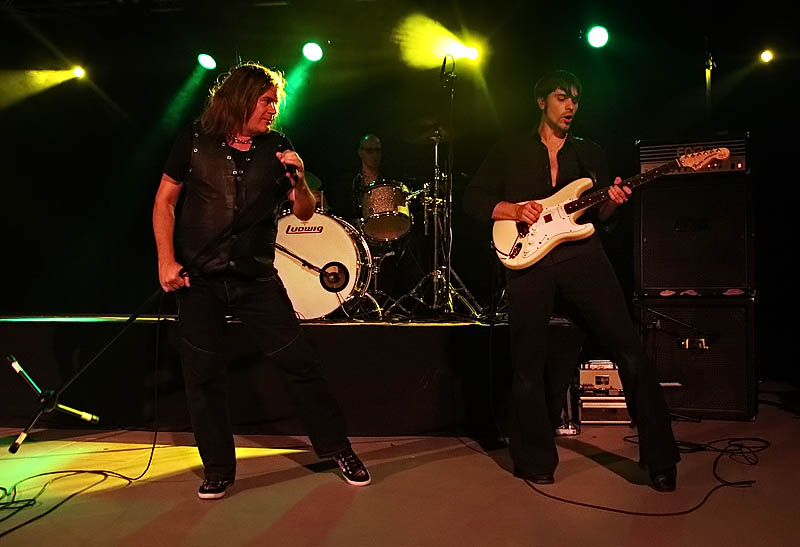 Some time ago I had Florian asked if they could do something special in memory of Jon Lord. Demon's Eye has played with Jon together in the past and could not forget and skip the death of Jon. And indeed we were surprised with 'Picture Within', which in a brilliant way was sung by Doogie. He also had this track already sung with the master himself. It was a very emotional moment where Doogie seems to have Jon certainly in his mind.

Florian followed then with "Child In Time" which is still a strong song that remains timeless. It was a series of well-known hits such as "Mistreated" (thanks for the awesome solo Mark), "The Unkown Stranger", "Black Night", "Burn" and a Medley of "Perfect Strangers" and "Stargazer".

Doogie asked the audience who was on October 17, 1995 in Rotterdam Ahoy. Of course there were some fans who positively answered. They then played Ariel and it sounded just like then. Ancient times re-lived, and after the gig we talked about that show with Doogie.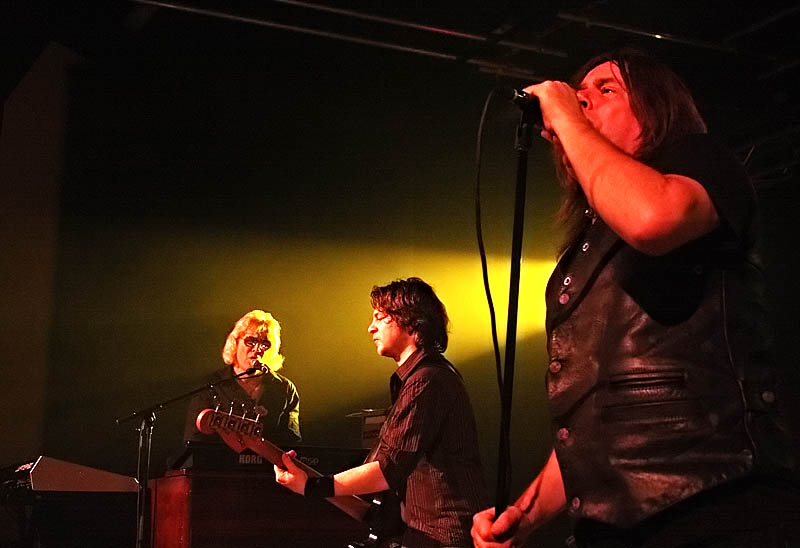 After two hours we got the first encore. It was incredible, first Andre with the uptempo song "Highway Star" where the whole venue went out to his skull and then there was an awesome medley with "Long Live Rock 'n Roll / Starstruck / Woman From Tokyo / Smoke On The Water". During the encore Mark played some brilliant solos like our master was here. After the show Mark told that he completely absorbed in the music and completely went in trance. It was also good to hear.

The final encore was one we have previously experienced namely Temple of the King. As we saw before this was another emotional moment where thoughts went to Ronnie James Dio. Doogie thanked Jon Lord, Roger Glover, Ian Gillan, Ian Paice, Ritchie Blackmore, Ronnie James Dio, Joe Lynn Turner, Cozy Powell and Rainbow and other DP members for their passion. Thanks to them as they stood here on stage and they could give us a spectacular show.

It was a special evening with lots of emotion and in my opinion the best concert of Demon's Eye so far I've seen. It was filled with highlights and many different DP and Rainbow songs. And last but not least a dedicated band that gave 100%. We can reminisce a while until April 2013, because then they come back. After the show we talked with all the band members and went back home with a satisfied feeling.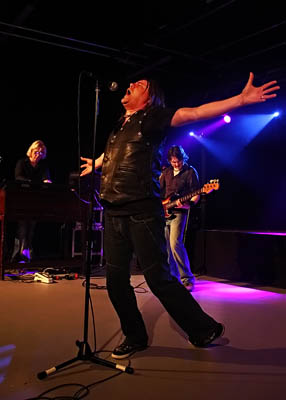 Setlist Elsloo 17 November 2012

Spotlight Kid
Stormbringer
Far Over The Rainbow
Sail Away
Nobody's Home
You Fool No One
Picture Within
Child In Time
Mistreated
The Unknown Stranger
Black Night
Ariel
Burn
Perfect Strangers/Stargazer/Perfect Strangers

1st Encore
Highway Star
Medley: Long Live Rock'n'Roll/Starstruck/Woman From Tokyo/Smoke On The Water

2nd Encore
Temple Of The King


Review & photos by Henk van Schijndel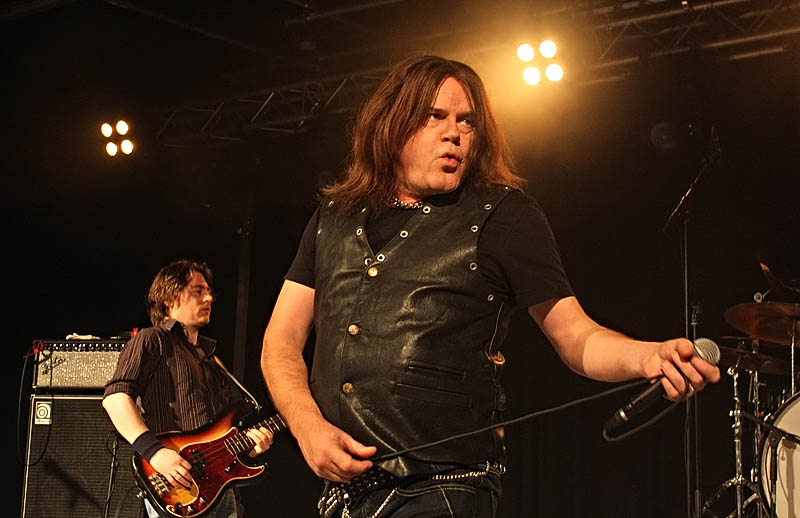 Dit maal was Nederland weer aan de beurt voor een concert van deze Duitse coverband. Alhoewel ik coverband inmiddels een ongepaste term vind. Demon's eye is uitgegroeid tot een volwassen rock band. Inmiddels weten ze de zo bekende Purple en Rainbow sfeer te creëren en waan je jezelf in the good old times. De gig bestond uit een geweldige goede mix van Purple en Rainbow songs.

De avond opende met het intro van "Over the Rainbow" van Judy Garland opgevolgd door "Spotlight Kid". Vervolgens werd "Stormbringer" ingezet en de sfeer zat er meteen goed in. Met een Doogie die weer als vanouds goed bij stem was en Mark die ons het gevoel weer gaf alsof de echte Man in Black er stond kon de avond niet meer stuk. Andreas en Maik hadden er duidelijk zin wat merkbaar was tijdens "Far over the Rainbow" hun eigen song. Op verzoek van Doogie hadden ze een geheel aangepaste setlist die voor Purple uit de mark IV periode stamt.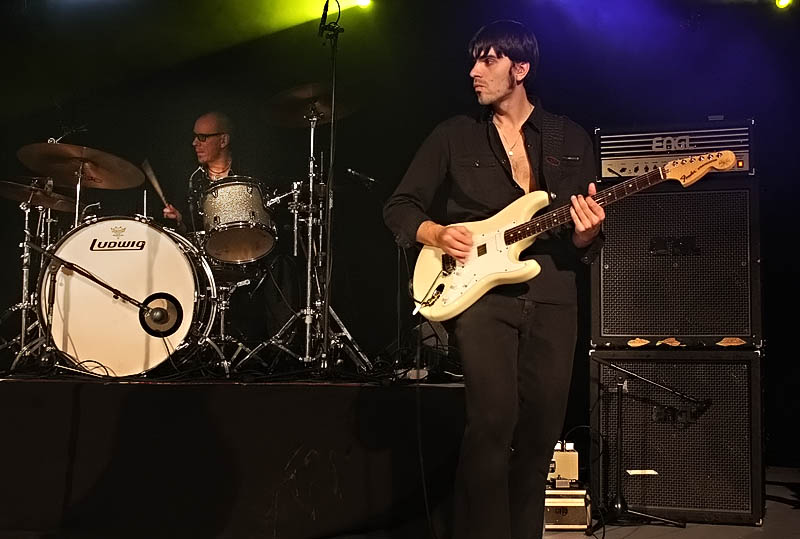 Enige tijd geleden had ik Florian gevraagd of ze nog iets speciaals zouden doen ter nagedachtenis aan Jon Lord. Demon's Eye heeft immers met Jon samen gespeeld en kon dus niet aan het overlijden van Jon voorbij gaan. En inderdaad we werden verrast met "Picture Within", welk op een brilliante wijze door Doogie werd gezongen. Ook hij had dit nummer met de meester al eens gezongen. Het was dan ook een emotioneel moment waarbij Doogie zichtbaar Jon in zijn gedachten had.

Daarna volgde Florian met "Child In Time" dat nog steeds een sterk nummer is dat tijdloos blijft. Het was een aaneenschakeling van bekende tophits zoals Mistreated (thanks for the awesome solo Mark), "The Unkown Stranger", "Black Night", "Burn" en een Medley van "Perfect Strangers" en "Stargazer".

Tussentijds vroeg Doogie het publiek wie er op 17 oktober 1995 in Rotterdam Ahoy was. Uiteraard konden er een aantal fans bevestigend antwoorden. Ze speelden toen "Ariel" en dat klonk zoals destijds. Oude tijden herleefden en na afloop van de gig hebben we hier nog over gesproken met Doogie.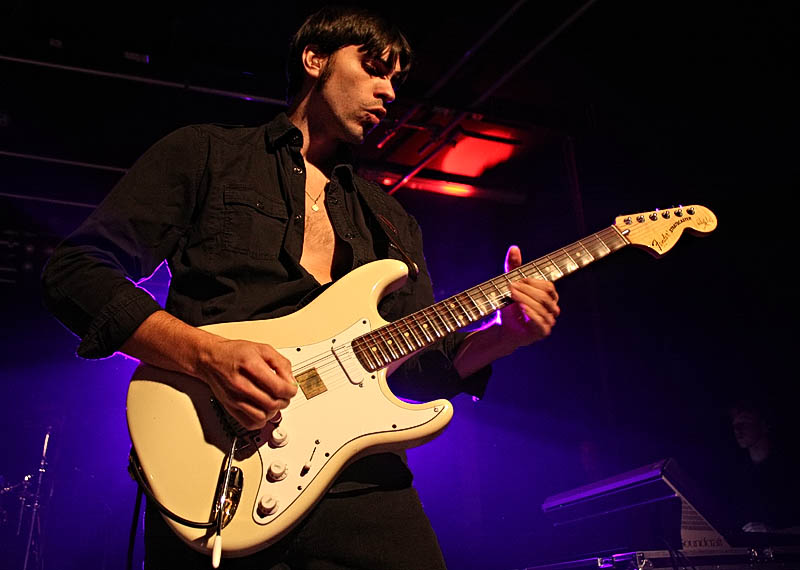 Na twee uur werd de eerste toegift gespeeld en die was incredible eerst André met het uptempo nummer "Highway Star" waar de hele zaal mee uit zijn dak ging en daarna volgde er een waanzinnige medley "Long Live Rock 'n Roll/Starstruck/Woman From Tokyo/Smoke On The Water".

Tijdens deze encore was het Mark die een aantal schitterende solo's speelde alsof onze meester er stond. Na de show gaf Mark ook aan dat ie geheel opging in de muziek en volledig in trance was. Dit was dan ook goed te horen.

De laatste toegift was zoals we al eerder hebben beleefd namelijk "Temple of the King". Zoals gewend was ook dit weer een emotioneel moment waarbij de gedachten naar Ronnie James Dio uitgingen. Doogie bedankte Jon Lord, Roger Glover, Ian Gillan, Ian Paice, Ritchie Blackmore, Ronnie James Dio, Joe Lynn Turner, Cozy Powel en andere DP en Rainbow leden voor hun passie. Dank zij hun stonden zij hier on stage en konden ze ons een wervelende show geven.

Het was een bijzondere avond met veel emotie en naar mijn mening het beste concert van Demon's Eye tot dusver wat ik heb gezien. Het zal vol met highlights en veel verschillende DP en Rainbow nummers. En zeker niet onbelangrijk een gedreven band die zich 100% heeft gegeven. We kunnen hier weer een tijd nagenieten tot april 2013, want dan komen ze weer terug. Na afloop nog met alle bandleden gesproken en weer met een voldaan gevoel naar huis.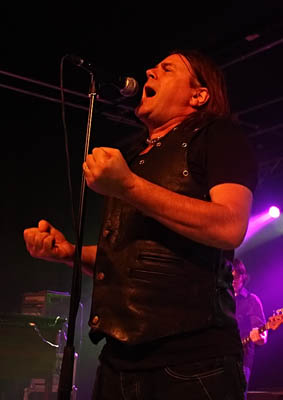 setlist Elsloo 17 November 2012

Spotlight Kid
Stormbringer
Far Over The Rainbow
Sail Away
Nobody's Home
You Fool No One
Picture Within
Child In Time
Mistreated
The Unknown Stranger
Black Night
Ariel
Burn
Perfect Strangers/Stargazer/Perfect Strangers

1e Encore
Highway Star
Medley: Long Live Rock'n'Roll/Starstruck?Woman From Tokyo/Smoke On The Water

2e Encore
Temple Of The King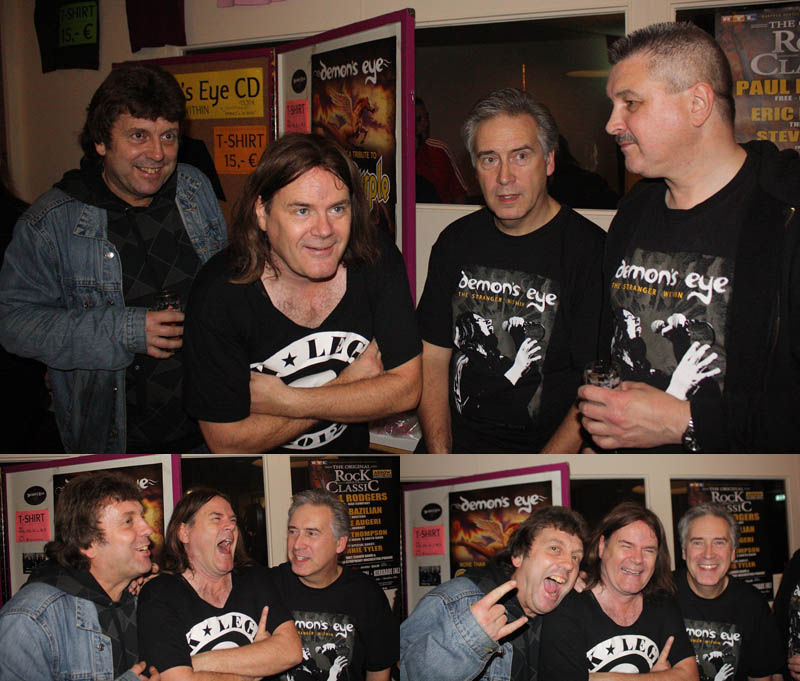 Review en foto's: Henk van Schijndel