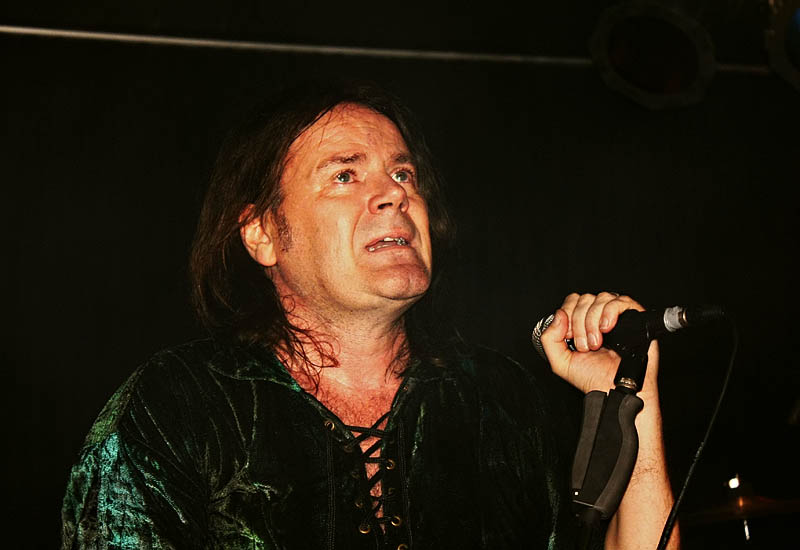 After a break of almost six months Demon's Eye is on tour again. This time we went to Herschberg (Germany). Because they are again not to be seen in the Netherlands Ron, Wim and I decided to travel to Herschberg. It was the shortest distance for us (390 km!). Still after what we saw in Genk it was worth the long ride. After more than three and a half hours of travelling we were warmly received in Saal Chic. The soundcheck had just started and we were the first visitors at all from the Netherlands. First we ate a Schnitzel and then we went to meet the band.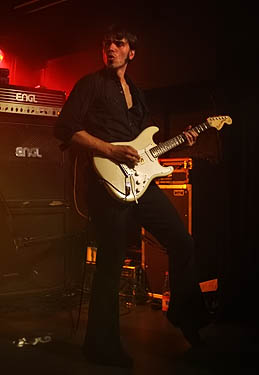 First Doogie came to welcome us. Then we met the rest of the band. They were surprised that we had come so far. Until just before the concert Doogie was enjoying a glass of red wine, sat down with us and was obviously in a great mood. We wondered how his new album went which was launched last Monday, October 24, 2011. He said that he during the release interviews was asked several times why he was singing in cover bands. He could easily do better. Doogie said this: Look around you. What's wrong with it? I can sing the songs that I like, these bands play what they like and we enjoy our audience. Why should I sing in a big band? We just have fun. Then it was time to go to the stage. Showtime... The band started with the Deep Purple classic Burn. Demon's Eye was obviously in good form. Far Over The Rainbow was then used followed by Brand New Day.

The band had chosen a different set list than the first part of the tour so other of their own songs were now played too. The songs were constantly played between Purple and Rainbow songs.

Then it was Ariel's turn and Mark Zyk showed his skills once again. Truly brilliant guitar playing and what he showed us makes you think of The Man In Black.

I like it there are guitarists like him otherwise we would never hear these live again. It was an evening of highlights because after Ariel it was Child in Time's turn. This time with a phenomenal voice by Doogie and a jam between Florian and Mark, like we were used by Ritchie and Jon. Before this song there was a moment for Jon Lord to wish him well. Remarkably, they still appreciate all these guys. That says something about Deep Purple and Rainbow.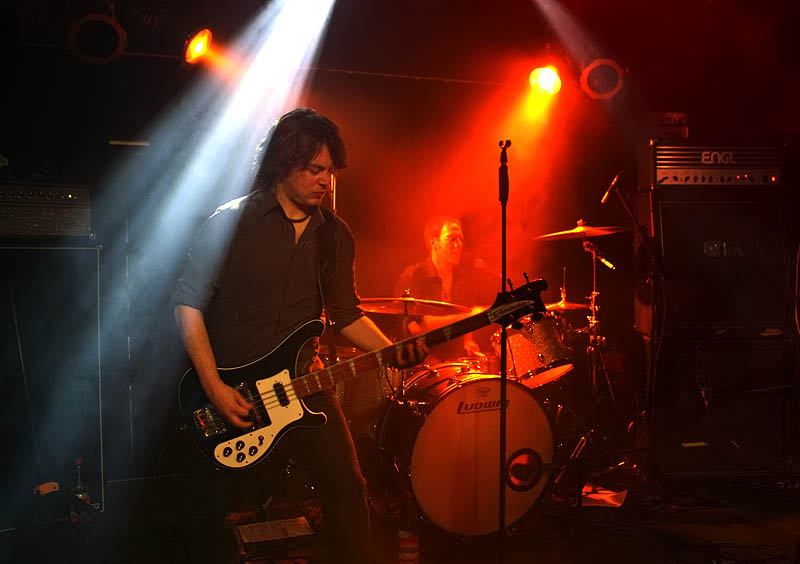 Tracks that followed include Man On The Silver Mountain, The Best Of Times with a great solo by Florian eventually passed into Stormbringer and Evil Comes This Way. It keeps surprising that Doogie easily pick up any version whether it's Coverdale, Gillan or Dio's. The concert was "finished" with a guitar solo by Mark as an intro for Mistreated, Mike and Andrée finished great with Perfect Strangers, an amazing bass tune. The band thanked the audience and went off stage for a few minutes because after persistent calling Zugabe, Zugabe, Zugabe ... the band came back.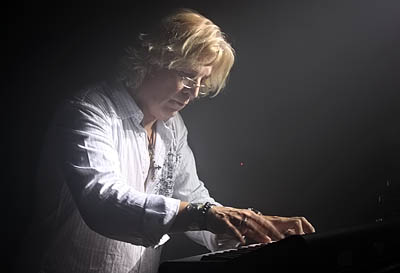 Andree opened the first encore great with the up tempo Highway Star. If you closed your eyes you could hear Ian Paice. All band members showed again their skills through a medley of classics with Black Night / Long Live Rock'n Roll / Woman From Tokyo and Smoke On The Water. After another prolonged cry for an encore the band came back on stage.

The second encore was of indescribable quality. Doogie introduced it with a tribute to Ronnie James Dio. Surprisingly, the band began to play Doogie's Singing Alone. This song he wrote after the last Rainbow concert. When Doogie came back on stage, the place was empty and the stage was cleared. Doogie then wrote this song using Ritchie's guitar.

Full emotion of the events then this was a perfect song to remember Ronnie. Doogie was visible full emotion. When the song flowed in Temple Of The King the emotion was untenable. I had never experienced this. It was a superb end that made the long journey really worth.

As I indicated in an earlier review Demon's Eye is a fullgrown rock band that deserves more than it gets now. But maybe that is also the strength of this band. Thanks Andrée, Mike, Florian, Mike and Doogie ... It was amazing.

Setlist: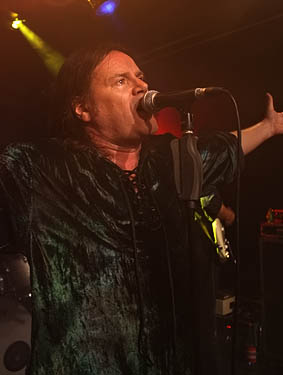 Burn
Far Over The Rainbow
Brand New Life
Lady Double Dealer
Tarot Woman
Ariel
Child In Time
Man On The Silver Mountain
The Best Of Times/Keyboard solo
Stormbringer
Evil Comes This Way
Guitar intro solo/Mistreated
Perfect Strangers

first encore:

Highway Star
Medley:
Black Night
Long Live Rock 'n Roll
Woman From Tokyo
Smoke On The Water

second encore:

Singing Alone/Temple Of The King



Review & photos: Henk van Schijndel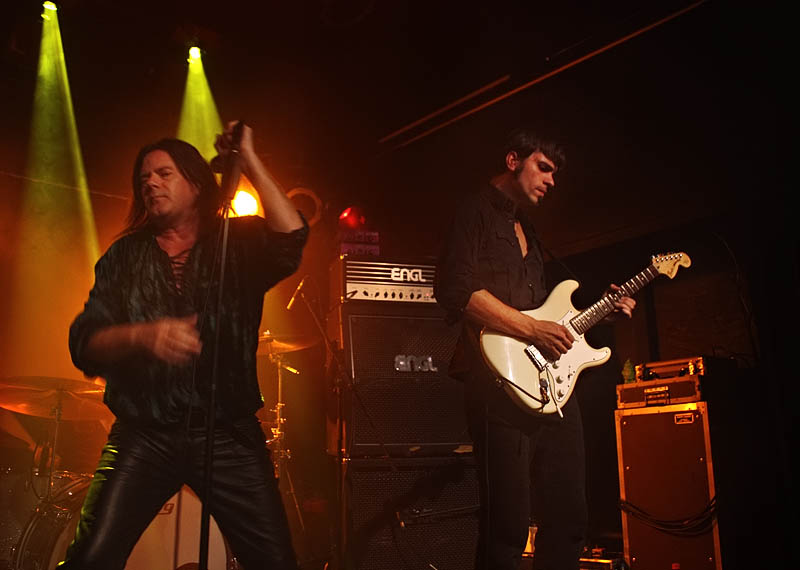 Met een onderbreking van bijna zes maanden was Demon's Eye weer on tour. Dit maal was Herschberg (Duitsland) aan de beurt. Omdat ze weer niet in Nederland te zien zijn hebben Ron, Wim en ik gekozen om naar Herschberg af te reizen. Het was immers de kortste afstand van ons vandaan (390 km!). Maar na wat we in Genk hadden gezien was het waard om de band weer aan het werk te zien. Eenmaal aangekomen na ruim drieënhalf uur reizen werden we hartelijk ontvangen in Saal Chic. De soundcheck was net begonnen en we waren de eerste bezoekers helemaal uit Nederland. Eerst maar even een Schnitzeltje naar binnen werken en dan de band ontmoeten.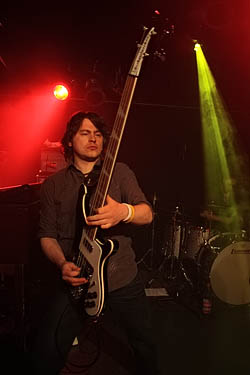 Allereerst kwam Doogie ons verwelkomen. Daarna de rest van de band ontmoet. Ze waren verrast dat we van zover waren gekomen. Tot vlak voor het concert was Doogie, genietend van een glas rode wijn, bij ons komen zitten en was duidelijk in een geweldige stemming. We vroegen ons af hoe het met zijn nieuwe album ging. Die was afgelopen maandag 24 oktober 2011 gelanceerd.

Hij vertelde dat ie gedurende de release interviews meerdere malen de vraag kreeg waarom hij nog in coverbands zong. Hij kon toch makkelijk beter. Doogie zei hierop: Kijk nou eens om je heen. Wat is er mis mee? Ik kan de songs zingen die ik leuk vind, die bands spelen wat ze leuk vinden en ons publiek geniet ervan. Waarom zou ik dan in een grote band gaan zingen? We hebben gewoon veel lol.

Toen was het tijd om naar het podium te gaan. Showtime... De band begon met de Deep Purple klassieker Burn. Demon's Eye was zichtbaar goed op dreef. Vervolgens werd Far Over The Rainbow ingezet gevolgd door Brand New Day.

De band had gekozen voor een andere setlist dan het eerste deel van de tour om zo de andere eigen nummers ook aan bod te laten komen. De songs werden voortdurend afgewisseld met Purple en Rainbow nummers.

Toen was Ariel aan de beurt waar Mark Zyk zijn waarde andermaal weer eens laat zien. Werkelijk briljant gitaarspel wat ie laat horen en dat doet je denken aan The Man In Black. Ik blijf het dan ook geweldig vinden dat er gitaristen zijn zoals hij anders zouden we dit nooit meer live kunnen horen. Het bleef een avond met hoogtepunten want na Ariel was Child in Time aan de beurt. Ditmaal met een fenomenale stem van Doogie en een jam tussen Florian en Mark zoals je die ook gewend was van Ritchie en Jon. Voorafgaande aan deze song werd Jon Lord nog een hart onder de riem gestoken. Opvallend dat iedereen al deze jongens blijft waarderen. Dat zegt wat over Deep Purple en Rainbow.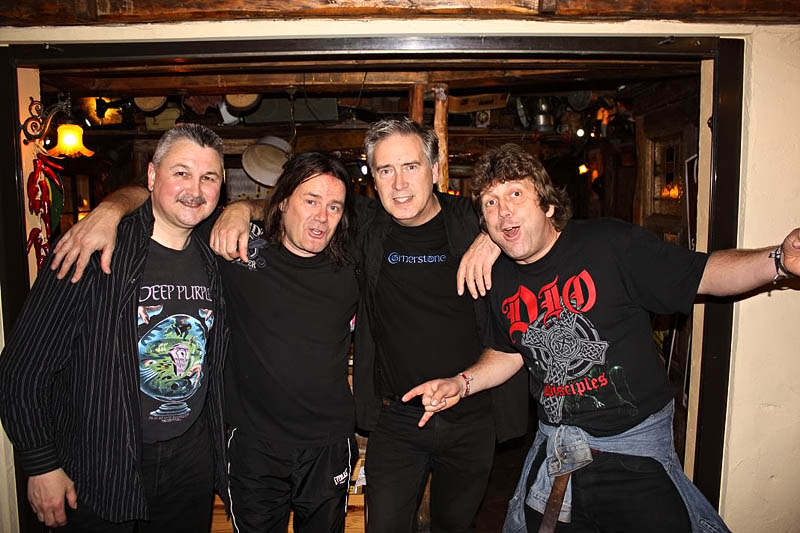 Daarna volgende o.a. Man On The Silver Mountain, The Best Of Times met een vette solo van Florian die uiteindelijk over ging in Stormbringer en Evil Comes This Way. Het blijft verwonderlijk dat Doogie elke versie gemakkelijk oppakt of het nou Coverdale, Gillan of Dio is. Het concert werd 'afgerond' met een gitaarsolo van Mark als intro voor Mistreated en Mike en Andree mochten een geweldige afsluiter maken met Perfect Strangers, een waanzinnige bass tune. De band bedankte het publiek en ging van het podium voor enkele minuten want na aanhoudende roep Zugabe, Zugabe, Zugabe... kwam de band terug.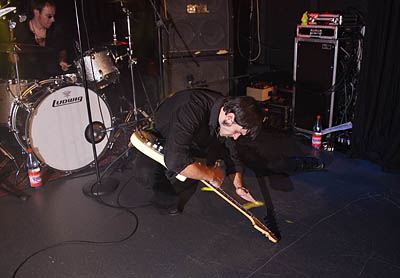 Andree opende de eerste toegift met het up tempo nummer Highway Star geweldig. Als je je ogen sluit hoor je Ian Paice. Alle bandleden konden hun kunsten laten zien via een medley van de klassiekers Black Night/Long Live Rock'n Roll/Woman From Tokyo en Smoke On The Water. Na weer een aanhoudende roep voor nog een toegift kwam de band weer op het podium.

De tweede toegift was van een onbeschrijfelijke kwaliteit. Doogie introduceerde deze met een homage aan Ronnie James Dio. Geheel verrassend begon de band Doogie's Singing Alone in te zetten. Dit nummer heeft hij ooit geschreven na afloop van het laatste Rainbow concert. Toen Doogie terug op het podium kwam was de zaal leeg en werd het podium ontruimd.

Doogie heeft toen met Ritchie's gitaar dit nummer geschreven. Vol emotie van de toenmalige gebeurtenissen was dit een perfect nummer om Ronnie te gedenken. Doogie was dan ook zichtbaar geëmotioneerd. Toen de song overvloeide in Temple Of The King was de emotie onhoudbaar. Nog nooit had ik dit meegemaakt. Het was dan ook een afsluiter die de lange reis meer dan de moeite waard was.

Zoals ik in een eerdere review aangaf is Demon's Eye een volwassen rockband die meer verdient dan dat het nu krijgt. Maar misschien is dat wel de kracht van deze band. Thanks Andree, Mike, Florian, Mike and Doogie... It was amazing.

Setlist:

Burn
Far Over The Rainbow
Brand New Life
Lady Double Dealer
Tarot Woman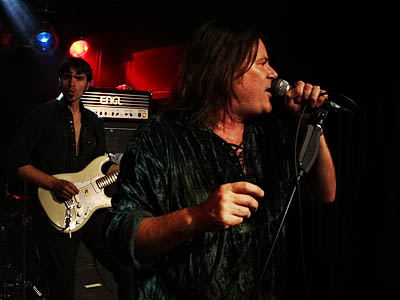 Ariel
Child In Time
Man On The Silver Mountain
The Best Of Times/Keyboard solo
Stormbringer
Evil Comes This Way
Guitar intro solo/Mistreated
Perfect Strangers

first encore:

Highway Star
Medley:
Black Night
Long Live Rock 'n Roll
Woman From Tokyo