Big Noize

M3 Music Festival

Merriweather Post Pavilion, Columbia, Maryland May 14, 2011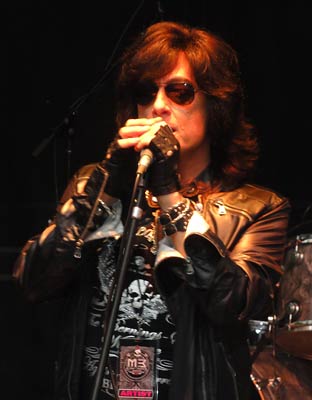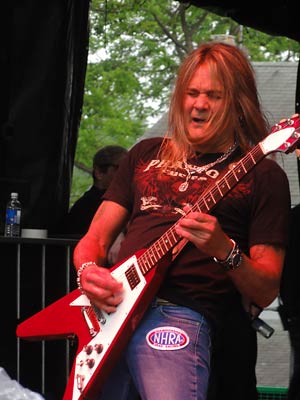 The M3 Music Festival in its 3rd season kicked off this past weekend as a 2 day event consisting of veteran Hard Rock and Heavy Metal acts on two stages. I went mainly for one act in particular that were playing on the small stage.

Big Noize is an all star band featuring: Joe Lynn Turner, Carlos Cavazzo, Phil Soussan, Vinnie Appice and Gary Corbett.

Joe Lynn Turner stated right away that they were NOT to be considered as a cover band, but a band playing their own songs.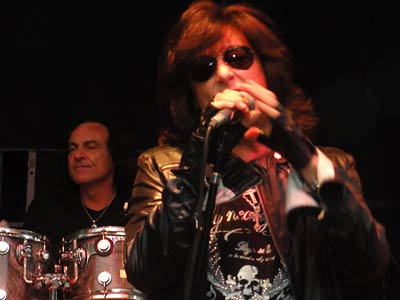 As they kicked off their set with "The Mob Rules" and going straight into "Rainbow in the Dark", the crowd from the main stage (just as Sebastian Bach finished up) rushed over filling up the small open space and spilling out by the display tents next door.

There were even a few old Rainbow fans there too, like myself whose day was made when they threw in: "Stone Cold" and "Street of Dreams". Some even shouted requests for other classic Rainbow material.

The musicianship of each member was absolutely amazing, from the voice of Joe Lynn Turner to the guitar riffs of Carlos Cavazzo on "C'mon Feel the Noize" and "Metal Health", to the classic heavy hitting of Vinnie Appice and not to forget the powerful bass lines of Phil Soussan who wrote Ozzy's one big hit, "Shot in the Dark". Only Gary Corbett didn't have any songs to add other than his keyboard playing, but as a musician let's not forget that he's well known for working with Cinderella and KISS in the studio and on tour.

At the end of their set, the new singer from Warrant, Robert Mason (Warrant played on the first night of the festival which I didn't attend) joined them on the two Quiet Riot songs to end the set.

Within a set time of only 30-45 minutes, they touched on material of all their respective bands. Most of what was in tribute to Ronnie James Dio as we were hitting one year anniversary of his passing, that got a loud response from the crowd paying salute with the chants of DIO, DIO DIO and throwing the famous hand gesture that he made famous in Heavy Metal (and still to this day freaking out the Christian Groups).

Big Noize are for sure a band to keep watch and check out when they come to a venue near you. Alot of fans in attendance at the festival even commented that they wanted them back next year and to play a longer set.

Review & photos: © Jamil Ahsan