Don Airey

The Rock Temple, Kerkrade, The Netherlands April 24, 2011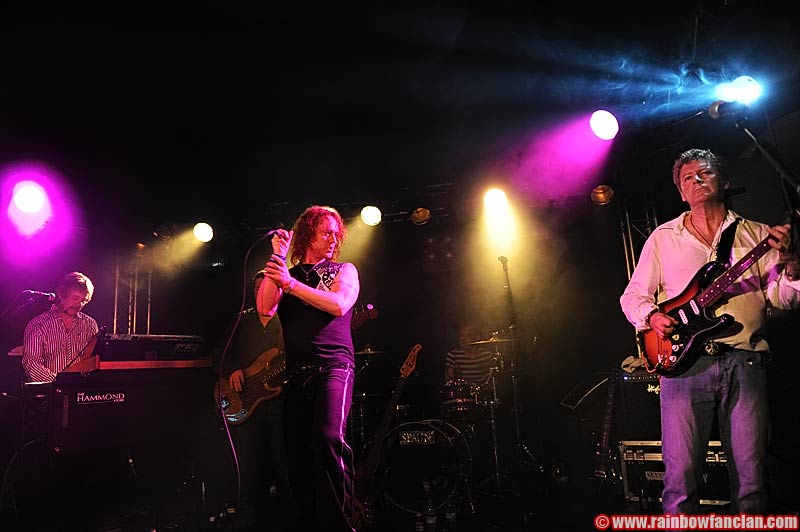 Don Airey did in the Easter weekend two solo shows. On April 23rd in Rutesheim, Germany and on April 24th in Kerkrade, The Netherlands. We travelled to the south of The Netherlands to see the show in Kerkrade. The weather was quite hot and when we arrived, just before the venue opened the doors, only a handfull of fans were present.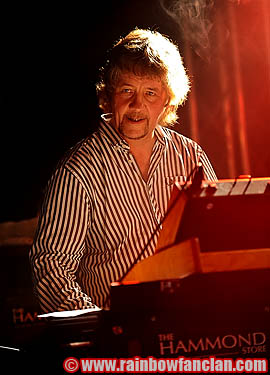 When the support act SeriouS started only about 30 people were in the venue. SeriouS is a new Dutch band that got together last year. Most known is their bassplayer Jan Bijlsma who used to play in Vengeance during the 80's/90's. They are a Creed type band and did a good rockin' set.

Don Airey, keyboardplayer in Rainbow from December 1979 till August 1981 and since 2002 with Deep Purple, was supposed to release his 3rd solo album during this period but somehow it got delayed. It is expected to get a release in the near future. A planned tour stranded with only these two shows.

Don is joined for these shows by his brother and guitarist Keith Airey, singer Carl Sentance, drummer Jon Finnigan and bassplayer Alex Meadows. After the intro, "Montagues And Capulets" (from Romeo and Juliet), the band enters the stage and kick off with "Endless Night". The song comes from Don's solo album "A Light In The Sky" which was released in 2008.

There are more songs early in the set from Don's 2nd solo album with "Shooting Star" and "Love You Too Much". They are good rock songs that fit singer Carl Sentance excellent. Also the piano piece "Sombrero M104" is played by Don.

Early in the set there's also Deep Purple's "Child In Time". Quite a surprising choice to play this but a fine performance by the Airey brothers. With "People In Your Head" we get to hear a new track, unfortunately the only one, that is from Don's upcoming new solo album. It's a good melodic rock track with a Deep Purple feel in it.

"Light In The Sky" is next, although this is the title of Don's last solo album, this one comes from Cozy Powell's "The Drums Are Back". It's a nice tribute to the drummer who died in 1998. Also in the next track Cozy is remembered as Jimi Hendrix' "Fire" goes into Cozy's hit "Dance With The Devil" as intro for a drum solo by Jon Finnigan.

Another legend is remembered in "Parisienne Walkways". The classic Gary Moore track is a tribute to the Irish guitarplayer who died earlier this year. Like Cozy a good friend and collegue of Don Airey with whom he recorded and performed many times. Keith Airey plays a very fine solo in "Parisienne Walkways".



The last part of the show has the focus on some classic Rainbow tracks. First we get "Difficult To Cure" which Don dedicates to promoter Ludy. He also jokes that it's 'difficult to play'. An instrumental piece with "Brandenburg Concerto" and "Over The Rainbow" leads us into "All Night Long".

We've seen Graham Bonnet and Joe Lynn Turner each perform this song on this very same stage the last two years. Despite Carl doesn't match their level on this crowd pleaser he does a nice performances involving the audience and let them sing along. The set ends with a blast. "Lost in Hollywood" is followed by a great instrumental version of "A Light In The Black".

It doesn't take the band long to return to the stage for a couple of encores. The audience can do some more singing in "Since You Been Gone" that kicks off with a jazzy intro. A medley of "Gimme Some Loving" and "Dazed And Confused" is followed by the last song of tonight "Black Night". The 70's Deep Purple track gets a long version in which Don introduce every member of his band tonight.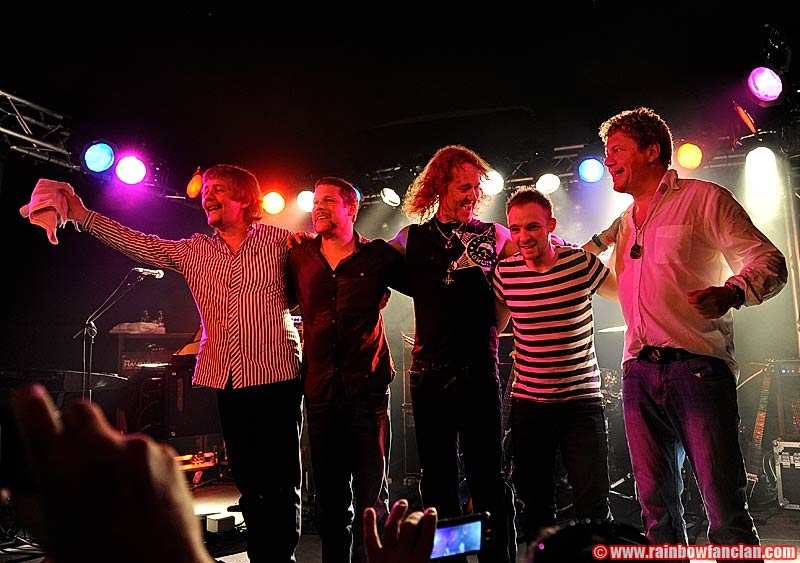 We've got an excellent night with a splendid performance by Don Airey and his fine band. The band seems to enjoy themselves a lot on stage, smiling faces all over the place. Pity not too many people came to see the show, I guess there were some 70-80 people in the audience. I suppose the ones that stay home made the wrong choice because Don and his band did a great show.