Blackmore's Night

Niedernhausen-Frankfurt, Germany September 18, 2010



'Such an enthusiastic audience in Niederhausen! Seems like Ritchie's taking a liking to pulling appreciative fans up on stage this time around.' BN Official fan club

'Niedernhausen show was filled to the rafters'. Ritchie Blackmore official site

'Played for around 2 hrs 25 minutes at Niederhausen! Collecting more presents for Autumn at each show :) The fans have been so sweet! Candice Night official fan club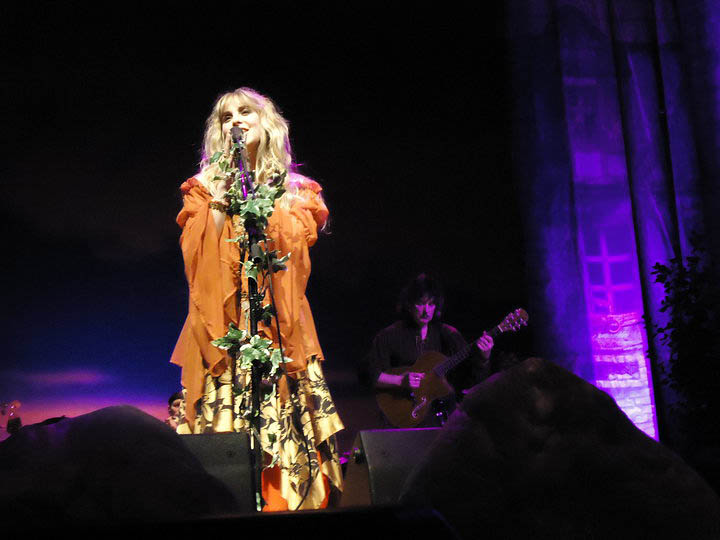 18.09.10 Niedernhausen Rhein – Main - Theatre Live in Concert


A Night in the merry Company of Candice Night &Ritchie Blackmore with their band of Minstrels. A personal perspective.

'With love to our little Strawberry Girl Autumn Esmeralda' read the inside sleeve of the new CD I was holding in my hands on the train to Niedernhausen. The occasion was unique; almost like a rare astronomical phenomenon, so to say; how often do planets line up so perfectly? that is: the arrival of a blessed child to the world that has certainly fueled up the genius of Ritchie and has equally inspired Candice, a brand new CD, having just been released- after two years - plus a much anticipated tour in Europe with a front seat ticket! Indeed, on this wonderful Autumn evening, I was only too anxious to experience the way the Minstrels would create their magic on stage. At the back of my mind I knew that, admittedly, Blackmore's Night is a live band, so everything one has probably heard is true-and not only that; rumors has it that surprises do take place on stage, spontaneously... and this is truly one of the best aspects of a Blackmore's Night show.

On arrival, I must confess that the Main Theatre was as Candice noticed a 'bit in the middle of nowhere'. Even more, its external appearance seemed rather modern, however, it proved rather deceptive. Once one enters, it becomes apparent that it connotes to a classical venue where you might expect one of Germany's Classical composers to walk on stage any moment (which may be quite true in the case of Ritchie Blackmore).Visually, the semiology of the stage as well as the instruments, that are set to be used during the concert, evoke a Renaissance past that the band's ethos suggests to its audience in an effort to psyche us up. And believe me, it works! Interestingly enough, when I also observed a smiling plastic sea gal among their instruments, I knew that this is no ordinary live concert but rather an experience to something... well unique.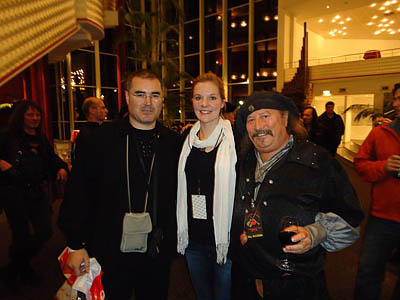 Approximately around 8.30, and as we were all sitting patiently, we were pleasantly taken by surprise: one of my favorite musicians, Albert Danemann, in full garb, started the show in an almost ritualistic manner. The Minstrel started playing beautiful traditional tunes on his bagpipes right there, among us, bringing the music to the audience and developing a wonderful immediacy with everyone 'inviting' us to what is about to follow and setting a renaissance mood around; the gap between the 'artist' and the 'audience' was gone.

After going round the front seats, Albert went up on the stage and welcomed the audience. The whole 'ritual' carried strikingly an aura from the 'Old days'. Our transition to the past had begun. His skills on the wind instruments are fantastic, and I am not surprised at all that Ritchie snapped him for BN, as he brings so much character in to the band and carries with him a wealth of traditional tunes. I particularly enjoyed his own composition 'The Flute player' –a poem by Hermann Hesse-where he played the hurdy gurdy and the flute at the same time!

And then... around 9.00, and in a sold out venue, the lights went out and one could feel the atmosphere being filled with anticipation and excitement... time for the Minstrels to take us for a trip in the magical world of Blackmore's Night. The intro piece is one of my favorite BN songs; 'God save the keg' - a beautiful composition which sounds great also on its vocal version with Candice - served perfectly for an introduction and set the tone of the band's identity. One after the other, BN members appeared on stage with Earl Grey greeting us with his typical attempt to put a spell on us through hand gestures, the fairy Queen in a most beautiful dress and a big, beautiful smile and finally, the living legend... Ritchie Blackmore him self. His presence is quite a force on stage, and one can not help but stand in awe seeing this extraordinary musician, sharing his music with us. It would not be an exaggeration to suggest that if you take Ritchie Blackmore from planet music there would certainly be a lot missing.

'No two Blackmore's Night shows are the same' Candice prophetically announced during the first set of songs. I was glad to hear that, as this makes them so special. To be honest, I was looking forward to listening to the way the new songs would sound on stage. In particular, I wanted to listen to songs that show more of Candice's vocals as well as those that sound, at least to me, closer to her as an artist. The first one was 'Believe in me' which I liked very much because, in my humble opinion, I see parts of Candice there. She has come a long way and that shows in the way she sings. I was hoping to get the Joan Baez cover too, but it never happened.

I made the mistake to ask for 'Darkness' when we were asked which song we would like to listen next so... 'naturally' they played another song.(!) 'Journeyman' was great to listen to and Candice seemed to enjoy very much singing it. The set list, which could change anytime according to the band's mood, included some of the band's classics too, like: The village Lantern, again a song that seems to be a very 'Candice song' to me, and is always a pleasure to listen to,'Durch Den Wald Zum Bach Haus' and the funny story with the Rottweiler chasing Ritchie (!). 'Under a violet Moon' and 'Home Again' where the audience experienced the definition of methexis... one was not only invited to sing but also had to stand up and participate in a group sort of choreography according to the rhythm played in that particular song which was great fun! Candice has certainly found a way to be close to the audience with her charm and genuine smile and the audience responded vividly.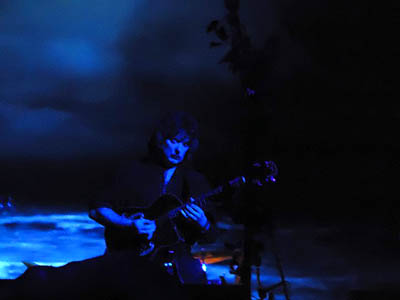 Ritchie was in a great spirits too. Apart from his short visit to his old days' artistic legacy and playing 'Difficult to Cure' on the Stratocaster, part of the uniqueness that the show is about is the interplay between Candice and Ritchie on stage. The audience really loved the way Ritchie teased Candice throughout the show, either by throwing a dash of invisible salt on Candice's hair... or by switching to another song without letting her know about it until it is too late...

The funniest parts though will not be revealed here as I suggest that friends should see them themselves live on stage. Just a hint though... where could anyone listen to Beethoven, Hendrix and most importantly Lady Gaga? Correct, on a BN concert! Oh, and I hope you like blondes!

On a more serious tone, Ritchie enjoys audiences that know how to have a good time as well as when they know when to be quiet (just like Wagner did). One of the things that has stayed with me is that when Ritchie showed that he needed absolute silence to focus on his instrumental you could hear a needle drop on the floor, a fact that is to the credit of the German audience.

The best part, though, came right at the end of the show when things were really heated. We were right up in front of the stage close to Candice and Ritchie who were dancing in a joyful manner. All these Fan Clubs became one under the spell of Candice and Rtchie's beautiful tunes. Ritchie did pull up members of the audience to dance on stage while everyone at the venue was clapping and having a great time. I was really pleased to see Ritchie being in such great mood, sharing his guitar and a glass of beer with us. This is the true spirit of this band as it has gone a step beyond a 'decorum' regarding concerts, and managed to become literally one with the people who came to see the band. This is the kind of atmosphere that makes people travel internationally and be able to experience a live concert that stays with you long after you have been there.

Ritchie has often said that he likes to play for 15 people who are in to the Renaissance... well there we were... a whole venue became one merry company! The encore song was an excellent choice: 'Dandelion Wine', resulted to a mixture of melancholy and joy that overtook us all... Candice came to me and shook hands and so did Ritchie... an honour indeed.

Around 12.00, I left the venue with all passions spent, a big smile and the honor of meeting some of the Minstrels who came out after the show and signed the new CD. Had two and a half hours really gone by already? Candice's final lyrics kept coming to me: 'So here's to you, all our friends, surely we will meet again/Don't stay away too long this time/We'll raise a glass, maybe two/And we'll be thinking of you/Until our paths cross again...maybe next time... '

On the way back and in the taxi, I took a glimpse at the night sky and I could not help but to observe a most beautiful starry Autumn sky.

My special thanks to Minstrel Albert for the great honor of the song dedication and to Rainer Klos and the German Fan Club.

Michael Smernos BA MA in English Renaissance Literature (York) Greek Official Fan Club
(or just... A Merry wanderer of the Night)


Blackmore's Night • OFFICIAL GREEK FAN CLUB

http://homepages.pathfinder.gr/BlackmoresNight
http://www.myspace.com/blackmoresnightgreekfc
http://www.facebook.com/sir.aidonidis