Over The Rainbow

Aladin Music Hall, Bremen, Germany October 25th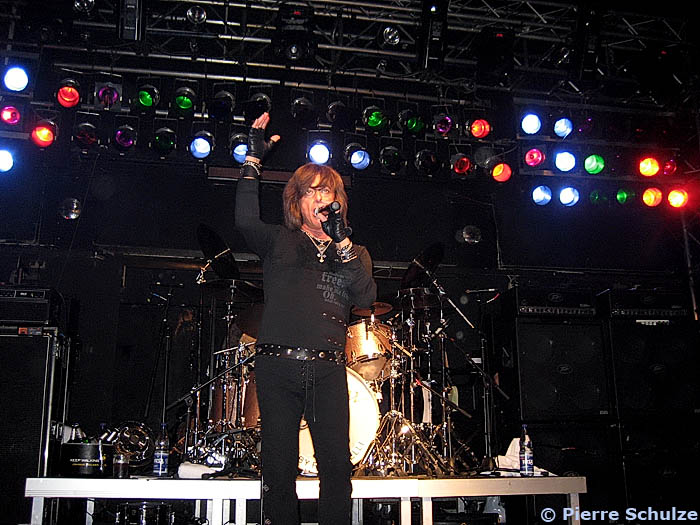 Just back from Bremen, "Aladin", after my visit to the first OTR-Concert in the north of Germany. At first: It was WOW !!!!!!

After my own long history of Rainbow-Concerts with the Master himself: Ritchie Blackmore, now I was very very curious about this event. At first: Only 250 - 300 viewers at a Rock-Club venue and ... it was very loud !!! But this is rock'n'roll !


Because I have seen the other members of OTR already a few times, so I gave JR. my full attention, like his father many times before. JRs guitarwork in combination with this music was in a technical sign more than okay for a no-name-guitar-player, nearly brilliant ! But because of his genes and the heritage of the Rainbow music, it is necessary to have another way of seeing. In this respect, JR. was a worthy replacement. In his playing, you can hear JR and Ritchie. If you see him as the person, his gesticulation, his facial expression, his presence on the stage, you see his father in a consimilar body. With a lot of friendlier, warmly presence than the great shadow who is hovering over him. Not so perfect like his father but also a real talent. Of course a BLACKMORE !

I think, after a view years on stage and with the endorsement of this routiniers like J.L.Turner, Bobby Rondinelli ... he would be brilliant, maybe like his father... ! ... ? Lets wait a while ...

For the resume of this gig. Everyone who likes Rainbow will like OTR. A great professional performance. Still like the original, clearly better than the studio-recordings. But with a clearly gap between Ritchie an JR.Blackmore and the opinion for JR. to fill this distance in his own way. And if the rumors will come true, this guys will create some new songs and the historie will start over (the rainbow).

As last the setlist: Tarot Woman / Kill The King / Cant Let You Go / All Night Long / Death Alley Driver / Paul Morris Solo / Eyes Of The World / JR Blackmore Solo / Ariel / Wolf To The Moon / I Surrender / Man On The Silver Mountain / Jealous Lover / Bobby Rondinelli Solo / Stargazer / Long Live Rock n Roll

1. Encore: Gates Of Babylon (JR used a very special Fender Stratocaster*)
2. Encore: Since You Been Gone/Cant Happen Here
3. Encore: Spotlight Kid

*A very nice Fender Stratocaster I have never seen before: With body in vintage olympic white with 3 single coils with white covers (like Ritchie's dummy pickup in the middle position) without inscription. A very nice Stratocaster neck with golden mechanics and a very special inscription: "Fender" (? not sure). JR.Blackmore" (instead of the Stratocaster inscription). The neck is a very special neck with an unusual dark neckcolour (like cherry tree) with a maple fingerboard with pearl ornaments or colour around the hole neck an around the headstock.

*LLRnR*
-kraatzy-

photos © Pierre H. Schulze