Over The Rainbow

Principal Theater, Thessanoliki, Greece October 18th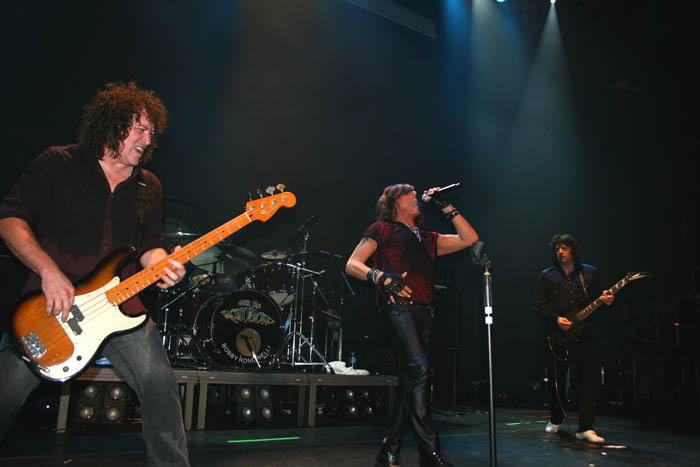 The pouring rain was coming down heavily on us as we were trying to find the venue where the dream of so many Rainbow fans would come true. Legendary band Rainbow was brought to life again thanks to an impressive collaboration of original band members, and most importantly, with the king of melody himself on vocals: Mr. Joe Lynn Turner.

As the crowd started gathering I came to realize that we were actually going to see one of the last few great vocalists who had made history both with Rainbow and as a solo artist; the man who created a new, fresh path of melody for Rainbow that made the band popular to a wider audience, the front man who revived the career of guitar extraordinaire Yngwie Malmsteen, Deep Purple and so on.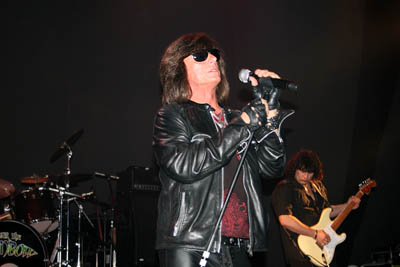 The moment of truth had come. Lights went out and after all this rain we had, it was time for the rainbow to come up! The first notes of Tarot Woman on keyboards hit the venue and the place started shaking: enter Joe Lynn Turner! For those of us who are true fans of Joe this was a real treat; not only had we the solo artist that we loved, we had him back as the lead singer of Rainbow in full force!

The audience responded immediately to the call and the trip to the history of Rainbow started; as the band had assured Rainbow fans, the repertoire would include all the big hits from the legendary band's history and this is precisely what happened.

Personally, I was very impressed by the way Joe performed the Dio era, the man is a professional in every sense of the word and he can deliver any song in a way that hits your ear in an interesting way, and this, perhaps, is one of the abilities that makes him so special. However, it was Joe's era in Rainbow we were waiting for and it became evident quickly why Joe is such a great artist.

First of all, let us be honest here. His voice really and truly rocks! Joe was generous throughout the gig and never stopped giving his best; his high notes, in particular, in some instances made the audience almost go silent! This was a true Rainbow best of, and the band delivered one hit after the other. From Dio's Long Live Rock and Roll to White's Ariel! Of course we all waited for the Turner true classic moments in Rainbow and the hits that we always associated his voice with Ritchie Blackmore's genius: when I Surrender came up the audience followed Joe line after line throughout the song.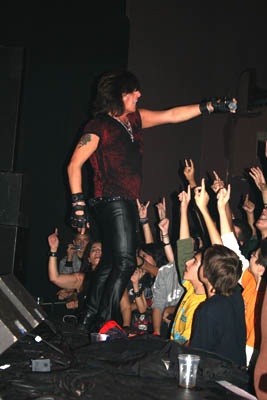 On the other hand, Jurgen did justice to his 'heavy' surname and cooperated perfectly with Joe to perform the band's historic songs. Jurgen was very approachable and open with the audience who appreciated his skills and great personality. On the other hand, Joe's stage presence was that of a true veteran and the definition of a true professional; being in great shape and wearing sunglasses and leather jacket he seemed like a formidable force and better than ever! What truly stands out from this live gig is the fact that the band's track list created a non stop energy coming from this restless band as one song hit you after the other.

After two hours of rocking with super Turner hits like Jealous lover, Death Alley Driver the band finished with three songs encore: Spotlight Kid which was a dynamite, Gates of Babylon where Jurgen must have made his father proud and finally Can't Happen Here one of Turner's best songs in the concert. It was very hard not to be satisfied after that full stop! However, the band had another surprise for us, all four members came out to take some photos with the fans as well as to sign autographs.

I admired the way all four musicians were very open to the fans and only too happy to take some photos with the fans who came to see the artists from a closer range. When our turn came to meet Joe as the "Joe Lynn Turner Greek fan site" we were truly honored and I must confess a bit embarrassed. The band was having something to eat after two hours of rocking and sweating, however Joe quickly got up from the table only to welcome us and greet us.

I know that it is hard to write a review about a guy whom you like as a musician and as a person but this is nothing but the truth: Joe thanked us from his heart and he really meant it; he is not just a charismatic singer but a genuinely nice guy and we want to see him live with another Rainbow project or as a solo artist. Mr. Turner, from all of us here in Greece a big thank you for your music all these years and we are looking forward to having you back in Greece very soon.