Over The Rainbow

House of Culture, Helsinki, Finland October 10, 2009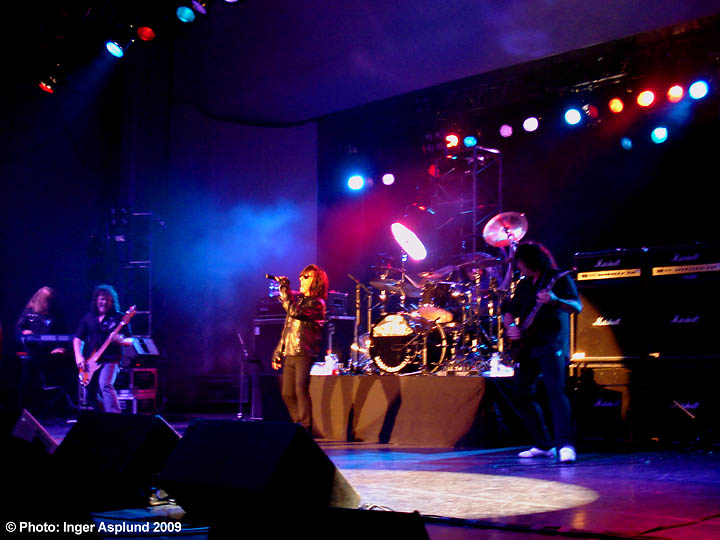 As I was packing my bags for the trip to Helsinki, it all felt so unreal. I couldn't fully comprehend what was about to happen. How would it feel to finally see them, the band I have loved for nearly 30 years? One of two bands that opened my eyes, ears and heart to melodic hard rock back in the early 1980's. The band that was dead and gone and no one, not even any of the members themselves, ever thought would be resurrected? Never in my wildest dreams did the thought occur to me that one day I would be standing face to face with this band in real life.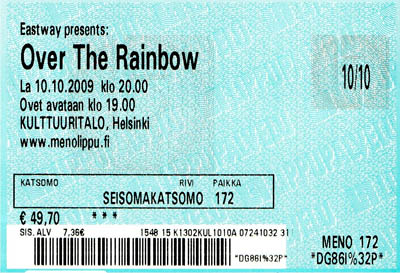 Helsinki, October 10th. The House of Culture. (www.kulttuuritalo.fi/en/)

Designed by world famous architect Alvar Aalto and in my opinion one of the ugliest buildings in the country. The stage looks OK though.

The venue provides room for about 2000 people in the auditorium, which is built like an amphitheatre so that everyone actually has a chance to see whoever is on stage. When it comes to acoustics, this is apparently not the best place for rock concerts though.

The auditorium is crowded, sold out from what I can see. We find ourselves standing in the front row to the right, waiting eagerly for the show to start. I'm glad there's no opening act.

This way we are able save all our energy and attention for the people we came here to see. The older I get, the more impatient I get with being forced to waste my precious time listening to music I don't like.

Excitement is building up, the audience clapping their hands and making a bit of noise to let OVER THE RAINBOW know they are wanted. Finally, there they are. Frontman Joe Lynn Turner, guitar player Jürgen Blackmore, bass player Greg Smith, drummer Bobby Rondinelli, and keyboard player Paul Morris who joined the band after Tony Carey left earlier this year. Is this really happening? Must be, because I can see them right in front of me - and they're all looking gorgeous too!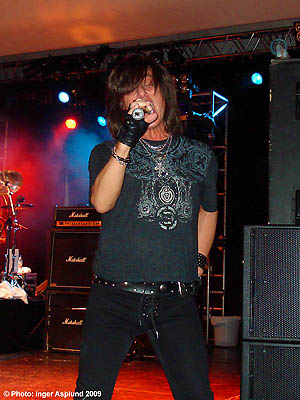 The crowd goes wild. Unfortunately, so do a couple of very drunken men standing next to us. They will turn out to be quite a nuisance throughout the concert, making it extremely hard for us to concentrate on the music. Security isn't of any help at all. This makes me very sad and disappointed, as I have made up my mind to both enjoy this to the fullest and also to write about the concert one way or another. If only I could hear what they are playing.

Early in the show, Mr Turner makes a comment on how enthusiastic the audience is as he says, "the show hasn't even started yet!" As I take a look around me, I can see that many of these people probably have been Rainbow fans for as long as I have.

For the most part the audience is mature. During big radio hits like 'Since You Been Gone', the crowd joins in and sings along loud and clear and it's evident that they have been longing to do this. When less well-known songs are being performed, they concentrate more on listening and clapping their hands. There is constant support from the very first minute until the band has done the encores. The frontman's way of communicating with the audience seems genuine and he sometimes walks over and reaches out to try and touch people's hands or blow someone a kiss. I feel a little sorry for a few of the guys standing close to me who jump at every chance to touch his hand but never quite make it.

Except for Joe Lynn Turner, I have never seen any of the band members live before. I was especially looking forward to seeing Jürgen Blackmore, the man who made the reunion of the band possible in the first place. I'm already sick and tired of people comparing him to his legendary father Ritchie Blackmore, so I will certainly not join those choirs. Let me assure you, Jürgen Blackmore is a great guitar player and does not need to be compared to anyone. It's a true pleasure to hear him play heavy riffs like the one in 'Man On A Silver Mountain'.

I'm incredibly happy that he said yes to joining Over the Rainbow, thus giving the world a chance to experience this wonderful music live again. It seems like the most natural thing in the world, watching him do his thing together with these former members of the original Rainbow.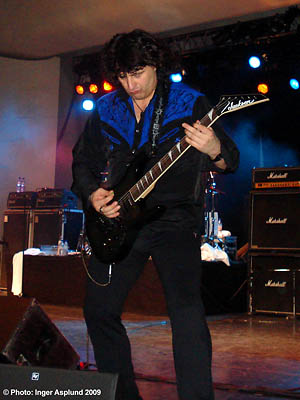 Another thing that bothers me is how journalists and fans keep comparing Mr Turner to the other former vocalists of Rainbow. Does he or does he not do certain songs justice is usually the issue.

Joe Lynn Turner is one of my personal top three rock singers of all time, to me his voice was and is the voice of Rainbow! I know fans of Ronnie James Dio or other singers may disagree but I really don't see the point in comparing these voices. They are all great, all different, it's all a matter of taste. There are very few rock singers of this caliber in the world, so let's be grateful for who everyone is and just enjoy their work.

I especially love the tenderness in Mr Turner's voice as he sings ballads or more quiet parts of songs and his ability to alter his voice depending on the different moods of the songs. He may not be the loudest screamer who ever lived but the beauty of his voice is where his true strength lies the way I see it. His voice is in great shape tonight and it's a crying shame that it sometimes drowns almost completely in the music, at least from where I'm standing.

Since the members of OTR have been in different lineups of Rainbow I assume that it has taken some time and effort for them to find their own sound as this new unit. I have no problem whatsoever with how they sound right now. I don't want - and in fact I'm not even able to compare them to any of the original lineups with Ritchie Blackmore, as I have never heard any of those live.

I just want so desperately to hear this music again, to be there and get in the mood these songs used to put me in all those years ago. This is the real thing, top quality skillful musicians. I'm curious to find out what they are capable of when it comes to writing and recording new music together. Something to wish for certainly.

The mix of songs works. Enough of the biggest hits to make people sing along which is important because they expect it. There's also some material that may not be familiar to everyone. Nevertheless, 'Kill The King', 'Can't Let You Go', 'Man On A Silver Mountain', 'Gates Of Babylon', 'I Surrender', 'Can't Happen Here', 'Jealous Lover', 'Since You Been Gone', 'All Night Long' and 'Long Live Rock'n'Roll' were just some of the tracks played on this night.

I also enjoyed Bobby Rondinelli's powerful drum solo and Jürgen Blackmore's guitar riffs immensely. However, 'Stone Cold', my number one Rainbow classic, was left out of the set, but I hope to maybe hear it next time around. According to Mr Turner next time means next year. I sure hope I can be there when it happens.

Review & photos by Inger Asplund