Over The Rainbow

Palace of Sport, Omsk, Russia October 3, 2009



Omsk is not a small city, with a population of 1.5 million people. And it always had a significant number of people who sincerely love "heavy rock" in spite of the prohibitions of the communists. I was raised on the music of DEEP PURPLE and other classical groups, but when RAINBOW appeared, it forever became my favorite team, as well as for my friends. This is why it is difficult for me to write about this historic event, which we really didn't have a right to expect during the Soviet times, but nevertheless we dreamt about it and finally our waiting ended - we had a concert in Omsk, where we, twenty years later, finally heard this great music performed by the real members of Rainbow.

Because I am a fan of Rainbow, in general, and a fan of Joe Lynn Turner, in particular, and this weighs heavily against me being a professional musician, this will not be a critique, but rather a personal impression, which is very difficult to express in everyday words.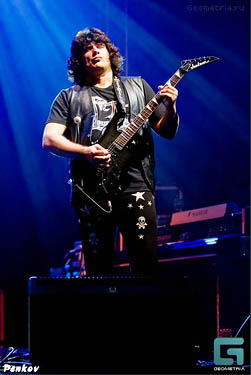 On February 18, 2009, I was in Moscow at the concert of OVER THE RAINBOW and it was very cool. But what happened in Omsk was so much cooler! And I suspect this is not a limit yet! In Moscow, the band was represented well while accompanying a great vocalist. In Omsk, this was already a TEAM, well played together and relaxed, not afraid to improvise and to fool around. Jürgen Blackmore played confidently and with a drive. Paul Morris played with his contemporary virtuosity and was more than in his own place. Bobby Rondinelli, a recognized master of drums, was supporting the hot rock environment without fatigue. Greg Smith with his sunny smile combined in himself the ideal back vocals with beautiful bass. Everything was cool and to the point, everything was in its own place!

I have to mention Joe Lynn Turner in particular. It is understood that Over the Rainbow is not exactly the real Rainbow but Joe puts so much soul and effort that he beautifully embodies all the vocalists of Rainbow in one person, and he makes the absence of such an important part of the sound of Rainbow like (the) magical and unpredictable guitar of Ritchie Blackmore unnoticeable (let Jurgen forgive me who's quite a professional and good guitarist!).

If Rainbow was a team of Blackmore, then OVER THE RAINBOW is unquestionably the child of Turner, who is the creator and spiritual leader of this project. Joe's singing in Moscow was, as always, outstanding. But in Omsk, he outdid himself. His voice sounded so fresh, distinct, clean, and filled with genuine passion that even old fans who knew what to expect were quite impressed. Every song was painted with falsetto notes that were out of this world, which to tell the truth, in a live performance of Joe, it always came out great but from the vocal point of view not ideally. But here, his voice simply dazzled. It was his changing from a "clean" sound into the "falsetto" so freely, beautifully, and naturally that I couldn't believe to be so happy to hear such virtuous singing.

Somewhere in the middle of the show, Joe could not tolerate that the dance floor was located to the sides of the stage, a good distance from him, and he called the crowd to himself. The crowd then rushed the fence, and despite the security guards surrounded the stage where everyone felt the warm contact with this incredible musician for real - a person who always wants to give everyone personal joy and part of his love, to shake as many as possible hands stretched out to him, without interrupting the song and without lowering the heat.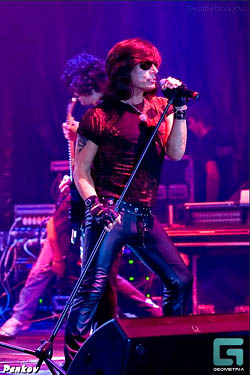 All songs that were performed during the show were heavy and kept everyone going. The most calm song was 'Can't Let You Go' and in general was not so calm. There were six songs that were performed from the period of Dio ('Tarot Woman', 'Kill The King', 'Stargazer', 'Man On A Silver Mountain', 'Gates of Babylon', and 'Long Live Rock'n'Roll'); three songs of Bonnet ('Eyes Of The World', 'Since You Been Gone', and 'All Night Long'); five songs by Joe ('Death Alley Driver', 'Can't Let You Go', 'I Surrender', 'Can't Happen Here', and 'Jealous Lover'), and one song of Doogie White ('Ariel').

In the absence of slow songs, this material did not present itself in the same way, it sounded very fresh and it was filled with rock'n'roll energy, drama, deep feelings, and warm humor. Two beautiful solos by Morris and Rondinelli created this genuine environment of a secret birth of music from silence that could not be replicated. The crowd was wound up so much that the musicians had to appear on the stage three times. That's what happened in Moscow as well.

Great energy of Joe Lynn Turner, who for almost two hours, was singing at the edge of human ability, and at the same time, impressing everyone with (his) supernatural agility and great movement. Inspiring play from the other musicians radiating light, goodwill, and inspiration made the show an unforgettable event. The spectators were of different ages, beginning with children and almost everyone was singing along and knew the lyrics! I hope that in the future, Joe will relax a little bit and perform masterpieces of Rainbow such as 'Catch The Rainbow', 'Rainbow Eyes', 'Stone Cold', Tearing Out My Heart' which were not included in this program.

I want to ask for forgiveness if I made mistakes in the set list because I couldn't write it all down. I was so much involved in what was going on around us! I was writing this list according to my memory!

I want to thank Joe Lynn Turner for his belief in music and making our 20-year old dream come true. I want to thank his team for their support, understanding and inspiration.

We caught and went Over the Rainbow!

Zlata Romanova
Classical Guitar Instructor - Omsk

Translation into English courtesy by: R. Kostenko - USA

Photos Krasnodar, Russia - September 15, 2009: © Penkov - Geometria.ru