Joe Stump

Confederates MC Custom Day, Amersfoort, The Netherlands September 13, 2009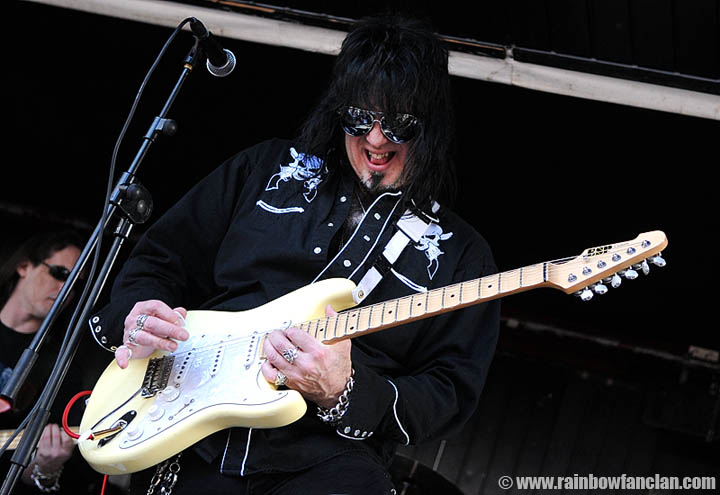 Last year we saw Joe Stump in Weert on his Dutch tour. This month he returned to the Netherlands to do another tour. He played a total of 10 shows in all the corners of the country. Mainly very small places. His band included this time again bassplayer Jay Rigney and drummer Erik Stout. On vocals we got now Pieter Bas Borger.



Jay Rigney is the bassplayer that is working with Joe for quite some time. He teamed up with him more than 10 years ago. They worked together on Joe Stump's solo albums, Reign of Terror and HolyHell. Erik Stout is one of the top drummers in the Netherlands. He was part of Dutch metallers Vengeance but left the band earlier this year. He's involved in many bands and projects. Pieter Bas Borger has been in several Dutch hardrock acts including Black Knight and Magnetude. Erik Stout was the drummer in the last band.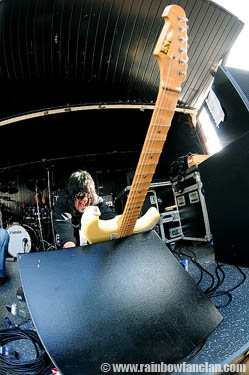 We saw Joe play two shows. On September 13th on an open air gig in Amersfoort and 4 days later in a tiny pub in Zeist. The first show was part of the Harley Davidson Custom Day of Motor Club The Confederates.

A small outdoor stage in a truck on a streetcorner was the place were Joe was gonna play. The flyers and posters said Tony Spinner was the headliner while Joe was in small print with a typo (it said Joe Strump) was the support act.

Surprisingly when we arrived we saw Tony Spinner doing a soundcheck. Not much later followed by his gig. Luckily enough we met up with Arja from the tour agency and she told us Joe was going to play later. Tony Spinner delivered a good set including covers of Led Zeppelin and Jimi Hendrix.

The weather was very weird. One song the sun was shining brightly and the next song it started to pour down with heavy rain. And that continued for quite a while. Tony told between songs he never saw anything like it.

Joe Stump and his band started playing at a quarter past four. They kicked off with a blistering version of Rainbow "Kill the King". Excellent way to start a show. Next up another surprise as the band played "Lady Double Dealer". It turned out the setlist existed mainly out of Rainbow and Deep Purple tracks. His tourmanager told me during the show that he knew I was coming to the show and dropped most of his own stuff out of the set. What a guy!!

One of his own songs he played was "The Dance of Kashani". Great instrumental that sounds a great deal like Rainbow's "Gates Of Babylon". Other Rainbow tracks that we got are "Man On The Silver Mountain" including "Blues" and another surprise, "Lost in Hollywood". We also heard a bunch Purple stuff including the ones Ritchie did in Rainbow. An excellent version of "Mistreated" and they last song of the show today "Burn".




Joe already had gotten the signal that the time was up. So this is were it ended. Despite the setlist had another handful of songs. Because of the license there was a curfew. The show and MC Custom Day was held in the heart of the city. And the license ended obviously at half past five.

After the show we had a cool chat with Joe. Needless to say the only subject was Ritchie Blackmore.



Joe Stump

Dranklokaal de Druppel, Zeist, The Netherlands September 17, 2009



Four days after the gig in Amersfoort Joe Stump played again a show in our area. This time in the very tiny but cozy pub de Druppel (The Drop) in the city of Zeist. The place only can hold 30-40 people. And at least that number of people were present tonight, so it was really crowded.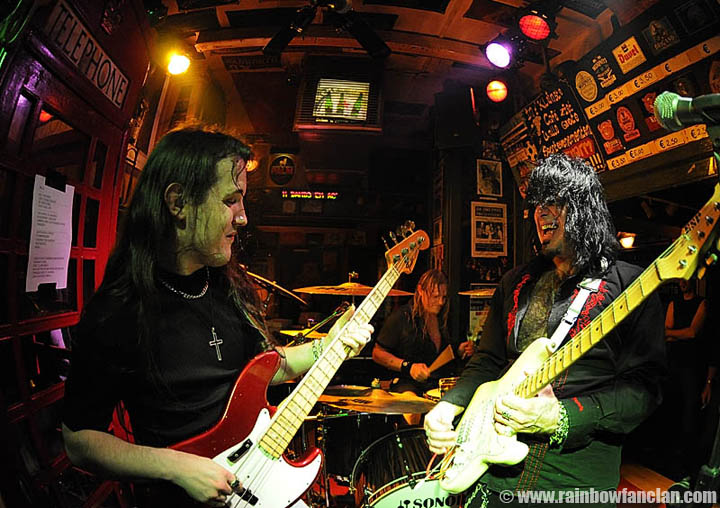 Still the atmosphere was excellent right from the start. They kicked off just after 10.00 PM. Again "Kill the King" was the opening song of the set. Tonight the setlist was longer than in Amersfoort.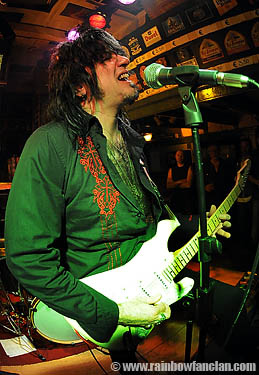 Especially Joe's own songs that were dropped then were back in the set. "Take Your Life" and "Undercover" are both songs from the Reign of Terror era.

From his last solo album "Virtuosic Vendetta" there were 3 tracks. We got to hear "Blackmore's Boogie" and "The Dance Of Kashani". It showed the admiration for the legendary guitarplayer of Deep Purple and Rainbow clearly.

"Blackmore's Boogie" has several licks and riffs of the axehero who has moved to a completely different direction these days. "The Dance Of Kashani" is an ode to "Gates of Babylon". One of the best Rainbow tracks Blackmore ever recorded.

Also "Chasing The Dragon" is a track from Joe's latest solo CD. Both the title as the song itself is more in the league of another guitarhero. And that's the also inspired by Blackmore Swedish axeman Yngwie Malmsteen.

Ofcourse we also got more a bunch Deep Purple and Rainbow covers. We heard them last Sunday already and tonight they are played again. Stump approaches the guitarparts of Ritchie Blackmore very detailed. Also his sound is very authentic to Ritchie's 70's/80's sound. Just like all the aspects of the 'bad-ass' image of the guitarplayer who has changed into a minstrel these days.





Halfway through the set we got un unplanned pause. Jay Rigney had a problem with his bassguitar. He needed a screwdriver and no one seems to have one. But all of a sudden a few screwdrivers popped up from different people and the problem is solved quickly. The band continued where they left in the set.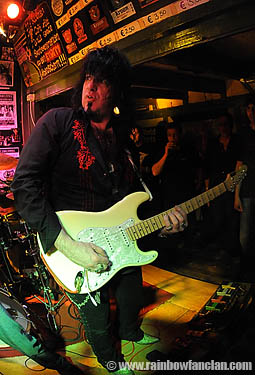 It's quite a special show in such a tiny pub. De toilets are behind the stage so there's a lot of traffic in front of it. Since the atmosphere is great nobody seemed to bother. In the mean time we heard great rockin' versions of known classics like "Lost In Hollywood", "Stormbringer", "Mistreated" and "Burn".

Exactly when the clock hits midnight the sound is turned down and a Dutch "Happy Birthday" song get played through the P.A. It's Joe Stump's birthday on September 18th and that moment was right now. Joe smiled a lot while everyone present shaked his hand wishing him a happy birthday.

About a quarter later it's time to do a couple of encores. They kicked off with some cool Jimi Hendrix stuff in "Old School Throwdown". Then a great version of "Highway Star" is played. "Man on the Silver Mountain" is started but get stopped by a woman dressed as a New York cop. It's a stripper as birthday present for Joe Stump.

We have seen a pretty cool and intimate show. Incredible tiny stage. To shoot the photos a fisheye lens was necessary.

Joe Stump is an excellent guitarplayer and a cool dude too. His band kicks ass. Jay and Erik are a smashing rhythm section. Pieter Bas is no Coverdale, Dio or whoever sang the originals but he's a good singer. So we can say it's very recommended to go and check out Joe Stump when he's playing around in your area.