Heaven And Hell

Dodge Theatre, Phoenix, Arizona August 12, 2009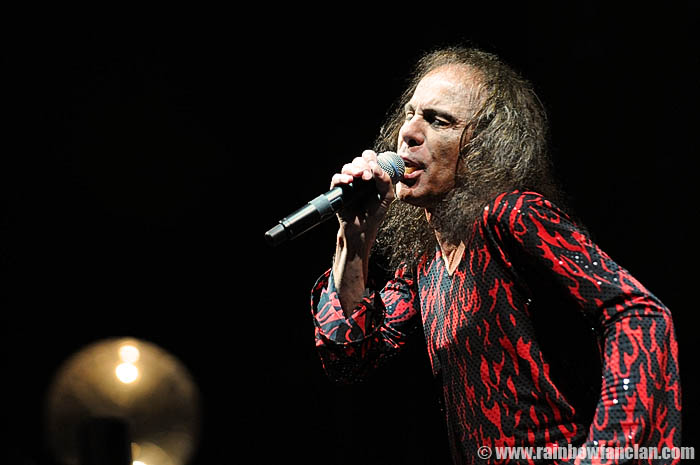 With the release of their album The Devil You Know (this past April 2009) and their subsequent rise onto the coveted Billboard charts (appearing at # 8 in the US after the first week of sales), HEAVEN AND HELL certainly had enough material to showcase at last night's show in front of the capacity crowd to go along with a host of other tracks they chose to perform from previous albums (Heaven and Hell (1980), Mob Rules (1981), and Dehumanizer (1992)], in which lead singer Ronnie James Dio was a part of when the band was called BLACK SABBATH.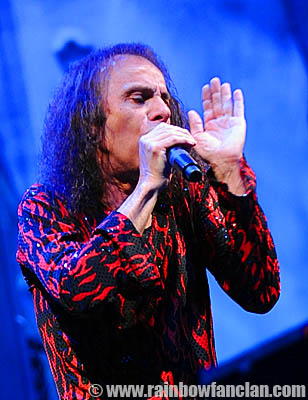 The Phoenix show was the 4th stop (of 15) on their current US tour, which began last Saturday night in Seattle, Washington.

The stage the band was performing in front of had a sort of monolithic feel to it with the two menacing looking gargoyles stationed on either side, just behind the 'gates of hell', which were located next to Vinnie Appice's drum riser. Directly behind and just above the drum riser was a large video screen that played various abstract images of religious symbols and mythical beings that went along the songs they played on stage.

And while I had seen Dio a few times in the last 25 years as strictly a solo act (the first being in June 1984 on his then Holy Diver tour), this was the first time I had the opportunity to see the 'diminutive figure 'with still the most powerful voice I have ever heard, fronting this band, which has touted by music historians and fans alike, as the band who was one of the "father" of genre of music we know as 'Heavy Metal'.

One of the highlights of last night's performance was the playing of their first single from their latest album, entitled 'Bible Black'. Also featured were 'Fear' (just after Appice's drum solo) and 'Follow The Tears'. But my favorites were 'Time Machine' from Dehumanizer and the classic 'Die Young' from the album Heaven and Hell, which I felt really showcased the talents of the entire band including founder, guitarist Tony Iommi and bassist Geezer Butler. It was also during the performance of the latter track for which I felt the best use of the lighting and video effects on stage were shown.

The show ended with an extended version of the title track and name the band took when they formed in 2006, 'Heaven And Hell', which played right before the encore track 'Neon Knights'.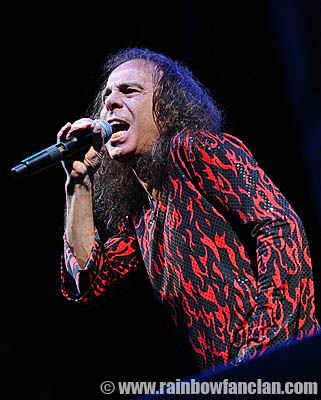 Set List – 1 hr 27 Minutes with encore

1. Mob Rules
2. Children Of The Sea
3. I
4. Bible Black
5. Time Machine
6. Drum Solo
7. Fear
8. Falling Off The Edge Of The World
9. Follow The Tears
10. Die Young
11. Heaven And Hell

Encore

1. Neon Knights

Review by Julie Barela Mills



All photos: © rainbowfanclan.com - Waldrock June 13, 2009