Rainbow Rising

Rock Temple, Kerkrade, The Netherlands March 28, 2007



After a disappointing trip to Niederkruchten Germany where the show was cancelled due to carproblems in France, we headed of for Kerkrade Netherlands.

The show was mostly focused on the Dio era, that's for me I guess the best period that suits the singer, for these songs he had the perfect voice. After a longer intro of Over the Rainbow then Rainbow normally uses, they started with Kill the King, what an opener, just great.

It was also great to hear Tarot Woman live, a song Rainbow never played live, but it sound live very good, that's what Barry the guitarist proofs. Another surprise was Gates of Babylon, another song never played live by Rainbow, this song just sounded great. The show was closed by Stargazer, what can I say, the man can play guitar, perfectly played. For me the best Rainbow tribute band I ever saw.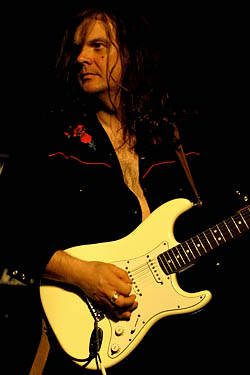 Setlist:
- Over the Rainbow (intro)
- 16th Century Greensleeves
- Starstruck
- Tarot Woman
- Still I'm Sad
- Mistreated
- Do you close your eyes
- Catch the Rainbow
- Gates of Babylon
- Man on the Silver Mountain
- Stone Cold
- Spotlight Kid
- Since you been gone
- Stargazer

encore:
- All Night Long
- Long Live Rock 'n' Roll



Review by Maurice Herfs