Joe Stump

Bosuil, Weert, The Netherlands November 28, 2008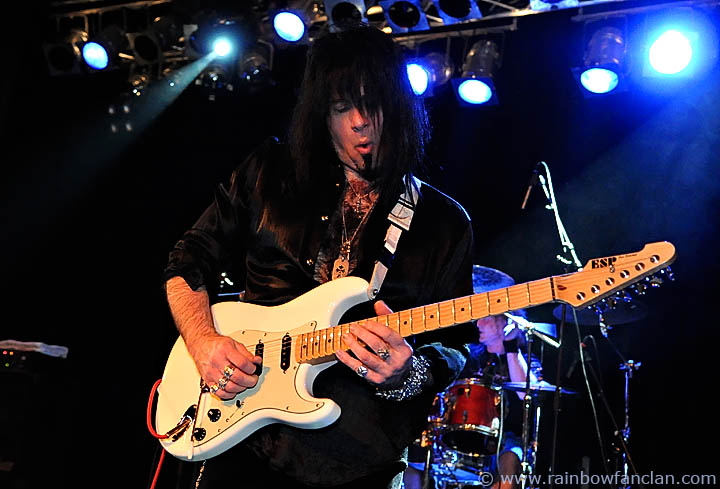 There are many guitarplayers influenced by Ritchie Blackmore. Some of the better known ones are Yngwie Malmsteen and Axel Rudi Pell. Joe Stump is another one. He has made name with his band Reign of Terror. Nowadays he plays concert under his own name. And since 2005 he's also part of the female fronted metal band HolyHell. He's also a guitar teacher at the famous Berklee College Of Music in Boston. There he is the specialist of speed- and shredmetal plus hardrock.





Joe Stump is a cross between Yngwie Malmsteen and Ritchie Blackmore. He is also called "The Shred Lord". When you see the titles of some of his solo albums you know right away what to expect. There is for example "Guitar Dominance", "Night Of The Living Shred", "Supersonic Shred Machine", "2001: A Shred Odyssey" and his latest from 2004 "Speed Metal Messiah". Joe is one of the guys you can stick the label "axe hero" on.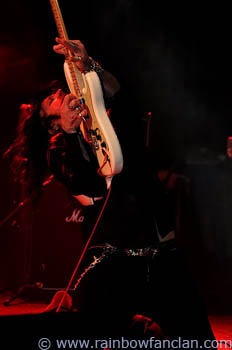 Tonight he played in a venue called De Bosuil in Weert. It's in the south of the Netherlands. Unfortunately only somewhere between 50 and 100 people found their way to this concert. The support act is Mother Of Sin. Because we were hanging out in the dressingroom and talking about Ritchie Blackmore (what else?) we didn't see them. Joe started his show at 22.45 hours and he was going to give the audience a 2 hour show.

He kicks off with some instrumental stuff including "Retroactivity" in which we hear some reminders to Jimi Hendrix and Blackmore's Deep Purple 70's riffs. His band tonight has Jay Rigney on bass and Erik Stout on drums. Jay also played in Reign of Terror and is the bassplayer for HolyHell too. Erik is the present drummer of Dutch hardrock legends Vengeance. They just finished their new album "Soul Collector" which is to be released in January 2009. Jay and Erik are great rhythm section. They played together early this year also when Joe Stump did an Dutch Tour. By the way at one of those dates Mario Roelofsen of Dutch Tribute act Purple Rainbow joined them on stage to jam on some Deep Purple songs.

The singer tonight is Ian Parry. He has been the singer for Hammerhead (who recorded an album in 1985 with Rainbow's David Rosenthal on keyboards), Vengeance, Perfect Strangers and Elegy. Earlier this year he sang backing vocals together with Doogie White on Royal Hunts' "Collision Course Paradox2". Ian is a great singer with a great set of pipes. The first part of the set exist of instrumentals and some Reign of Terror songs like "No Forgiving" and "Undercover".

Joe is a great guitarplayer. He has a sound that has a real Blackmore touch. And he copied his style for a large part as well. Dressed in black, white Strat, Marshall tower, he's got all of that as we known from Blackmore's bad ass image. We also see all the wellknown tricks like playing the guitar with his teeth, behind his head, with his arse, throwing the guitar in the air and play it with the guitarcable. According to Joe you can't get any cooler than Ritchie as he has invented it all... And Joe shows it all to us tonight.

Besides the clear influence of Ritchie Blackmore, there's also a nice bit that breathe Yngwie Malmsteen. Joe Stump plays Neo-Classical Speed Metal to European Power Metal and Old School Hard Rock to Speed Thrash Metal.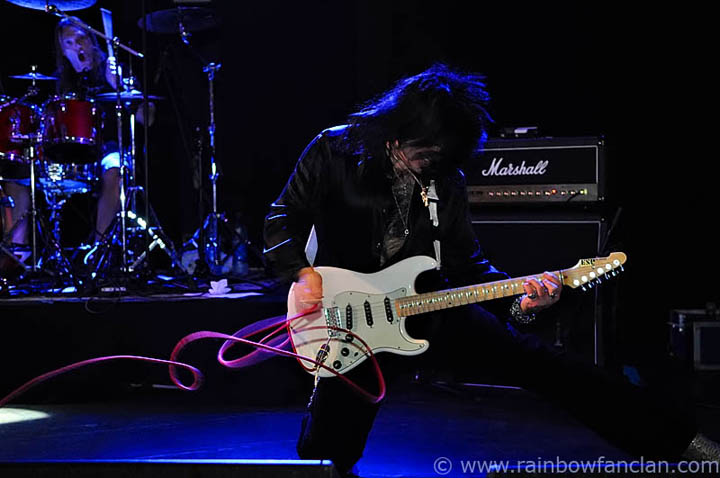 The best bit is saved till the last part of the show. The audience get a lot wilder when Joe starts "Man On The Silver Mountain". He plays it very well including a fine "Blackmore's Blues". The rest of the set is saved for only Blackmore material including great versions of classics like "Burn", "Stormbringer" and "Mistreated". Joe is obviously enjoying himself. From time to time we see a big smile on his face while he plays the Blackmore stuffs we all enjoy so much.





Joe, Jay and Erik return on stage for an encore. First there's a blistering instrumental version of "Still I'm Sad" including some "Greensleeves". Then Ian returns on stage to finish the gig with a fine, long version of "Black Night".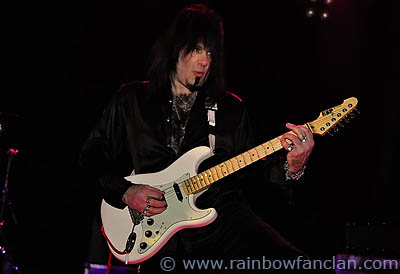 We've witnessed a great show. Excellent guitarplayer (or should I say shredder). And a really good band. They'll play this week some more shows in Germany and Belgium. Go and check it out if you can!

Remainig tourdates:

Nov 30: Kempen, Stradivari, Germany
Dec 1: Leiden, The Duke, The Netherlands (Guitar Clinic)
Dec 3: Verviers, Spirit of 66, Belgium
Dec 4: Hamburg, Headbanger's Ballroom, Germany
Dec 5: Dusseldorf, Tusaclub, Germany
Dec 6: Wuppertal, Mad Dog, Germany





more photos: part 1 - part 2