Doogie White

with Demon's Eye

Spirit of '66, Verviers, Belgium November 28, 2008


Full house for Doogie White and Demon's Eye



A few weeks back I got a mail from a friend telling me Doogie did 2 gigs with a German Deep Purple tribute band Demon's Eye. What a surprise... I wasn't expecting any news from Doogie before the release of his next cd's. Quickly ordered my tix, it was the third show this month for me after Firewind and Jorn Lande and definitly the last for this year, gotta save some euro's for X-Mas ;-)





So... how about some Deep Purple and Rainbow tunes? last time I saw Deep Purple was at a small fest near my place 5 years ago, I left during their set as I had too many beers and 1 hour first row at the Motorhead show got me satisfied for the day, and that's how I am, enough is enough and I'm off... as a kid I bought Fireball, In Rock and Burn... later there was Perfect Strangers and I saw them twice in 1987, the great reunion!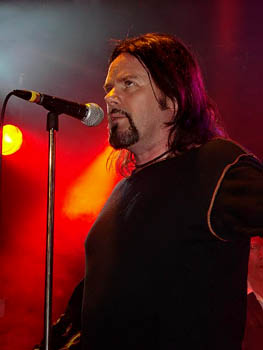 How about some Rainbow? of course! that was a newer band and I'm more familiar with the Rainbow tunes and "Stranger in us all" is my fav album... my god they were great in Brussels 1995 and that singer, Doogie White what a crazy fucker that was (still is)...

So off we went to The Spirit, traffic gods were with me this time as it just took us 2 hours to get there, last Cornerstone gig in Helmond took us 5 hours for a 220 km drive ffs.... We were like 1,5 hours early and people told us to go to a pub instead of waiting in the cold but my prayers were answered and "the man" came outside after the soundcheck and said let's get a drink somewhere... uhh cool!!!

So we had a few drinks at a very nice taverne with a very nice waitress and had a wee chat with Doogie. We had some catching up to do after 1,5 years ;-) He told us he had his flight today, just had a quick rehearsel, about 5 songs with the band and that was it, these shows weren't realy planned, but there was no stress at all.. just let's have some fun tonight!

About his other projects there's no real news, he's VERY excited about his solo album AND the one he's doing with Craig Goldy from DIO, he's going to Greece for some gigs and a few days diserved holiday and plans are to do the English vocals for the new Rata Blanca cd in December.

The show...was... awesome! you can find the setlist in my pictures section. The band is a good as they claim to be... professional indeed! Doogie's voice is TOP! He had no problems whatsoever with the Ian Gillan stuff.. not even with "child in time"...amazing! and fun! we all know him by now, our crazy Scotsman ;-)

Don't know how many people were at the show, I guess 200 or plus. Of course everyone knew the lyrics so interaction with the crowd was guaranteed. Doogie said after the show that's how all live shows should be... FUN! Even some diehard Deep Purple fans told me this was a killer show, with everyone giving a 200%, not just another tribute that wants to cash in but real fans of the music themselves!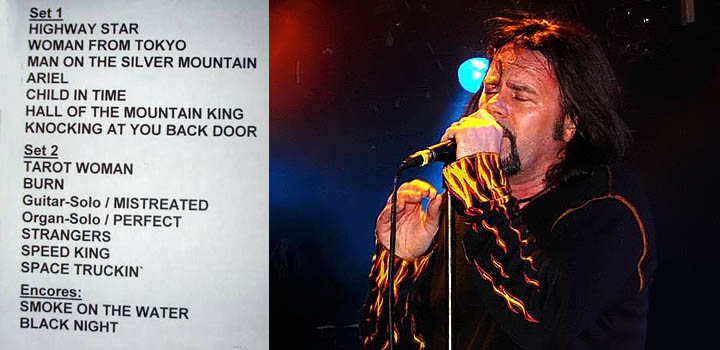 thanks you Demon's Eye for asking Doogie White!
thank you Doogie for doing these shows!

Review & photos: Henk Dee