Joe Lynn Turner

with Orleans, Jimi Jamison & Dominoe

Alphen aan den Rijn, The Netherlands September 27, 2008



Last time Joe Lynn Turner played the Netherlands was in 1991. On March 7th of that year he performed with Deep Purple in the Rotterdam Ahoy Hall. Last Saturday he finally was back on Dutch soil as part of the "Classic Rock Nights" by Orleans and Friends.





The Classic Rock Nights package was supposed to do 3 shows in Germany. Bremen on the 25th, Hannover on the 26th and Hamburg on the 28th. The last date in Hamburg however was cancelled about a forthnight ago. A date in Holland then was added. However only about 10 days before the gig took place is at short notice. That is most likely there was quite a small audience of 100-150 people only in Het Kasteel (Dutch for "The Castle") in Alphen aan den Rijn.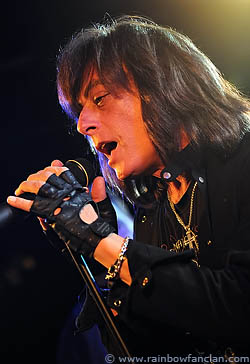 Orleans seems to have been a big rockband in the USA in the seventies. I say 'seems' because I never heard of them to be honest and so did they Joe Lynn Turner and Rainbow fans who turned up at the show. But according to the fans I spoke with at the show they were big then, not only in the States but also overhere in Holland. Their website even says their second album initial only was released here in Holland as ABC Records dropped the band. Still they only made their Dutch and European live debut a few months ago when they played Arnhem and Groningen last April.

Now they already returned. And they brought some friends with them as it officially was announced. Needless to say these friends, well at least for us, made the night. There was Jimi Jamison of Survivor, the man who sang the worldhit "Eye of the Tiger". And there was ofcourse the voice of the 1981-1984 era of Rainbow, Joe Lynn Turner.

Orleans played the whole show, they did songs of their own albums and were the backingband for their friends. Orleans kicked of the night with 3 songs which included their hit "Dancing in the moonlight" (not the Thin Lizzy track) before it is time for Jimi Jamison. Jimi was the singer for Survivor and he was the choice to replace Ian Gillan in 1990 in Deep Purple. His record company prevented him to ink the deal and Joe Lynn Turner got the job then. The result was the excellent "Slaves and Masters" album. Tonight they were both on the same stage in Alphen aan den Rijn. Jimi gave us first the Survivor classics "High On You" and "Can't Hold Back". Great singer, and he's still very good.

While standing in front of the stage at the left side all of a sudden my eyes caught far left someone behind the second set of keyboards. There was Joe Lynn Turner who joined on stage behind the keyboards for some backing vocals and even tinkling the black and white keys a bit. That was a nice surprise.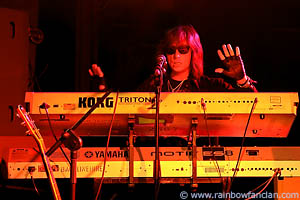 After Jimi finished his songs it was finally time for Joe Lynn Turner to sing again for the Dutch fans. First we get "Woman From Tokyo". It's a bit tame version backed up by Orleans but Joe sings the Deep Purple track very well. Then he take us back to 1982 and we get a excellent version of "Stonecold". Joe is enthousiastic and enjoying himself. He's shaking hands in the first row and let some punters sing along. Like Jami Jamison he's wearing dark shades but takes them off while singing the classic Rainbow ballad.

Last time he sang that song in the Netherlands was in 1982 in the Rotterdam Ahoy Hall. He was booked at that same venue for a similar Classic Rock night about a half year ago. Doogie White was also on that bill. Unfortunately the show was cancelled due to poor ticket sales. It great to see him back on a Dutch stage at last! Even though there are not many people in the audience.

After Joe we get the German rockers Dominoe, although there are only two members of the band. Female singer Jane Bogaert and guitarplayer Robert Papst. They play together with the Orleans guys 3 good rocksongs.

Then it's time again for Orleans to do a few more songs with some rock and some good blues. Jimi Jamison returns on stage. And he is doing two more Survivor hits, "The Search Is Over" and "Is This Love". And JLT is again doing the backing vocals.





It's Joe's second time to sing some songs of his past. Although the setlist said "Hush" he starts with the excellent "Street of Dreams". It is superb to hear JLT sing the Rainbow track from the "Bent Out Of Shape" album. "Hush" is the next one, halfway Joe picks up a guitar and plays along with the band. What a night, not only we see Joe singing but also playing both keyboards and guitar.

Orleans and JLT jam away during "Hush" and when the song ends it's time for some more hits of Orleans. First there's the gospelsong "Reach Out and Touch". The Orleans fans start singing along and waving their hands. Joe is doing backingvocals together with Jane Bogaert & Jami Jamison. Jane has a small note with the lyrics, they hardly can read it but are having a good time, we see big smiles on their faces.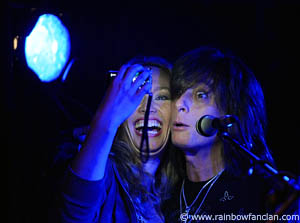 The set ends with "Still The One". The audience was requesting this Orleans song many times during the night and they are rewarded in the end. It don't take long for the band to return to the stage. Joe is also present and the drummer starts on his hihat Deep Purple's "Smoke on the Water". It's the 5th and last song Joe Lynn Turner sings tonight. Another massive classic hit ends the night, Survivor's "Eye of the Tiger". Joe is again doing backing vocals together with Jane Bogaert. "Eye of the Tiger" includes another long jam.

During the jam Jane is taking photos of her and Joe on the side of the stage while Joe is joking around and pulling funny faces. When the jam ends the song gets a short reprise. Joe joins the rest on stage to thank the audience once more. And then after 2 hours and 15 minutes the show is over. Right after the show Orleans returns to the have a meet & greet with their fans.

Joe Lynn Turner shows up too after a while. When some fans say he should have performed in a bigger place he reply this isn't exactly the (much bigger) Ahoy but he will be back next year and we might be in for a shock. I ask him if he's talkin' about the Tony Carey project. Joe says it'll be much bigger but Tony could be part of it. And then he put his finger to his mouth and say he can't say anything more on the subject....



more photos: click here