Joe Lynn Turner

Dexter's Entertainment Complex, Riverdale, New Jersey January 26, 2008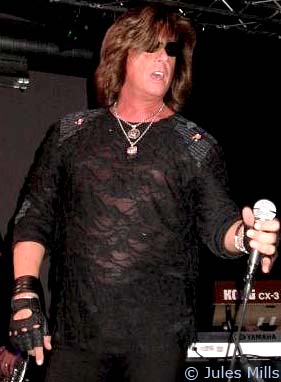 The last time I saw Joe Lynn Turner in concert was at the end of last May. While on a personal holiday, I had a chance to see him perform in two, of his four sold out shows, while in Japan. I must admit that after seeing those two shows - including the experience of meeting and rockin' out with my most gracious hosts - the Japanese fans - that experience, in all honesty, will always be the biggest highlight of this American's life. Yet, as I flew back to the states, in the back of my mind, I had a secret wish that someday I would be able to get the chance to enjoy the music of the native New Jerseyan, in front of a sold out crowd, right here in my own backyard.

Well that wish finally came true, last Saturday night (January 26th), as Joe Lynn Turner took the stage along with his "usual suspects" at the Dexter's Entertainment Complex located in Riverdale, New Jersey, to celebrate, not only the first gig of the year for Turner, but a rare USA solo appearance in support of his latest release, "Second Hand Life".

As word spread to the US fans of this impending event, the fan forums and the myspace sites (dedicated specifically to JLT) began to buzz, almost on a daily basis, it seemed, as fans wrote to each other - back and forth - letting each other know through "their" space, who was, or was not, able to attend this "special" event. When all was said and done, a total of thirteen states, including New Jersey, were represented at this concert, with fans coming from as far west as Arizona to the southern tip of Florida.

Although the temperature outside Dexter's may have been a whopping 25°F/-4°C (which to this writer living in Arizona thinks is down right cold), once Turner hit the stage at approximately 11:06 p.m. (EST), for next hour and a half, I had no problem warming up along with the crowd, that at one point in the show, I was glad that I had left my black leather jacket with the coat check attendant just before the show began.

Turner's set began as a "true" tribute to the band that established this front man's place in rock n' roll history when the familiar "Over the Rainbow" overture played. Joe then comes out, on stage, to a rousing applause, before Mike Sorrentino (drums), Paul DiLeo (bass), and Karl Cochran (guitar), in unison; rip into the first song of the night - "Death Alley Driver". Carmine Giglio (keyboards) joins in the fun, a little later, but for now the tone has been set in the playing of this "classic" track.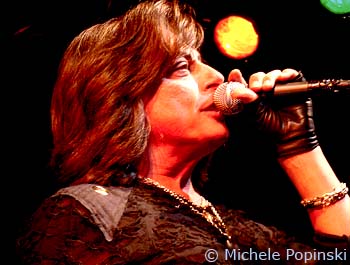 Off the 1982 RAINBOW album, Straight Between the Eyes, this song was JLT's lyric about a once famed drug run on Highway 1 and 9 in New Jersey. This song was surely an appropriate track to play on this night, especially knowing where I was at (in New Jersey) for this gig. And regardless of the lyric content within this song, which I never really cared about, the music and melody that surrounded this particular "lyric" has always been to me, one of the best adrenaline pumping, head-banging tracks on record. Hearing it live is just phenomenal. And I always thought, that next to DEEP PURPLE'S "Highway Star", "Death Alley Driver" is one of the best "driving" songs to listen to live in concert. This certainly was a perfect song to begin Turner's set.

Just as soon as that song ended, the band quickly segued into the next track, "I Surrender". From the 1981 RAINBOW album, Difficult to Cure, this song seems to be a fan favorite when played live. Originally a Russ Ballard penned tune, Joe definitely put his own melodic style upon the track to make it a "fan" favorite for all these years. In fact, "I Surrender" was the first song Joe sang when he first joined RAINBOW.

After the last note played on that track, Joe stopped for a few moments to greet the sold out crowd with a rousing "Good Evening"! before thanking the crowd for coming out that night. New Jersey's favorite son then shouted to the audience with pride, "Yeah Jersey", before introducing the band, aka "The Usual Suspects".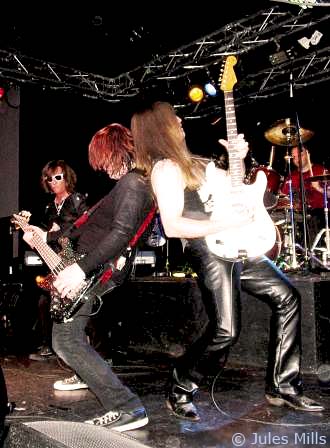 The who? While casual fans may know of the term to be simply the title of his 2005 (9th solo) release, "The Usual Suspects" in fact, are simply the musicians, collaborators, etc. who have worked with Turner, time and time again, throughout the years.

My favorite "Usual Suspect", is guitarist and background vocalist, Karl Cochran. Karl has appeared and performed on a few of Joe's past solo efforts', including JLT's Undercover CD's, The Usual Suspects, and more recently, Second Hand Life. He has also written and collaborated with Turner on songs like "Something New" and "Breaking Away" from JLT's Holy Man. But as you listen to Turner's latest release, Second Hand Life, there is some extraordinary guitar riffs going on there. Not to put Cochran on a "guitar" pedestal or anything, but I have noticed, in particular with Turner's last two solo releases (the aforementioned The Usual Suspects and Second Hand Life) that Cochran's riffs and guitar style is really quite complimentary to Turner's vocal style.

And on this night, it certainly was a real treat for me, to be within feet away of this guitarist, watching him play HIS riffs upon songs like "Power of Love" (from The Usual Suspects), "Your Love is Life", and my favorite, both on record and live, "Blood Red Sky" (from Second Hand Life).

So, as the night wore on, Joe continued to sprinkle in the "old" and "new" material into his set. I really got a "kick" out finally getting to hear an extended version of RAINBOW'S 1981 track "Jealous Lover". This song has always had a real bluesy feel to it, which I liked very much.

But perhaps the staple of Turner's set, wherever he plays, are the powerful renditions of his signature ballads, "Can't Let You Go", "Stone Cold", and "Street of Dreams". It is through hearing those tracks, either on record or on stage, which I feel that the true essence of Turner's vocal abilities is conveyed. It is the heartfelt passion which exudes from Turner's voice that makes these tracks quite a special treat to listen to, every time they are played.

So as the set was coming to a close, Turner was certainly not going to take any prisoners. After a short introduction of the song that featured JLT as the "Spotlight Kid" (in the Japanese magazine Burrn! many years ago), the "usual suspects" - Karl, Mike, Paul, and Carmine literally blaze into the song with axes and drums firing on all cylinders. From RAINBOW'S 1981 album, Difficult to Cure, the song is about a guy who talks about his first experience on stage, and really, his career as a "Rock n' Roll" musician, "star", what have you. The line, "they love you, but you're in love with the spotlight" can really be said for anyone who wants to be or who already is, in a career where they long to be on stage and perform in front of an audience.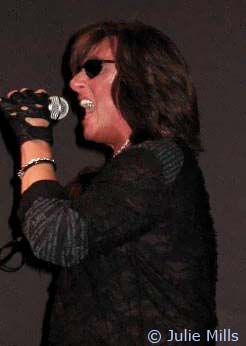 The rendition of this track, on this night, had an entirely different arrangement to it. I felt as if I was listening to an entirely new song altogether. I really don't know. All I know was that this rendition was quite different than what I had heard in Japan a few months earlier. I just can't stop thinking about how well Joe and "the usual suspects" pulled this one off.

After leaving the stage for a couple of minutes, and the crowd begging for more, the encores began. Karl started things off with the riff, then Paul (DiLeo) and Carmine (Giglio) join soon after, as I began to hear my other favorite "driving" song, "Highway Star", off DEEP PURPLE'S 1972 Machine Head. Joe and the usual suspects, really did a superb job of performing on this particular track.

And last but not least, Turner and Co. ends the show with another DEEP PURPLE classic - this time its "Burn" from the 1974 DEEP PURPLE album of the same name. Already a memorable night for this longtime fan, my favorite part about the performance of this track, was when Karl (Cochran), suddenly becomes the lead vocalist during the vocal part made famous by Glenn Hughes (Joe's one time collaborator and band mate in the Hughes-Turner Project).

Joe, as was Karl, in trading the lead vocals on this track, was absolutely dead on in their rendition of this song. I was literally pumping my fists into the air with excitement upon hearing this.

So there you have it. A great night had by all who attended this show. For many of the fans who drove or flew into the venue from the 12 US states, many I found out, had never seen a "solo" performance by their favorite artist, Joe Lynn Turner.

But thanks to the existence of the fan forums and websites dedicated to JLT, along with the combined effort from the JLT Response Team (in the UK) and Lisa Walker (JLT's Virtual Assistant in the US) to bring the fans together for this special performance, my wish that I had so longed for, came true. This concert was certainly a worthwhile experience, indeed.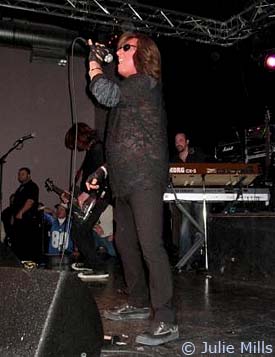 Set List for January 26, 2008
Dexters Entertainment Complex, Riverdale, New Jersey

1) "Death Alley Driver"
2) "I Surrender"
3) "Power"
4) "Street of Dreams"
5) "Jealous Lover"
6) "Power of Love"
7) "Can't Let You Go"
8) "Your Love Is Life"
9) "Stone Cold"
10) "Can't Happen Here"
11) "Blood Red Sky"
12) "Spotlight Kid"

Encore-
13) "Highway Star"
14) "Burn"


Jules Mills