Joe Lynn Turner

Second Hand Life Tour Weblog


Dingbatz, Clifton NJ September 14, 2007
Crazy Donkey, Farmingdale (Long Island) September 20, 2007



Joe Lynn Turner played 2 US dates before heading off to Europe to do 2 shows in Spain and 1 in Germany. The line-up of Joe's band for these dates is: Joe Lynn Turner (vocals), Greg Smith (Bass / Backing Vocals), Mike Sorrentino (Drums), Carmine Giglio (Keyboards) and Karl Cochran (Guitar / Backing Vocals).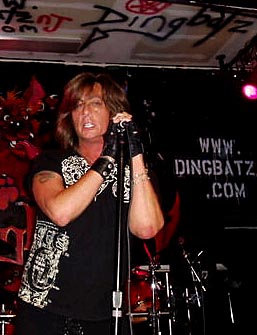 The concerts in the US were in Dingbatz, Clifton NJ on Friday September 14, 2007 and in Crazy Donkey, Farmingdale (Long Island) NY on Thursday, September 20, 2007. Lynne wrote a short review about the first and Tim Rzasa wrote a review of the last show. Julie Mills sorted out the setlists for both the shows.


Hi Everybody!

I've been hanging around here for awhile, and decided it was finally my turn to post something.I was lucky enough to be able to see the Dingbatz show last week, and thought it was awesome. I got to hear some of my favs, including "Power Of Love" which just blew me away live.

"Spotlight Kid" and "Can't Happen Here". My fav of the night would have to be "Blood Red Sky"I did hear some of the sound check, and although they played "Devil's Door" during that, it wasn't added to the final set list.(Another one of my favs..LOL).

The only drawback of the evening was the tiny stage, and Joe kept unplugging his mic by accident by stepping on the cord... Other than that.. a great show! I was also able to get a picture signed, and thank Joe for a brief moment. He really cares about his fans, and it truly shows...

Until next time!

Lynne, FL





JLT at the Crazy Donkey...



The story goes...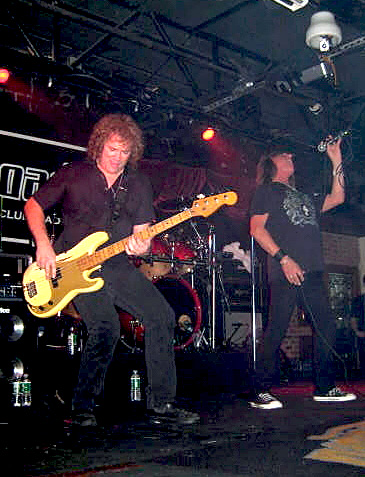 I had always wanted to see JLT solo. I had seen him a couple of times with Rainbow and had a great time. After Rainbow he seemed to disappear from Connecticut where I live. I found this a bit strange being close to his native New Jersey. Over the years I have gotten more adventurous with how far I will go to see a show -- my most extreme was a Prague 2006 "weekend trip" for a Blackmore's Night show at the Lucerna. I saw that Joe was going to do a couple of shows in NJ and NY. It worked out the Crazy Donkey was the one I went to. I had contacted the place to see when Joe would come on - the email said 10:15. That meant I could leave after work, cool! I was not interested in the 50 warmup acts, well actually there were about 4, but I did not see them.

I came to the place with my brother. It was a normal bar with a decent stage and floor and a bunch of tables outside the concert area and outside in the open. We got a couple of drinks and then I saw no other than JLT hanging outside/ I managed to say hello to him he asked my name but I will say he was preoccupied with the others especially some scantily glad girl which he seemed to be more than happy to talk to!!! More on her later. JLT than had to get ready for the show.

It started with the all too familiar chords of the song Over the Rainbow! This brought back memories. He then continued with a run of Rainbow songs - Death Alley Driver, I surrender, Street of Dreams etc. During Jealous Lover Joe brought the girl who he spoke to earlier to dance up on strange - felt like we were at a different kind of night club. The Show went on with a couple of newer songs thrown in.

The band sounded great. Joe's voice was strong throughout the night. There were a few requests for Yngwie songs but these were not fulfilled. It ended with some purple songs. The last encore was Burn. I was not too surprised because I had seen the bass player sing the Glenn parts when the last version of Rainbow toured a few years back. The drummer also has a RB connection - drummed for Blackmore's Night. The crowd cheered as the show came to close.....now I had to drive back home to CT...

Tim Rzasa



setlist Dingbatz September 14, 2007:

1) Death Alley Driver
2) I Surrender
3) Power
4) Street of Dreams
5) Power of Love
6) Jealous Lover
7) Can't Let You Go
8) Your Love is Life
9) Blood Red Sky
10) Stone Cold
11) Can't Happen Here
12) Spotlight Kid

Encore:
13) Highway Star
14) Burn

setlist Crazy Donkey September 20, 2007:

1) Death Alley Driver
2) I Surrender
3) Power
4) Street of Dreams
5) Power of Love
6) Jealous Lover
7) Can't Let You Go
8) Your Love is Life
9) Blood Red Sky
10) Stone Cold
11) Can't Happen Here
12) Spotlight Kid

Encore:
13) Highway Star
14) Burn

Thanks to: Julie Mills, Lynne & Tim Rzasa - Photos by mfzag1 & Fukkin Metalhead

Madrid, Spain September 26, 2007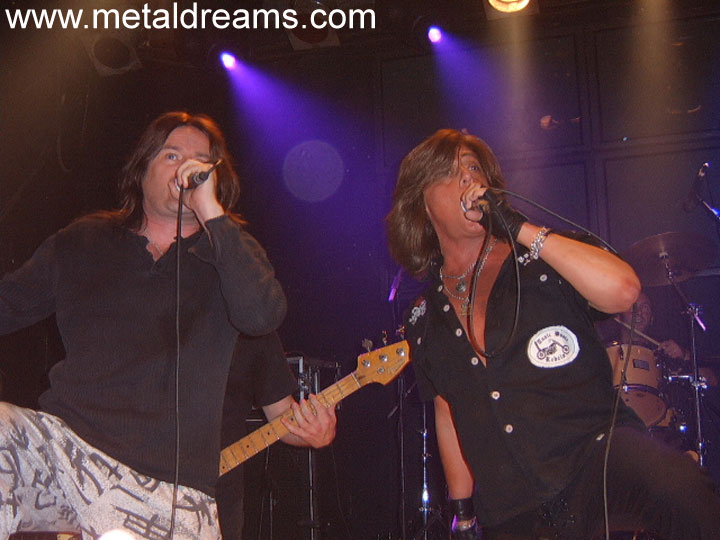 Great show with a very enthusiastic and appreciative audience.

Same setlist but with the added bonus of a medley of Long Live Rock 'n' Roll / Black Night and snippets of Lazy and Smoke On The Water with guest singer Doogie White (Malmsteen, ex Rainbow). A good night was had by all !!

setlist: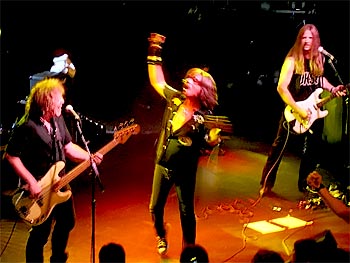 1) Death Alley Driver
2) I Surrender
3) Power
4) Street of Dreams
5) Power of Love
6) Jealous Lover
7) Can't Let You Go
8) Your Love is Life
9) Blood Red Sky
10) Stone Cold
11) Can't Happen Here
12) Spotlight Kid

Encore:
Long Live Rock 'n' Roll / Black Night
Highway Star
Burn

Thanks to: Rob Fodder

All photos Barcelona September 28
Photos © Monse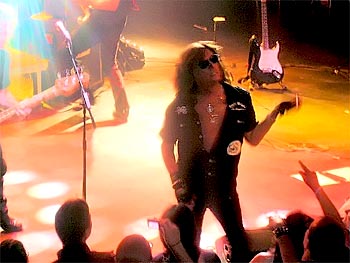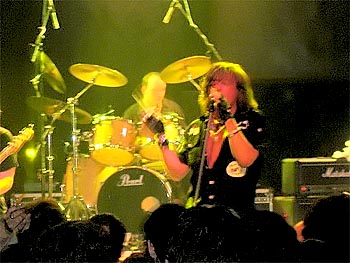 Another Review in Spanish & Photos on Metal Dreams
http://www.metaldreams.com:80/criticaconciertos.php?id=176

Madrid, Spain September 26, 2007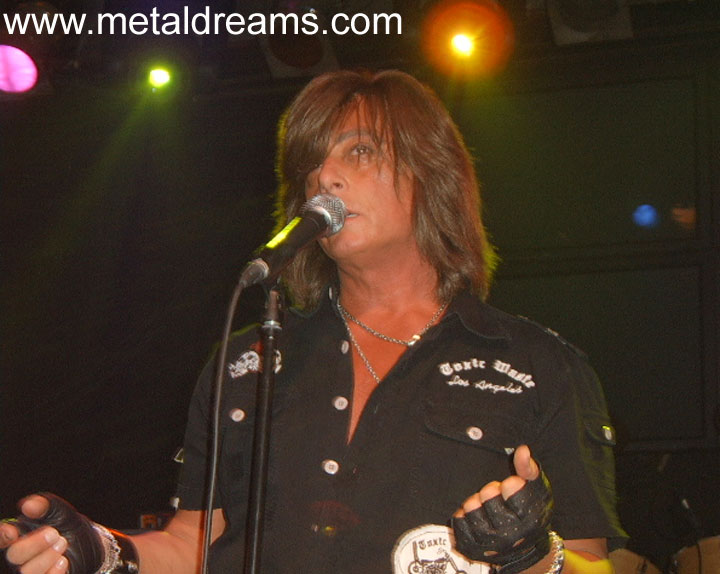 "It was a night that we could almost describe as glorious, the night that we witnessed on Wednesday 26th at the Sala Heineken, Madrid, with the performance of the excellent vocalist Joe Lynn Turner, the mythical singer of Rainbow, Yngwie Malmsteen & Deep Purple.

At seven o'clock there was already a queue to enter the venue which was full although not sold out. I assume that this was due to the show being held during the week as there was people from close by provinces that could not travel to the capital.

The show started with a half an hour delay, according to the scheduled time, and lasted one hour and forty minutes. All the fans were left unanimously very satisfied as Turner's show was dynamic, entertaining, fun and there was a great atmosphere which set the mood for a perfect night.

The rain of classics started with the powerful "Dead Alley Driver". Joe was wearing a black half buttoned shirt, leather gloves and his now usual sun glasses. He was smiley, he gave it all at all times and approached the audience which created a complicity with all the fans that were present like only the greatest ones can do. The age and experience have made of Joe an authentic "old dog" who knows every trick and has great audacity.

Without time to catch our breath, by surprise, a great hymn for many generations of rockers, "I Surrender". Maybe it would have been more adequate for the encore to but we enjoyed it as if it had been the last one. It was truly emotional. The next songs were as exciting with an up beat "Power" and the emotive "Street of Dreams". The Rainbow lovers that were present were more than satisfied.

Joe managed to speak in Spanish to tell us how happy he was and his commitment onstage was absolute. Another nice surprise on the show was the presence of Greg Smith on bass (Wendy O'Williams, Red Dawn, Alice Cooper, Dokken, Vinnie Moore), who was also in charge of the backing vocals. His work was outstanding during the whole night.

I have to mention that after this incredible start of the show, the audience was totally committed. It wasn't an spectacular or pompous show but we were all aware of the greatness of Rock, the magic of the moment we were living and the total control of Turner. Then it was time for few songs from his solo albums like" Power Of Love", "Love Is Life" and "Blood Red Sky", from his last two albums, alongside songs like "Jealous Lover" and "I can't let you go".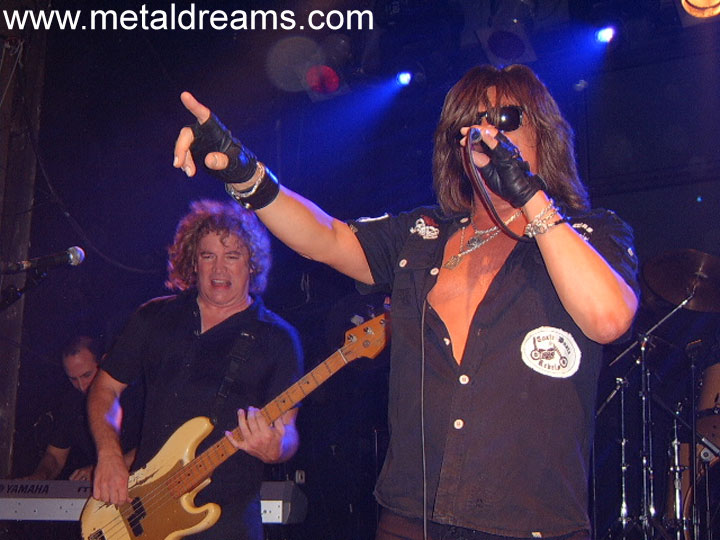 The last part of the show included the mythic "Stone Cold", "Can't Happen Here" and the no less spectacular "Spotlight Kid", with perfect keyboard and guitar solos, like Blackmore used to play once upon a time.

For those who are wondering how Joe Lynn Turner's voice is doing I have to tell you that he is still exceptional, singing the high notes and knowing his strengths. Not only his voice is incredible but his appearance, which is enviable for 56 years, like Dio's. They truly are like immortal Gods.

For the encore Doogie White (Rainbow, Y. Malmsteen) came onstage. To start they did a "Long Live Rock n Roll/ Black Knight" medley from Purple, which maybe was too long as they were improvising all the time, figuring out where to go but it was very entertaining. The cherry on the cake were another two purple classics, "Highway Star" and "Burn". It was a sure bet. They came out to win and they did so.

The only thing I would fault would be that having come solo, Joe could have focused more on his solo career, but all of us enjoyed listening to those amazing songs that have been part of our life. Joe Lynn Turner was a tremendous Rock performance with capital letters.

Review & photos by Wacky - www.metaldreams.com
Translation by Ainhoa Prieto









Madrid, Spain September 26, 2007



After Glenn Hughes performance some days before in Madrid, this time it was the turn of another member of the "Blackmore family" and Glenn Hughes partner in HTP: JOE LYNN TURNER. Like Glenn Hughes, Turner showed us that after a long career he still is in top form and gave us a concert like only the great ones can do making the audience enjoy themselves with a top quality set list, an excellent voice and loads of enthusiasm onstage.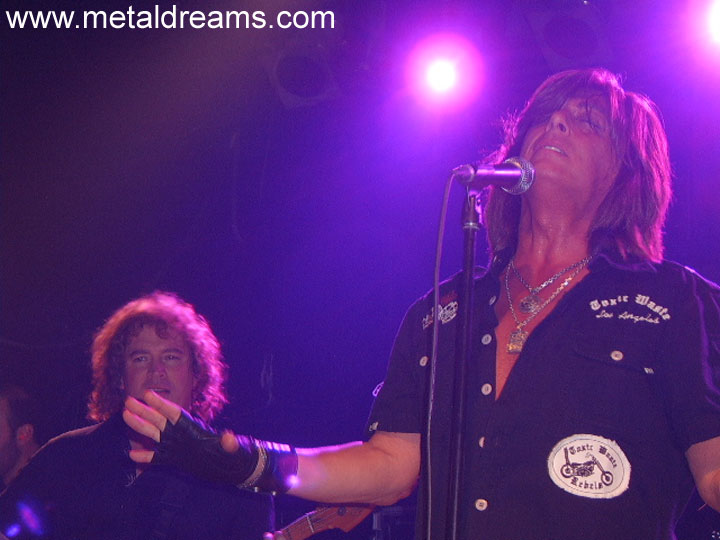 The truth is that the show was an absolute party. The set list carefully chosen contributed to this, focusing on old classics from Rainbow and Deep Purple, songs that have been with us during our life and which are ideal to make the fans sing along. With Turner's great vocals and songs like "I surrender", "Stone cold" and "Highway star" it was clear that nothing could go wrong that night.

I may have preferred less songs from Rainbow and Purple in favour of Joe's solo career (I would have included some songs from the sensational "Rescue You"), but nevertheless the setlist was incredible. Even so, I also missed loads of songs in particular from Joe's years with Yngwie Malmsteen. Especially when Yngwie's present singer, Doogie White, joined him onstage during the encore. It would have been a good occasion to do some songs from "Odyssey" from these two great singers. Unfortunately it did not happen.

I did not mention Blackmore earlier by coincidence as his shadow was very present during the night not only on the set list but for the fact that three ex musicians from the mythic Ritchie accompanied Joe Lynn Turner: The bass player Greg Smith (RAINBOW, RED DAWN), the keyboard player Carmine Giglio (BLACKMORE'S NIGHT) and the drummer Michael Sorrentino (BLACKMORE'S NIGHT). As if this was not enough, the special guest of the night was Doogie White, who was Rainbow's last singer where he coincided with Greg Smith. We must not forget to mention Karl Cochran on guitar who has been working with Joe for some time now and who has collaborated with renown musicians like Eric Singer and Ace Frehley. The line up was great and we all enjoyed a Blackmore feel from "Death Alley Driver" at the beginning to the last part of the show dedicated to Purple.

As I mentioned, the show started with the powerful "Death Alley Driver" and surprisingly it was followed by "I Surrender" which was played as a second song instead of at a more advanced stage of the show. This didn't matter as there were still plenty of hits that would follow, especially from Rainbow, which was the main set from. There was only room for three songs from Turner's solo albums: "Love Is Life" and "Blood Red Sky" from his last CD "Second Hand Life" and "Power Of Love" from his previous one "The Usual Suspects". Up until the encores the set list was compiled mainly by some of Rainbow's greatest songs like "Street Of Dreams", "Stone Cold" (which sounded absolutely wonderful), also "Jealous Lover" (what a surprise it was to listen to this song) and "Spotlight Kid", to mention few. The show didn't have interruptions, nothing could stop this avalanche of great songs.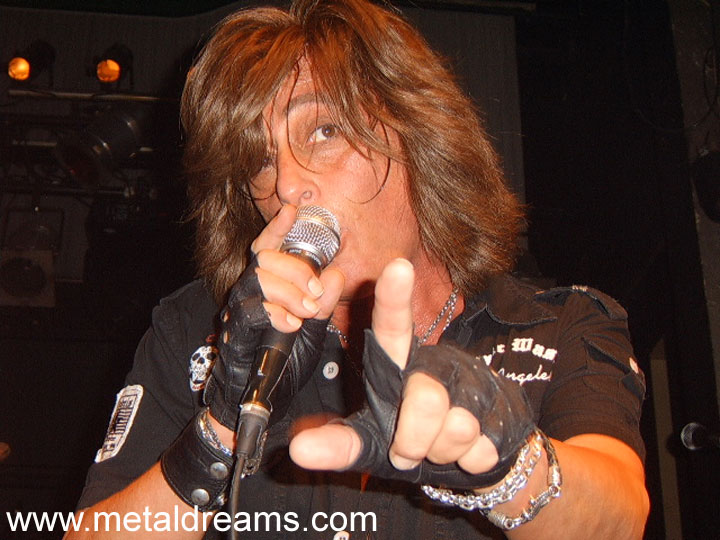 We must highlight Turner's vocals as he was implacable. He looked very comfortable, especially during the Rainbow songs, performing difficult songs like "Can't Let You Go", which he interpreted with maestri. The North American singer was also very dynamic onstage getting close to his audience, showing charisma and good sense of humour at all times. He honoured his name and his extensive career. Turner reached the highest notes without any problems and always knowing his limits. There were some minor sound problems which made his voice sound lower.

The band did an outstanding performance and had a Blackmory sound. By the way, I would like to highlight the backing vocals by Greg Smith. The encores started with the guest appearance of Doogie White although it had not been planned. We spoke to him before the show and told us he had only gone to see the show and catch up with old friends, especially Greg Smith.

This was clear by his clothes as he was wearing some trousers more appropriate for chilling out on the sofa rather than going onstage. But in the end, JLT convinced Yngwie Malmsteen's present singer and former Rainbow, and together they sang a fun version or "Long Live Rock 'n' Roll" with a "Black Knight" medley.

Both of the singers had a blast and were relaxed and playing jokes with the audience. After Doogie White's performance arrived the last songs of the show which took us through JLT's years on Deep Purple. "Highway Star" and "Burn" were the cherry on the cake and closed a fantastic and fun performance which by the comments I heard from the audience, left everyone very satisfied and happy they went to Sala Heineken even though the show was during the week. The attendance of the show was not bad considering it was a Wednesday. I calculate there were three fourths of the capacity.

After such a show one can only hope that it wont be the last time Joe Lynn Turner visits us as he caused a great impression.

Translation by Ainhoa Prieto




Madrid, Spain September 26, 2007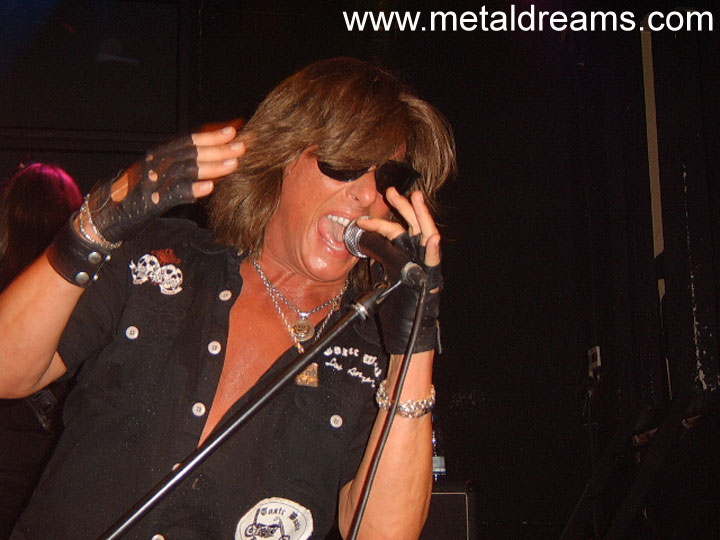 Last Wednesday 26th of September we travelled to Madrid to see JLT at Sala Heineken, 400 km from our town Bilbao. I already had the opportunity to see him in Bergara (Gipuzkoa) on the HTP tour so I was really looking forward to see Turner solo and see what he was capable of. The night could not have started on a better way as we could meet up with few friends from the CADP. It was a surprise as I had not told anyone I was going to the show since I sneaked out from work in the last minute. With a nearly full venue (very good considering it was a Wednesday and the date had changed from Friday 28th as it was planned originally). After a 30 minute delay Joe Lynn Turner came onstage wearing a black shirt showing his chest. He was accompanied by an extraordinary band: Greg Smith (ex Rainbow) on bass, Karl Cochran (who has worked with Joe on his last albums), Carmine Gigglio (Ex Blackmore's Night) on keyboards and Mike Sorrentino (aslo ex Blackmore's Night).

The first track was "Death Alley Driver" which showed that the band workes really tight together. Joe gave absolutely everything with a better voice and more range than 30 years ago. I had not taken everything in yet when they started playing a brutal "I Surrender", sang extraordinarily.

It was followed by master pieces like "Power" and "Street of dreams". Twenty minutes into the show and all the Rainbow songs had been incredible. Closing your eyes it was as if you were back in the 1984 tour. Karl's work on guitar emulates each Blackmore riff and solo transporting you to another times. After the excellent "Power of love" from "Usual Suspects" came two more wonderful Rainbow tracks like "Jealous Lover" followed by a magnificent "Can't let you go" which marked the most magical moment of the night. Joe gave all his soul on each verse and made me have goose bumps. "Your love is life" and "Blood red sky" came next from his great last album "Second Hand Life". For the grand finale they played "Stone Cold", "Can't Happen Here" and "Spotlight Kid".

A sweaty band left the stage after an intense comunion with all of us who have been sharing his music. We all wanted more and to our delight, for the encore, JLT announced a very special surprise: No less than Doogie White, Rainbow's last singer. Alongside Joe, they sang a really long "Long Live Rock'n'Roll" with bits from "Black Night". As a tribute to all the Deep Purple fans and all the CADP members that where present, the set list ended with "Highway Star" and "Burn!" What an extraordinary night! It was a memorable night and I did not mind at all I had to be up really early for work the next day.

Review by Jesus Sandoris
Translation by Ainhoa Prieto

Thanks to Rob Fodder and his girlfriend Ainhoa who translated the Metal Dreams review and two others from the Spanish language.









Barcelona, Spain September 28, 2007



Hi everybody!

Just got back from Spain where I was lucky enough to attend Joe's show in Barcelona! I guess it was the best concert of Joe I've ever been to... I told him so personally and I mean it! The venue wasn't as big, but the spirits were high, thanks to the professionalism of Joe and the rest of the guys from the band who did an excellent show!

The sound was quite good (just the guitar was disappearing time to time, but it was just a technical problem..) and the musicians just nailed it! I was hardly able to make pics, because it was all making me rather dance and sing (so, sorry for the few pics... <:-) ). I enjoyed it to the MAX!

The set list was: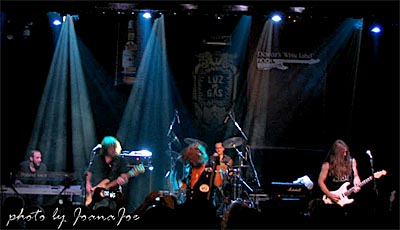 1) Death Alley Driver
2) I Surrender
3) Power
4) Street of Dreams
5) Power of Love
6) Jealous Lover
7) Can't Let You Go
8) Your Love is Life
9) Blood Red Sky
10) Stone Cold
11) Can't Happen Here
12) Spotlight Kid

Encore:
13) Highway Star
14) Burn

Cheers,
Joana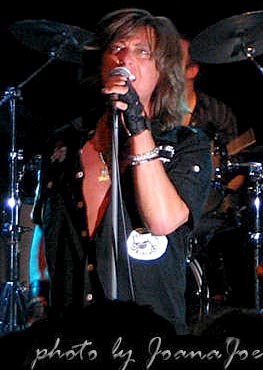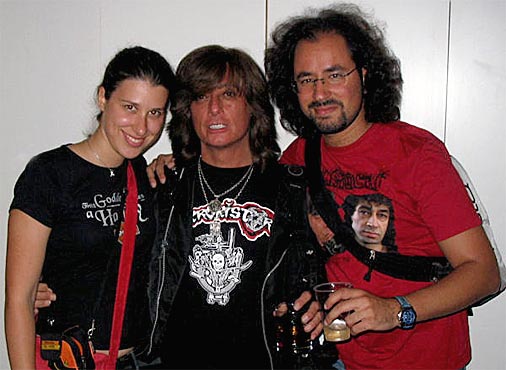 Barcelona, Spain September 28, 2007


Just got back to the U.K after seeing Joe Lynn Turner in the Luz De Gas club in Barcelona. I have waited a long time to see Joe on a solo gig, seen him many times with Rainbow, Deep Purple and H.T.P. So it was off to Barcelona as Joe had no U.K dates planned.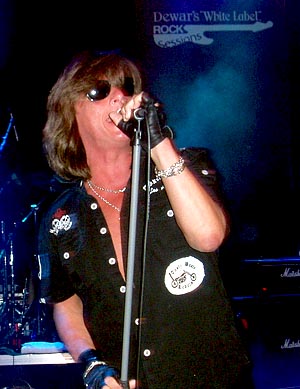 We arrived at the club at 21.00 hrs and got to meet Joe Backstage in his dressing room thanks to Mr Robert Mills a true gent and a man of his word thank you sir. Meeting Joe was great even though I got a little excited and got some words jumbled up but he was great signed my Fandango album that I have had for over twenty years and the new cd second hand life. He had photos with the four of us he really is a true superstar but not forgeting his fans this will live with me for ever thank you Joe.

The show was great I have not heard him sing this good before. The band kicked started the show with a great version of Death ally driver, then straight into I surrender both songs getting a great response from everyone, each rainbow song was sung along to by everyone you could see by Joes face he was loving it, not too much talking between songs just 100mph rock.

Only two songs had any real introduction one being Jealous Lover my fav Rainbow song and they really give this a good going over and Blood Red Sky which I have to say Karl Cochran plays that guitar intro better live than on cd. He is a great player, great keyboard intro for Can't Let You Go and great to see Greg Smith again on stage, Can't Happen Here brought the house down, played at a level even Rainbow in their hayday would have been proud of. The set finished with Spotlight Kid, by now my voice had all but gone.

Off they all went but we knew there was more to come and the crowd didn't let up until they were back on stage and straight in Highway Star and finished off with Burn. A classic night, classic songs played by a band that knows how to please. This band could keep a crowd on its feet no matter how large or small the venue. J.L.T has something that many people in the music industry would love and that is a natural talent the ability to entertain and the true admiration of his fans. We all left this gig praying for the next time these guys toured again, don't keep us waiting.

Review & photos by Peter Griffin









Barcelona, Spain September 28, 2007



We all know that there are famous musicians within the Rock scene who had to make a deal with the devil in order to have that power and keep the same physique as 20 years ago. One of them is the great Joe Lynn Turner, the 56 year old singer with a 30 year old career. He looks like he has just come out from a Rainbow gig at the beginning of the 80s.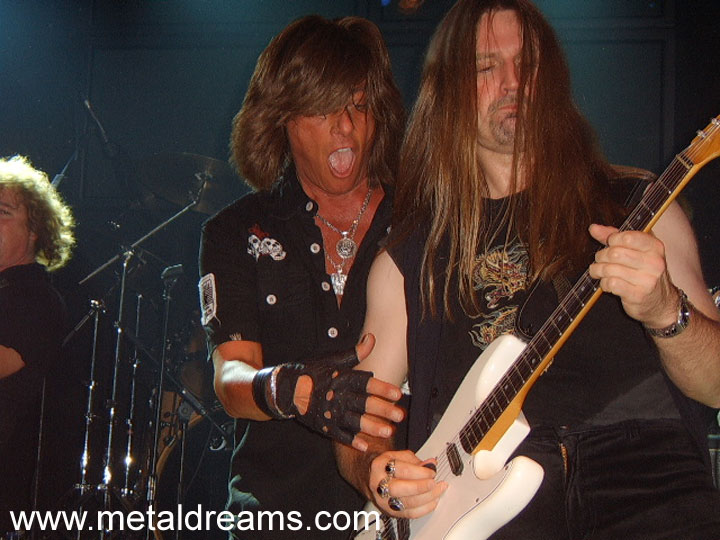 The band played at the very posh Sala Luz de Gas in Barcelona, without a support band in front of about 200 expectant fans. They went to see the former Rainbow & Deep Purple singer to mention few. The show was focused on the Rainbow era with few songs from his last album "Second Hand Life". The classics party started with "Death Alley Driver" where he came onstage wearing sun glasses. Joe was very warm with the audience and from the first beat they did not stop jumping up and down all night. Then came "I Surrender" which I thought they would leave for the encore and then a dynamic "Power". The beautiful "Street of dreams" marked the sweet moment of the night. The Rainbow classics kept on coming with "Jealous Lover" (from the B side of "Can't Happen Here" single) and then back to "Bent out of Shape with "Can't let you go".

Straight after, they played songs from Joe's last creation "Your Love is Life" and "Blood Red Sky" which were very well received, especially by all the girls on the front row who were singing it along. There was a great ovation but we all wanted more Rainbow. He seems to know this and they carried on with "Stone Cold", the rocking "Can't Happen Here" and "Spotlight Kid" from the all important "Difficult to Cure".

They left the stage with an standing ovation for Joe only to return a couple of minutes later for an encore that nearly stops our hearts beating. The hymn "Long Live Rock'n'Roll", the immortal "Highway Star" (Blackmore's shadow is always present) and the heavy "Burn!" which I had heard Glenn Hughes sing just 15 days ago. It was a great night full of memories, nostalgia, fun and professionalism by the hand of Turner who worked really hard all night. His voice was powerful and was accompanied by a good band. I missed songs from "Slaves and Masters" and "Rescue You".

Review by Xavi Quero
Thanks to Rob Fodder




Ludwigsburg, Germany September 30, 2007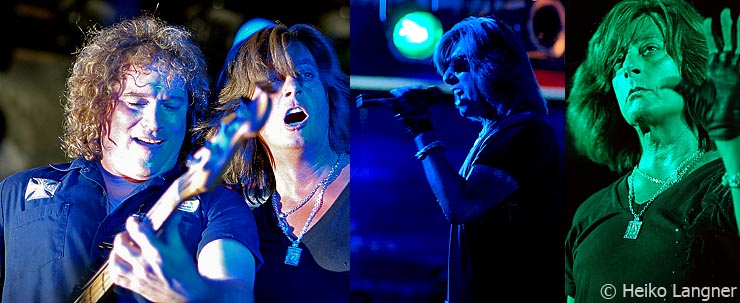 So the gig in Ludwigsburg is already history. And now I want to tell you briefly about it. The venue was well filled although it was on a Sunday. First there were a handfull other bands from melodic hardrock to a more powerfull direction.

Somewhere around 22.00 hours Joe and some well-known faces came on stage including a few former Rainbow and Blackmore's Night members. I don't have the complete setlist but it went from I Surrender, Death Alley Driver, Jealous Lover, Street Of Dreams, Can't Let You Go, Power, Stone Cold, Spotlight Kid up to Can't Happen Here. The encores were Burn and Highway Star. It was all in all a beautiful, nostalgic and very, very loud Rainbow evening.

Heiko Langner - translated from German language

Photos © Heiko Langner




Ludwigsburg, Germany September 30, 2007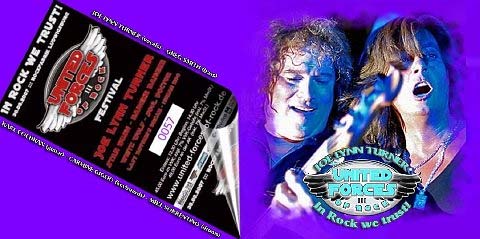 I remember very well to this concert. The event was one of the best managed I`ve seen in 2007. Signing sessions of all musicians, the gigs started and finished on the dot and the service on the venue was really good.

Before JLT began I met Greg Smith for a smalltalk and catched Joe Lynn Turner too.

Karl Cochran (g), Carmine Giglio (keyb.), Mike Sorrentino (dr) was the other band members who involved.

A non - profit record of the concert they called In Rock we trust is existing.

It was a great and the only one concert in Germany in 2007. Fine to hear that a official record will coming soon.

Setlist 2007: Death Alley Driver / I Surrender / Power / Street of Dreams / Power of Love / Can`t let you go / Jealous Lover / Your Love is Life / Blood red Sky / Stone Cold / Can`t happen here / Spotlight Kid / Highway Star / Burn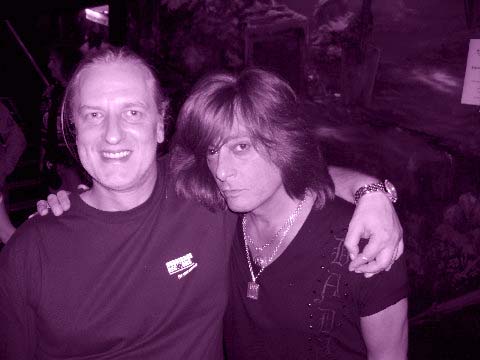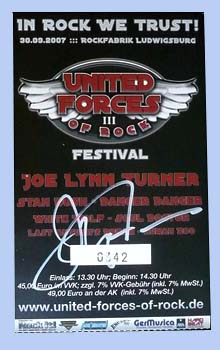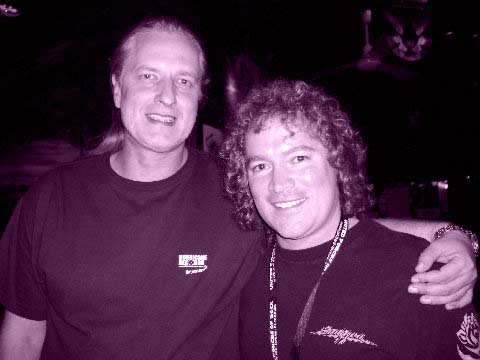 Ralph Grille

Photos © Ralph Grille