Taz Taylor Band
feat. Graham Bonnet

Classic Grand, Glasgow June 25, 2007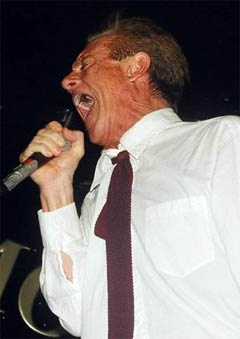 Review - Graham Bonnet + Taz Taylor Band: Eyes Of The World (with brief interlude of Weiss Heim), Love's No Friend, Suffer Me, Stargazer, Desert Song (with instrumental section from Rock Bottom), All Night Long, Since You Been Gone, Encore: Lost In Hollywood

They also played a few Taz Taylor songs, the titles were Welcome To America, Happy Hour, Radio Luxembourg and one other. Graham left the stage at one point and Taz/band played Goodbye to Romance/Mr Crowley and another instrumental. Graham spent most of the TT Band songs reading the lyrics off sheets on the floor.

I wasn't too impressed by Taz's band - they looked and played like a second-rate bar band. The TT Band material was extremely mediocre - half-baked pop/rock with some cod neoclassical elements. Taz is a fairly good player - he excelled on the Schenker/ Alcatrazz material - but is not too exciting to watch, unfortunately.

The sound deteriorated towards the end of the show, with Lost In Hollywood suffering in particular. LIH started off well enough, but was killed by the keyboard player's awful piano sound and the PA.

It was the first time I'd seen Graham live, and he was pretty impressive towards the start of the set but the volume and mix did him no favours towards the end. He didn't look like he'd spent much time practising the new songs.

The set was about 1hr 10 mins.

Review by: Weissheim





The Brook, Southampton July 1, 2007



Sunday evening on the 1st July 2007 and we were at The Brook in Southampton to see Graham Bonnet and the Taz Taylor band. My fiancée, not really a fan of Mr. Bonnet as such, and not easily impressed, was just tolerating my desire to see my favourite singer and I could see that she thought it was going to be a long night...

The Planet of Women was a fun support band and well worthy of a mention for the lead singer's powerfully rough voice and the band's catchy songs. They were very entertaining and came across to the audience well, looking like they were having a lot of fun.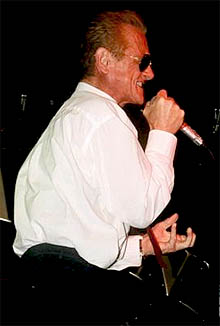 Taz Taylor and his band wandered out on stage shortly afterwards to begin the atmospheric introduction to Eyes of the World, to be followed by Graham Bonnet himself taking the microphone by storm and bellowing out the thunderous epic. Once the opening song was over, he joked with the audience how he was almost late getting there and how the band were a bit worried as to his whereabouts for a while. In fact it was interesting to contrast the picture of concentration and calmness that was the very precise Taz Taylor with the antics of Graham cavorting about the stage making faces, doing accents and telling jokes and anecdotes to the audience all night long. The bass player also proved to be more animated than the studious Taz, providing a good rapport with Mr. Bonnet and the audience. Graham was initially dressed in a smart suit and tie, but it got so hot in the venue that he gradually discarded much of this throughout the night!

We had the bluesy crawl of Love's no Friend and another epic in the shape of MSG's Desert Song. There was a fantastic rendition of Stargazer filled with the sheer passion of Graham's vocals, easily up there with the efforts of another of my favourites, Ronnie James Dio. Graham's version was raw and full of energy. The only Alcatrazz song performed was Suffer Me.

Now I love Alcatrazz material, but this track has never been one of my favourites on CD. Well, Graham absolutely belted this song out with such force I was mesmerised by the emotion, power and control of his voice. It demolished the recorded version and became a highlight of the evening for me. Graham also did a heartfelt version of Will You Still Love Me Tomorrow, after telling the audience how Ritchie Blackmore had famously sprung the song as a surprise during the 1980 Monsters of Rock performance at Donnington.

There were some instrumentals and Taz played them articulately and was visibly pleased to get some thumbs up from the audience for his performance. Graham took a much needed break and tapped his feet to these from the side of the stage. The Taz Taylor songs played were Fighter's Fist, Happy Hour, the catchy Radio Luxembourg and the huge sounding Welcome to America. Graham seemed to be reading some of the lyrics of the newer songs from sheets on the floor, which he jokingly turned into a bit of fun. In fact it was quite endearing as he came across as a really nice guy with a gift for connecting to his audience. The effort with which he belted out the songs was just incredible, you could see that he was most certainly giving his all for the people watching him.

The female singers from the support band returned to the stage to add some backing vocals to All Night Long and Since You Been Gone. They were also there for the storming encore of Lost in Hollywood.

Graham Bonnet is a fantastic performer - he is not only possessed of an instantly recognisable, powerful voice, but he makes the concert a lot of fun as well. I left the venue having thoroughly enjoyed myself along with my fiancée, who was by now virtually on the ceiling, absolutely buzzing with glee at the excellent performance she had just witnessed.

And she's not easily impressed...

Review by Steven Zenklusen





The Diamond, Sutton in Ashfield July 5, 2007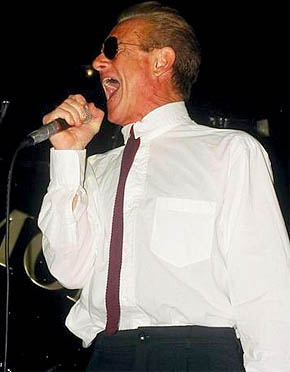 I had never seen Graham Bonnet (in real life) before the night of 7th July, so I was really looking forward to the gig. We got to the venue and found that that the support band for the evening was a young local act called BLACK WEDNESDAY (whom we have seen and liked very much, previously). And then it was time for the main act.

The show opened with EYES OF THE WORLD which everyone singing along. Sadly, Graham did not look very well. After finishing the song, he used his throat spray and then explained that though he was not very well, he did not believe in cancelling gigs.

After performing LOVES NO FRIEND, the audience broke into applause again but Graham (knowing that he was struggling a little, due to his illness) smiled and said "Thank you, for your pity!". As the concert progressed, sure, Graham was struggling here and there but there were plenty other parts of the show where he was on form (and one can see why Ritchie Blackmore chose him to front Rainbow). I had no doubt, that I was experiencing the privilege of witnessing a world-class vocalist; and indeed felt sorry for him (seeing how much he was forcing himself to complete the gig despite being so obviously ill).

Indeed, one member of the audience (after Stargazer) shouted; "Graham, you are as good now, as you were at Donington 1980". I had heard some of the Taz Taylor songs before the gig, on their myspace page (see above) but I did not buy the CD until the night of the gig, from their stall. Despite this, I thought that the songs complimented the Bonnet classics very well, within the show set list.

I have been playing the CD, in my car, quite a lot, since the gig. I would recommend it without hesitation, to anyone who likes Rock Music in general.

Set List:

Eyes of the World, Love's No Friend, Fighters Fist, Welcome To America, Desert Song (with instrumental section from Rock Bottom), Parisienne Walkways, Suffer Me, Stargazer, Happy Hour, The Reprise, Caffeine Racer, Night Games, Radio Luxembourg, All Night Long, Since You Been Gone (Encore:) Lost in Hollywood.

Will You Still Love Me Tomorrow was supposed to have been played before Radio Luxembourg; but in the end, they did not play it.

Mike Garrett


All photos © Mike Garrett


---