Purple Rainbow

Club Moore, Maassluis February 17th, 2007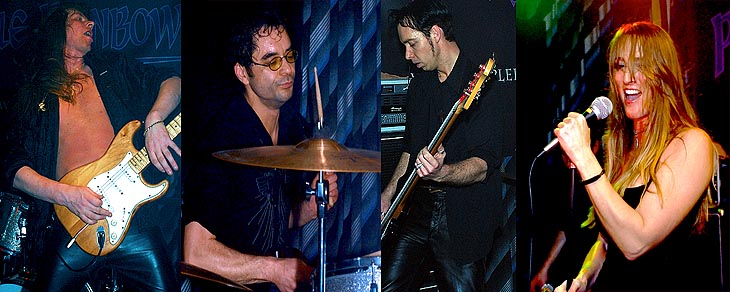 Purple Rainbow reached on February 10 the finals of the Clash of the Coverbands with a performance in the Dutch pop temple Paradiso in Amsterdam. One week later they played a gig in a total different ambience. For a much smaller audience they did a full show of 2 sets in Club Moore in Maassluis on February 17.

Club Moore is a small club with a very minimal lightshow and P.A. Still there was a fine atmosphere and the small audience seems to enjoy the show very well. The band did this gig without their (temporary) keyboardplayer. So tonight the line-up was: Mario Roelofsen (Guitar), Sabine van der Loos (Vocals), Pat de Wolf (Drums) and Menno Hamer (Bass).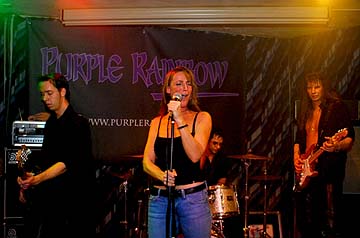 The band kicked off, after the intro including Judy Garland's "Over The Rainbow", with a blistering version of "Kill The King". After a solid version of "Into The Fire" it was time for "Man On The Silver Mountain". Great version! The main focus is on Deep Purple songs, although guitarist Mario told me he would like to do some more Rainbow songs in the future.

After "Space Truckin'" there was a surprise in the setlist, the Deep Purple In Rock outtake "Cry Free". Three other Purple songs ended the first set, "Demon's Eye", "Stormbringer" and a great long version of "Mistreated".

The second set started with "Black Night", more Purple tracks followed with "Fireball", Joe South's "Hush" and "Bloodsucker". Then it was time for another track we know from the Rainbow days "Still I'm Sad". A stunning 10 minute instrumental version of one of Ritchie's favorite songs. This was definitely the highlight of the evening! The night ended with another handfull of Purple songs; "Highway Star", "Speed King", "Burn", "Smoke On The Water" and the encore "Child In Time".

Despite the miss of the keyboards, it was a fine night. The band played on fine. Great tight rhythm-section, excellent guitarist and a superb powerfull female singer. The Rainbow songs were smashin' with "Still I'm Sad" as the absolute highlight of the night. Also "Kill The King" and "Cry Free" were highlights. And ofcourse there were enough Purple songs which sounded all great.

Purple Rainbow will play on March 31st in De Vechtse Banen in Utrecht the finales of the Dommelsch Clash Of the Coverbands. Other finalists are Garlic, Boulevard, KéOss, Rattlesnake Shake, Surprise, Kaas and the Blues Brothers & Band.