Purple Rainbow

Plan C, Rotterdam December 22nd, 2006

Clash Of The Coverbands


Last Friday Dutch Deep Purple/Rainbow tribute band Purple Rainbow played in the Zuid-Holland/Zeeland region finale of the Dutch event called 'Dommelsch Clash of the Coverbands - The only road to Paradiso'. The Clash of the Coverbands is a Dutch competition for bands who play covers. The Clash started in January this year and will end with a final in Paradiso, Amsterdam on February 10, 2007.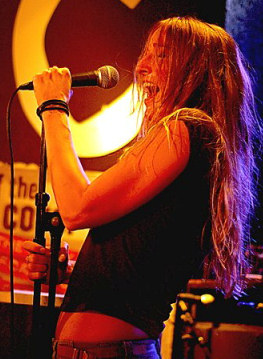 Purple Rainbow already played 3 times before this gig in the 'Clash'. And this was their 4th effort. Other finalists were BUDH (allround rock), Garlic (allround pop/funk/soul), The Scandals (60's), AmOUk (dutch female singer Anouk), Noises R Back (dance classics) and Blended (rock and roll/blues).

The band I came for was ofcourse Purple Rainbow. No question about that! They had the misfortune that they had to start as first to play. The place, Plan C in Rotterdam, wasn't too crowded at that moment. Purple Rainbow kicked of with a steady version of "Into The Fire" and rocked on with the fine "Demon's Eye". After that things got speeded up a bit with the classics "Highway Star" and "Burn". Guitarist Mario Roelofsen played all the bits very well, fine solos and all. The rhythm section layed down a good & tight foundation and the Hammond sounded just like you need with Purple songs. The vocals are always the most difficult part for any coverband. You just can't top or maybe not even come close to someone like Ian Gillan, David Coverdale or Ronnie James Dio in their peak days. Let's face it, they themselves don't even come close to it these days anymore. Female singer Sabine van der Loos has a great powerfull voice and I think she did an excellent job. The bands only got 30 minutes playtime tonight. So Purple Rainbow had to end already their set with the 5th song. It was the most impressive song of the night, a blistering version of "Child In Time". Instrumental excellent and smashin' vocals by Sabine.

After Purple Rainbow I stayed a bit as the night was young and saw BUDH doing a nice set with good rockcovers. Garlic was very entertaining. The singer even went off crowd surfin' in the last song. They had the audience really going. It looked they had brought a lot of fans with them and the place was packed by now anyway. After that it was back to the 60's with The Scandals. Good rock and fun including some fine Rolling Stones song. After that I decided to leave the overcrowded place to catch the train back home.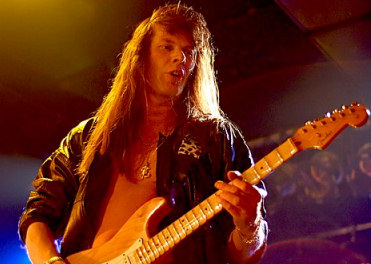 It turned out Garlic and Noises R Back won the contest and went through to the final in Paradiso. Pity for Purple Rainbow. Anyway I hope to catch them again next year for a full length concert. So then hopefully also some Rainbow songs. Still it was very enjoyable to hear them do all the Purple songs and as I was early at Plan C, I catched the "Man on the Silver Mountain" they did a nice part of in the soundcheck.

Check out the Purple Rainbow website for more information (in Dutch language) or if you don't speak Dutch check out at least their media page with audio and videoclips.

update: Guitarist Mario mailed me they got a wildcard for the Play Offs in the Boerderij in Zoetermeer on Saturday January 6th, 2007. So another chance to enter the finals in Amsterdam. Ofcourse we wish you the best of luck!