Deep Purple
Heineken Music Hall, Amsterdam January 26th, 2006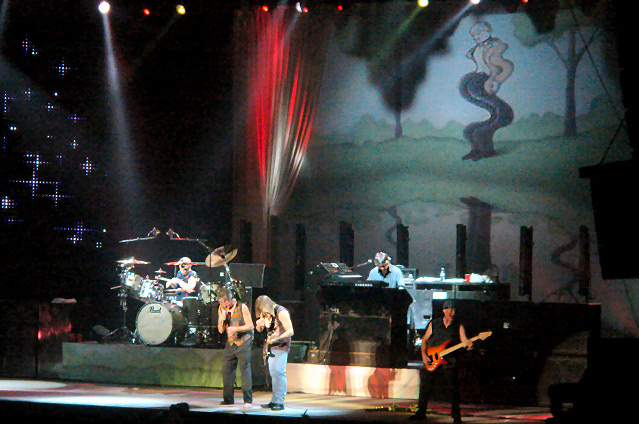 On Thursdaynight January 26th Deep Purple played a sold out show in Amsterdam, The Netherlands. The night was opened by Dutch support-act SQY, a fine party rock'n'roll band with a good sense of humor. They did a 40 minute set before Deep Purple took the stage for a fine night of 2 hours of a good mix of old and new songs. Deep Purple still exist for 40% of ex-Rainbow members with Roger Glover on bass and Don Airey on keyboards. And especially when I got my hands on some free VIP tickets through the company I work for it was a good opportunity to see them back on stage some 25 years after they left Rainbow. Doesn't time fly?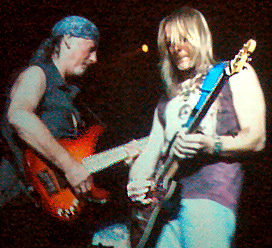 The band had two big screens on the sides of the stage. The show started at 21.00 hour sharp with a excellent short video on the screens showing the bandmembers one by one stepping out of a flightcase and walking to the stage. A very nice and funny way to kick off the show.

They kicked off with an excellent version of "Pictures Of Home". The first thing that took my attention was the great bass sound Roger Glover produced here live. And it was not just an incident, he would prove that through the whole show. Just amazing, I must admit I haven't seen Deep Purple live before since Steve Morse joined the band.

Ofcourse I've seen the DVD's that are around but never noticed Roger in such a way. He always was "just the bassplayer", good musician, part of a tight rhythm section but inconspicuous. But now Roger, in the mean time 60 years old, was walking the stage like a young rock god and playing like one too. And so his sound has become now a larger and more important part for the total sound of the band it seems.

Finally Deep Purple has let loose of the old concept of the Ritchie Blackmore greatest hits legacy setlist. The band have been playing for years mainly the old classic tracks from Ritchie's period in the band. Sometimes some rarely played live, but Ritchie-era tracks from the past which weren't done alive before plus less than a handfull newer songs. Often just one or two. But they finally gone off that idea this new tour. Wise decision which works out excellent.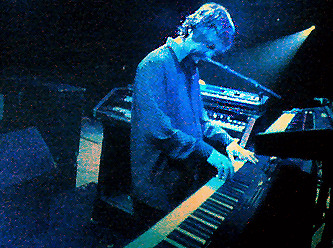 After "Pictures of Home" a bunch of new songs followed with "Things I Never Said" and the excellent "Wrong Man". Ian Gillan, bared feet, gave often an extended introduction to the songs, some with his humorous way. Others like "Wrong Man" with some serious notes.

In between the songs he was fiddling about with some white papers in between the drums and keyboards stage. Possibly he's still struggling with the lyrics. But he gave a fine job, his voice was good tonight and it looked like he was enjoying the show very much.

After the fine "Ted The Mechanic" from the "Purpendicular" album the band did, what was announced by Ian Gillan as a really happened story, "Living Wreck" (from "Deep Purple In Rock"). This was one of the highlights of the night. Excellent version.

Don Airey hitting the ivory like Jon Lord in his best days and Steve Morse playing the song exactly note for note. After an excellent version of the title track of the new album "Rapture Of The Deep" plus "Before Time Began" we got "Mary Long" from the "Who Do We Think We Are" album. Great song, well played!.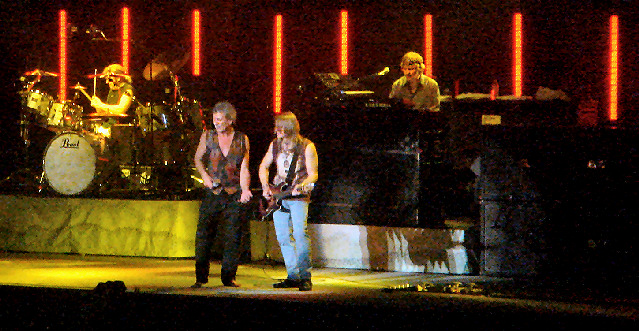 And then after some more Morse-era tracks, it was time for Steve to do his guitarsolo. He's a very good guitarist, but his sound is so different to Ritchie Blackmore. It's so thick and warm. Still he's now more than 10 years in this band and has become an important part of this mark of the band. The Deep Purple that once had Ritchie Blackmore in it's ranks no longer exist. This is a complete different band. They only share the name Deep Purple. And they do a fine job!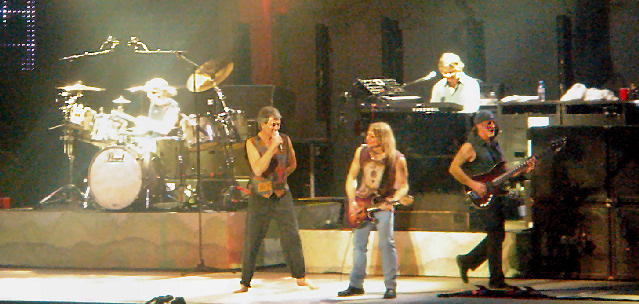 Time for some more nostalgic songs. First up was "Lazy", followed by Don Airey's spotlight moment. Time for his keyboards solo. We got the Star Wars routine and a piano solo which included "Tulips from Amsterdam". Ian Paice was standing on the side of the stage pretending to play the turn organ during "Tulips". Funny move! Don's solo went over into "Perfect Strangers". I had the idea the first part of the song didn't went fluently, it sounded a bit distorted at times but that was gone after the solo.

After some more of stuff of the new CD it was time to party with some classics like "Space Truckin'", "Highway Star" and "Smoke On The Water" which ended the set.




Deep Purple returned on stage for a song from the days that only Ian Paice was part of the band that tonight was present, "Hush". Little Ian got time to do his drums solo. And then Roger started "Black Night" with his thundering bass. A very heavy intro to the last song of the night. Long version too, it ended a great night.

Deep Purple gave a very good show tonight, they had an amazing lightshow and played a good choice of a combination of new songs plus old classics. Ian Gillan in fine form, Don Airey playing excellent, Roger Glover and Ian Paice being a very tight rhythm section and Steve Morse smiling his way through the night fitting very good in this band. After they thanked the audienced the screens showed a video how they went and got back into the flightcase. A roadie closed the flightcase and wheeled it away.

So all in all a fine concert, the new stuffs sounds good and fresh. It's material that fits this line-up with Steve Morse on guitar. And the old classics were played very well. Yes, you miss an angry, moody six string axeman. These days you'll five smiling veterans on stage. There should be a devil on stage amongst them which makes it all totally different, more exciting. Then again, the devil from the old days is now entering the stages as an also smiling minstrel. Ritchie seems to be fully satisfied with what he's doing these days and so are his ex-Deep Purple mates without him. So Purple-wise this is the best of two worlds we get in this century.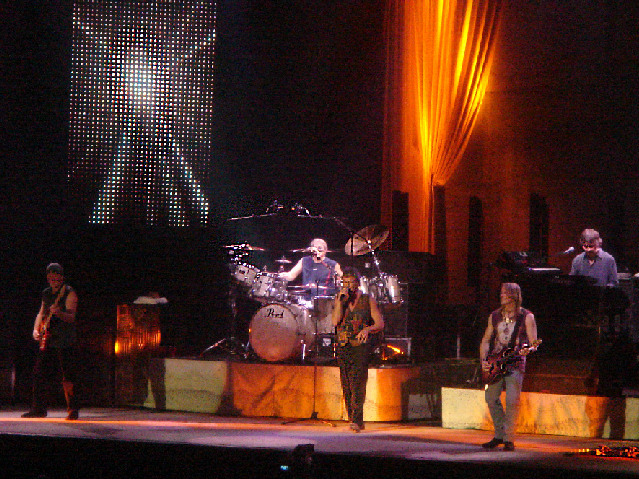 Setlist: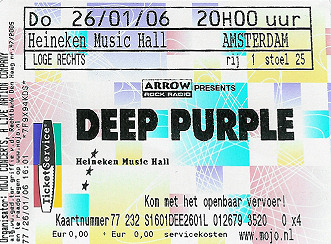 Pictures of Home
Things I Never Said
Wrong Man
Ted The Mechanic
Living Wreck
Rapture of the Deep
Before Time Began
Mary Long
Contact Lost
The Well-Dressed Guitar
Lazy
Don Airey Keyboard Solo
Perfect Strangers
Junkyard Blues
Kiss Tomorrow Goodbye
Space Truckin'
Highway Star
Smoke on the Water
Hush
Ian Paice Drum Solo
Black Night