Joe Lynn Turner
with the New Japan Philharmonic at the Tokyo-Geijyutsu-Gekijyo
TRIBUTE TO RAINBOW August 4, 2006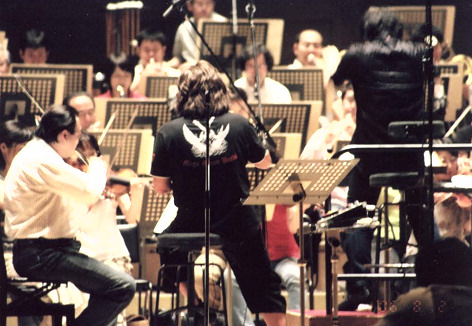 It was an impossible fantasy...Mr. Masaya "yasu" Yasue at NJP had this dream for a long time. Finally he made it came TRUE. August 4 Joe Lynn Turner and New Japan Philharmonic Orchestra temaed up for Symphonic Rainbow Concert called "Tribute to Rainbow."

The world famous Japanese hard rock-heavy Metal magazine BURRN! carried special articles of the One Night "dream" concert for three successive months. The venue, Tokyo Metropolitan Art Space "Tokyo-Geijyutsu-Gekijyo," is such a beautiful space where there are three sizes of symphonic halls. The Tribute to Rainbow took place in Main Hall where there were about 2000 seats for the audience members. On the front of the stage there is a pipe organ having 126 stops. This is a full-scale concert hall for orchestral performances.

This moment has come to last. We got a pamphlet for the event before the show that included the Set List and JLT's profile etc. I was so delighted to see the Set List and Joe's detailed profile. The show started at 19:00 (7:00pm local time --L.). Dressed-up NJP members, concert master and conductor Mr. Takemoto came the stage with a round of applause. Then we were surprised and glad to hear the famous sounds and voice of "The Wizard of OZ"!! YES, honestly nice sounds.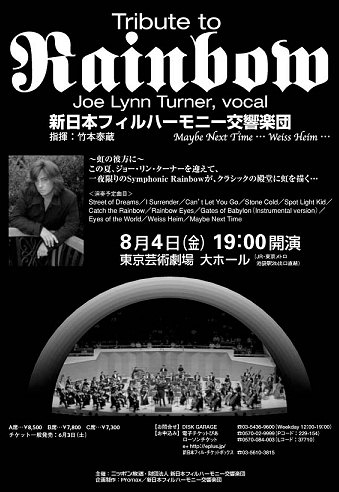 The opening number was "Eyes of the World." Needless to say, this is Rainbow's masterpiece, but I was very impressed by the power and sounds of the full orchestra. During the tune, our Joe appeared on the stage with a storm of applause. He was wearing a two piece suit. He did not wear a tie, but he was dressed very regally.

He sung "Eyes of the World" so powerful with the orchestra sounds. It was so natural, I felt. The arrangement was almost faithful to the original tune. So many stringed and brass instruments played the guitar-solo part. It was not a violin-only arrangement. The percussion instruments were very very powerful and technical just like a storm. There is no inferiority for the Orchestra-Rainbow.

"Weiss Heim," the masterpiece of Rainbow's instrumental was JUST fit for orchestra arrangement. I was confusing this Rainbow masterpiece with famous classical music. Joe said that "I'd like to introduce MY BAND members! Band members? NJP members and the audience laughted at his joke in the early part of the show. But actually, his joke was realistic. Though they had a few rehearsals, Joe's voice was a part of Philharmonic Orchestra.

The program had two parts. It had a 20 minute intermission. The first part centered around orchestra sounds with instrumental and slow ballads. Joe put so much feeling into what he sung. His voice was bluesy and just magnificent. Especially, Tchaikovsky's From Overture "1812" op.49 was so marvelous. They called this tune the memory of Mr. Cozy Powell. That's true. Tympanis went off at hall just like a loud report of Cannon. Cozy's memorial pictures reflected on the wall of main hall.

After the interval, the second part had come. Please see the Set List! You'll realize that it was just for Joe Lynn Turner time.

It started with the very famous classic march number Elgar's March "Pomp and Circumstance" No. 1 op. 39." The concert master Mr. Yasushi Toyoshima was just delightful. Many hard rock-heavy metal fans who had not listened to classic music said to me that it was a very moving sound! So we were very impressed with Mr. Toyoshima! As same time, I felt this tune was there just for Joe Lynn Turner. It was the opening number for Joe Lynn's Rainbow songs!!

"Spotlight Kid," "Stone Cold," "Can't Let You Go," "Stranded" and "I Surrender." We Japanese fans can sing these very popular Rainbow songs in English. We all loved these so much. Just like YOU. But for we Japanese fans, it was the only second time to listen to "Can't Let You go" live in concert. We had been waiting for a long long time. The pipe organ sounded so classical. Then we heard the usual intro melody of "Can't Let You Go." For me, Joe's dramatic vocal melody can be said as part of the appeal of this classic music. His voice is for expressing his soul.

We were interested to hear the classical arrangement of very hard rock numbers, like "Spotlight Kid," "Stranded" and "I Surrender." There were no problems, it was so natural an arrangement for us all. Though it was a classical event (we all sat in our seats) we could [have] sung with Joe and NJP on harder Rainbow numbers! The conductor Mr. Takemoto gave us his action to shout!! He is [a] popular conductor in Japan. His conduct areas are very wide. Also he conducted Yngwie [Malmsteen] and NJP Symphonic Concert in 2001.

We were so excited with these Rainbow masterpieces. It was just Rainbow-Night. Joe gave us perfect vocals on "I Surrender." Then the show was over. After the song, I finally came back to this real world. My body was trembling with emotion. I could feel the whole audience be[coming] as one and was giving Joe and NJP a standing ovation, although I didn't look back. Finally, I was completely knocked out by the encore song. It became even more magnificent by the concert master Mr. Yasushi Toyoshima "Maybe Next Time." Sure it was not on the list. Also, it was JUST fit for orchestra arrangement too!

Finally, Joe appeared again on the stage, then they gave us a final present "Street of Dreams." This song is masterpiece of Joe Lynn Turner. I was filled with deep emotion. How many times did tears trickle down my cheek? also I could find tears in Joe's eyes. It made me more deeply emotional. All of audience gave Joe and NJP a standing ovation again and again. Joe hugged the conductor and concert master so many times. And he gave us his deep emotion with hand-action. He made a heart-mark by his hands. After all of NJP members left the stage, Joe appeared again and again. I thank God from my heart that I was able to be there.

It is very hard to me to write this text about this amazing concert. But there is one thing I can say this...there is no way to categorize music to get touched by beautiful music. "Art" was the suitable word for this concert.

Joe and NJP members and staff, thank you very much for the beautiful time. I was deeply moved. I wish I could share the wonderful time with many fans in the world.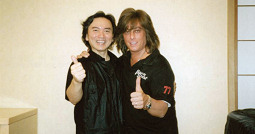 The set list:

Eyes of the World
Catch the Rainbow
Gates of Babylon
Weiss Heim
Rainbow Eyes

Tchaikovsky's From Overture "1812" op.49
( to memory of Mr.Powell)

------------------------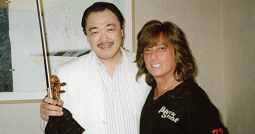 Elgar's March "Pomp and Circumstance"No.1 op.39
Spotlight Kid
Stone Cold
Can't let you go
Stranded
I Surrender

------Encore--------

Maybe Next Time
Street of Dreams


text & pics: Kaoru Hoshino from Loving You Endlessly - Joe´s Official Fan Site in Japan!